Steam hauled
train rides


Miniature
Railway

Main Line Steam


Art Gallery

Visitor Centre/
Refreshments/
Exhibits

National Railway Museum wagons


Shop



Special Events

Turntable

Industrial diesel
During the enforced closure of Yeovil Railway Centre due to the Coronavirus pandemic (now Until Further Notice), we thought we would offer something a little different.

With your help, this page will contain bits and pieces of information about the Centre, what our volunteers do to keep themselves active, perhaps some photos (please send them in) and other material. Contributions welcomed from all our friends and members.



(Updated 21/09/20) Funds raised to date £6401 against cost £25000 - thanks to everyone who has contributed! If you haven't already please consider doing so - a Standing Order can be arranged if that's easier!)





CLICK HERE to go to our normal Index and other pages.

---

Our Appeals If you are enjoying our page would you help us build our new Toilet Block by contributing to the Appeal? (updated-see above) or help our General Funds please see the links above! Any help will be greatly appreciated!


---
26 September 2020 Please send photos, articles, words or jokes to yeovilrailway@hotmail.com



Our Appeals If you are enjoying our page would you help us build our new Toilet Block by contributing to the Appeal? (updated-see above) or help our General Funds please see the links above! Any help will be greatly appreciated!

A look at some of the recent happenings around Yeovil.

24 September 2020 - Freightliner Class 66 66556 was hired by Colas to continue route learning/refreshing between Castle Cary and Exeter via Yeovil. Anyone seen a Freightliner loco at Yeovil before?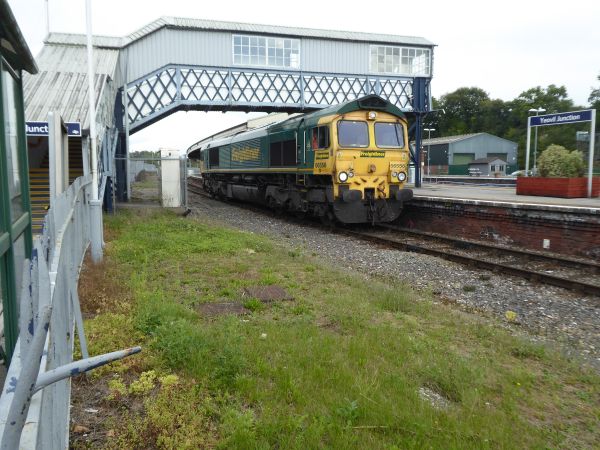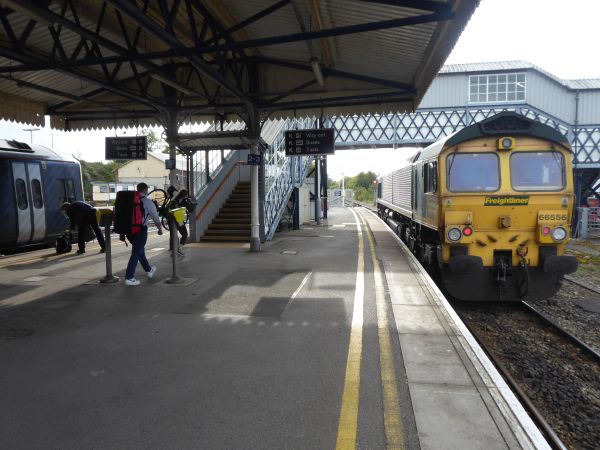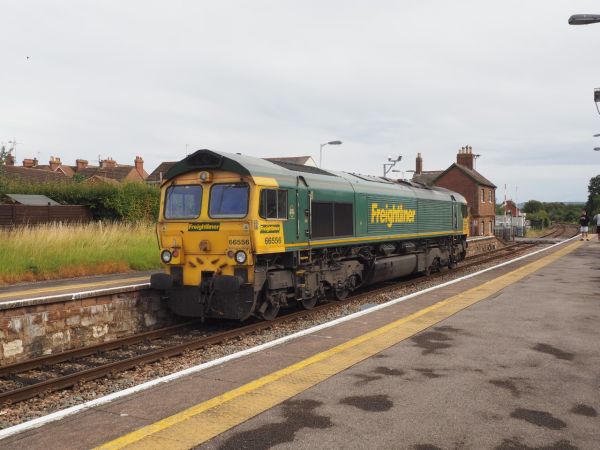 Last photo taken at Pinhoe by Dave Tozer.

A busy day as GWR also ran a Class 150 route learner from Exeter to Castle Cary (and return) and Network Rail's Network Measurement Train also ran.

ICI Acid Tanker looking good in the sunshine.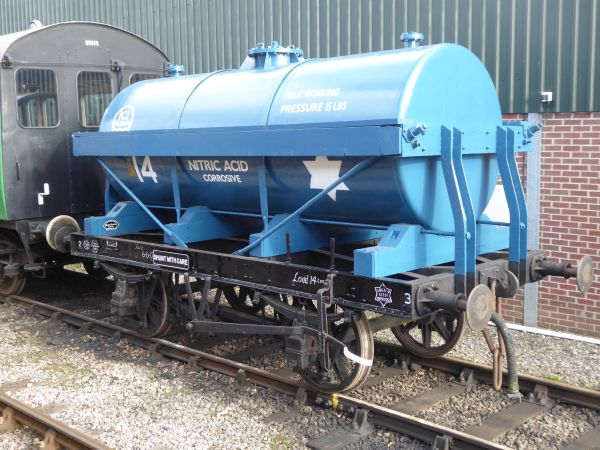 South Western Railway depot work has started in a modest way.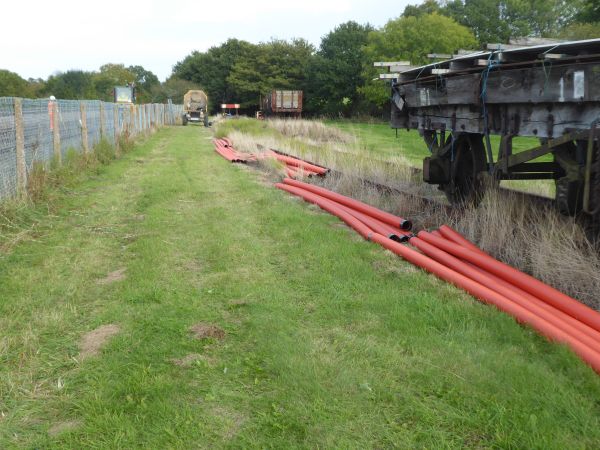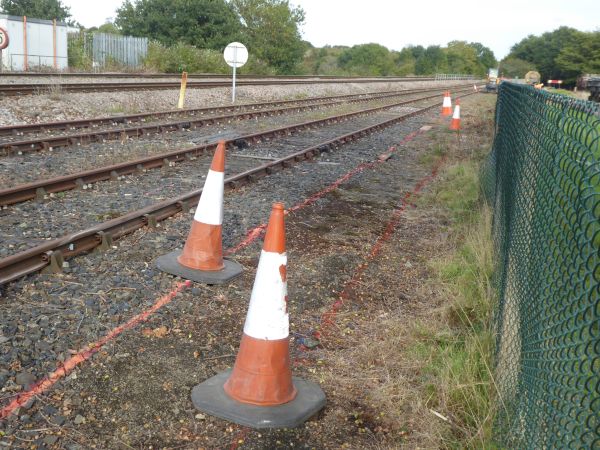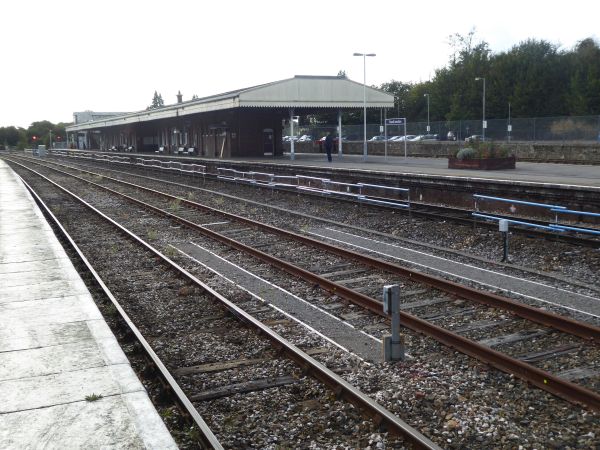 The barrier allows construction to continue alongside the live railway.

A School visit from Chilthorne Domer saw Ron Weston's Fowler loco in action with the coach on 22 September.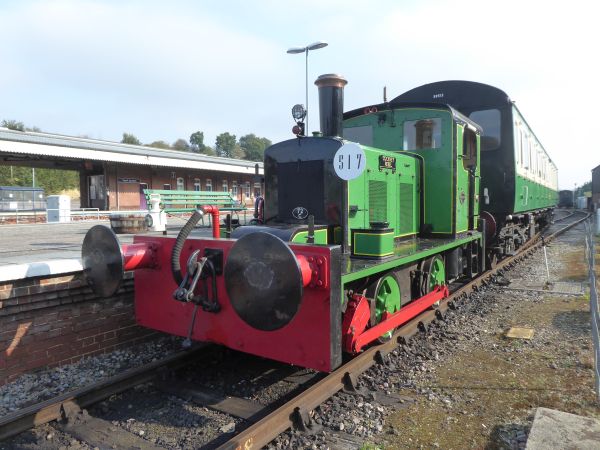 A derailment in the USA on 15 September 2020 Click on the photos.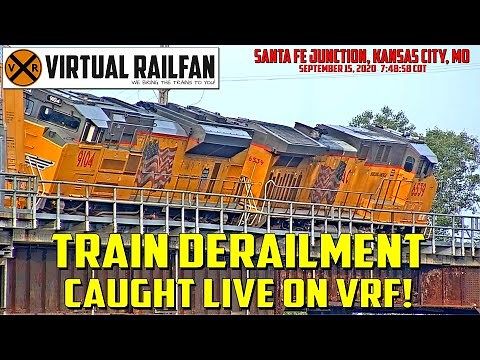 and the clean up started on 15 September and ended 17 September - quite some going!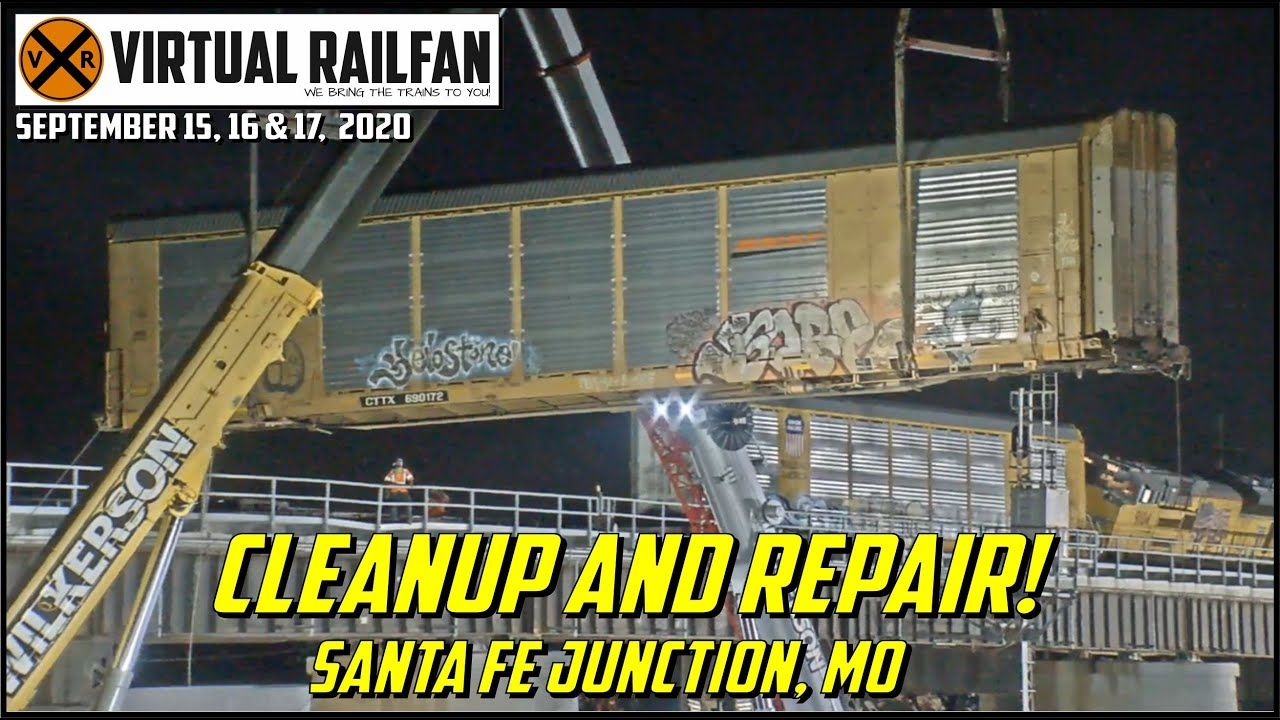 Riddle answer - see 23 September - The third room - any lions who hadn't eaten in years would be dead!

Another one Q. A man was driving a truck. His headlights weren't on, and the moon wasn't out. Ahead of him, a woman dressed in all black started crossing the road. Fortunately, the man braked so she could cross. How did he see her? (Answer soon)


---
23 September 2020 Please send photos, articles, words or jokes to yeovilrailway@hotmail.com

Colas 66847 was used on Route Learning/refreshing on two days. Running twice on 17 and 18 September from/to Westbury via Yeovil to Exeter. (Despite a comment that RILA gear would be attached this was not the case) and the trips were, presumably, in advance of the Monday (28 September) to Friday (2 October) closure of the line Exeter to Taunton for relaying and resulting diversions via Yeovil. Here is the Real Time webpage for Yeovil Junction on the Monday - CLICK HERE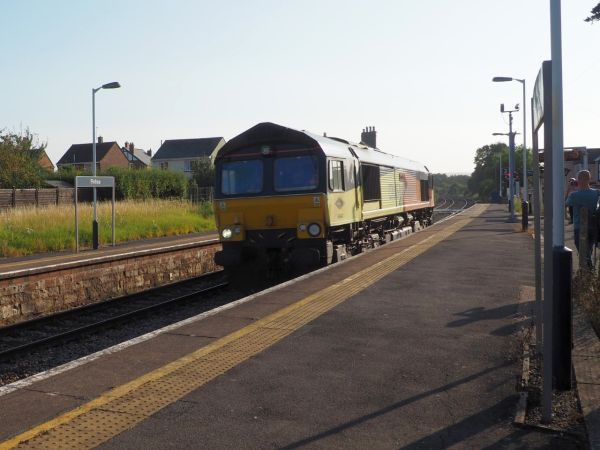 Seen at Pinhoe on 17 September (Photo courtesy Dave Tozer)

Riddle A prisoner is forced to go into one of three rooms, but he can choose which room. The first room is ablaze with fire. The second one is rigged with explosives that will go off as soon as he enters. The third contains a pair of lions who haven't eaten in years. Which room should he choose to survive? (Answer soon)

MEMORIES OF THE BARNSTAPLE-TORRINGTON-HALWILL JUNCTION LINES - Click on the photo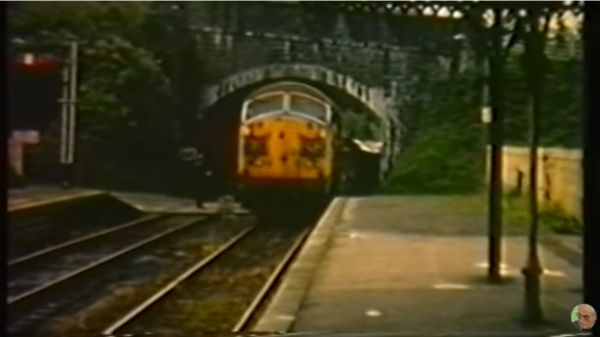 ---
21 September 2020 Please send photos, articles, words or jokes to yeovilrailway@hotmail.com

Apart from Elsecar Heritage Railway (see 5 September) two other railways appear to be in some difficulty. Click on the photos.

The first is Scotland's oldest Miniature Railway which closes at the end of the month.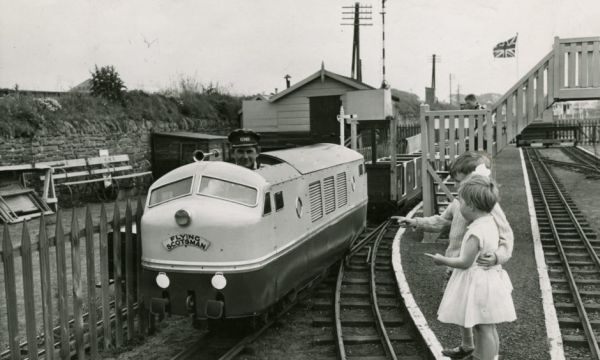 Second - Five jobs lost as South Tynedale Railway operator goes into adminstration.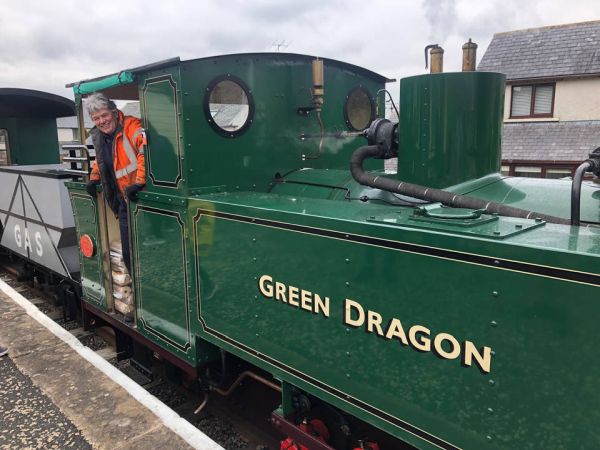 Although the Trustees and some volunteers from the Preservation Society will attempt to restructure the railway on a volunteer only basis.

Pandemic Concert parody! A fairly large file-may take a short while to load? (Thanks Roger!)


Sunday 20th September 2020 - A Member's and Open day for general public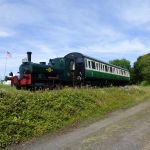 Yeovil Railway Centre is delighted to say that we are re-opening to a limited extent to welcome Members and their Friends and also members of the general public for the first time since 15th March.

We plan to have Andrew Barclay 'Lord Fisher' in steam with the coach in use. Numbers on each train will be limited to 25 and will run at 11am, 11.40am, 12.20pm, 1pm then 2pm, 2.40pm and 3.20pm. Site opens at 10.30am and closes at 4pm.

In order to avoid disappointment and to ensure we can spread the demand, please email yeovilrailway@hotmail.com with your preferred train and numbers in your party. A confirmation will be sent.

It may be possible to enjoy a second ride if there is space but this needs to be booked on the day (at the gate).

Members and all children under 5 are admitted free along with one child aged 5-15 (per Member). The admission charge for any other adults is £8 and children 5-15 £4, payable on the day.

You will be allocated seating on the coach and please remain in your seat until the guard opens the door at the end of the ride. Please try to curb the children's enthusiasm to run about!

Masks - all adults and children aged 11 or over are required by law (unless exempt) to wear a mask on the train and indeed in the Shop and in the upstairs Museum in the Visitor Centre.

Cafe - an 'At Table' service of teas/coffees and snacks only. Masks are not required.

Shop - will be open - two visitors at any one time.

Model Railway - will be open but subject to one 'bubble' at a time. There may be a wait to enter and we thank you for your patience.

Payments - in these strange times we very much prefer payment by Card (contactless if possible).

Track & Trace - a record of our visitors and their contact details is required. This will be kept for 21 days and then destroyed (14 days virus incubation period and 7 days for the Track and Trace process to work.)

Covid-19 - please do not attend if you or any of your party have any symptoms or knowingly have been in close contact with a confirmed case in the past 14 days.

Miniature Railway - this will not be in operation due to Social Distancing issues.

There will be plenty of Hand Sanitisers available.
Our Risk Assessment is here .


---
16 September 2020 Please send photos, articles, words or jokes to yeovilrailway@hotmail.com

An interesting email with details of special workings this Thursday and Friday-many thanks Dave!

Are things moving behind the scenes.
This morning a Colas Driver posted that a 66 with RILA gear attached would be to the front between Exeter and Honiton doing several return trips.

It appears that this is in fact in the system for Thursday and Friday.

Is it just a coincidence that they are surveying Castle Cary via Yeovil Junction to Exeter, the GWR diversionary route

Thursday-Click here

Friday-Click here


I guess the two day run is to look at the line with the gear attached to the front for the downward trip. Then on Friday check the route with the gear on the other end.

A GWR diversion! GWR HST Exeter St Davids - Axminster - Castle Cary - a view that cannot be taken from the 800 units!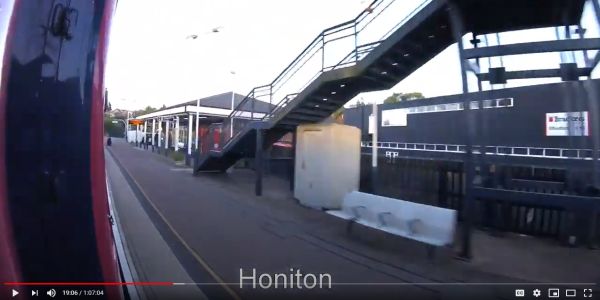 Network Rail signals end of the line for diesel trains
CLICK HERE
---
13 September 2020 Please send photos, articles, words or jokes to yeovilrailway@hotmail.com

LIFE AFTER DEATH-

"Do you believe in life after death?" The boss asked one of his employees. "Yes, sir," the new employee replied.

"Well, then, that makes everything just fine,"

The boss went on. "After you left early yesterday to go to your grandmother's funeral, she stopped in to see you!"

The Man Who Made Beamish (1986)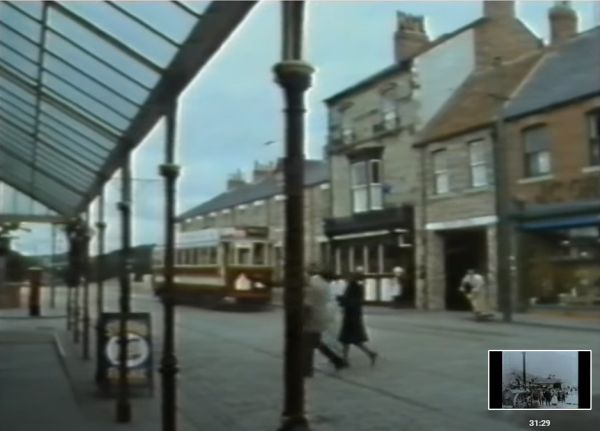 Welcome to Beamish 2019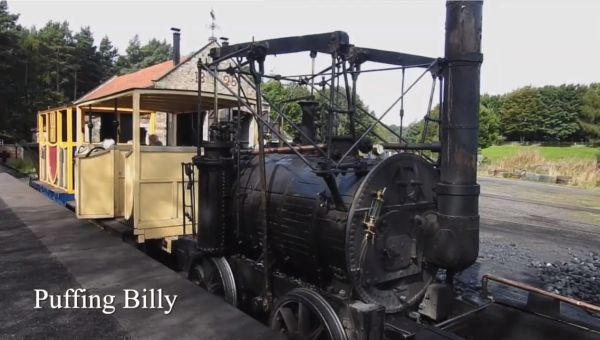 One day my mother was out and my dad was in charge of me. I was maybe 2 1/2 years old and had just recovered from an accident.

Someone had given me a little "tea set" as a get-well gift and it was one of my favorite toys. Daddy was in the living room engrossed in the evening news when I brought Daddy a little cup of tea", which was just water.

After several cups of tea and lots of praise for such yummy tea, my Mom came home. My Dad made her wait in the living room to watch me bring him a cup of tea - because it was "just the cutest thing!"

My Mom waited, and sure enough, I walked down the hall with a cup of tea for Daddy and she watched him drink it up. Then she says, (as only a mother would know)

* * * * * * * * * * * "Did it ever occur to you that the only place that your daughter can reach to get water is the toilet?"
---
09 September 2020 Please send photos, articles, words or jokes to yeovilrailway@hotmail.com

DfT reveals rejected rail restoration bids CLICK HERE

Thieves steal signalling equipment from the Churnet Valley Railway CLICK HERE

I was out walking with my 4 year old daughter. She picked up something off the ground and started to put it in her mouth.

I took the item away from her and I asked her not to do that. "Why?" my daughter asked. "Because it's been on the ground, you don't know where it's been, it's dirty, and probably has germs." I replied.

At this point, my daughter looked at me with total admiration and asked, "Momma, how do you know all this stuff, you are so smart."

I was thinking quickly. I said: "All moms know this stuff. It's on the Mom Test. You have to know it, or they don't let you be a Mom."

We walked along in silence for 2 or 3 minutes, but she was evidently pondering this new information."OH.. I get it!" she beamed, "So if you don't pass the test you have to be the dad."

* * * * * * * * "Exactly." I replied back with a big smile on my face.

News item - Devon & Cornwall branch lines (1990s) Click on the photo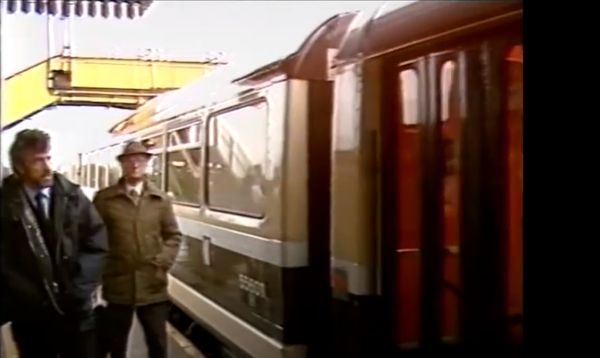 ---
08 September 2020 Please send photos, articles, words or jokes to yeovilrailway@hotmail.com

BBC Spotlight - news item - Waterloo to Exeter upgrade (approx 1990) Please click on the photo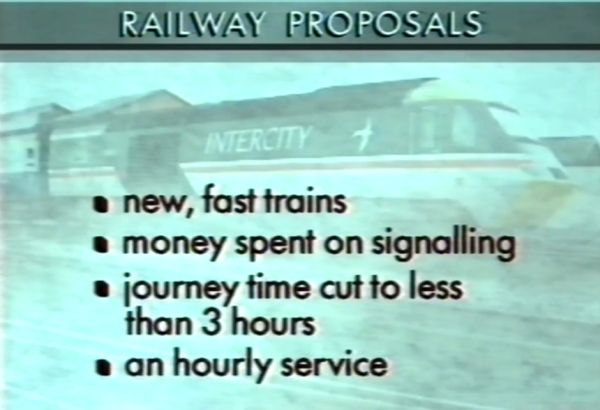 Waterloo Exeter - Loco Hauled Finale 1990 - 93 Please click on the photo (some of the trains are not really relevant!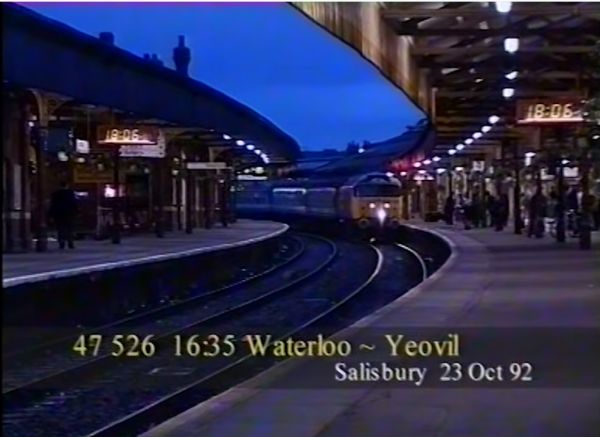 ---
07 September 2020 Please send photos, articles, words or jokes to yeovilrailway@hotmail.com

New timetable for South Western Railway from Monday 7 September to Friday 11 December are now in operation. Now a hourly Waterloo-Exeter service (mostly) but many of the services via Pen Mill are still not running.
CLICK HERE for details

Meanwhile Great Western Railway are changing their timetable on Monday 14 September although details are not yet publically available.
CLICK HERE and view once the new timetables are available

Great Italian Commercial!




Just another day - Waterloo Station (1983) Click on the photo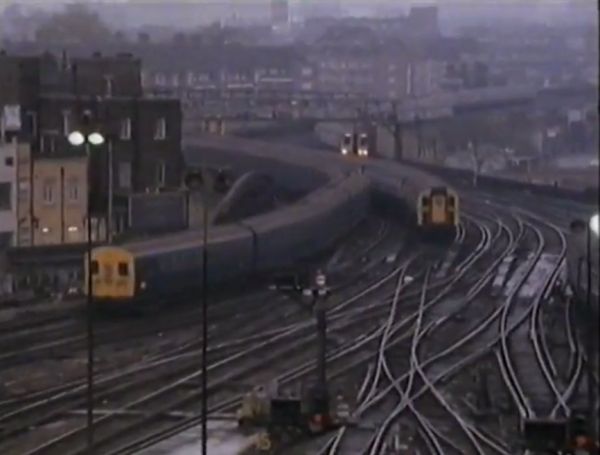 ---
06 September 2020 Please send photos, articles, words or jokes to yeovilrailway@hotmail.com

These views of Yeovil Junction will soon be changed as work gets underway for the new Crew and Light Maintenance depot. Already a number of Guards and Drivers operate out of the Junction but this will increase significantly once the project is complete.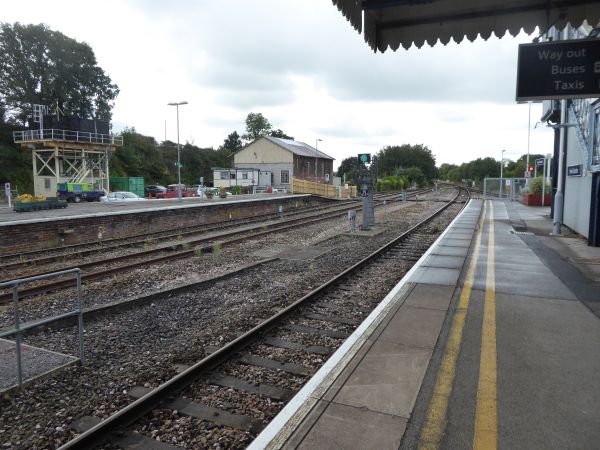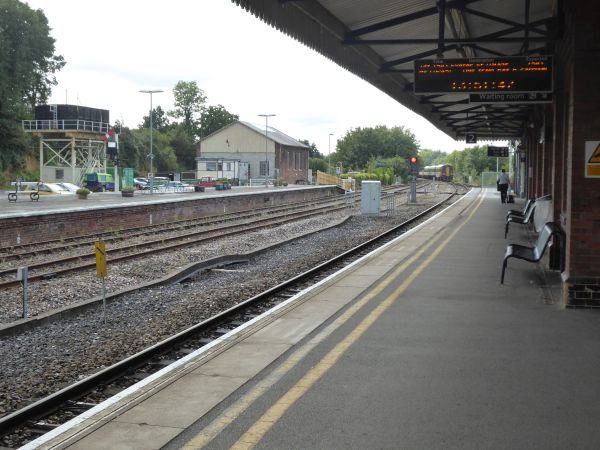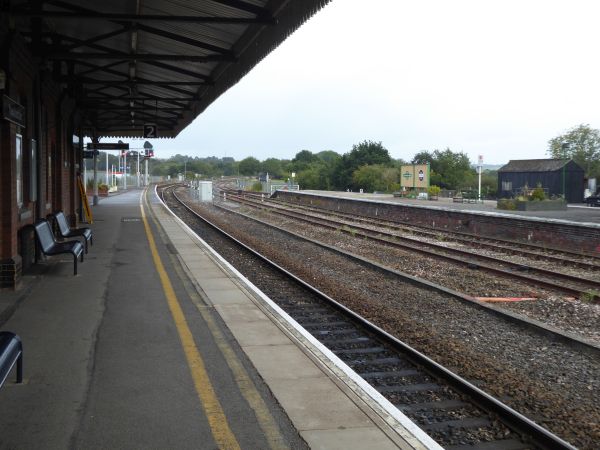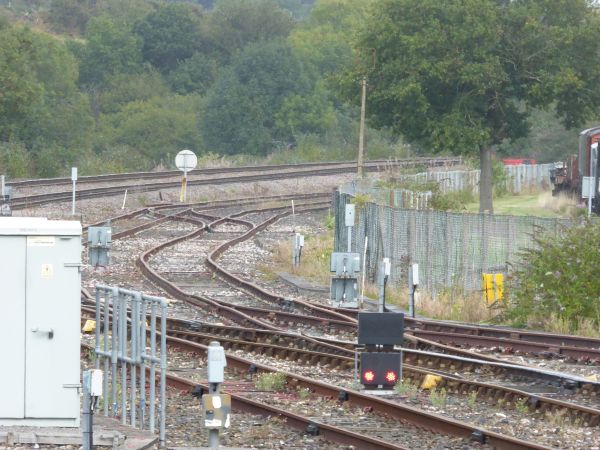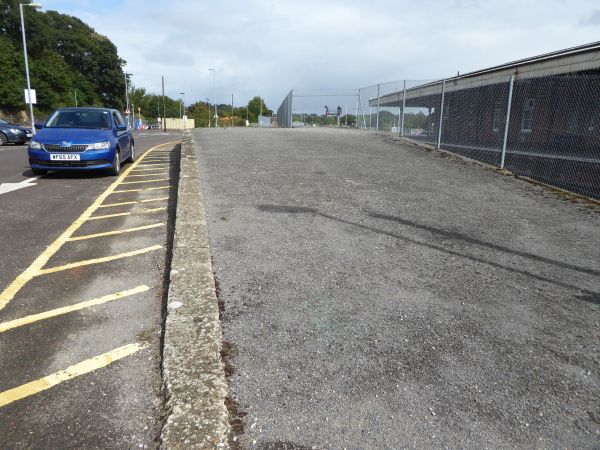 Temporary Offices, Roadrailers (behind hedge) and Portacabins arriving.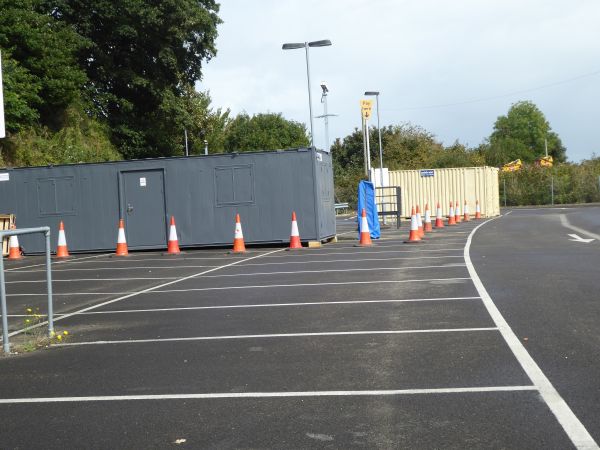 Brian has sent in photos of work on 25 August.

Chard Signalling panel. Progress is being made with the simulation and other connected activities>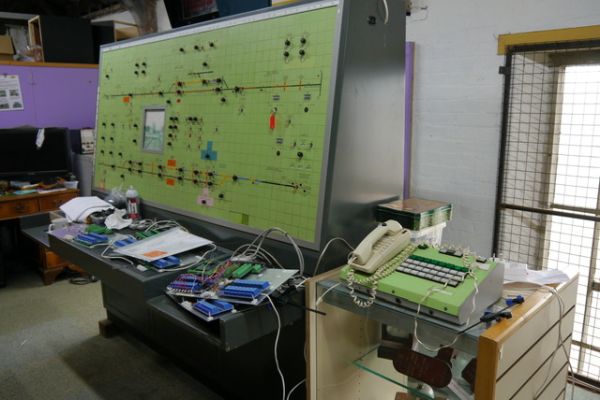 A longer term project...The Oyster brakevan looks very sad at the moment. The top and bottom are OK but not the middle!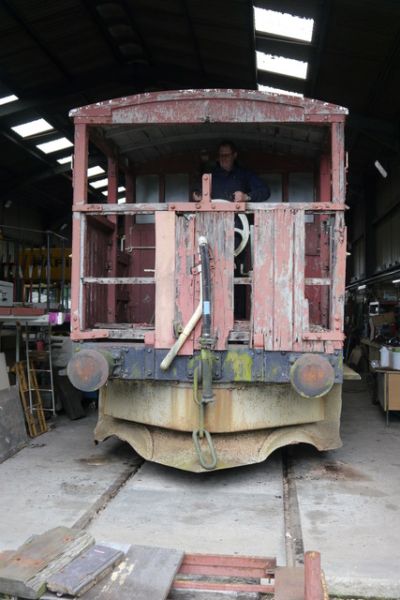 <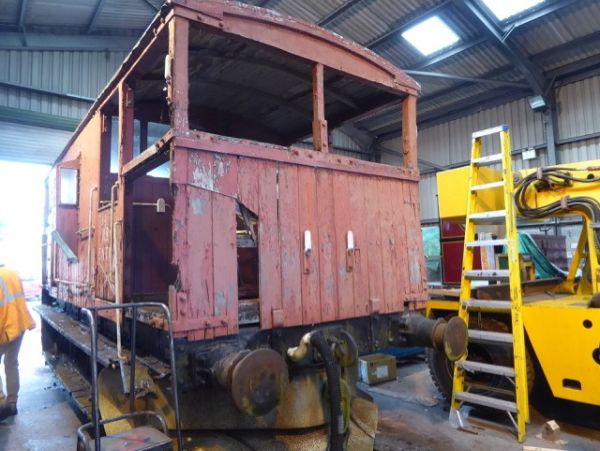 Recently arrived LSWR wooden chassis wagon. Much rotted wood towards the top but better below. All the joints are loose so everything is being tightened up to ensure it doesn't fall to bits!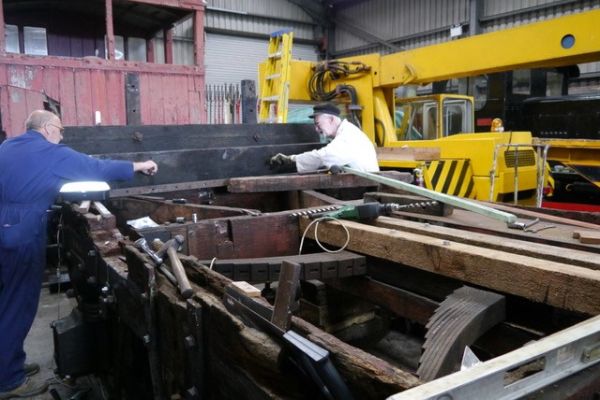 And finally the conflat is looking good.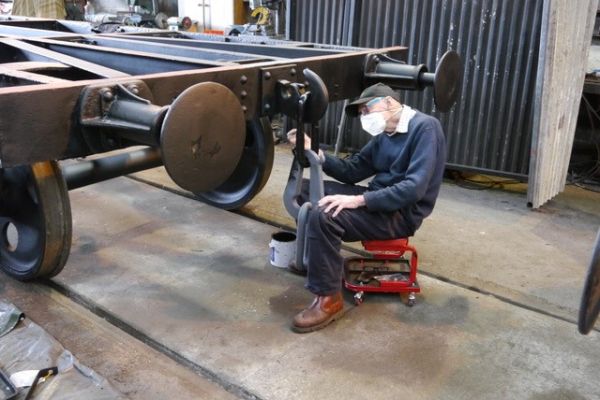 ---
04 September 2020 Please send photos, articles, words or jokes to yeovilrailway@hotmail.com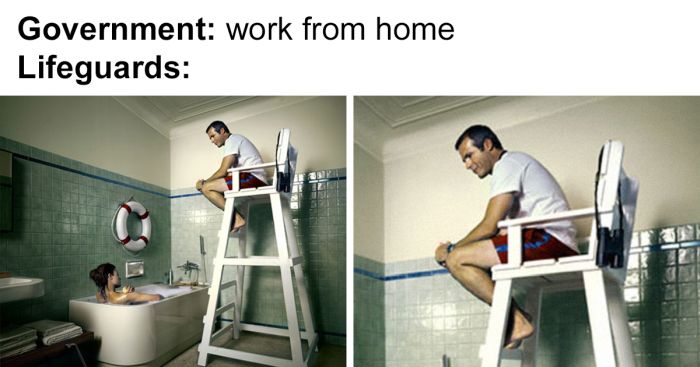 Firefighters commandeer train to tackle fire near track

CLICK HERE

And you thought our trains were bad! Click on the photo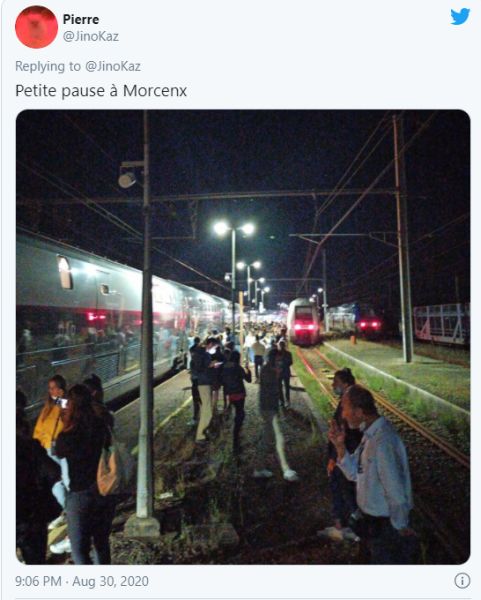 Peter has sent in this photo, taken on 1 September of a GWR Class 150 (150233) returning on a train crew learning trip from Castle Cary to Exeter.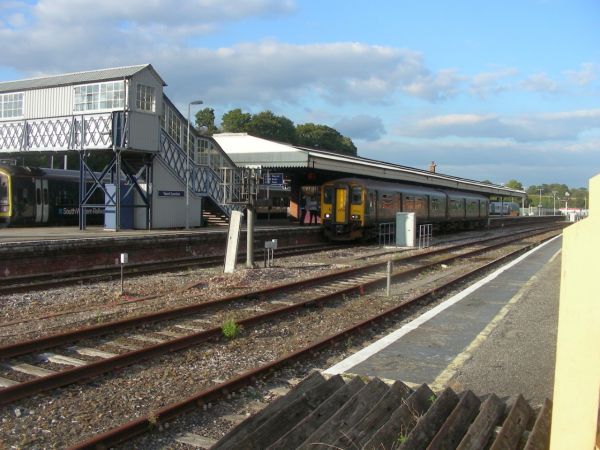 Stand by to be surprised!
CLICK HERE
---
03 September 2020 Please send photos, articles, words or jokes to yeovilrailway@hotmail.com

Here are a few bits and pieces to catch up during the short break. There will be some days when no updates will be made - pressure of time!

Waverley steamer 'hits pier' on Isle of Arran - BBC News Soon after returning to service after having new boilers fitted, this accident is most unwelcome. A further period out of service seems inevitable (click on the photo):-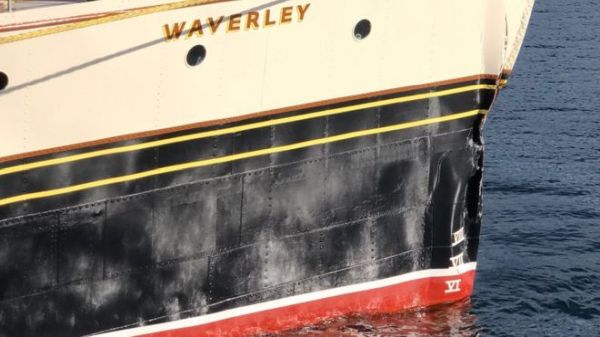 How to annoy your Golf Opponent!


Elsecar Heritage Railway appears to be in serious financial difficulty and could be the first casualty of Covid-19 Comment made that all their efforts (money) went into an extension which was largely complete but in recent years specialist companies were brought in to undertake tasks that were previously undertaken by volunteers.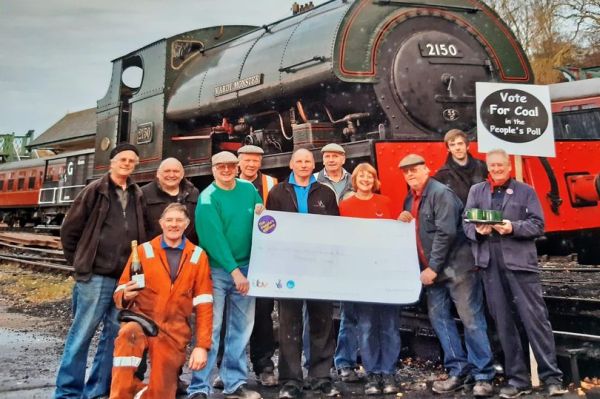 ---
29 August 2020 Please send photos, articles, words or jokes to yeovilrailway@hotmail.com

Don't stand/sit under the cliff! Jurassic Coast cliff fall: Warnings after cliff collapse at Hive Beach
CLICK HERE FOR BBC REPORT

This dog loves football! We think his favourite team scored...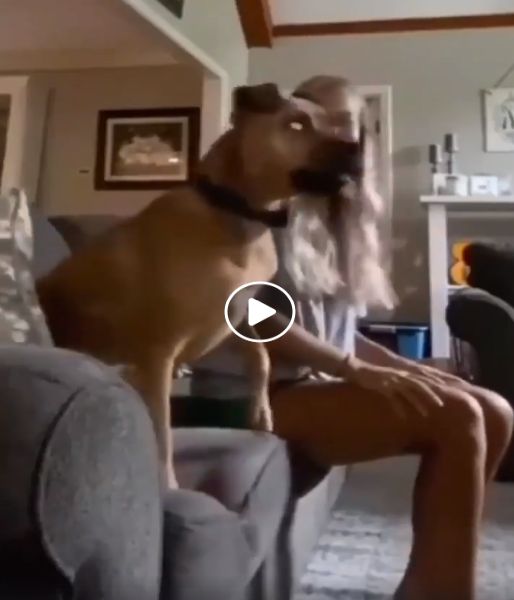 Cab ride Swanage to Wareham and return Tuesday 13th June 2017
Click on the photo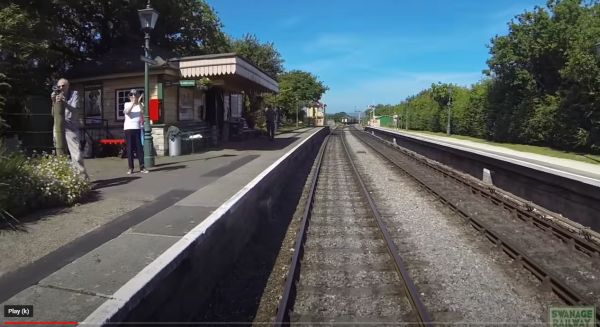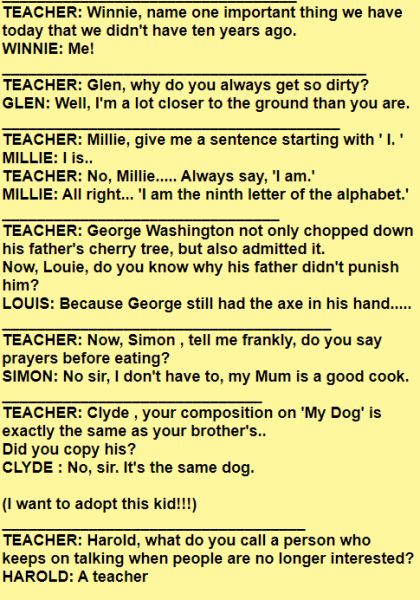 ---
28 August 2020 Please send photos, articles, words or jokes to yeovilrailway@hotmail.com

Weymouth 1966-1967 This has been uploaded in a wrong aspect (see comments). There are, however, some interesting footage - if you can ignore the issue! Includes 4498 Sir Nigel Gresley (tight on the turntable!) and I have corrected the ratio to some extent on the photo - please click.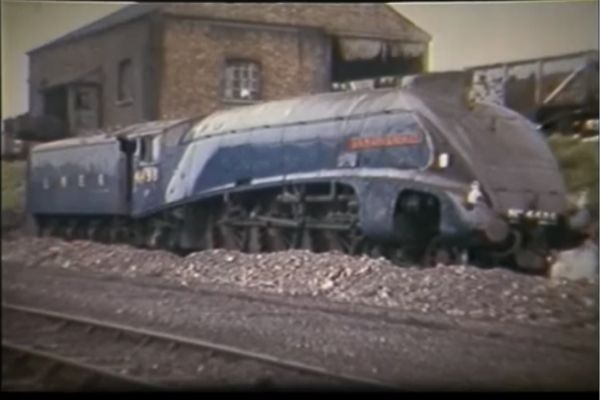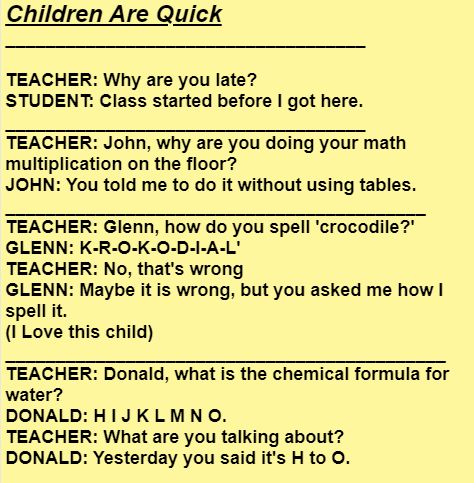 ---
27 August 2020 Please send photos, articles, words or jokes to yeovilrailway@hotmail.com

The Leveller - August edition can be found by CLICKING HERE and DOWNLOADING

Homes evacuated after freight train catches fire in Wales Aerial footage shows extent of the incident. Click on the photo.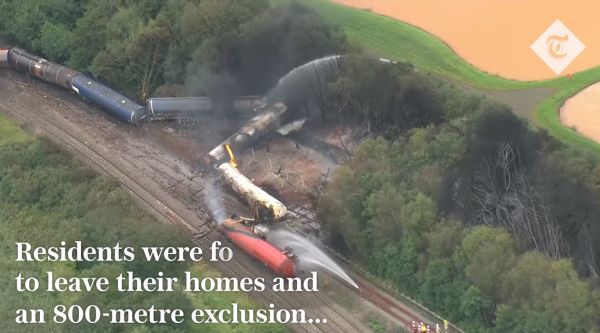 BRITISH HUMOR IS DIFFERENT
These are classified ads, which were actually placed in U.K. Newspapers: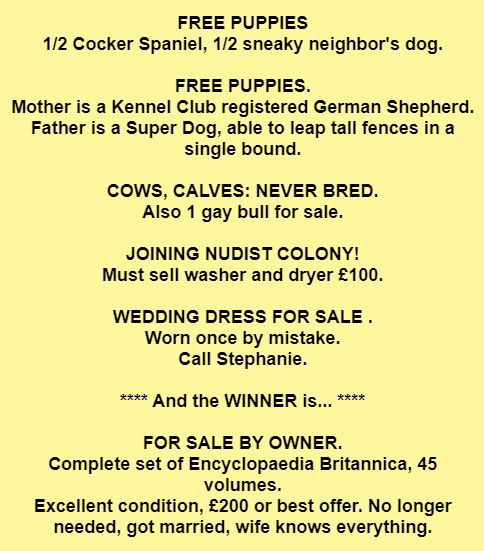 Northern Route over Dartmoor
Andrew Roden (contributor to railway magazines and Editor of Steam World) shared a link.
Hi everyone, quick update here - as promised from @NorthernRouteWG on Twitter, copied and pasted for those who don't Tweet. Happy to try and answer any questions... just don't expect fractal detail as we're still fine-tuning things.

With today's brief update, we thought we'd do a thread on the rationale for reinstating the #NorthernRoute from Exeter to Plymouth via Okehampton and Tavistock, the challenges involved, and where we're to on the TORS project. Ready for a long thread? Here goes... #Dawlish in 2014 prompted extensive calls for the railway's reinstatement (it was closed as a through route between Bere Alston and Meldon in 1968) to act as a diversionary route when the coastal main line is shut by bad weather or maintenance... ...keeping all of Cornwall and much of Devon connected to the National Rail network, as well as opening a huge area of the region to sustainable public transport again. @networkrailwest studied it in 2014 and concluded that spending money on strengthening the main line... was a greater priority for investment. To demolish a potential misunderstanding - we're not advocating TORS (Tavistock Okehampton Reopening Scheme) as an alternative to those critical resilience works, but as an addition to the SW transport network in its own right.

@AndyRoden1 and @CNNCT_consult met pre-lockdown to discuss whether the reopening might be more viable than thought, and brought in friends from across the rail industry to examine the case. TORS and the wider NRWG are formed of people with railway expertise in operations, engineering and management at the very highest levels of the rail industry. Put bluntly, if they can't make a case, there isn't one. At the start, we set a host of strict criteria which had to be met. In rough order, these are: 1) The railway must cover its day-to-day operating costs. 2) As far as possible, additional vehicles and traincrew should be limited to the least possible. 3) The existing Gunnislake and Barnstaple services must be retained. 4) The impact on @dartmoornpa and Tamar Valley AONB must be as low as possible. 5) The Granite Way trail must be retained and if possible extended. Note that diversionary benefits are not in these criteria: if a commercial and operating case can be made, those are in addition to the economic, social and environmental benefits of the reopening.

.With the sponsorship of @Geoffrey_Cox and the support of @scottmann4NC, @JohnnyMercerUK and @MelJStride, a bid was made to the DfT's reopening your railway fund. It wasn't successful, in part because the work had already gone beyond the 'early stages' point DfT envisaged. So, how do we fulfil those criteria? The fundamental point is that to attract passengers and make operational sense, we have to provide a service fast enough from Tavistock to Plymouth and Okehampton to Exeter to get people out of their cars, and throughout comparable ith the main line. Thankfully, @networkrailwest's 2014 study suggests this is achievable. We're double checking our concept timetable against a horizontal alignment to see if we're on the right track. Assuming we are, we're confident that the railway will cover its operating costs, require no additional rolling stock and few extra traincrew. This is critical as if we fail this test, as taxpayers, we might well be better spending our own money elsewhere. We're confident that on a day to day basis, this route stands up in its own right.

We can also accommodate the full Gunnislake and Barnstaple services, which are vital for the areas they serve. So, so far so good. What about the impact on @dartmoornpa and Tamar Valley AONB? Again, we're confident that the proposals we hope to make public soon will demonstrate that the adverse effects inevitable with any infrastructure work have been mitigated as much as possible. And the same is true for the Granite Way, which potentially could be extended during construction of the railway from its southern limit at Lydford to Tavistock. It is crucial, too that those most adversely affected by the reopening are treated decently, kindly and with proper consideration. Unanimous support cannot be taken for granted, and those who oppose must be given a fair hearing.

As things stand, we're confident (a phrase we repeatedly use because we're not going to be hoist on the petard of absolute certainty) that the #NorthernRoute will be a fast and attractive railway that covers its costs. But we can go further than that. There are much wider benefits for the South West. Diversionary first, obviously. @networkrailwest resilience work should make the need for weather-related closures much less, but the route still needs maintaining, and resilience works could potentially be speeded by opening up the possibility of longer blockades with #NorthernRoute open and running. Vitally, Cornwall, Plymouth and South Devon remain connected to the network regardless. Secondly comes freight. In our evidence to @transportgovuk we were able to highlight how the perceived vulnerability of the main line acts as a deterrent to potential rail freight users in the SW. #NorthernRoute would eliminate that, and just as importantly offer a much easier-graded route for freight west of Exeter, cutting the need to split trains at Newton Abbot. Supermarket trains to the far SW would be an obvious candidate to use it, but there is significant potential elsewhere, particularly if a battery factory were built in Cornwall to use lithium extracted there.

There will be benefits for @dartmoornpa - firstly by offering a cleaner (and if electrified zero emission at source) route into the park. Combined with bus links from Tavistock and Okehampton, visitors would be able to leave their car at home and access much of the park. On the subject of buses, if our journey time aspirations are correct, there is the potential to operate express bus services from Okehampton to places such as Torrington, Bude via Launceston, Wadebridge and Padstow, providing radically improved links to those towns.

There is also huge potential for charter trains. We've seen the success of 'The Jacobite' in Scotland. How compelling would a tour running along the coastal main line and then through Dartmoor be? What a wonderful advertisement for the SW rail network that would be!

Assuming our final check on speeds confirms our thinking (and we suspect there'll be one or two red faces if it doesn't given the expertise at play here!), after liaising with @PensTransport and @networkrailwest we will make our proposal in public and in detail.

To read the Twitter with more discussion page CLICK HERE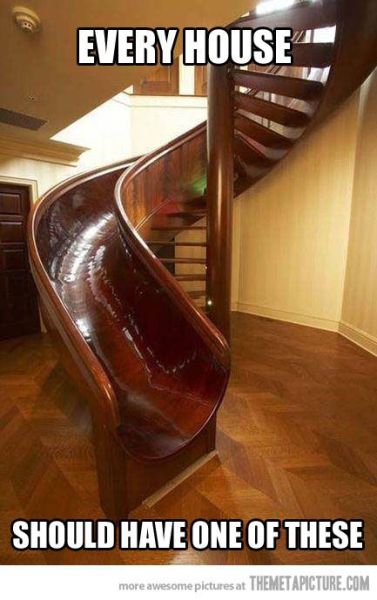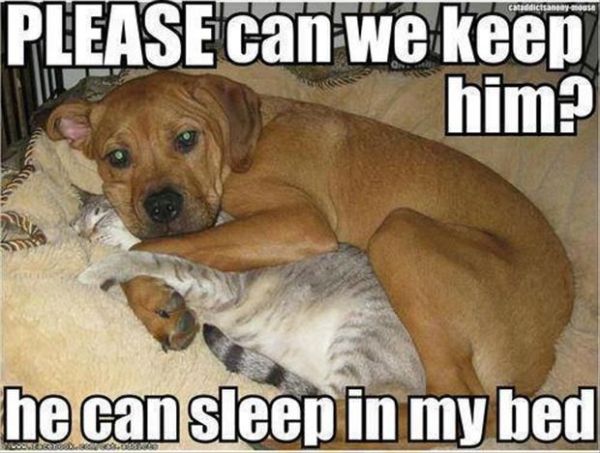 ---
26 August 2020 Please send photos, articles, words or jokes to yeovilrailway@hotmail.com

Activity in the Exeter area Photos courtesy Dave Tozer.
At Exmouth Junction a work site seems to be constructed, possibly in connection with the relaying of the junction at Exmouth Junction which will result in no trains from Honiton (occasionally different) to Exeter from Sunday 25 October to Sunday 1 November.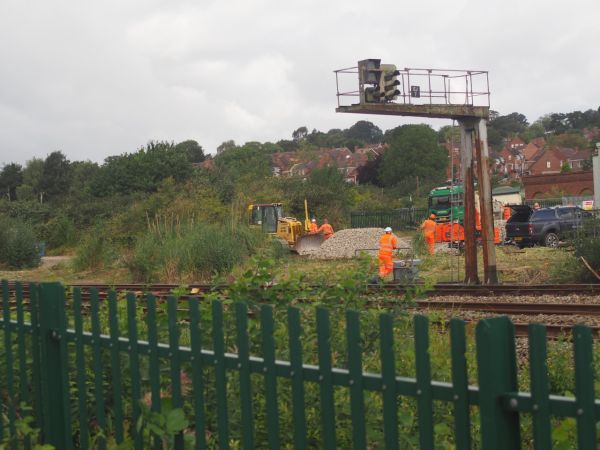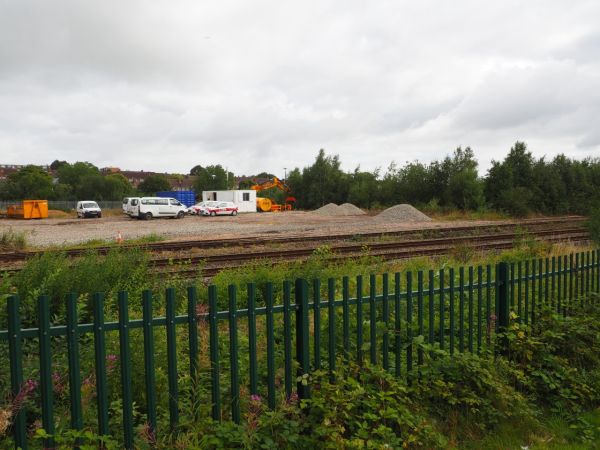 Note the old water tower in the background.

150266 at Pinhoe tonight on the return training run from Exeter to Castle Cary via Yeovil



Teacher: "If I gave you 2 cats and another 2 cats and another 2, how many would you have?"
Johnny: "Seven."
Teacher: "No, listen carefully... If I gave you two cats, and another two cats and another two, how many would you have?"
Johnny: "Seven."
Teacher: "Let me put it to you differently. If I gave you two apples, and another two apples and another two, how many would you have?"
Johnny: "Six."
Teacher: "Good. Now if I gave you two cats, and another two cats and another two, how many would you have?"
Johnny: "Seven!"
Teacher: "Johnny, where in the heck do you get seven from?!"
Johnny: "Because I've already got a cat!"

In a Catholic school cafeteria, a nun places a note in front of a pile of apples,
"Only take one. God is watching."
Further down the line is a pile of cookies. A little boy makes his own note,
"Take all you want. God is watching the apples."


---
25 August 2020 Please send photos, articles, words or jokes to yeovilrailway@hotmail.com

Appledore Shipyard to reopen after £7m InfraStrata deal

CLICK HERE to read the BBC report

Cromford and High Peak - again! Five shortish videos taken in 1967, just prior to the route's closure.

Preparing for The End on the C&HPR - 1967
Taking the waters in the High Peak - part 1
Taking the waters in the High Peak - part 2
Taking the waters in the High Peak - part 3
Taking the waters in the High Peak - part 4

Girl: Do you love me?

Boy: Yes Dear
Girl: Would you die for me?
Boy: No, mine is undying love

A boy came home from school with his exam results.
"What did you get?" asked his father.
"My marks are under water," said the boy. "What do you mean 'under water'?" "They are all below 'C' (sea) level"

Mother: David, come here. David: Yes, mum?
Mother: You really disappoint me. Your results are getting worse. David: But I will only get my report book tomorrow.
Mother: I know that. But I am going to Hong Kong tomorrow, so I am scolding you now.


---
24 August 2020 Please send photos, articles, words or jokes to yeovilrailway@hotmail.com

South Western Railway announces latest timetable change

CLICK HERE for announcement

An elderly man feared his wife wasn't hearing as well as she used to and he thought she might need a hearing aid. Not quite sure how to approach her, he called the family Doctor to discuss the problem.

The Doctor told him there is a simple informal test the husband could perform to give the Doctor a better idea about her hearing loss.

"Here's what you do," said the Doctor, "Stand about 40 feet away from her, and in a normal conversational speaking tone see if she hears you. If not, go to 30 feet, then 20 feet, and so on until you get a response."

That evening, the wife is in the kitchen cooking dinner, and he was in the den. He says to himself, "I'm about 40 feet away, let's see what happens." then in a normal tone he asks, "Honey, what's for dinner?" No response. So the husband moves to closer to the kitchen, about 30 feet from his wife and repeats, "Honey, what's for dinner?" Still no response. Next he moves into the dining room where he is about 20 feet from his wife and asks, "Honey, what's for dinner?" Again he gets no response, So; He walks up to the kitchen door, about 10 feet away. "Honey, what's for dinner?" Again there is no response. So he walks right up behind her and asked,…

"Honey, what's for dinner?"* * * * * * * * * * * * * "James, for the FIFTH time, I've said, CHICKEN!" Said the wife.

CROMFORD and HIGH PEAK Railway Click on the photo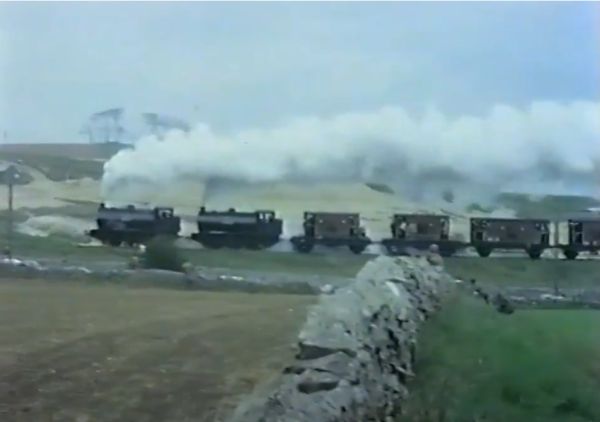 Cromford Incline in the Peak District. Archive film 1930s Click on the photo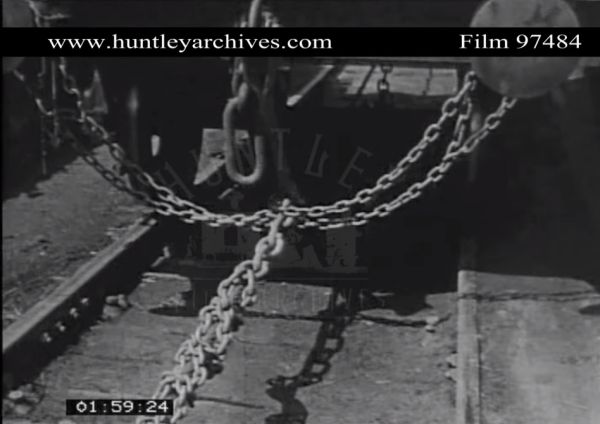 ---
23 August 2020 Please send photos, articles, words or jokes to yeovilrailway@hotmail.com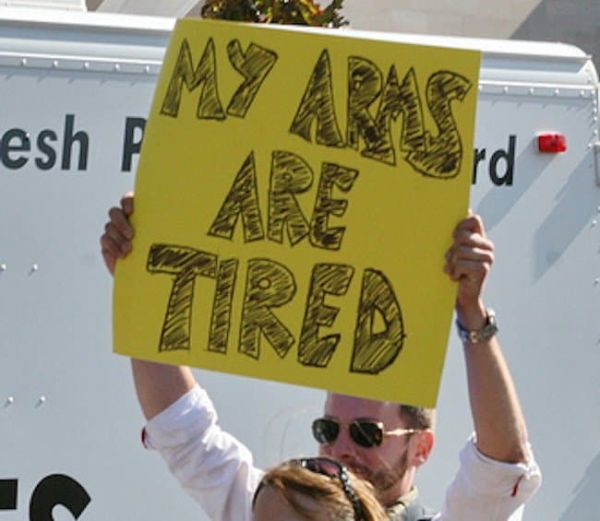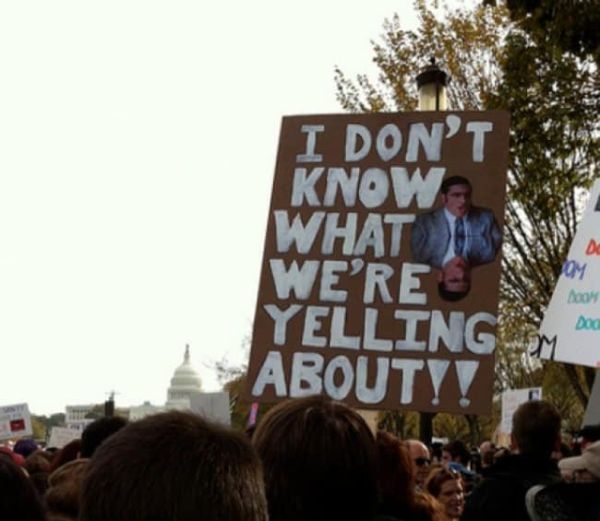 TERMINUS - 1961 John Schlesinger's outstanding "fly on the wall" film about a day in the life of Waterloo Station. (Click on the photo)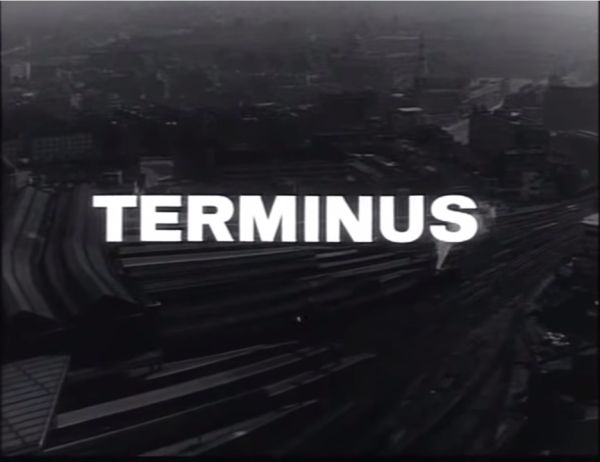 When this cat's best friend is a capybara.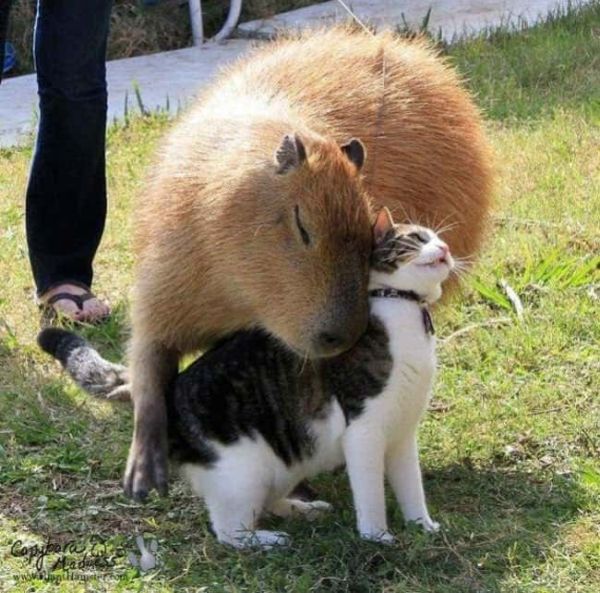 ---
22 August 2020 Please send photos, articles, words or jokes to yeovilrailway@hotmail.com

Monsal Trail: Plans to turn viaduct into railway opposed

CLICK HERE for BBC report

Part 3 of the 1963 BBC programme showing the 24 mile S&D line from Evercreech Junction.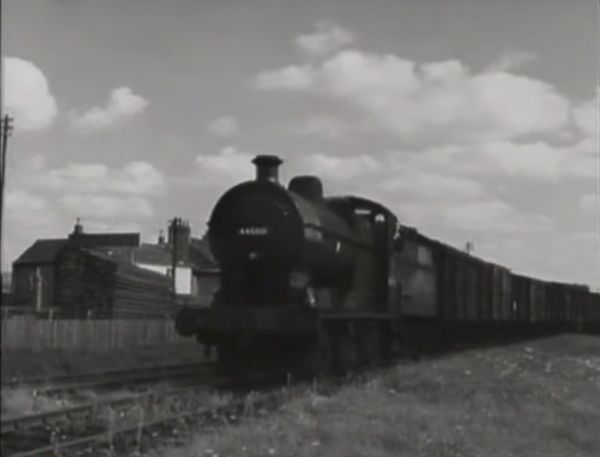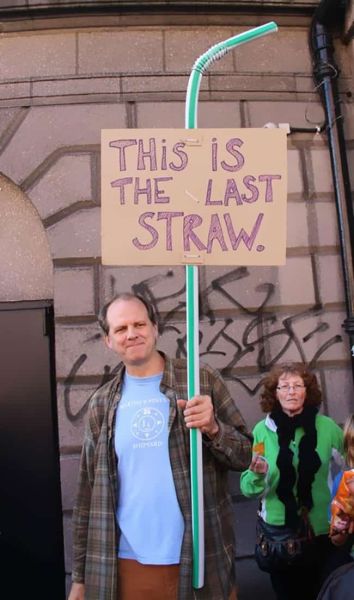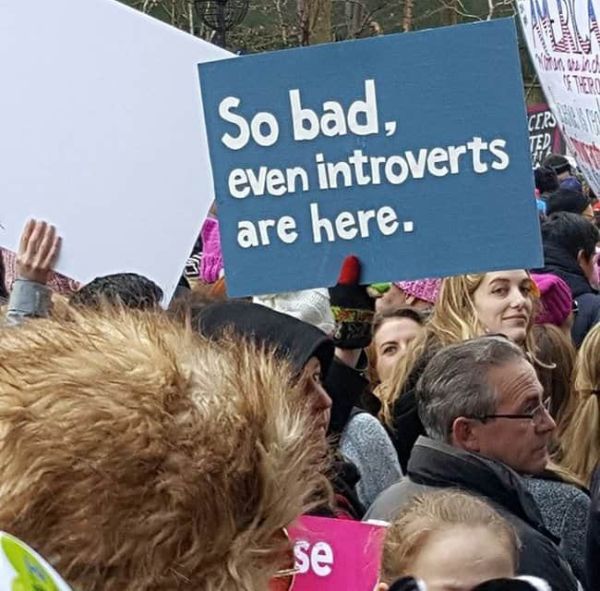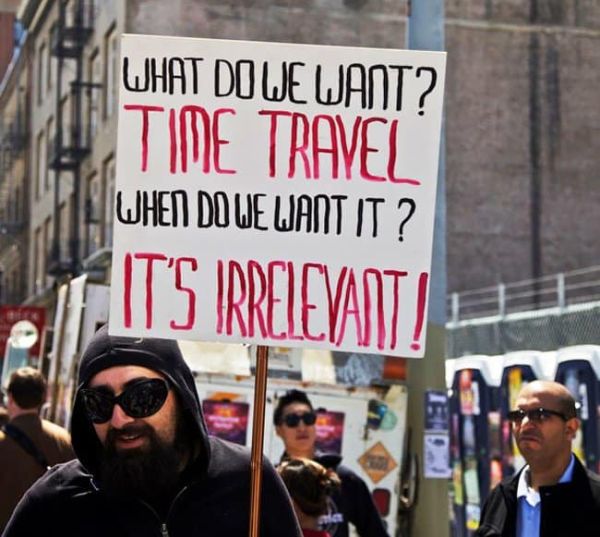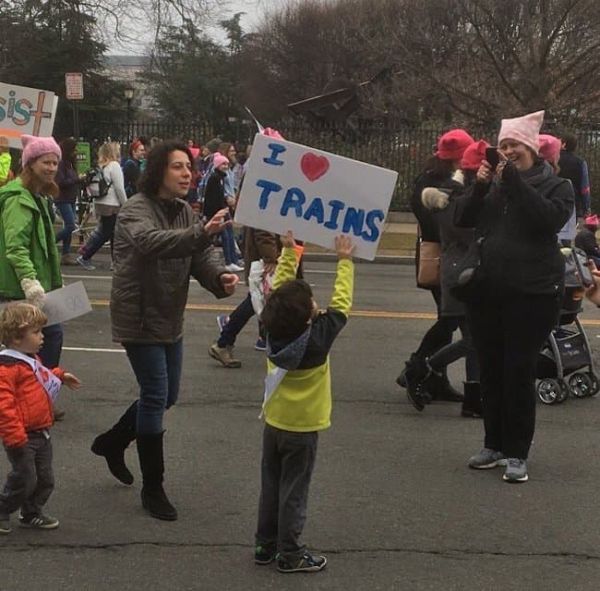 ---
21 August 2020 Please send photos, articles, words or jokes to yeovilrailway@hotmail.com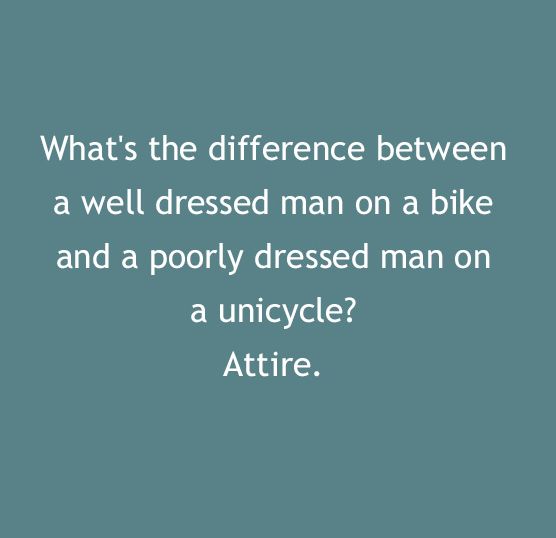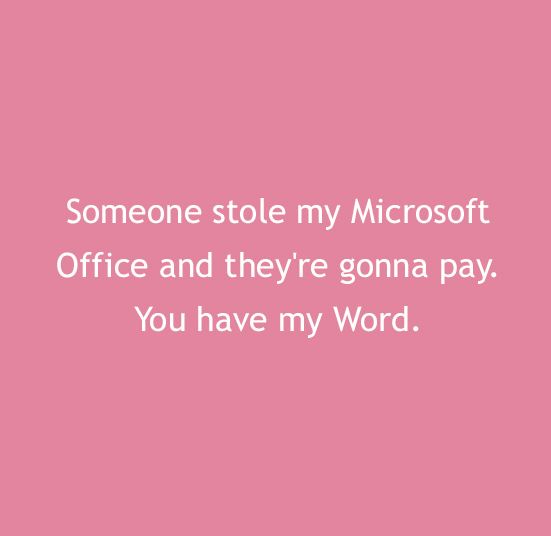 A 1963 BBC programme showing the 24 mile S&D line from Evercreech Junction. In the first episode we reach Highbridge - then the end of passenger services (and how right he was in his comments starting at 7.40 in this episode!). In the second part, John looks at Highbridge and the freight trains which were still running to Burnham on Sea. The former loco works of the Somerset & Dorset Joint Railway were derelict but still in situ. Part 3 to follow soon.

Click on the photos.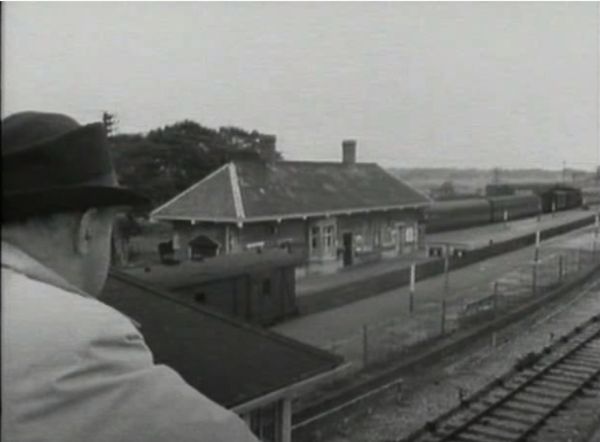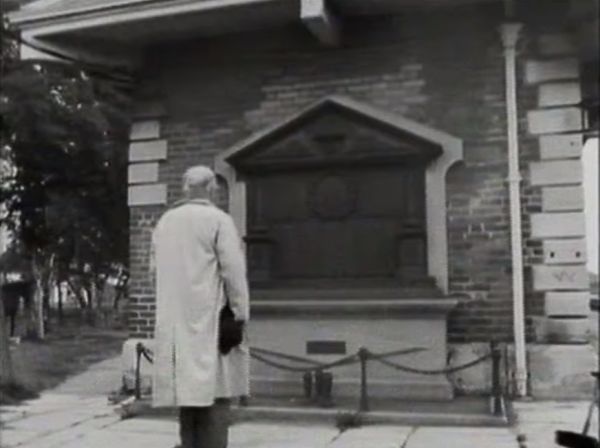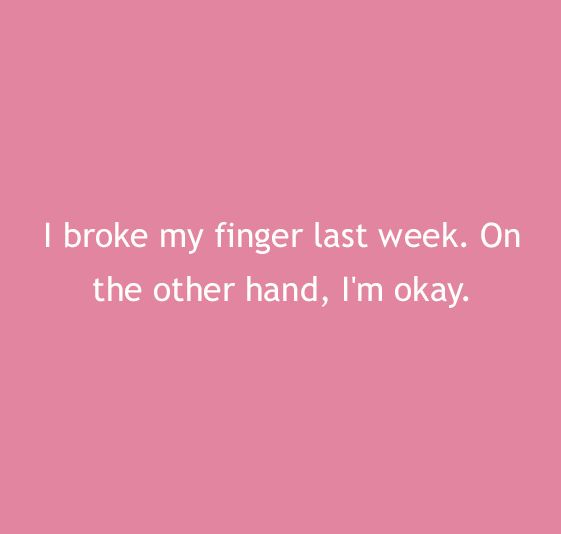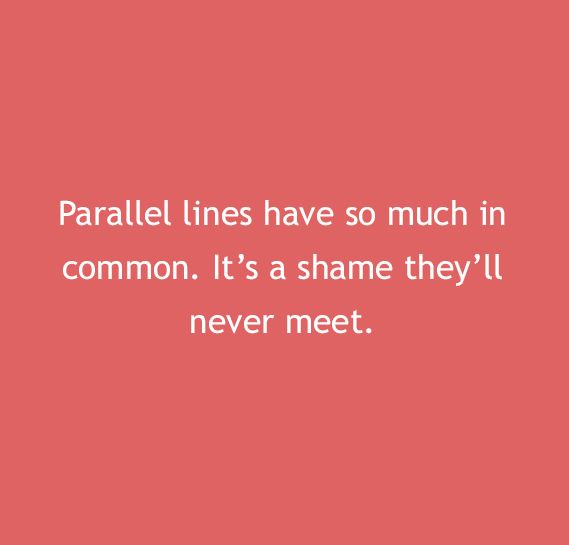 ---
20 August 2020 Please send photos, articles, words or jokes to yeovilrailway@hotmail.com

Island Railway update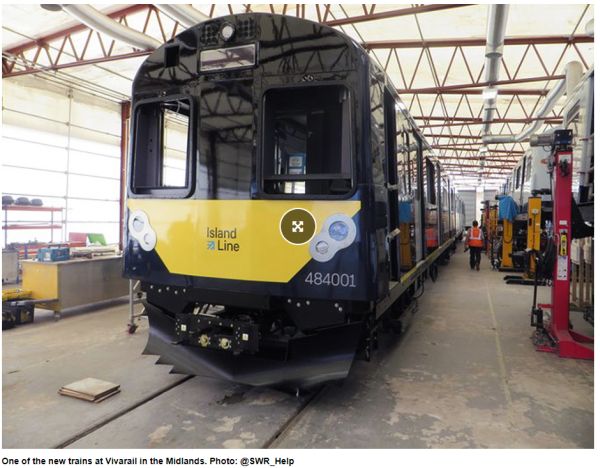 Fawley Hill Railway Sir William McAlpine (sadly no longer with us) had his private railway which was opened on a few occasions annually to guests. A gradient 1 in 13 certainly made the engine work hard even though it was pulling just an open wagon and a brakevan! Two videos - click on the photos to view.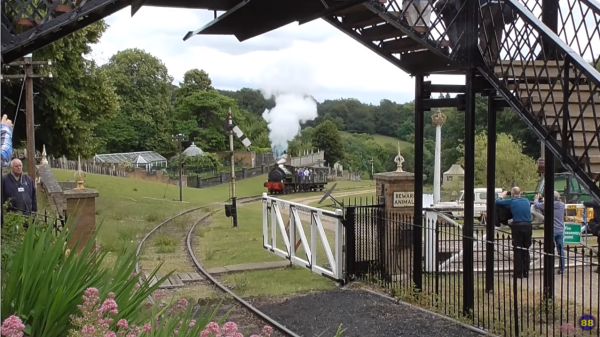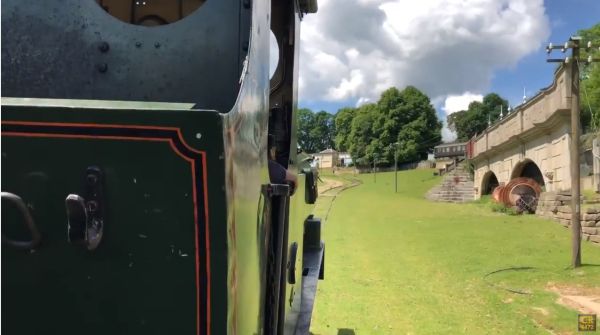 ---
19 August 2020 Please send photos, articles, words or jokes to yeovilrailway@hotmail.com

Another two Model Railway wagons have been commissioned in Limited Editions Click on one of the Photos below for full details on how to purchase by Mail Order or at our Shop on Sunday mornings 10am to noon. Details of our other offerings are there as well.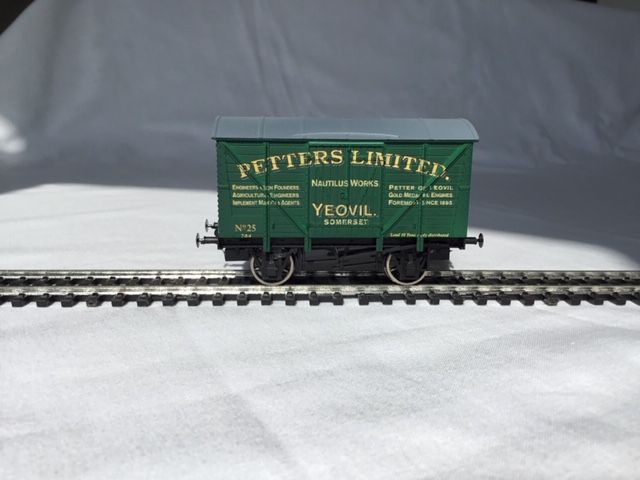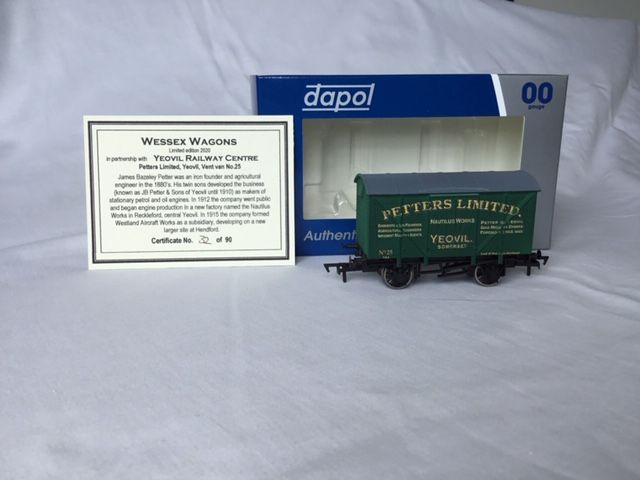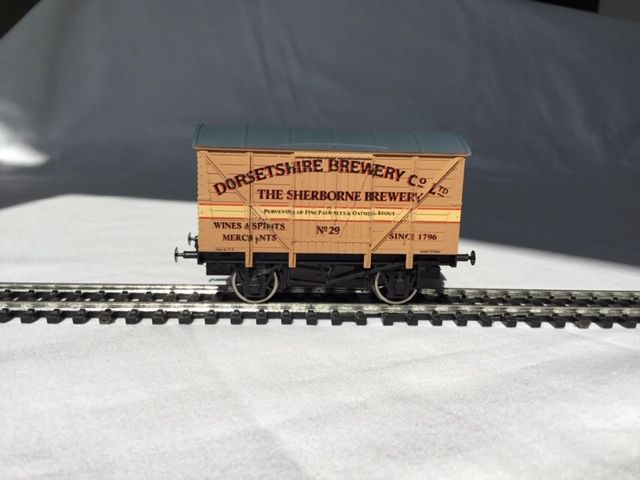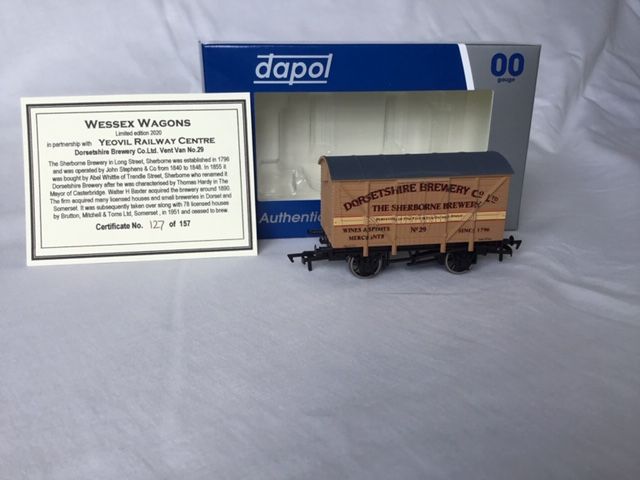 Some very sad news tweeted by West Coast Railways

West Coast Railway Company are deeply saddened at loosing our Fireman Mike Middleton last night near Garsdale after being taken ill on 1Z34

Our thoughts are with his family at this awful time.

Thank you for all the kind messages received from our passengers and friends.

(It was true professionalism and determination to complete the job that the train was brought back home after a delay of 73 minutes to arrive in York only 49 minutes down. And then onto Carnforth.)

Railway Roundabout 1959 'The Closing Of The Wye Valley Lines'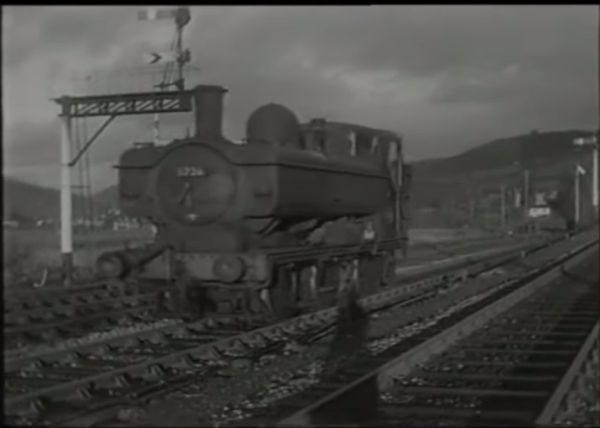 ---
18 August 2020 Please send photos, articles, words or jokes to yeovilrailway@hotmail.com

ABC"2" of RAILWAYS: Y is for YEOVIL JUNCTION
Please click on the photo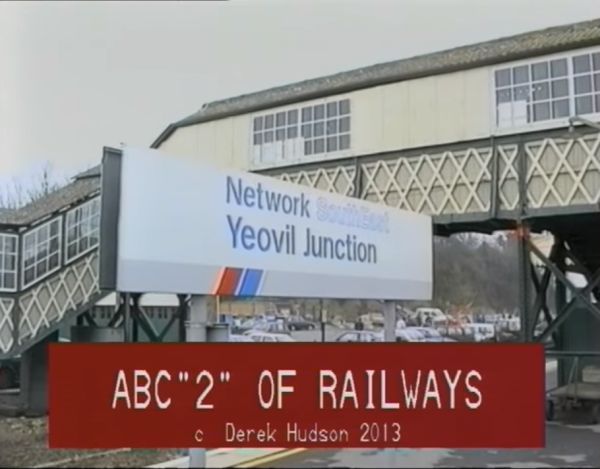 The distinctive sound of a Spitfire was heard over Yeovil as the machine flew over the hospital as part of a nationwide tour to thank the NHS. A somewhat distant view from Yeovil Railway Centre.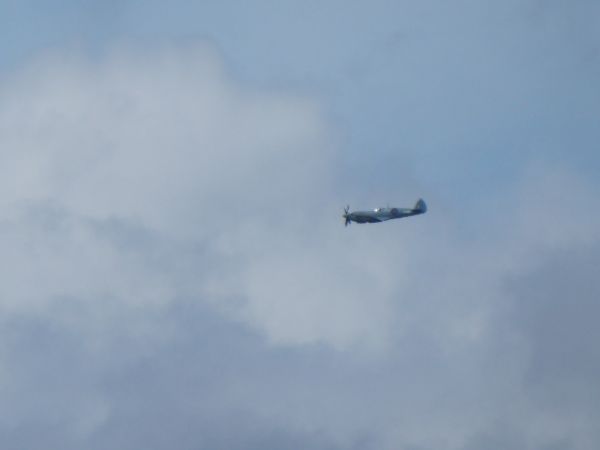 Amusing observation of getting old (continued for the last time you may be plased to know!)

Actually, I'm not complaining because I am a Senager (senior teenager). I have everything that I wanted as a teenager, only 60 years later. I don't have to go to school or work. I get an allowance every month. I have my own pad. I don't have a curfew. I have a driver's licence and my own car. Life is good! and I don't have acne. Life is great.

I have more friends I should send this to but, right now, I can't remember their names. Now, I'm wondering: did I send this to you, or did you send it to me?


---
17 August 2020 Please send photos, articles, words or jokes to yeovilrailway@hotmail.com

The'Thank U NHS' Spitfire will fly over hospitals in Bath, Somerset, and Wiltshire tomorrow (Tuesday).

The Spitfire is flying over Great Western Hospital in Swindon at 2.05pm on Tuesday, followed by Chippenham Community Hospital at 2.12pm, at 2.16pm it flies over Trowbridge Community Hospital, and then onto Bath's Royal United Hospital at 2.20pm.

Less than 20 minutes later it will fly over Yeovil District Hospital at 2.38pm, then onto Musgrove Park Hospital at 2.45pm, before heading South West and then onto Wales.

People across the UK are being offered the chance to nominate a name of a loved one to be hand-written onto the family-owned Aircraft Restoration Company's iconic, blue Spitfire as it takes flight to raise money for NHS Charities Together.

BBC Documentary - The Somerset and Dorset Railway Click on the photo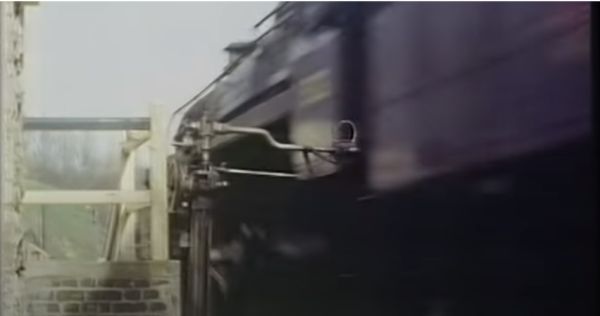 Amusing observation of getting old (continued again)

If God wanted me to touch my toes, He would've put them on my knees.

Last year I joined a support group for procrastinators. We haven't met yet.

Of course I talk to myself. Sometimes I need expert advice.

At my age 'getting luck' means walking into a room and remembering what I came in there for.


---
16 August 2020 Please send photos, articles, words or jokes to yeovilrailway@hotmail.com

Amusing observation of getting old (continued)

Old age is coming at a really bad time.

When I was a child I thought 'nap time' was a punishment. Now, as a grown up, it feels like a small holiday.

The biggest lie I tell myself is 'I don't need to write that down, I'll remember it.'

I don't have grey hair; I have 'wisdom highlights'! I'm just very wise.

Memories of Yeovil Junction Click on the photo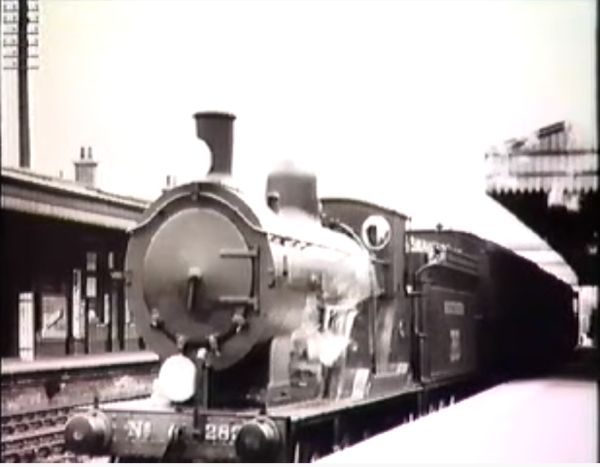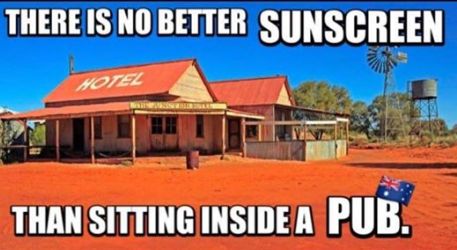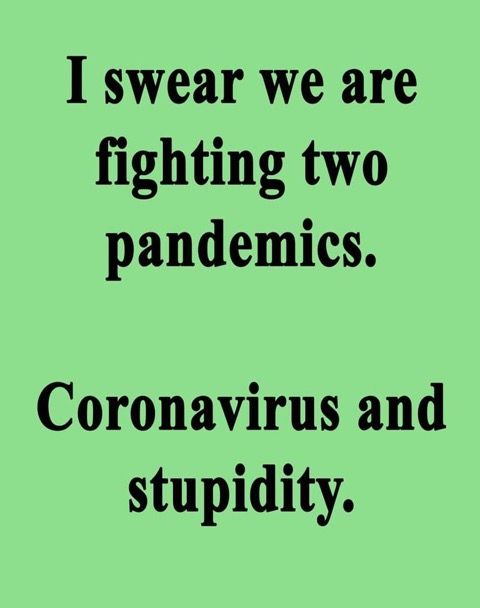 ---
15 August 2020 Please send photos, articles, words or jokes to yeovilrailway@hotmail.com

A new and easy self test for the horror of Covid 19 is doing the rounds and it's simple, quick and positive (or negative if you see what I mean).

Take a glass and pour a decent dram of your favourite whisky into it;

then see if you can smell it. If you can, then you are halfway there.

Then drink it. If you can taste it then it is reasonable to assume you are currently free of the virus because the loss of the sense of smell and taste is a common symptom.

I tested myself 7 times last night and was virus free every time thank goodness.

I will have to test myself again today because I have developed a throbbing headache which can also be one of the symptoms.

I'll report my results later.

New Car Park and Bike Lockers at Pinhoe Station (Excuse the adverts...)
CLICK HERE

Bo'ness and Kinneil Railway landslips and appeal
CLICK HERE

The future - as seen in the past? CLICK HERE


---
14 August 2020 Please send photos, articles, words or jokes to yeovilrailway@hotmail.com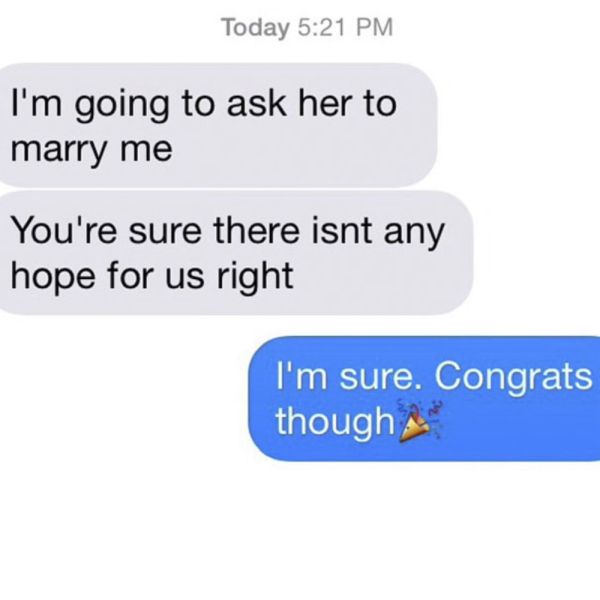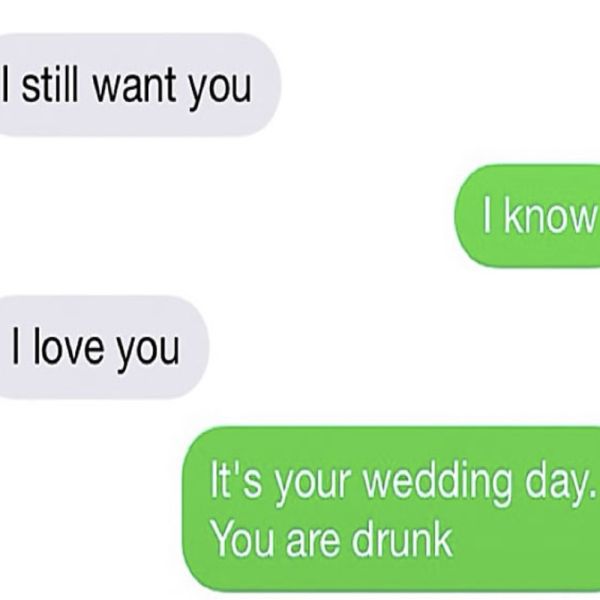 Somerset and Dorset Locomotive Company Limited.Some of the details of the locomotives stored in a couple of sidings at Yeovil Junction as very kindly provided by Bob Tucker.

Please click on the photo.
Three of the locomotives (Ruston and two Fowlers) are operational at Yeovil Railway Centre whilst another (Fowler) was purchased for spares. Please note that the present location of locomotives may well have changed in the intervening years since the video was produced.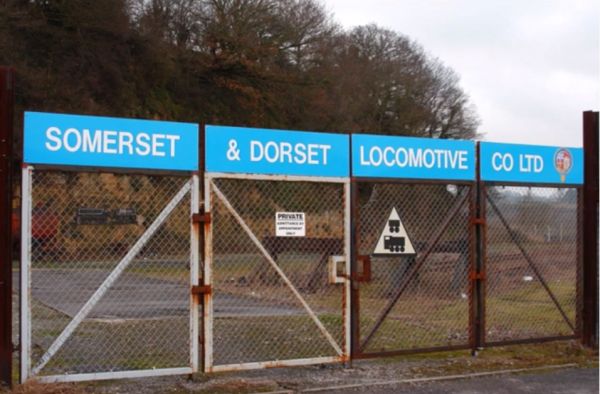 Amusing observation of getting old

I changed my car horn to gunshot sounds.People get out of the way much faster now.

Gone are the days when girls used to cook like their mothers.Now they drink like their fathers.

I didn't make it to the gym today. That makes five years in a row.

I decided to stop calling the bathroom the 'John' and renamed it the 'Jim'. I feel so much better saying I went to the Jim this morning.


---
13 August 2020 Please send photos, articles, words or jokes to yeovilrailway@hotmail.com

Video update from South Devon Railway Please click on the photo (sound quality is variable)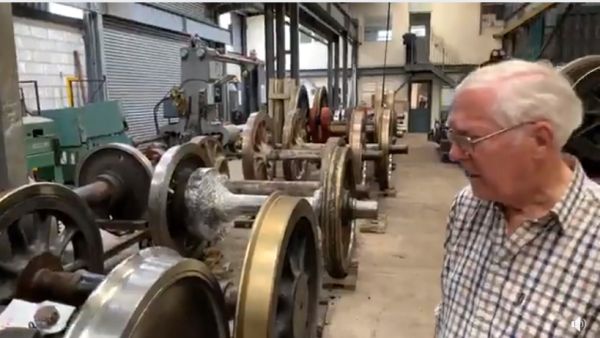 6024 'King Edward 1 at Watchet in May 2005 For those with a love of the loco!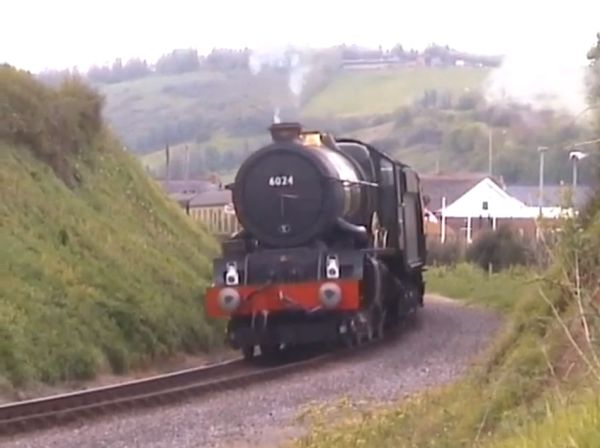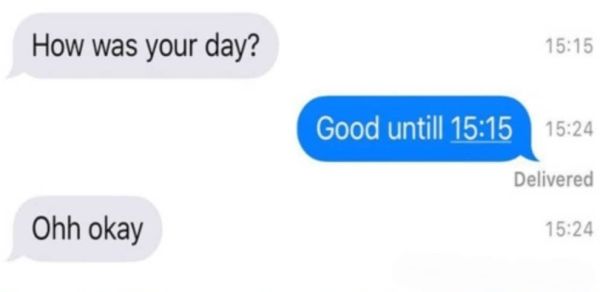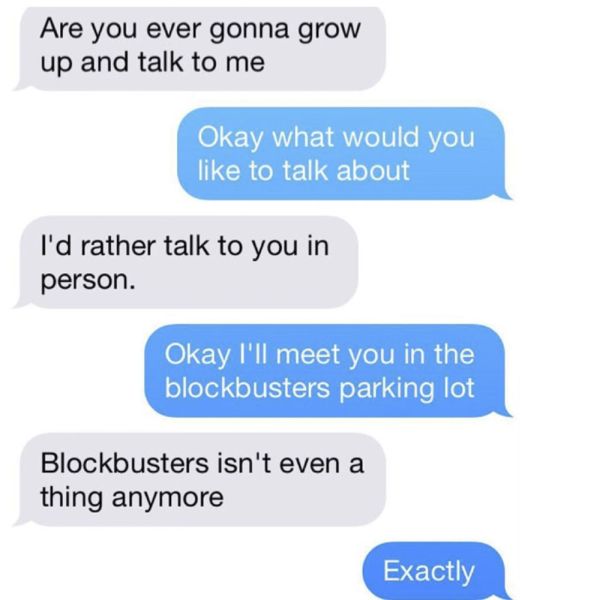 Lost Railways Somerset and Dorset with Clive Gunnell
Norton Hill Colliery 1965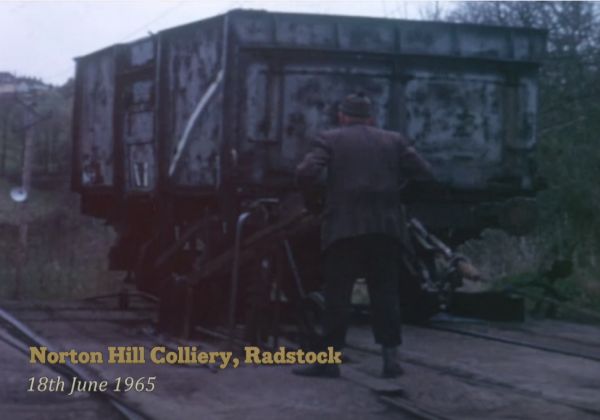 ---
12 August 2020 Please send photos, articles, words or jokes to yeovilrailway@hotmail.com

No update today as a mark of respect to those affected by the train derailment in Scotland earlier.


---
11 August 2020 Please send photos, articles, words or jokes to yeovilrailway@hotmail.com

A look at some of the recent activities at the Centre

The Transfer Shed team have been repainting and renovating some of the children's toys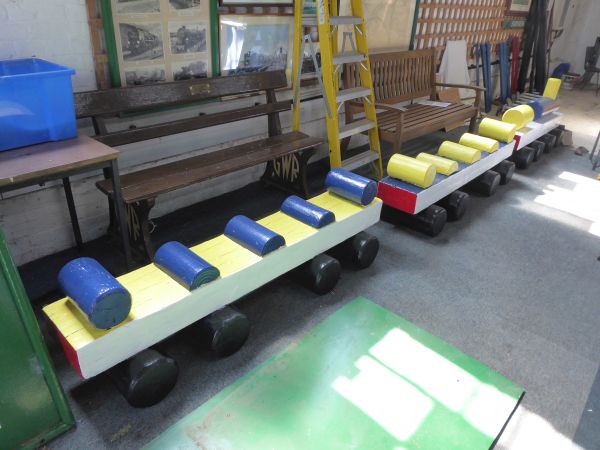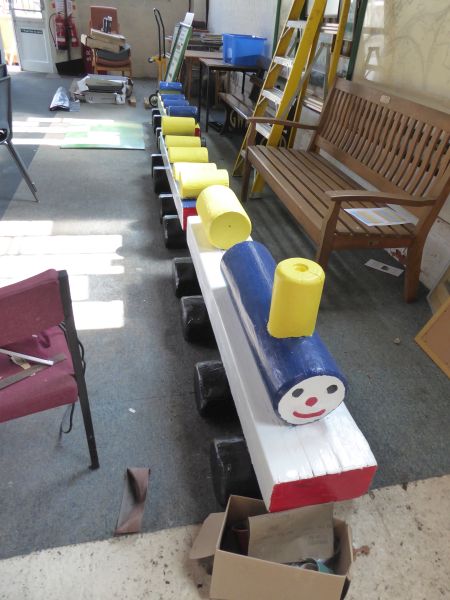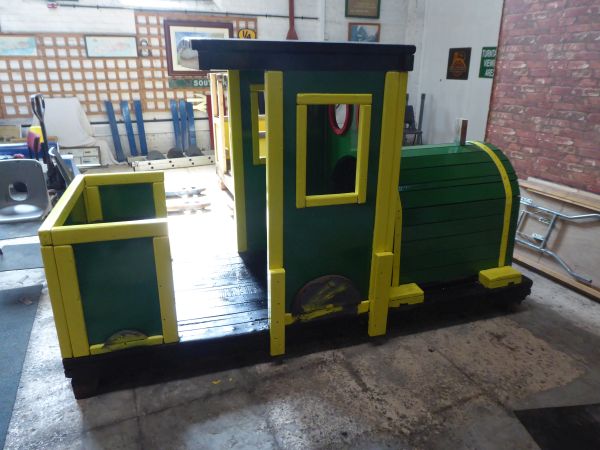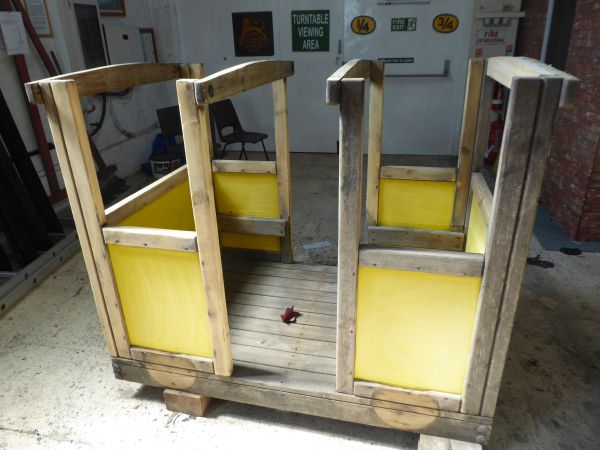 Work on fencing the South Chord has started. Planning Permission is being sought to extend our running line down here and to provide a modest platform. This area was created by the Great Western Railway in 1864 to provide a direct link from the Weymouth direction for Broad Gauge trains to run up to the Clifton Maybank transfer station (Our Transfer Shed is part of this). However, rails were never laid and the sole access was from the Yeovil Pen Mill direction. The first photo looks towards Yeovil Junction and the fence line of the Yeovil Pen Mill to Weymouth line can be seen in the distance in the second (just behind the vehicle).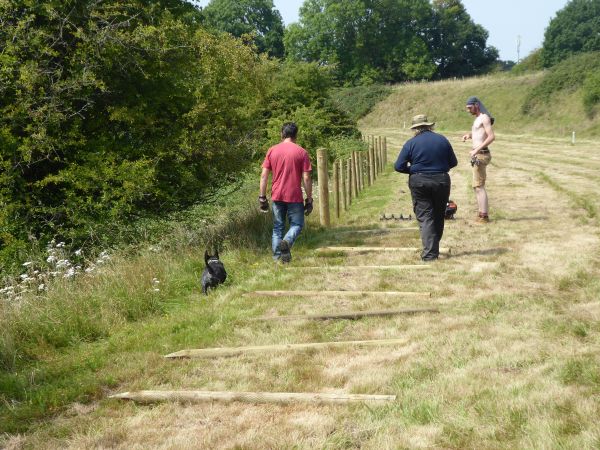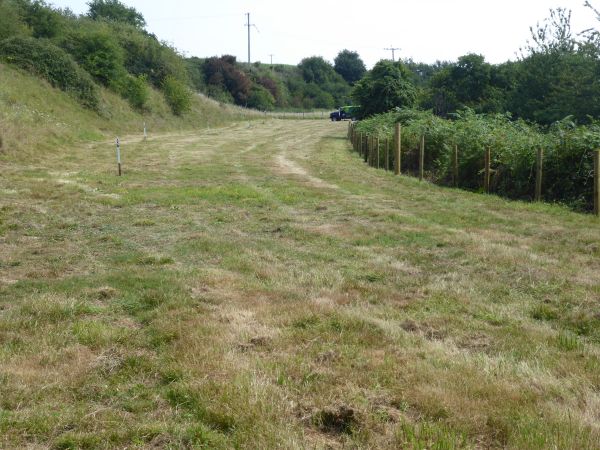 The recently outshopped ICI Acid Tanker.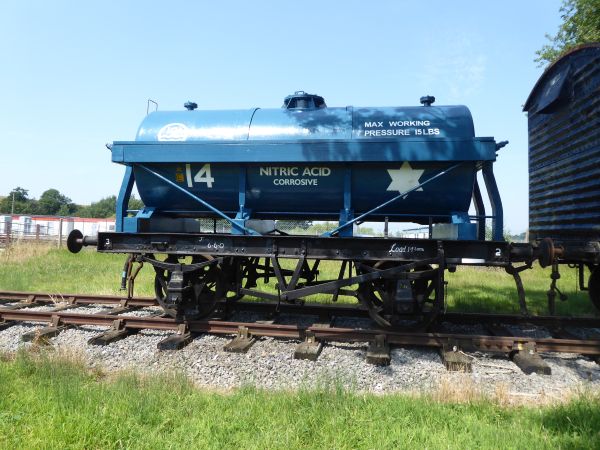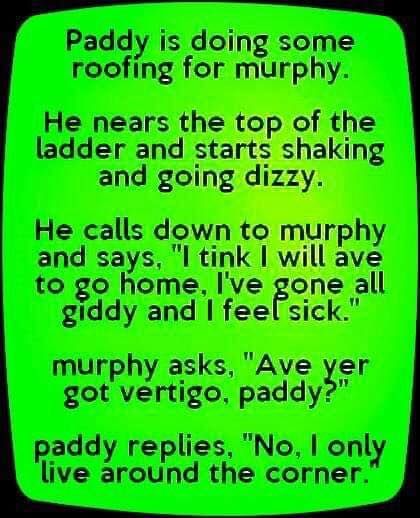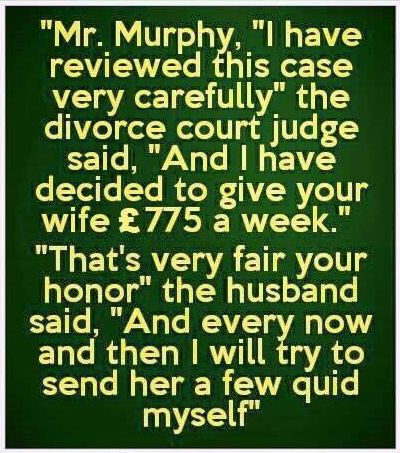 ---
10 August 2020 Please send photos, articles, words or jokes to yeovilrailway@hotmail.com

Friends of Honiton Station newsletter Click on the photo - if there are other local station groups who would like a link please get in touch!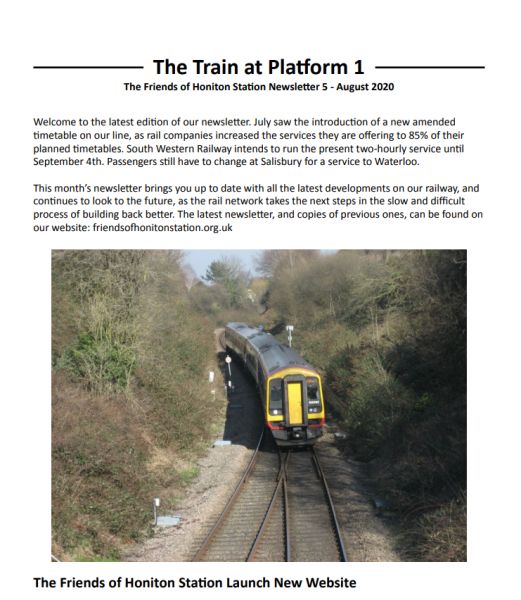 Unfortunately the link to their new website has become mangled (although it reads correctly) - CLICK HERE to go to the website. There is some good information there.

Is this where old wagons go when they die? Around 12 miles from Honiton (and not a railway anywhere close) came across this sight - there are a few other wagon tops not in this photo - but igmony they appear to be used as pig shelters!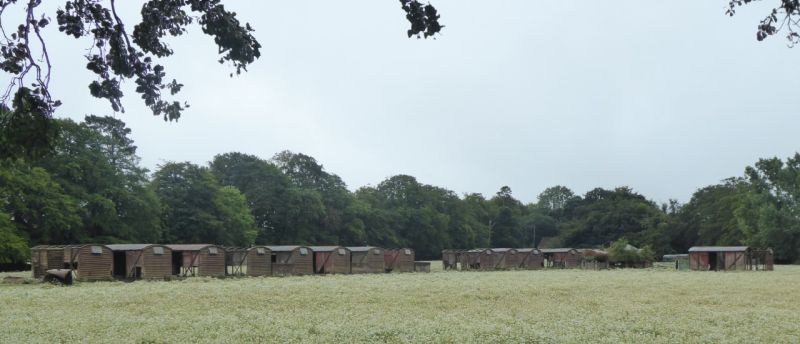 Listen carefully to Carol Kirkwood!

CLICK HERE -or read the comments...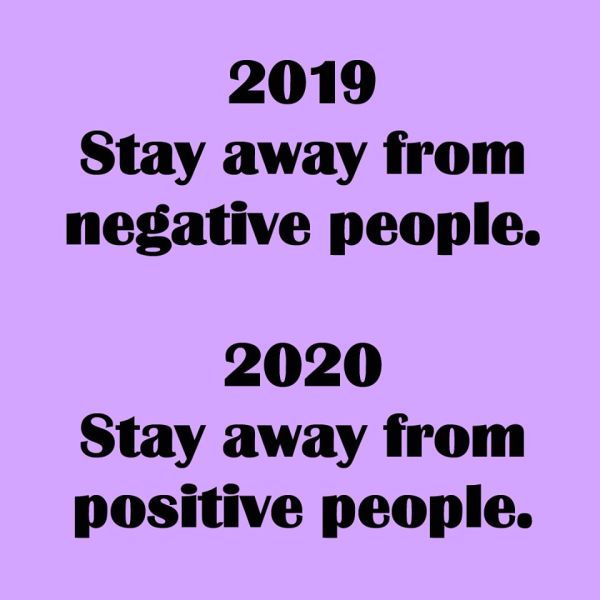 ---
9 August 2020 Please send photos, articles, words or jokes to yeovilrailway@hotmail.com

One dark night in the small town of Woopwoop, Western Australia a fire started inside the local sausage factory. In a blink the building was engulfed in flames.

The alarm went out to all the fire departments for miles around.

When the first volunteer fire fighters appeared on the scene, the sausage company president rushed to the fire chief and said, 'All of our secret sausage recipes are in the vault in the centre of the plant. They have to be saved, so I will donate $50,000 to the fire company that brings them out and delivers them to me.

But the roaring flames held the fire-fighters off.

Soon more fire departments had to be called in because the situation became desperate. As the firemen arrived, the president shouted out that the offer to extricate the secret recipes was now $100,000 to the fire department that could save them.

Suddenly from up the road, a lone siren was heard as another fire truck came into sight. It was the fire engine of the nearby Baringa volunteer fire department composed mainly of Aboriginal fire-fighters over the age of 65.

To everyone's amazement, the little run-down fire engine, operated by these Aboriginal fire-fighters, passed the fire engines parked outside the plant, and drove straight into the middle of the fire.

Outside, the other firemen watched in amazement as the Aboriginal old timers jumped off and began to fight the fire as if they were fighting to save their own lives.

Within a short time, the Baringa old timers had extinguished the fire and saved the secret recipes.

The grateful sausage company president joyfully announced that for such a superhuman accomplishment he was raising the reward to $200,000, and walked over to personally thank each of the brave elderly Aboriginal fire-fighters.

A TV news crew rushed in after capturing the event on film. The 'on camera' reporter asked the Aboriginal fire chief, 'What are you going to do with all that money'.

'Well,' said Chief Billy Cokebottle, the 70-year-old fire chief, 'de furst ting we gonnna do is fix dem brakes on dat fire truck!!'


Train Time (1952) British Transport Films Click on the photo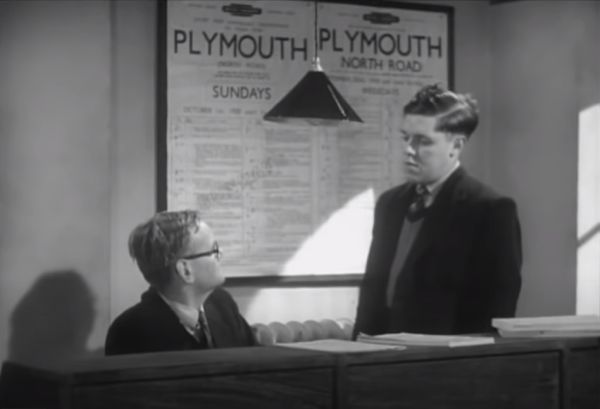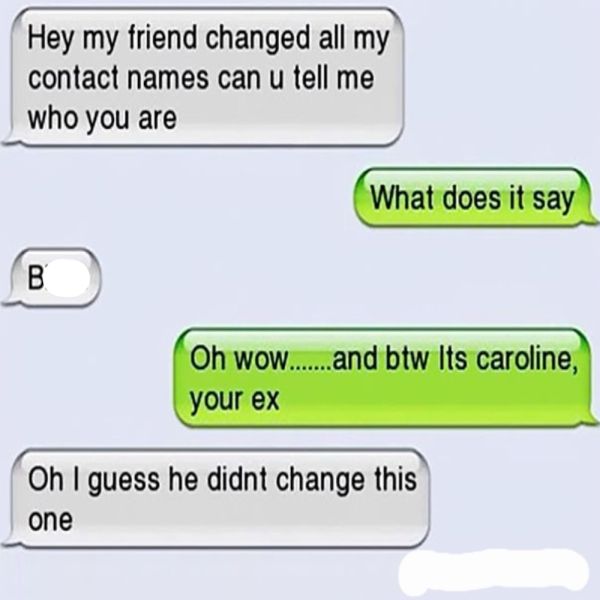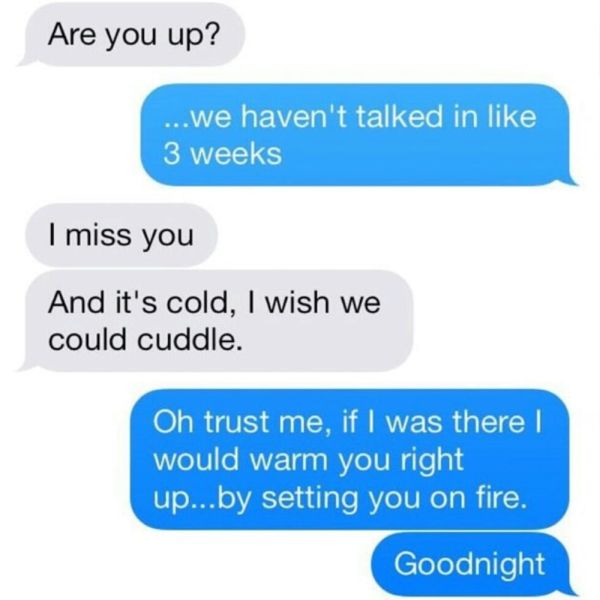 ---
8 August 2020 Please send photos, articles, words or jokes to yeovilrailway@hotmail.com



Our Appeals If you are enjoying our page would you help us build our new Toilet Block by contributing to the Appeal? (updated-see above) or help our General Funds please see the links above! Any help will be greatly appreciated!

Railway Roundabout - 1958 Southampton Docks Click on the photo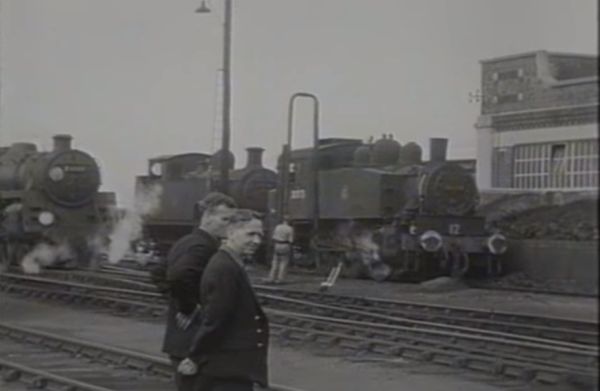 Only way to get things done round here!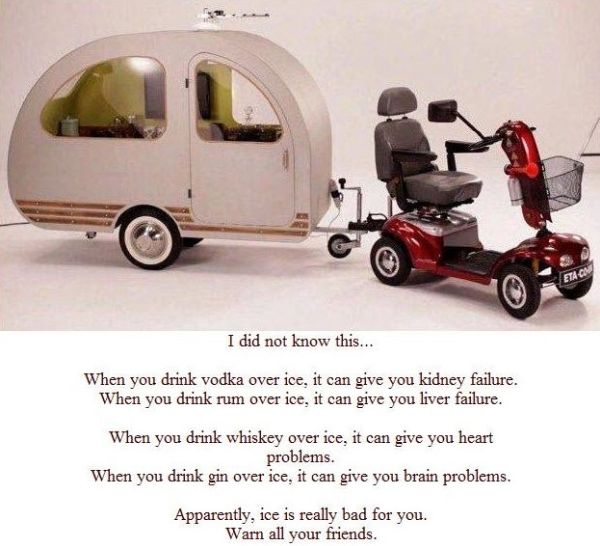 ---
7 August 2020 Please send photos, articles, words or jokes to yeovilrailway@hotmail.com

Never tailgate a rhino




Festiniog Railway 1964 Click on the photo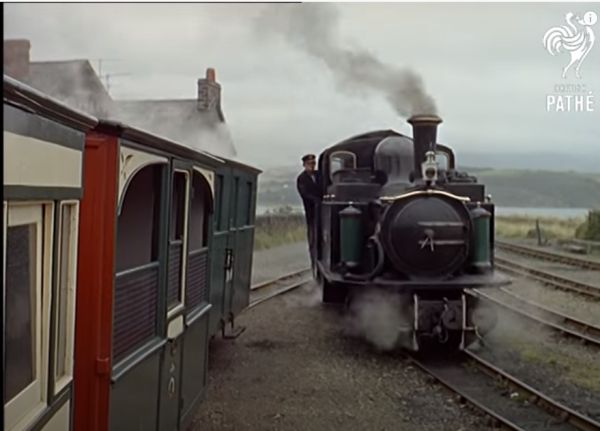 Ffestiniog Railway, 1968 Click on the photo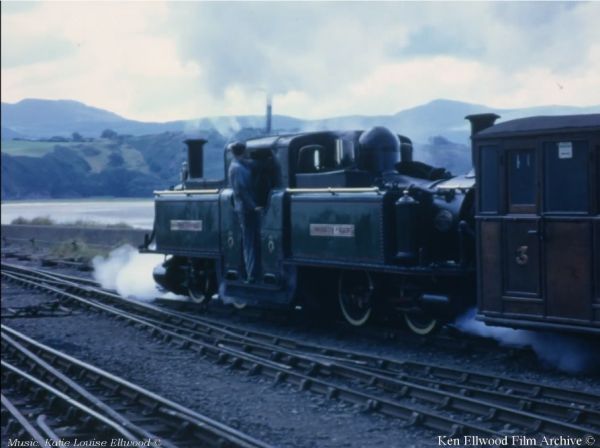 The 'Ffestiniog Railway' Quirks and Curiosities II 30/04/17 Click on the photo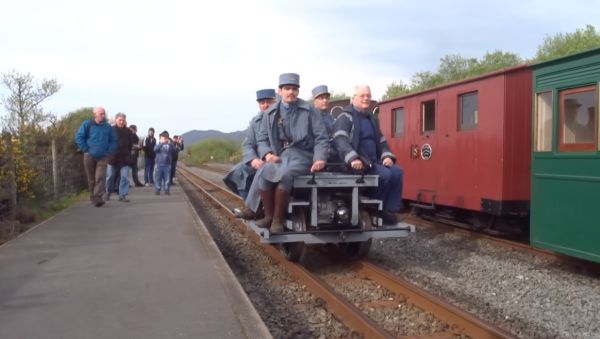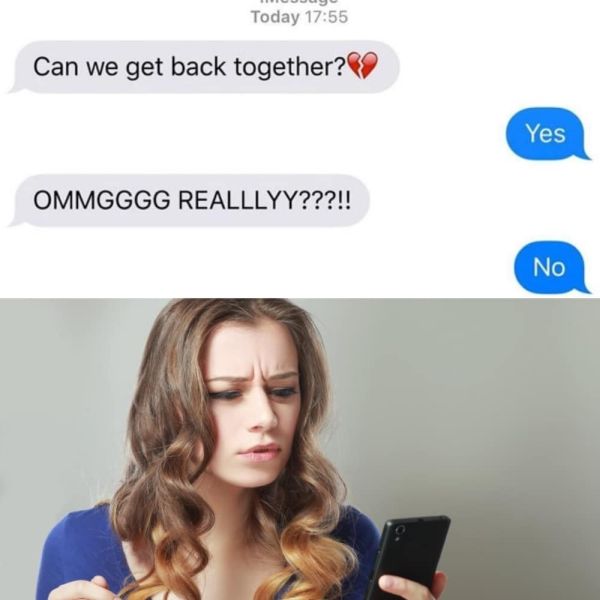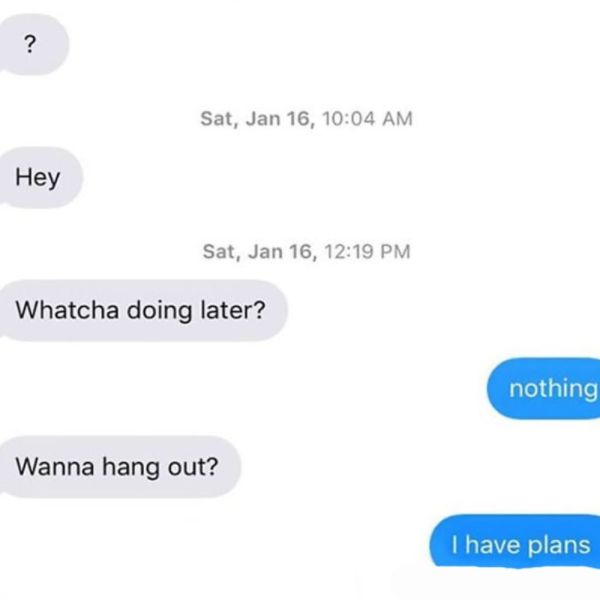 ---
6 August 2020 Please send photos, articles, words or jokes to yeovilrailway@hotmail.com

DB Cargo extends Cornish clay train contract

CLICK HERE

Yeovil Railway Centre - some of our recent activities

The Chard Signalling panel has a new home (12 July 2020) - up on the mezzanine in the Transfer Shed as part of the museumy bits we have.
Development continues with the eventual aim of a propoer simulation
of the Chard Junction and Axminster lines.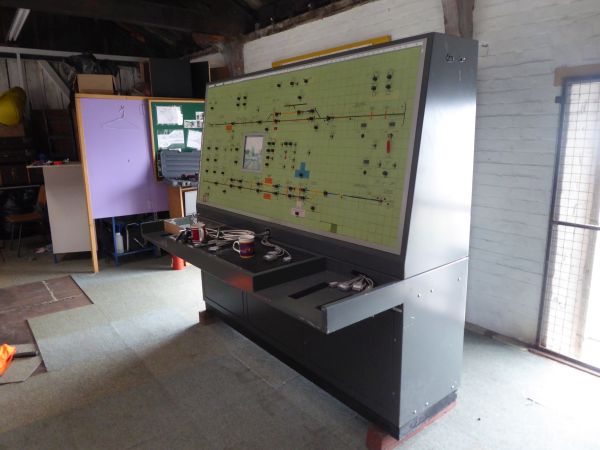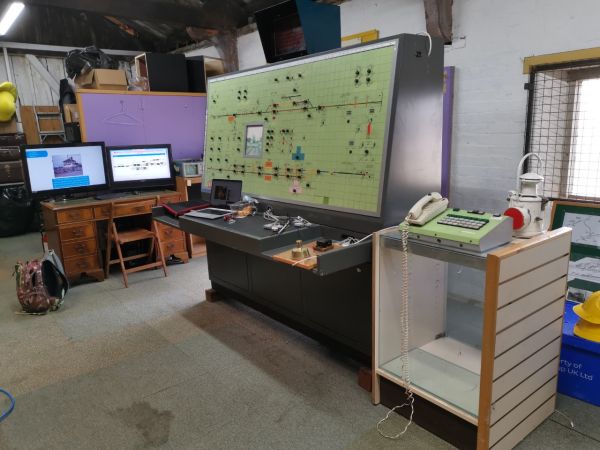 Soon after arrival and
tidied up (courtesy William Gane)

Operational staff refresher training (25 July 2020 -preparation/testing and 26 July 2020 in action)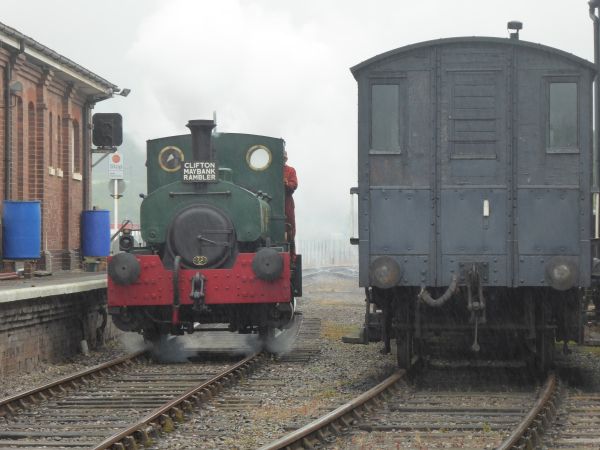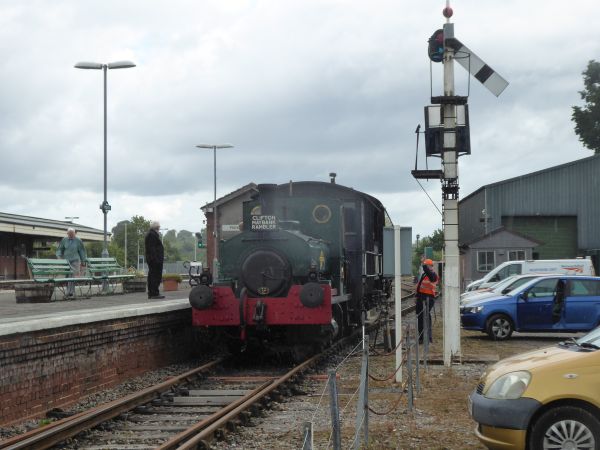 Rearrangement of wagons inside Engine Shed
Moving two wagons out on completion (Blue ICI Acid tanker - far end third photo and SR designed brakevan - foreground second photo and two replacements in (a decrepid Oyster brakevan and our recently acquired LSWR open wagon - next to Oyster.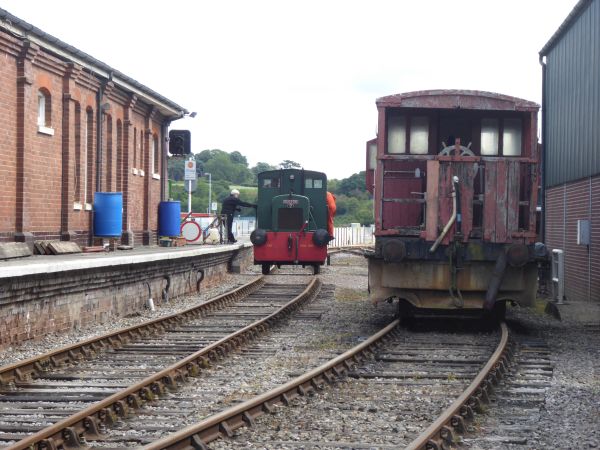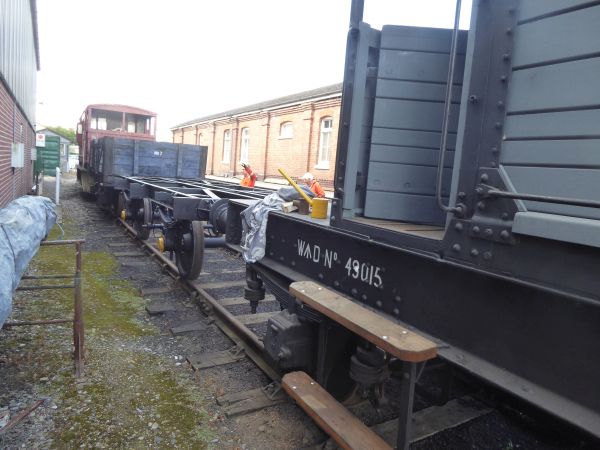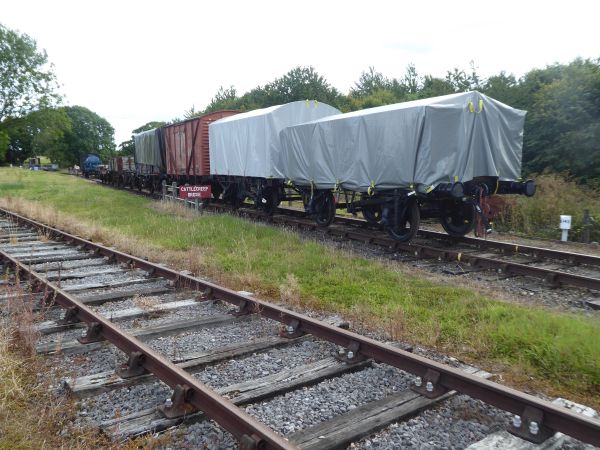 Rail Grinder stabled at Yeovil Junction (04 August 2020)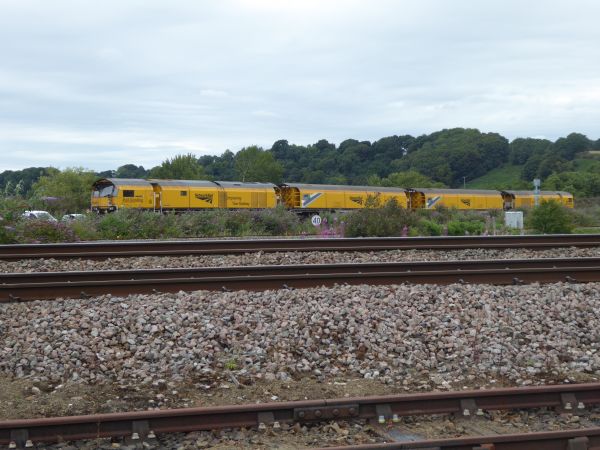 Thanks to Rog for this one! - Ultimate Social Distancing?
---
5 August 2020 Please send photos, articles, words or jokes to yeovilrailway@hotmail.com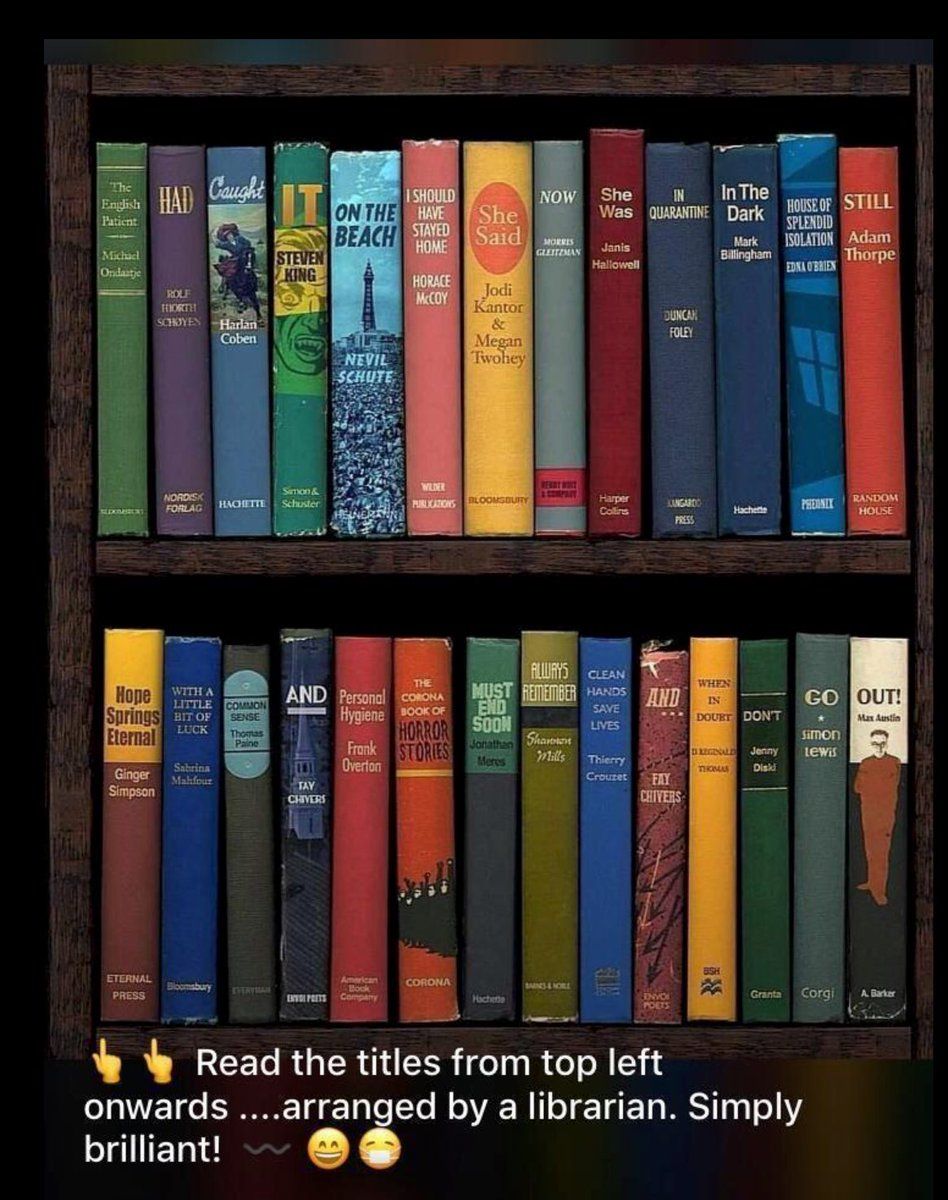 How would you improve Weymouth Train Station (Railway? not Train....)

CLICK HERE

HST ride between Yeovil Junction and Pen Mill

Note the token exchange at the (now gone) Signalbox and the coaches stored at the Centre.
Click on the photo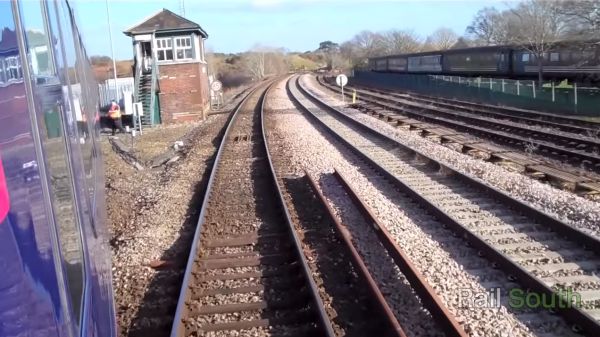 GWR Exeter to Castle Cary via Yeovil diverts (includings HST and IET trains)
Click on the photo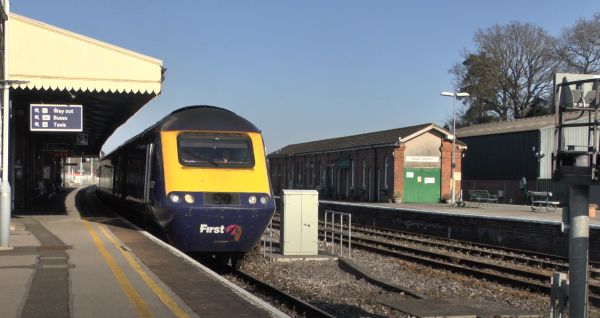 Class 59 with stone empties at Yeovil Pen Mill Feb 2019 A rare move in recent years sees a freight enter the yard at Yeovil Pen Mill after coming down from Yeovil Junction. Required to recess in the yard whilst passenger trains took precedence.

Click on the photo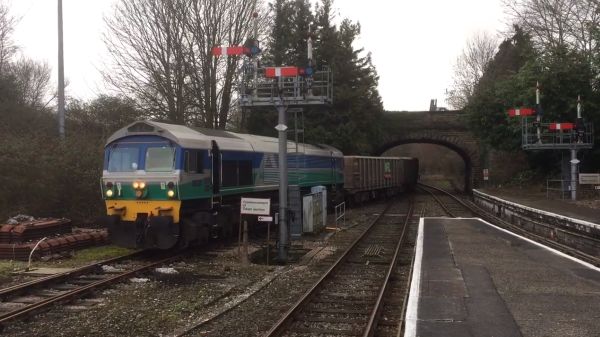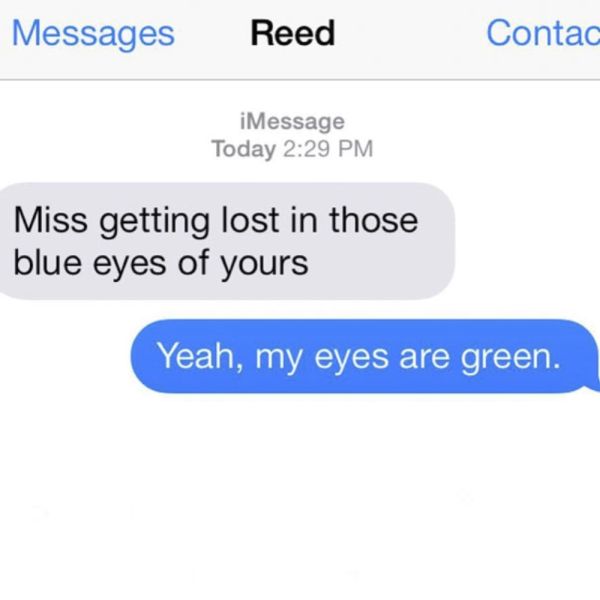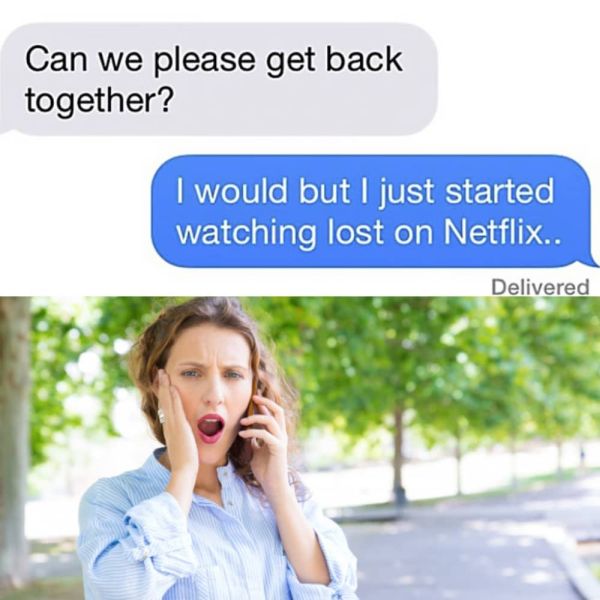 ---
4 August 2020 Please send photos, articles, words or jokes to yeovilrailway@hotmail.com

Rumour or fact? from a forum:-

A BR civil engineer (now long retired) who worked on OTP told me (around 1990) that years ago a King DID work into Cornwall BEFORE the RAB (Royal Albert Bridge) was strengthened!!!

Guess the Loco Crew were award a BR FORM 1 (please explain) for there (their) efforts.

I wonder how it got back to Devon, I often wonder if it was worked to Bodmin Road reverse, Bodmin General reverse, Wadebridge Reverse and then along the North Cornwall line to Okehampton and on to Exeter or Plymouth.

NB: OTP On Track Plant, Tampers, Cranes etc

Reply Anyone know any more?

A friend living in Falmouth told me the story of its return to Plymouth.

The loco was turned at Penance (Penzance), the fire dropped and towed back to St Blazey.

At St. Blazer (Blazey) the engine was split from the tender but the CE Dept would not let the engine to be towed back over the RAB without lightening so the boiler was emptied of water and the coupling rods removed which placated the CE Dept to an extent and a small prairie tank was used to tow the engine from Saltash having been brought from SB by an 28xx.

Kyle of Lochalsh to Inverness in 1964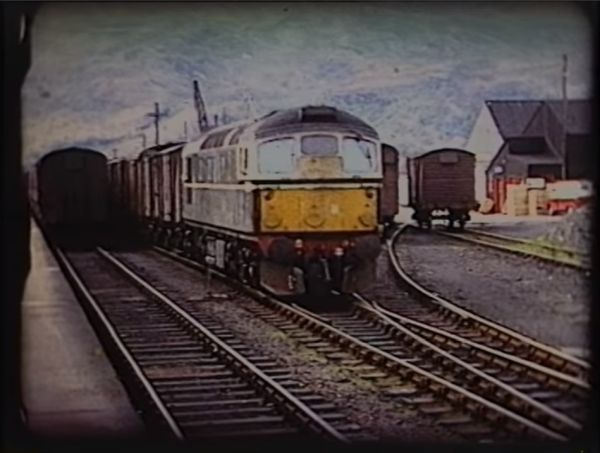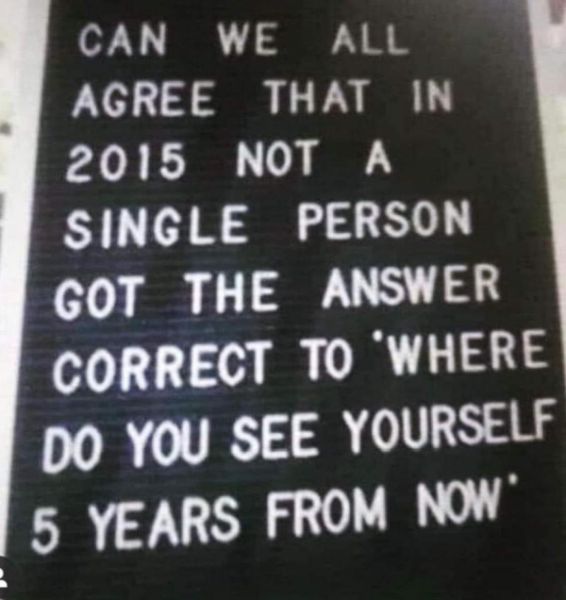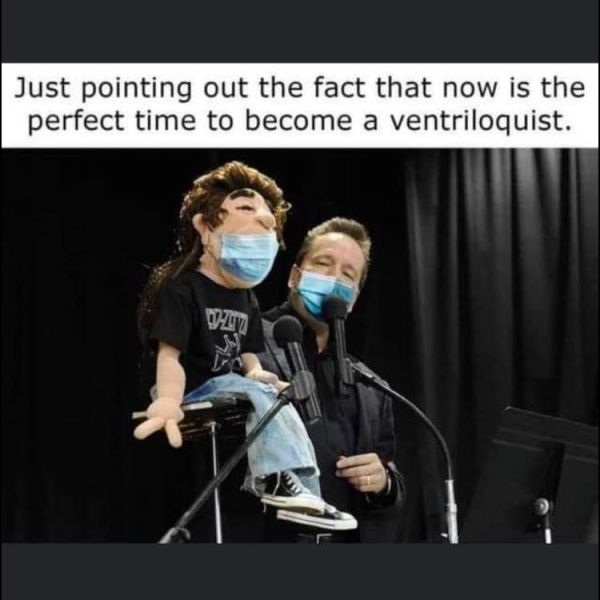 ---
3 August 2020 Please send photos, articles, words or jokes to yeovilrailway@hotmail.com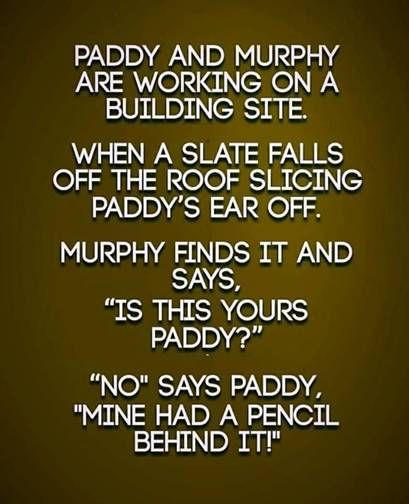 A woman goes to Italy to attend a 2-week, company training session. Her husband drives her to the airport and wishes her to have a good trip. The wife answers: "Thank you honey, what would you like me to bring for you?"

The husband laughs and says: "An Italian girl,!!!" The woman kept quiet and left. Two weeks later he picks her up in the airport and asks: "So, honey, how was the trip?" "Very good, thank you."

"And, what happened to my present?" "Which present?" She asked. "The one I asked for - an Italian girl,..!!"

"Oh, that" she said, "Well, I did what I could, now we have to wait for nine months to see if it is a girl!!!"

Tay Bridge - 1897 and 2013

Click on the photo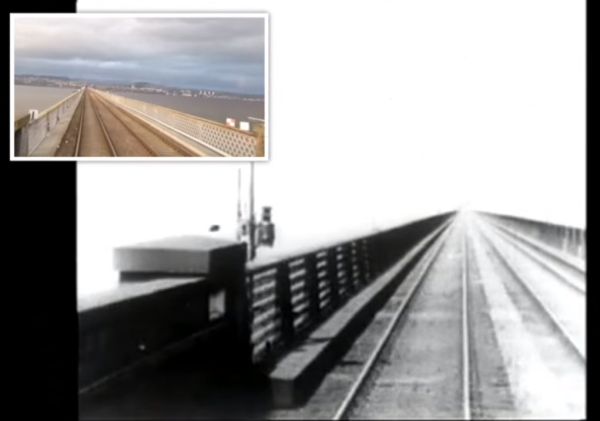 Railway Roundabout - 1960 Click on the photo.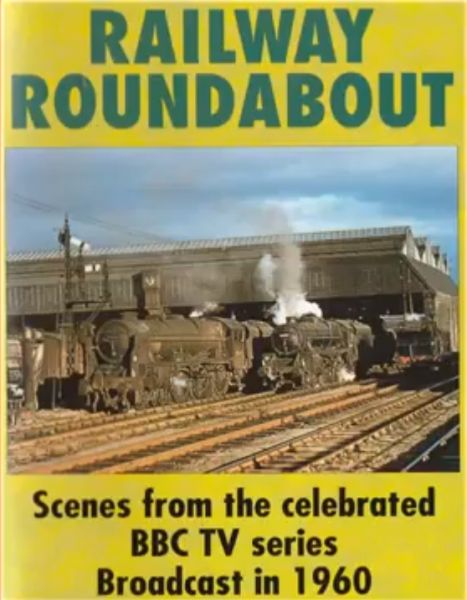 Where ya from, Sam?

A man lay sprawled across three entire seats in a theatre. When the usher came by and noticed this, he whispered to the man, "Sorry, sir, but you're only allowed one seat." The man groaned but didn't budge. The usher became impatient.

"Sir," the usher said, "if you don't get up from there I'm going to have to call the manager."

Again, the man just groaned, which infuriated the usher who turned and marched briskly back up the aisle in search of his manager. In a few moments, both the usher and the manager returned and stood over the man. Together the two of them tried repeatedly to move him, but with no success. Finally, they summoned the police.

The cop surveyed the situation briefly then asked, "All right buddy, what's your name?" "Sam," the man moaned. "Where ya from, Sam?" the cop asked.

And with pain in his voice, Sam replied, "The balcony."


---
2 August 2020 Please send photos, articles, words or jokes to yeovilrailway@hotmail.com

East West Rail is creating a new direct connection between Oxford and Cambridge, and beyond. This is the official website.

The project - click here

Bletchley At present there is a massive amount of work at Bletchley where the old flyover is being partly dismantled as the new railway runs in a slightly different direction. Have a look back through the pages to get an idea of the work and cranes involved. This is the latest page as at publication but obviously being often added to.

RM Web forum - Click here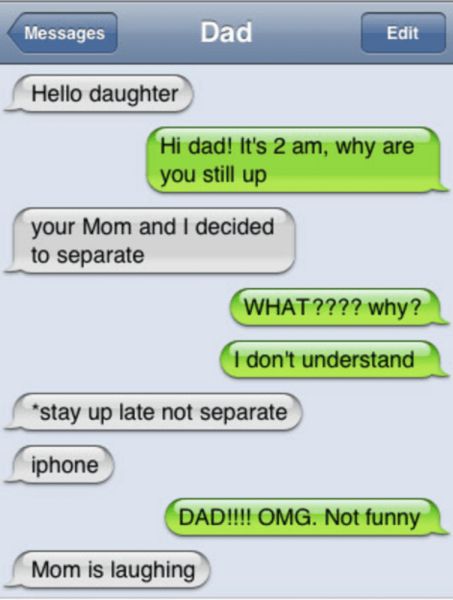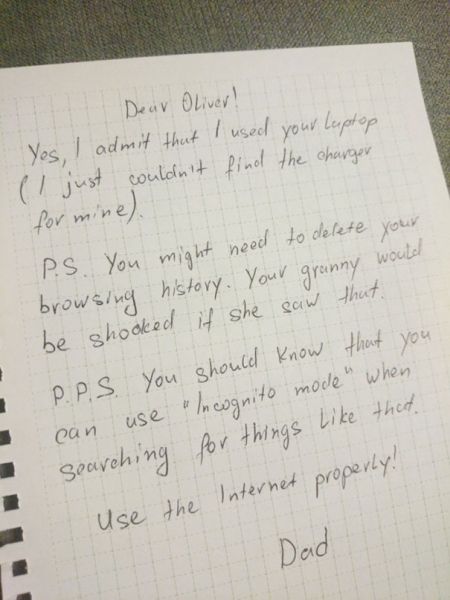 35028 Clan Line on the 'Sherborne Christmas Carols' - 20/12/2018 Click on the photo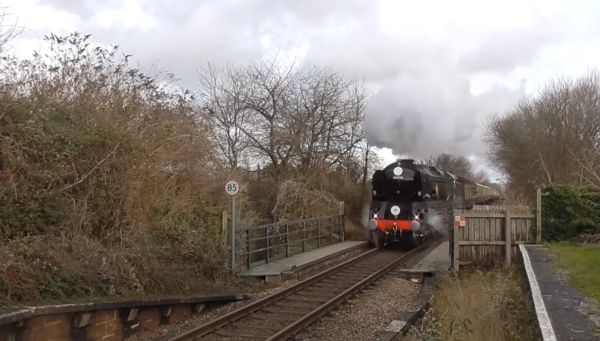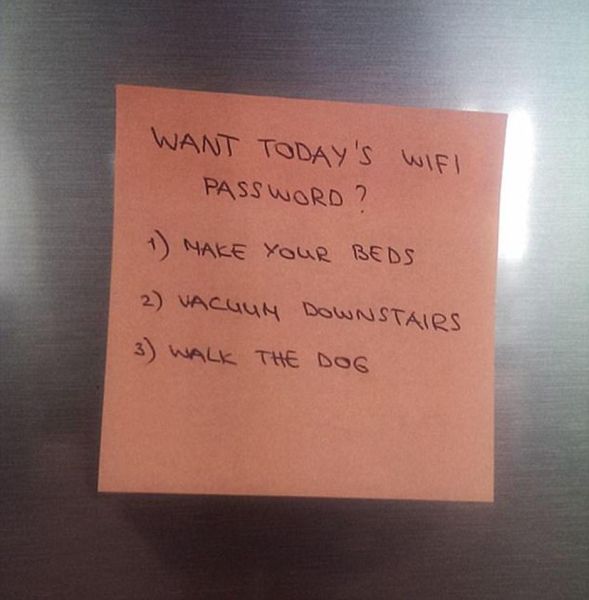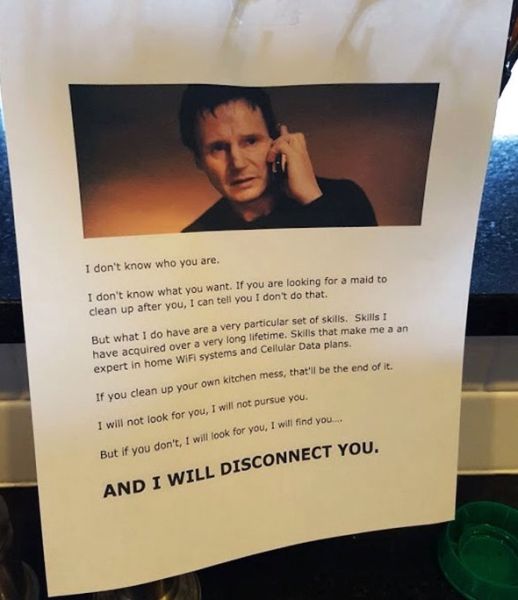 ---
1 August 2020 Please send photos, articles, words or jokes to yeovilrailway@hotmail.com

Shop at Yeovil Railway Centre is open on Sundays from 10am to noon!

To celebrate, three new Model Railway Wagons are now available for collection (by mail order too!). Here are photos:-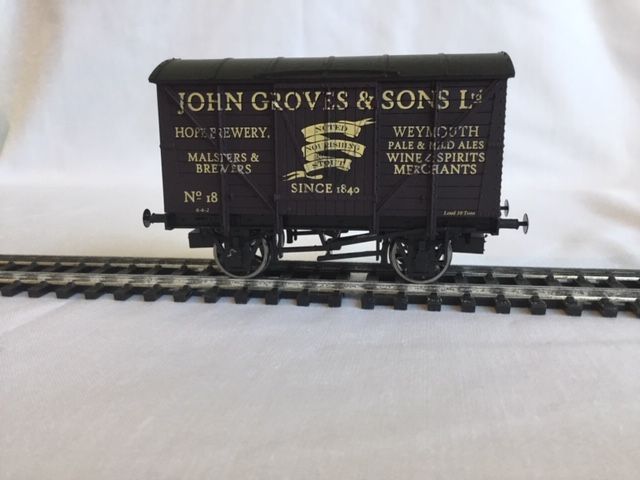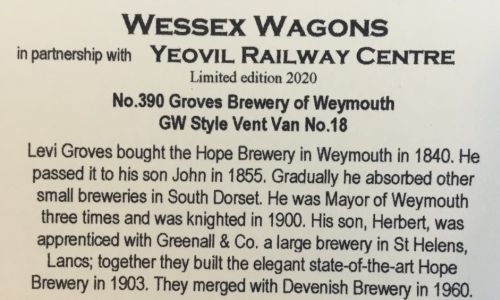 Limited edition of 147 wagons at £15.00 each, boxed with certificate.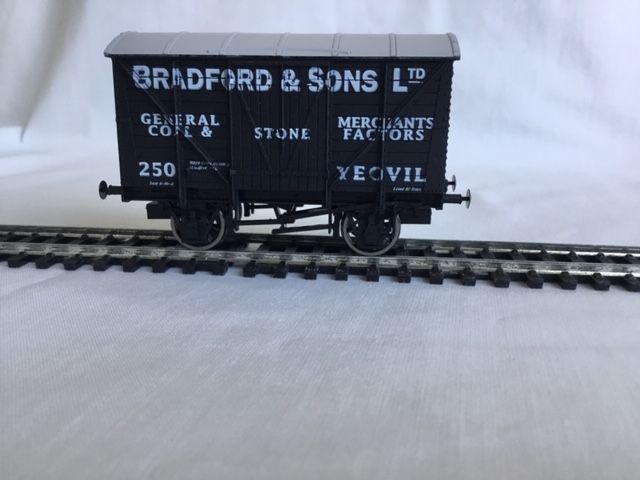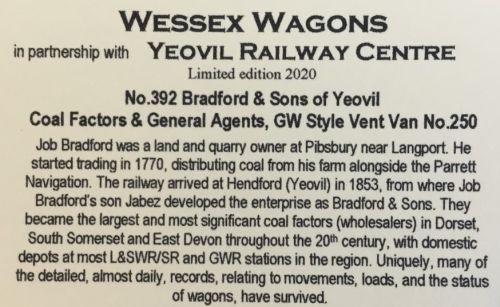 Limited edition of 109 wagons at £15.00 each, boxed with certificate.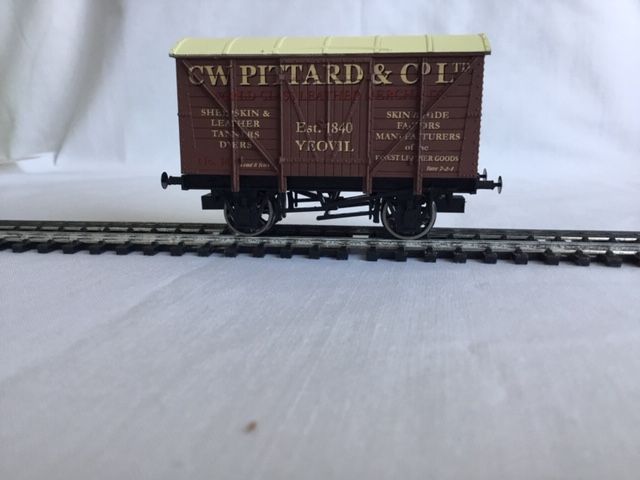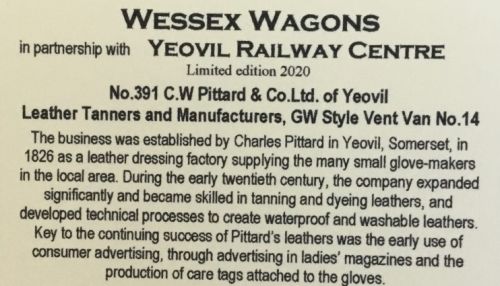 Limited edition of 97 wagons at £15.00 each, boxed with certificate.

When visiting the Shop, please use the sanitiser provided and note that only two customers can be admitted at any one time due to the space available. There is a one-way system in place.
Card payments are much preferred!

The Leveller The monthly magazine for Somerset. Download from the link - be aware the magazine has views on certain matters!
Download it here

Loco Hauled finale on Waterloo-Exeter route

Click on the photo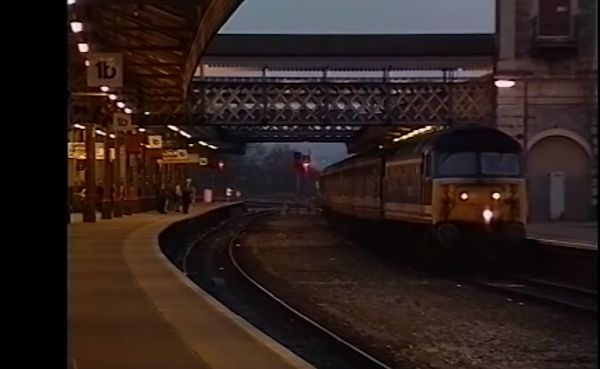 "People who like trance music are very persistent. They don't techno for an answer." - Joel Dommett

"My wife told me: 'Sex is better on holiday.' That wasn't a nice postcard to receive." - Joe Bor

"'My friend got a personal trainer a year before his wedding. I thought: "Bloody hell, how long's the aisle going to be'." Paul McCaffrey

"My therapist says I have a preoccupation with vengeance. We'll see about that." Adam Hills

"I was in my car driving back from work. A police officer pulled me over and knocked on my window. I said, 'One minute I'm on the phone.'" - Alan Carr

"Ain't no pickpocket trying to steal my suitcase. It could be an expensive laptop computer or it could be the end of their life. It's too much of a gamble." - Imran Yusuf

"With stand-up in Britain, what you have to do is bloody swearing. In Germany, we don't have to swear. Reason being, things work." - Henning When

"The easiest time to add insult to injury is when you're signing somebody's cast." - Demetri Martin

"I was playing chess with my friend and he said, 'Let's make this interesting.' So we stopped playing chess." - Matt Kirshen

"I've written a letter to the Royal Mail to complain about my post being stolen. To make sure they see it, I've put it inside a birthday card." - Gary Delaney


---
31 July 2020 Please send photos, articles, words or jokes to yeovilrailway@hotmail.com

Planning Application for new Marsh Barton railway station submitted to Devon County Coucil

Click on the photo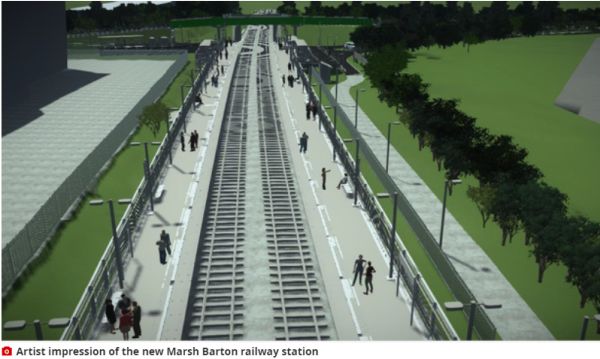 Recovery of 56062 at Copyhold Junction 1988 Engine repaired and finally scrapped 12 years later (according to the comments)!

Click on the photo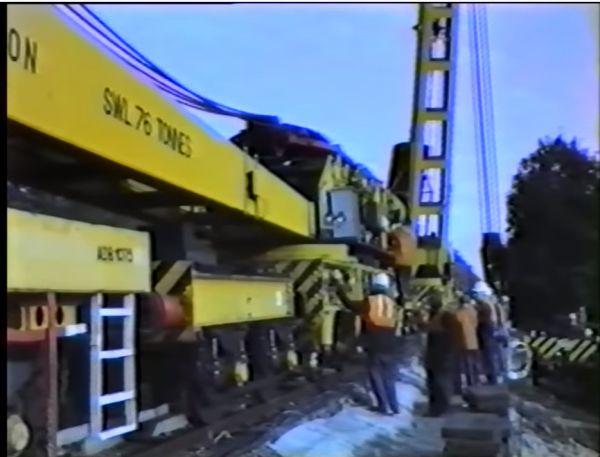 RAILROAD TRACKS. (sent in by Brian)

THE US STANDARD RAILROAD GAUGE (DISTANCE BETWEEN THE RAILS) IS 4 FEET, 8.5 INCHES. THAT'S AN EXCEEDINGLY ODD NUMBER.

WHY WAS THAT GAUGE USED ? BECAUSE THAT'S THE WAY THEY BUILT THEM IN ENGLAND , AND ENGLISH EXPATRIATES DESIGNED THE US RAILROADS.

WHY DID THE ENGLISH BUILD THEM LIKE THAT ?

BECAUSE THE FIRST RAIL LINES WERE BUILT BY THE SAME PEOPLE WHO BUILT THE PRE-RAILROAD TRAMWAYS, AND THAT'S THE GAUGE THEY USED.

WHY DID 'THEY' USE THAT GAUGE THEN ? BECAUSE THE PEOPLE WHO BUILT THE TRAMWAYS USED THE SAME JIGS AND TOOLS THAT THEY HAD USED FOR BUILDING WAGONS, WHICH USED THAT WHEEL SPACING.

WHY DID THE WAGONS HAVE THAT PARTICULAR ODD WHEEL SPACING ? WELL, IF THEY TRIED TO USE ANY OTHER SPACING, THE WAGON WHEELS WOULD BREAK ON SOME OF THE OLD, LONG DISTANCE ROADS IN ENGLAND , BECAUSE THAT'S THE SPACING OF THE WHEEL RUTS.

SO WHO BUILT THOSE OLD RUTTED ROADS ? IMPERIAL ROME BUILT THE FIRST LONG DISTANCE ROADS IN EUROPE (INCLUDING ENGLAND ) FOR THEIR LEGIONS. THOSE ROADS HAVE BEEN USED EVER SINCE.

AND THE RUTS IN THE ROADS ? ROMAN WAR CHARIOTS FORMED THE INITIAL RUTS, WHICH EVERYONE ELSE HAD TO MATCH FOR FEAR OF DESTROYING THEIR WAGON WHEELS.

SINCE THE CHARIOTS WERE MADE FOR IMPERIAL ROME , THEY WERE ALL ALIKE IN THE MATTER OF WHEEL SPACING. THEREFORE THE UNITED STATES STANDARD RAILROAD GAUGE OF 4 FEET, 8.5 INCHES IS DERIVED FROM THE ORIGINAL SPECIFICATIONS FOR AN IMPERIAL ROMAN WAR CHARIOT. BUREAUCRACIES LIVE FOREVER....

SO THE NEXT TIME YOU ARE HANDED A SPECIFICATION/PROCEDURE/PROCESS AND WONDER 'WHAT HORSE'S ASS CAME UP WITH THIS ?' , YOU MAY BE EXACTLY RIGHT. IMPERIAL ROMAN ARMY CHARIOTS WERE MADE JUST WIDE ENOUGH TO ACCOMMODATE THE REAR ENDS OF TWO WAR HORSES. (TWO HORSES' ASSES.)

NOW, THE TWIST TO THE STORY:

WHEN YOU SEE A SPACE SHUTTLE SITTING ON ITS LAUNCH PAD, THERE ARE TWO BIG BOOSTER ROCKETS ATTACHED TO THE SIDES OF THE MAIN FUEL TANK. THESE ARE SOLID ROCKET BOOSTERS, OR SRBS. THE SRBS ARE MADE BY THIOKOL AT THEIR FACTORY IN UTAH .

THE ENGINEERS WHO DESIGNED THE SRBS WOULD HAVE PREFERRED TO MAKE THEM A BIT FATTER, BUT THE SRBS HAD TO BE SHIPPED BY TRAIN FROM THE FACTORY TO THE LAUNCH SITE. THE RAILROAD LINE FROM THE FACTORY HAPPENS TO RUN THROUGH A TUNNEL IN THE MOUNTAINS, AND THE SRBS HAD TO FIT THROUGH THAT TUNNEL. THE TUNNEL IS SLIGHTLY WIDER THAN THE RAILROAD TRACK, AND THE RAILROAD TRACK, AS YOU NOW KNOW, IS ABOUT AS WIDE AS TWO HORSES' BEHINDS.

SO, A MAJOR SPACE SHUTTLE DESIGN FEATURE OF WHAT IS ARGUABLY THE WORLD'S MOST ADVANCED TRANSPORTATION SYSTEM WAS DETERMINED OVER TWO THOUSAND YEARS AGO BY THE WIDTH OF TWO HORSES' ASSES. AND YOU THOUGHT BEING A HORSE'S ASS WASN'T IMPORTANT ? ANCIENT HORSES' ASSES CONTROL ALMOST EVERYTHING... AND CURRENT HORSES' ASSES IN GOVERNMENT ARE CONTROLLING EVERYTHING ELSE !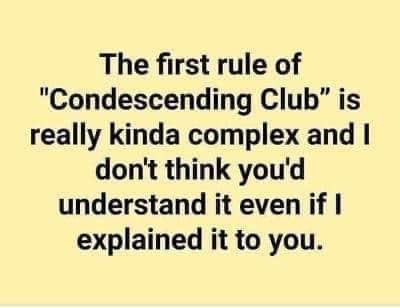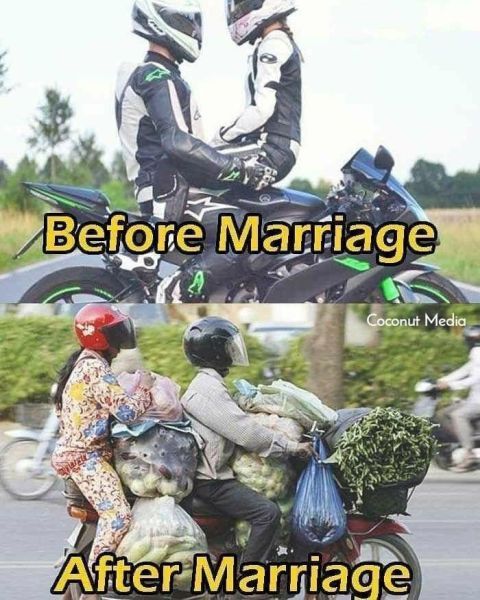 ---
30 July 2020 Please send photos, articles, words or jokes to yeovilrailway@hotmail.com



Our Appeals If you are enjoying our page would you help us build our new Toilet Block by contributing to the Appeal? (updated-see above) or help our General Funds please see the links above! Any help will be greatly appreciated!

Lifting of Weymouth's historic harbour tramway to resume.
Click on the photo (and excuse the adverts....)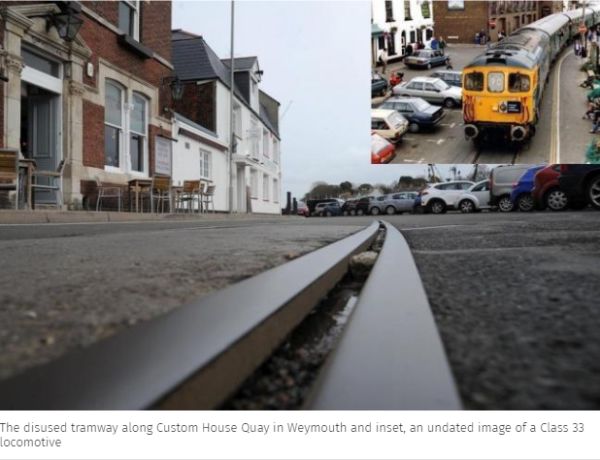 Time lapse video of the SWR special on the Fawley branch (see 28 and 25 July below)
CLICK HERE
Co-ordinated funnies....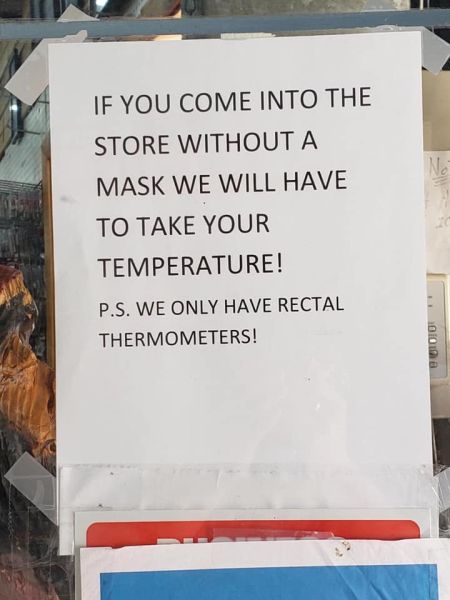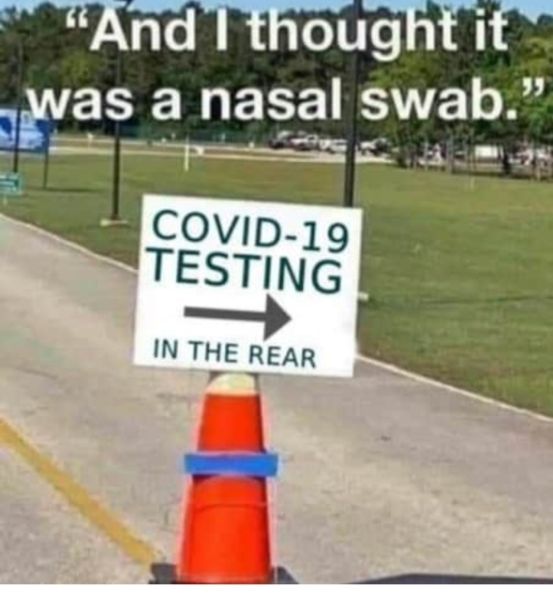 Coal for Shipment (filmed 1963) Seaham Harbour, County Durham

Click on the photo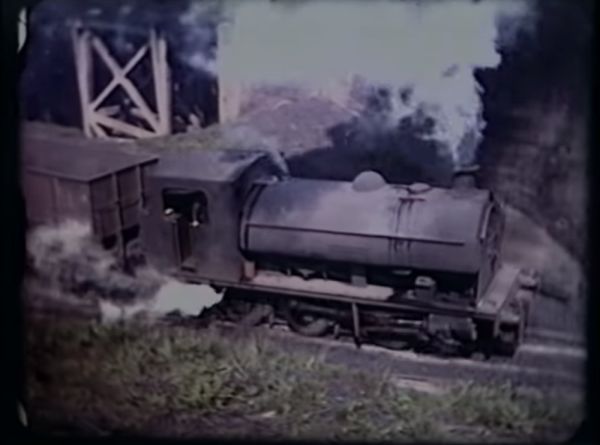 ---
29 July 2020 Please send photos, articles, words or jokes to yeovilrailway@hotmail.com

Derailment, fire and bridge collapse

Click on the photo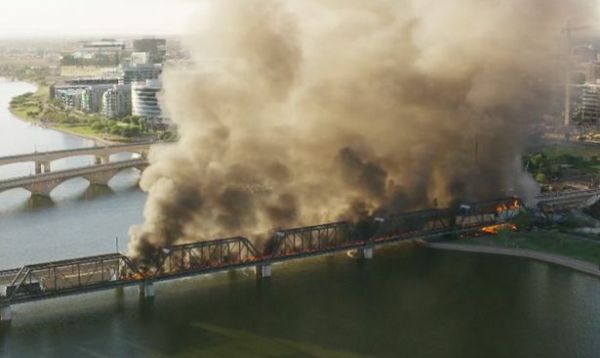 First F1 World Championship race 13 May 1950

Click on the photo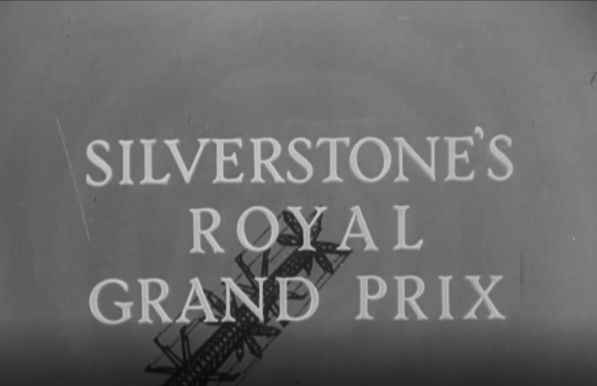 Thanks to Rog for this one!


South Western Main Line Steam 1964 Click on the photo!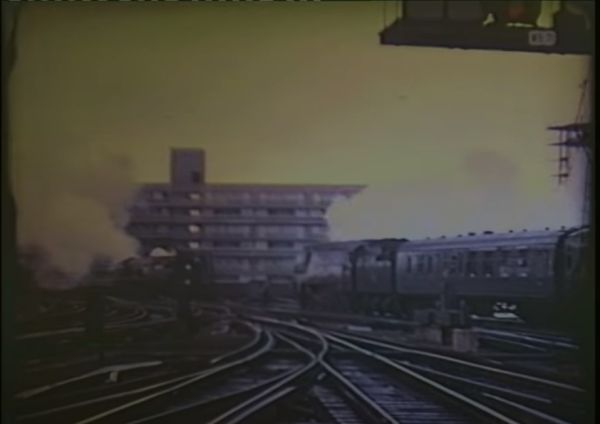 ---
28 July 2020 Please send photos, articles, words or jokes to yeovilrailway@hotmail.com

Fawley, Hampshire Branch Further to the piece on 25 July the Special ran - here is SWR's Press release.

Fawley special

London's Mail Rail (formerly London Post Office Railway) is now an unique visitor experience. Three You Tube videos show some of the history in 1932, 1996 and opening day in 2017.

Click on the photos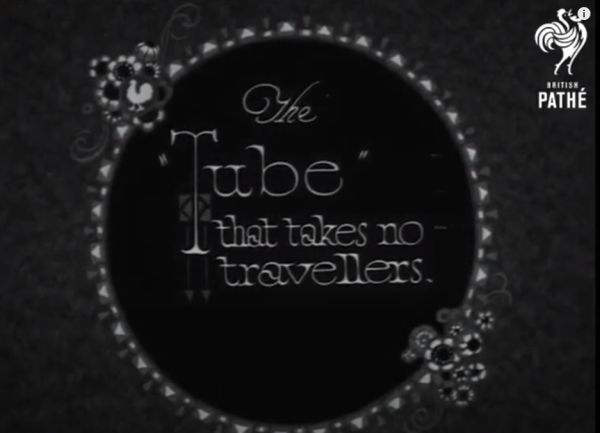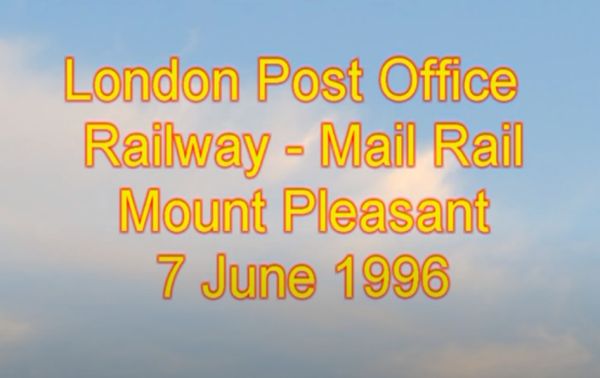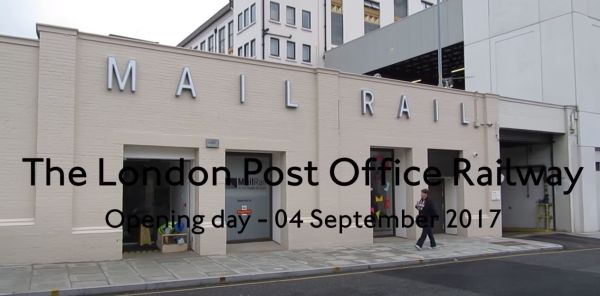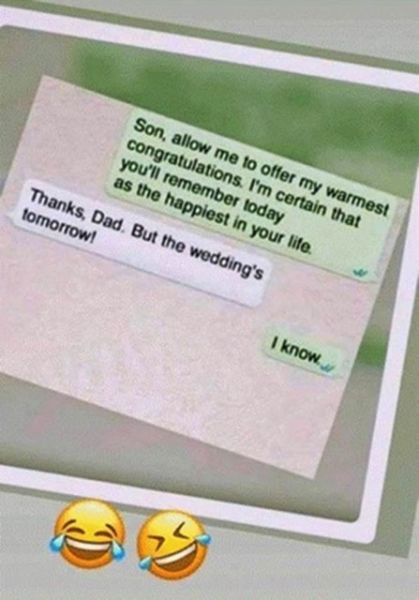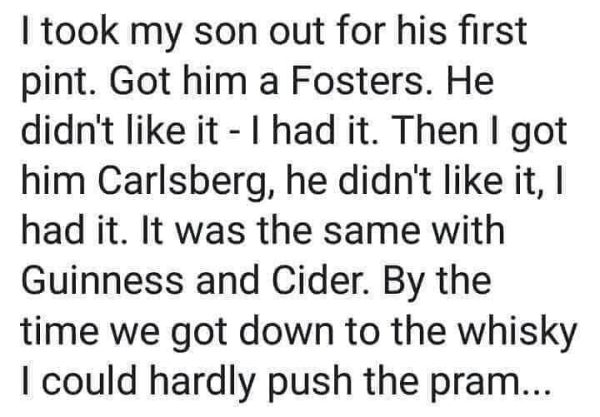 ---
27 July 2020 Please send photos, articles, words or jokes to yeovilrailway@hotmail.com

Templecombe Brian has sent in another photo from the Ray Baker collection depicting a special occasion at Templecombe , presumably in the 1860s, 1870s etc. If anyone can inform us of more details please email yeovilrailway@hotmail.com

Some information - the 48 men appear to be on a low level platform (+4 on the footplate) and there is a man wearing a top hat hat in the middle of the middle row with a young lad next to him.The engine has a modest spectacle plate and not much else for weather protection for the footplate crew!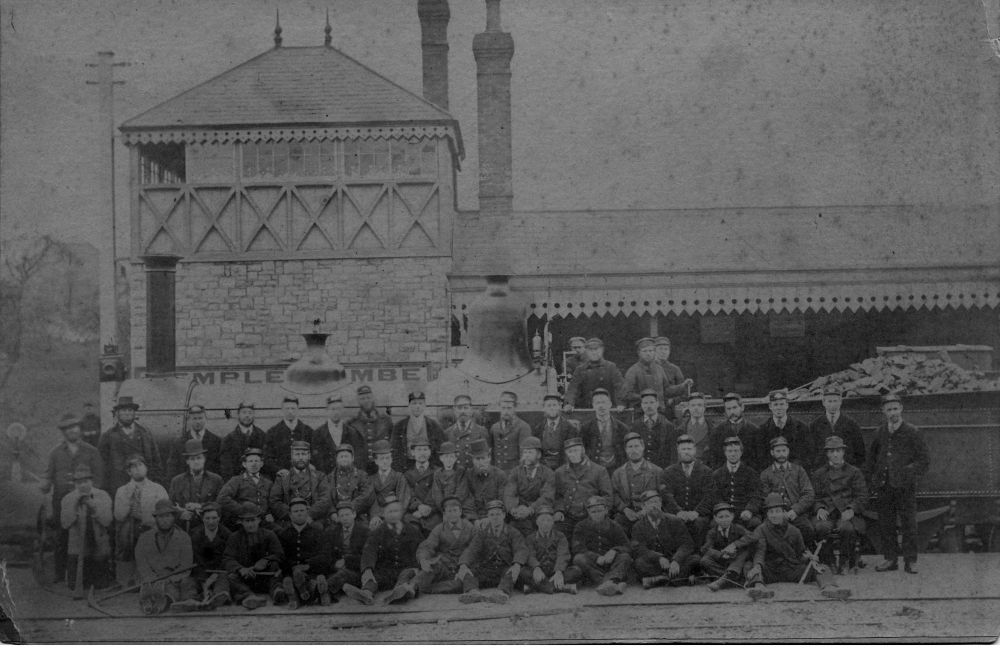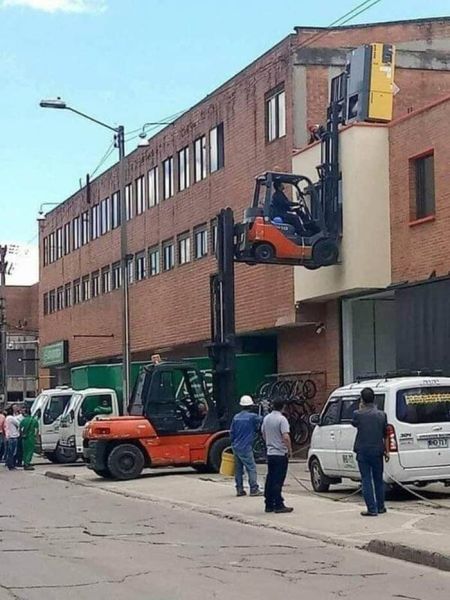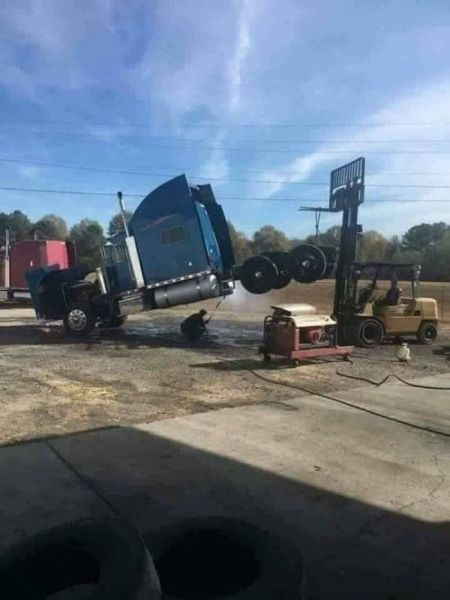 31190 delivers Class 115 TCL 59515 to Yeovil Railway Centre 21 June 2013
Please click on the photo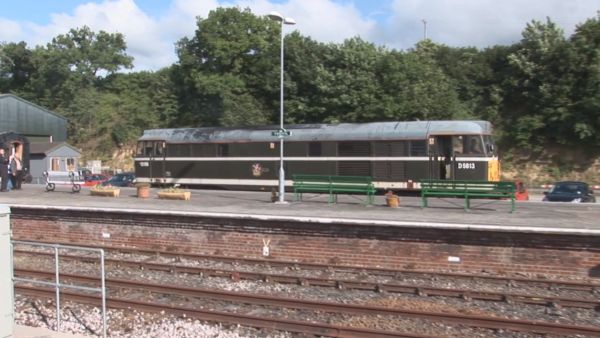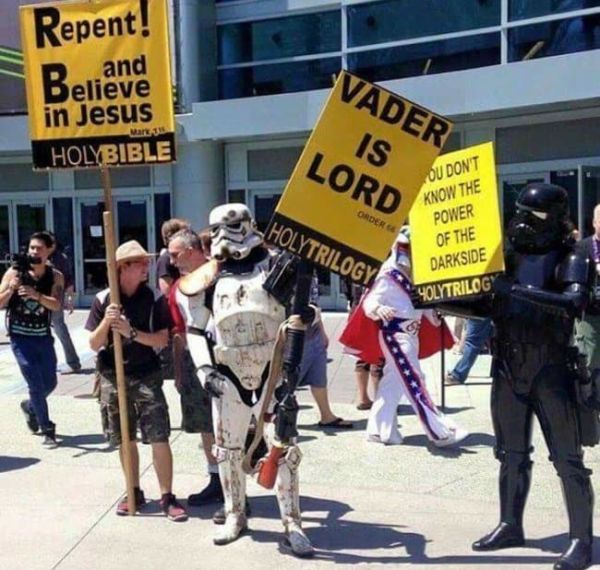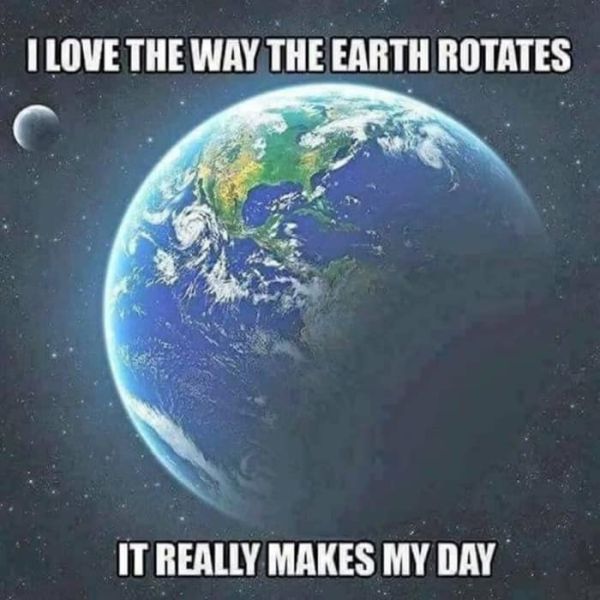 ---
26 July 2020 Please send photos, articles, words or jokes to yeovilrailway@hotmail.com

Main Line Steam - 26 July 2020 English Riviera Express (Saphos Trains)

46100 'Royal Scot' and 47501 tnt Bristol Temple Meads (pu) - Bath Spa (pu) - Bradford- on- Avon (pu) - Westbury (pu) - Frome (pu) - Taunton (pu) - Paignton (sd) - Kingswear (break/rev) & return Timings for Bristol-Paignton, Paignton-Bristol

Stock: 5 B&C mk.1s, 5 C&C mk2s, B&C support coach.

D1944 Craftsman at the rear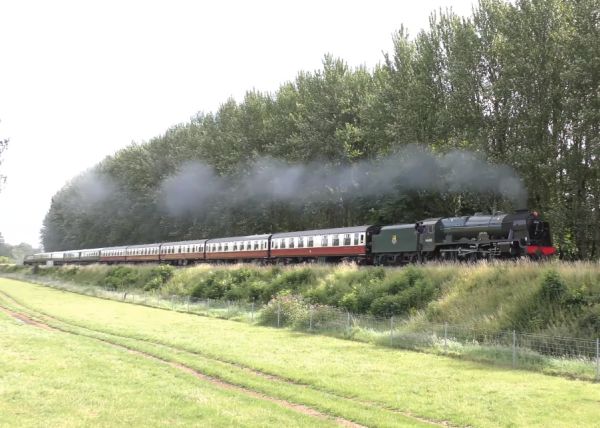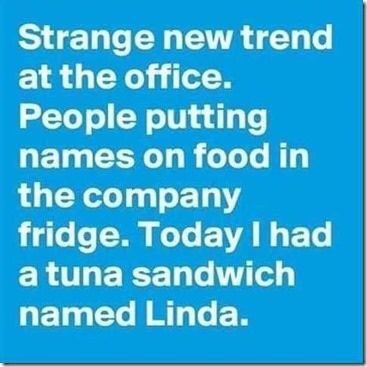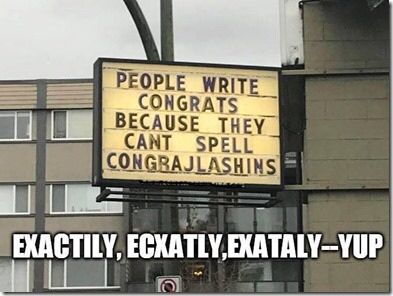 RHDR Parallel Parade 2004

Click on the photo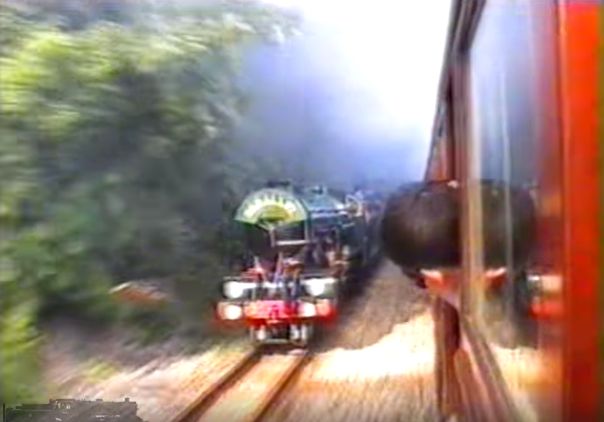 ---
25 July 2020 Please send photos, articles, words or jokes to yeovilrailway@hotmail.com

Fawley, Hampshire Branch

Perhaps a VIP special? Runs on Tuesday 28 July 2020. A 159 unit is planned from Southampton Central to Marchwood and Esso Fawley. This branch is being touted for restoration of a passenger service and currently only used for military traffic to Marchwood.

Real Train Times are HERE

Last loaded oil tank train from Honeybourne 1 September 2016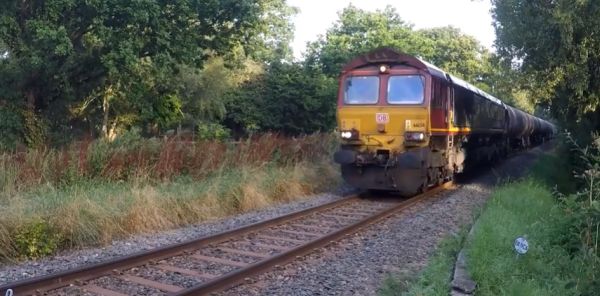 Southampton Central to Fawley Esso - Hastings DEMU cab ride - 13 May 2017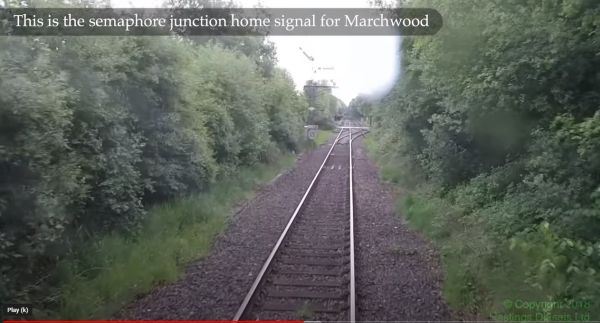 USA tanks at Fawley 20 March 1966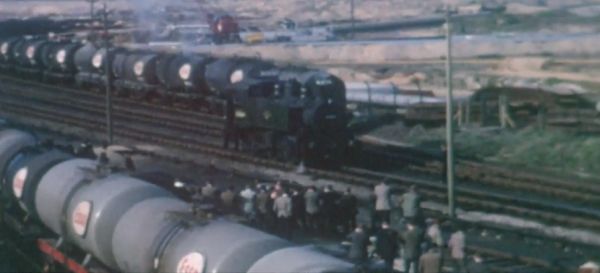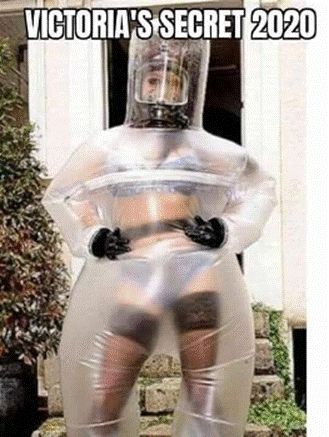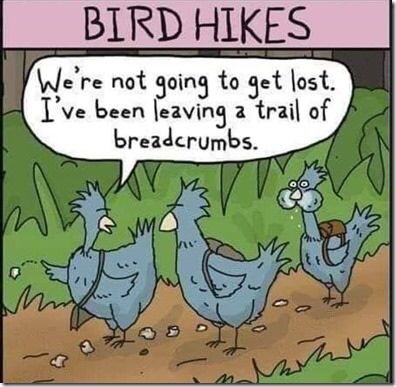 ---
24 July 2020 Please send photos, articles, words or jokes to yeovilrailway@hotmail.com

Model Railway Wagons
A reminder that we have three new designs that are ready for despatch by Mail Order as well as collection through our Shop.

Click on the photo to go to the details!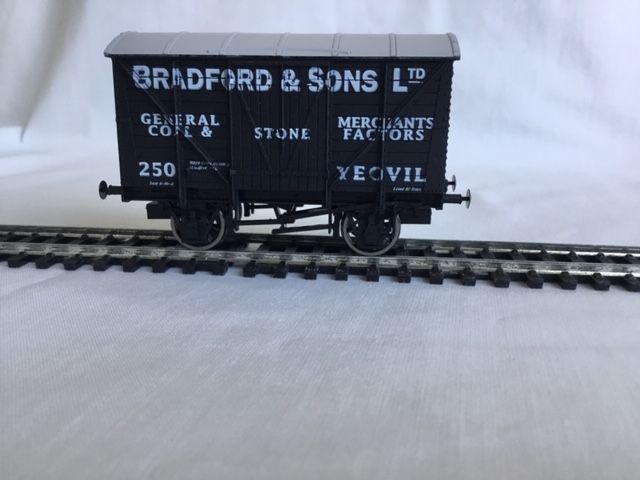 The Wessex Downsman railtour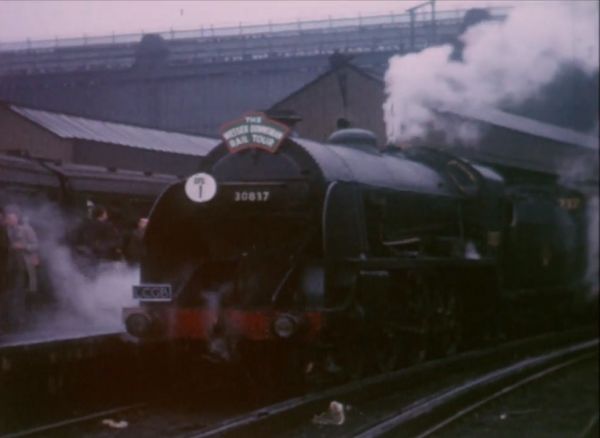 Featuring engines 30837, 6963, D7007 + 44466, 48309 and 34051

Filmed 4 April 1965 (onboard)- train repeated on 2 May 1965 (lineside)

London Waterloo to London Waterloo via Reading, Bristol Temple Meads, Mangotsfield, Bath Green Park, Templecombe and Bournemouth West

Six Bells Junction - more details

Click on the links below:-

Part 1
Part 2
Part 3
Part 4
Part 5
Part 6
Part 7
Part 8
Part 9
Part 10
Part 11
Part 12
Part 13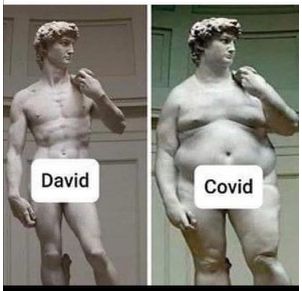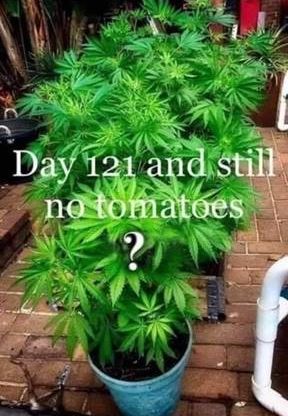 ---
23 July 2020 Please send photos, articles, words or jokes to yeovilrailway@hotmail.com

National collection locomotive N15, King Arthur class, No. 777, Sir Lamiel is set to return to steam following a new overhaul agreement with the 5305 Locomotive Association.

The overhaul will take place to main line standards with work due to start later this year and due to be completed in 2023.

(That is great news - be nice to see the loco back at Yeovil Junction!)

For the full details click on the photo.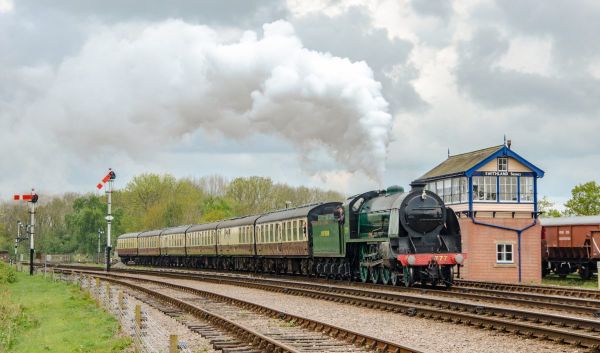 A photo (below) of the engine at Sherborne (courtesy Roger Marsh) taken on 28 June 1992.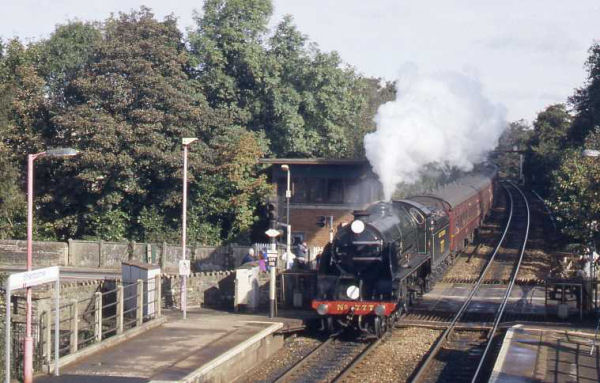 A look at the Bristol Harbour Railway when used by the Western Fuel Company in 1981. including it appears to be a visit to Bristol Bath Road depot and Bristol Temple Meads and use of a turntable?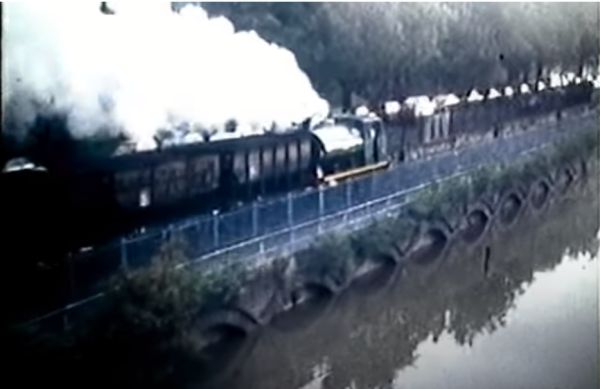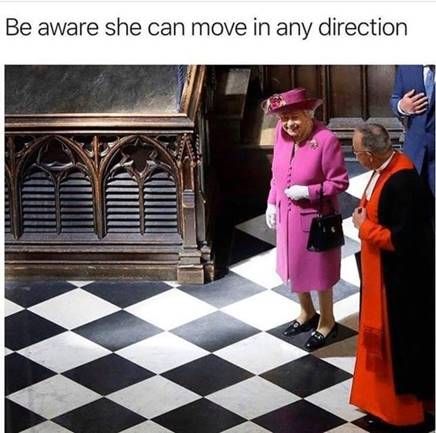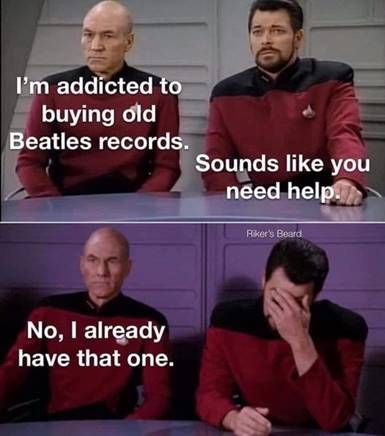 ---
22 July 2020 Please send photos, articles, words or jokes to yeovilrailway@hotmail.com

Stay Alert!

CLICK HERE

Weymouth Harbour Tramway Here are videos about the historic tramway from various eras. The rails are due to be ripped up in the near future.

2 May 1999 -last train to the Quay (Class 37 & 73)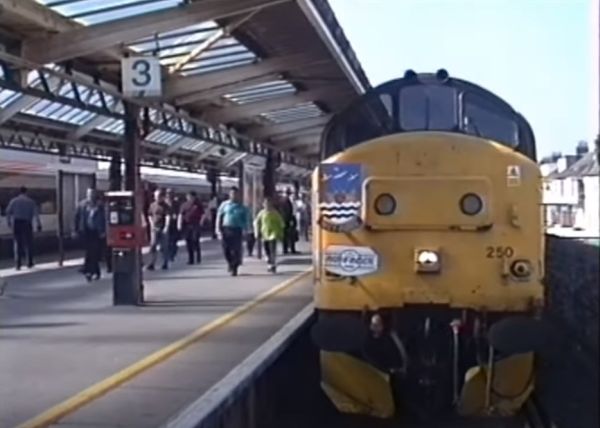 29 December 1994 (Class 33)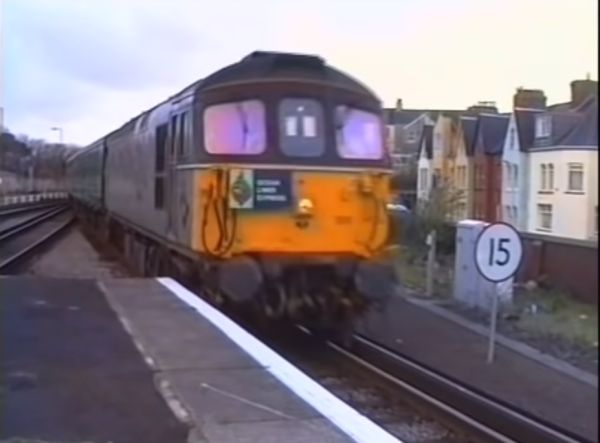 1966 (Class 03 shunter)
1966 includes shots of steam around Weymouth (inc Engine Shed) and an 03 shunter on tramway with freight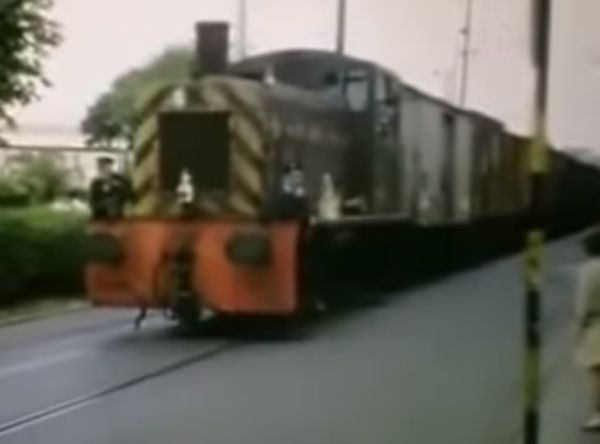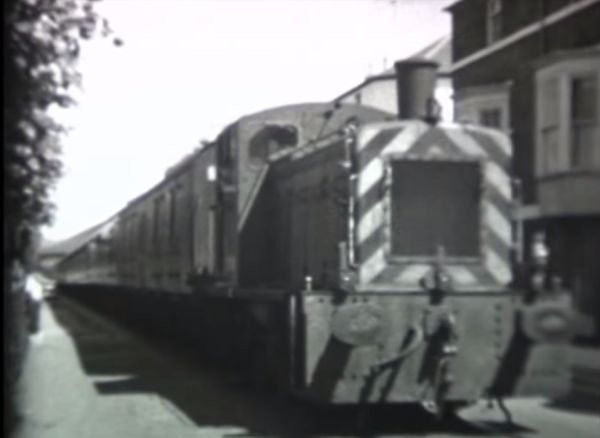 1950's or 1960's? (Pannier steam)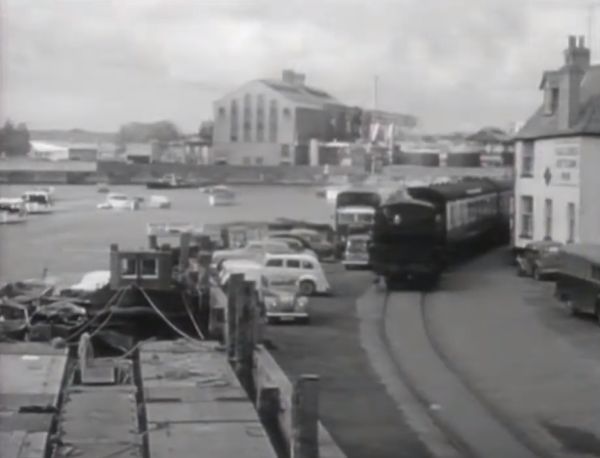 1956 - Wessex Wyvern This must be in between the time the old Pavilion burnt down and the present one being built as there is a big top on the site!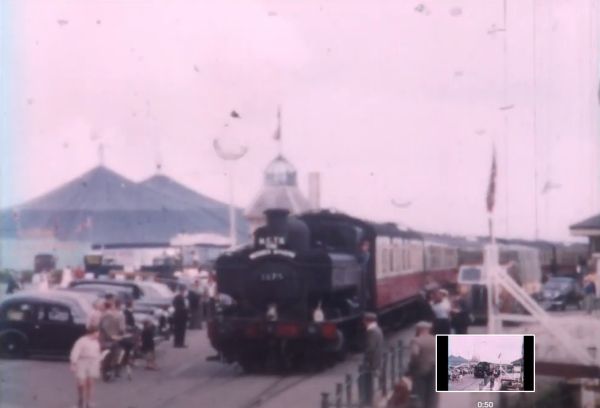 Brian Jackson, well known local railway expert.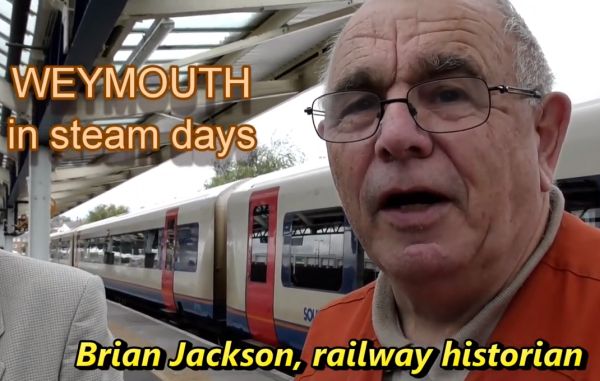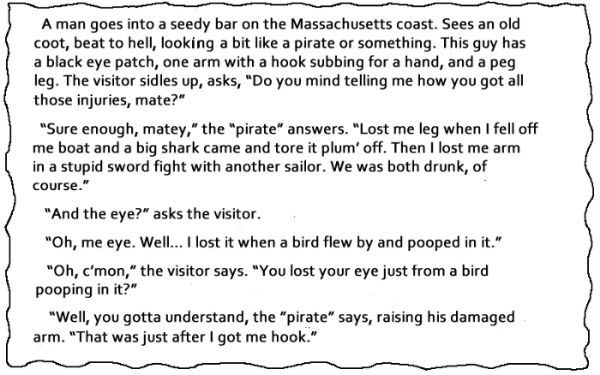 ---
21 July 2020 Please send photos, articles, words or jokes to yeovilrailway@hotmail.com

A round up of some railway things locally Firstly a Facebook Group (Rail Things Routes - Waterloo to Exeter). There's an interesting couple of photos a little way down showing the time when the old Gillingham (Dorset) signalbox suffered!

Click on the photo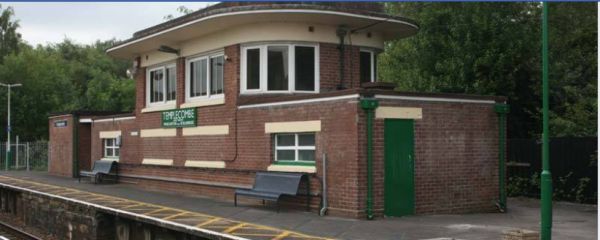 Following the release of Network Rail's Strategic Planning review of the Waterloo-Exeter route (which was noted here on 3 July), SERUG would love you to support the finding by writing to your MP.

Please click on the photo




A bit further away but definitely connected is a movement to study the case for re-opening the 'Southern' route from Exeter to Plymouth via Okehampton. Led by Andy Roden (a well known writer for Rail and other railway magazines), supported by all the relevant MPs and comprising influential (but unknown at this stage) and knowledgeable railway people. Keep an eye on these pages...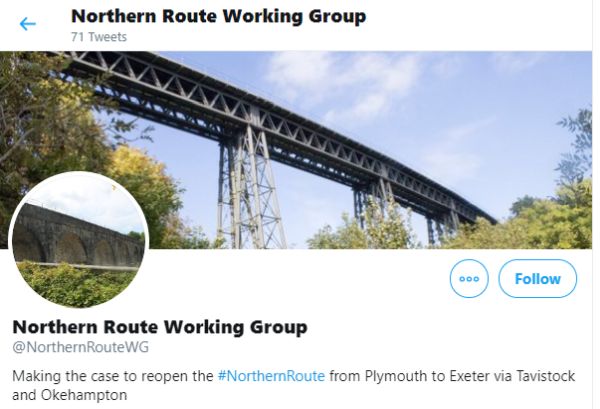 and something far more ambitious!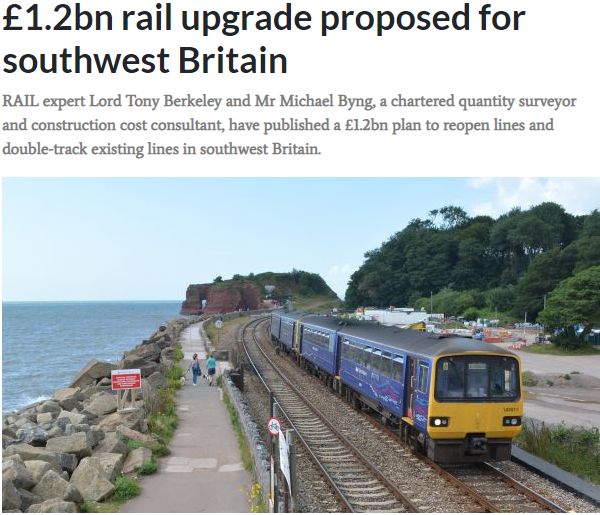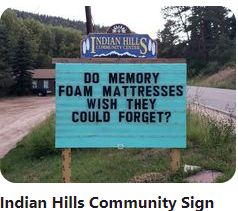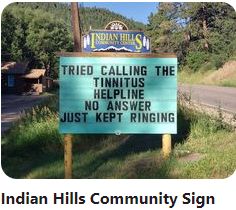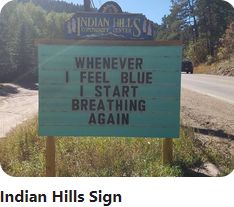 ---
20 July 2020 Please send photos, articles, words or jokes to yeovilrailway@hotmail.com



Our Appeals If you are enjoying our page would you help us build our new Toilet Block by contributing to the Appeal? (updated-see above) or help our General Funds please see the links above! Any help will be greatly appreciated!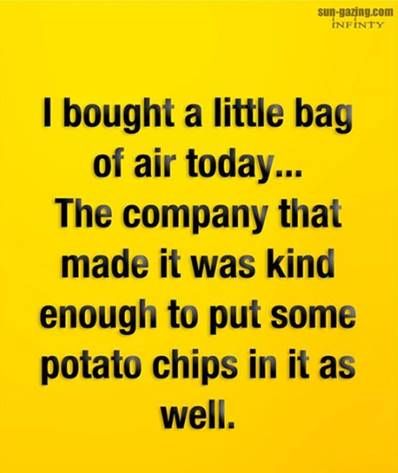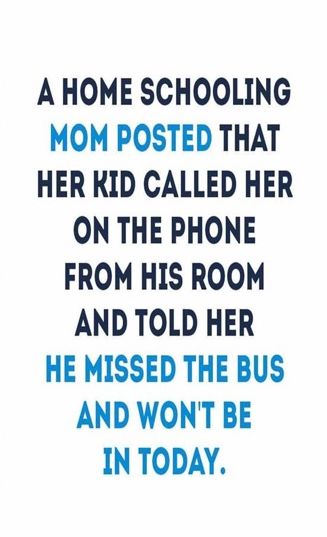 Fred Dibnah Tribute (2004) What a character!

Please click on the photo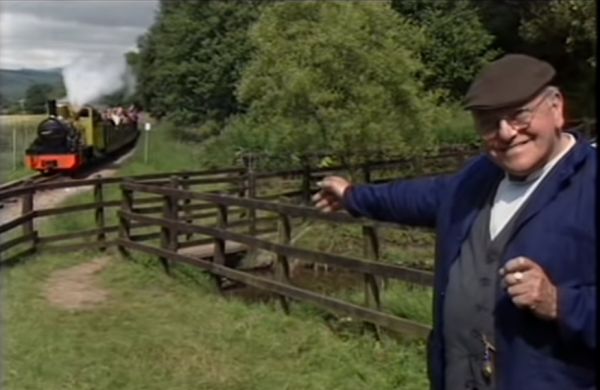 Upon entering the little country store, the stranger noticed a sign saying "DANGER! BEWARE OF DOG!" posted on the glass door. Inside he noticed a harmless old hound dog asleep on the floor besides the cash register.

He asked the store manager, "Is THAT the dog folks are supposed to beware of?"

"Yep, that's him," he replied.

The stranger couldn't help but be amused. "That certainly doesn't look like a dangerous dog to me. Why in the world would you post that sign?"

"Because," the owner replied, "before I posted that sign, people kept tripping over him."

The owner of a drug store walks in to find a guy leaning heavily against a wall.

The owner asks the clerk, "What's with that guy over there by the wall?"

The clerk says, "Well, he came in here this morning to get something for his cough. I couldn't find the cough syrup, so I gave him an entire bottle of laxative."

The owner says, "You idiot! You can't treat a cough with a bottle of laxatives!"

The clerk says, "Of course, you can! Look at him; he's afraid to cough!"


---
19 July 2020 Please send photos, articles, words or jokes to yeovilrailway@hotmail.com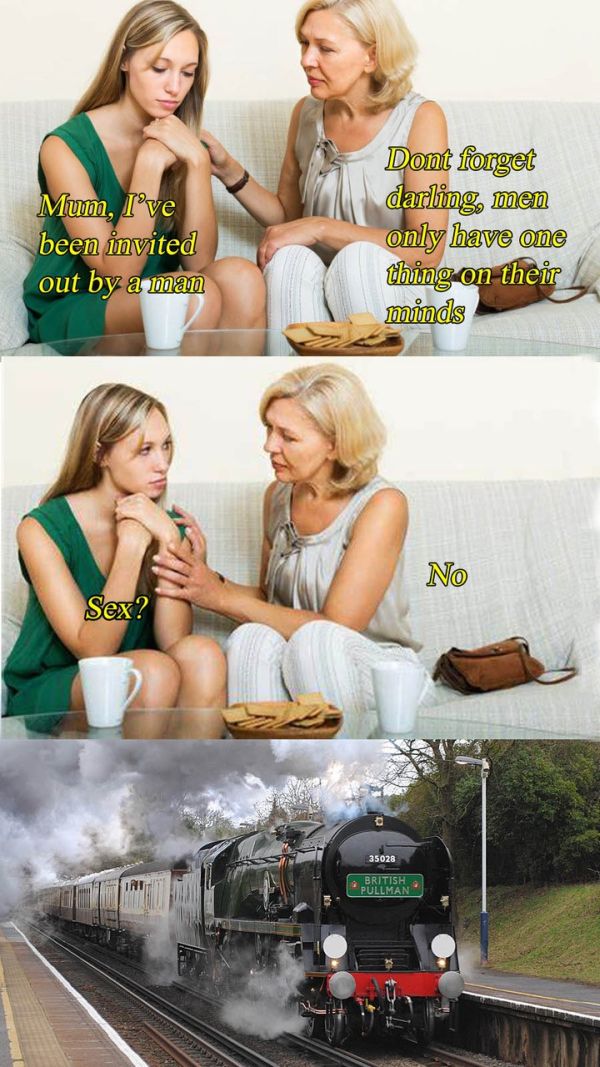 (thanks to our friends at MNLPS)

Yeovil 160
Filmed at Yeovil Junction & in Yeovil Railway Centre during the years 2004-2018.

"Today is the actual day (19 July) the line from here at Yeovil Junction to Exeter Central which at the time was called Exeter Queen Street was opened 160 years ago."

Click on the photo.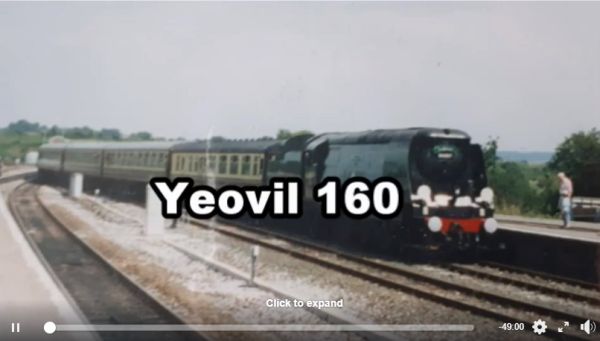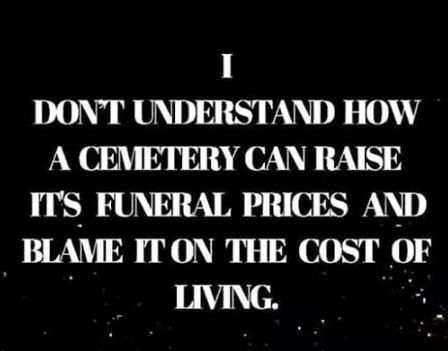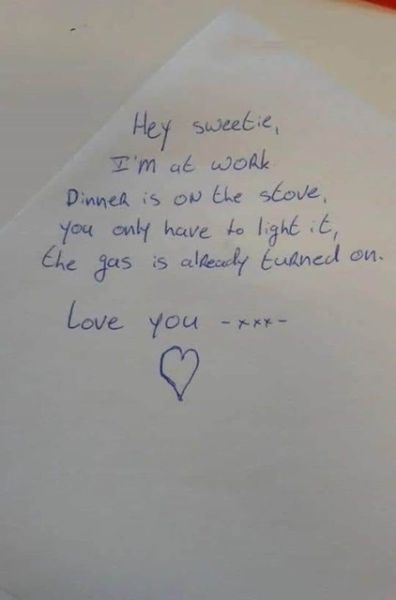 ---
18 July 2020 Please send photos, articles, words or jokes to yeovilrailway@hotmail.com

Late one night a burglar broke into a house and while he was sneaking around he heard a voice say, "Jesus is watching you." He looked around and saw nothing. He kept on creeping and again heard, "Jesus is watching you." In a dark corner, he saw a cage with a parrot inside.

The burglar asked the parrot, "Was it you who said Jesus is watching me" The parrot replied, "Yes." Relieved, the burglar asked, "What is your name?" The parrot said, "Clarence."

The burglar said, "That's a stupid name for a parrot. What idiot named you Clarence?" The parrot answered, "The same idiot that named the rottweiler Jesus."

Dorset Ball Clay
Please click on the photo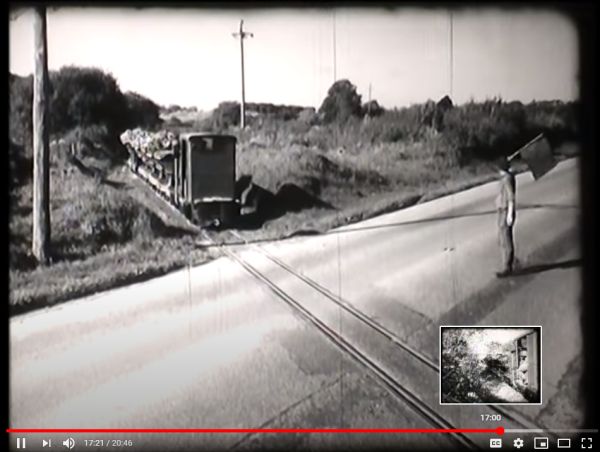 A proud and confident genius makes a bet with an idiot. The genius says, "Hey idiot, every question I ask you that you don't know the answer, you have to give me £5. And if you ask me a question and I can't answer yours I will give you £5,000." The idiot says, "Okay."

The genius then asks, "How many continents are there in the world?" The idiot doesn't know and hands over the £5.

The idiot says, "Now me ask: what animal stands with two legs but sleeps with three?" The genius tries and searches very hard for the answer but gives up and hands over the £5000. The genius says, "Dang it, I lost.

By the way, what was the answer to your question?" The idiot hands over £5.


---
17 July 2020 Please send photos, articles, words or jokes to yeovilrailway@hotmail.com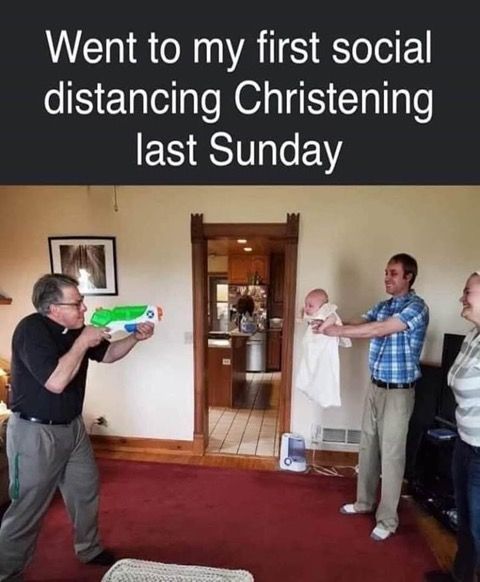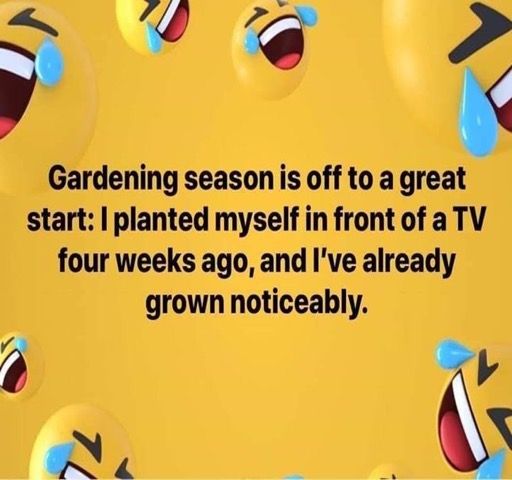 35028 'Clan Line' at Stowell near Templecombe.
Click on the photo.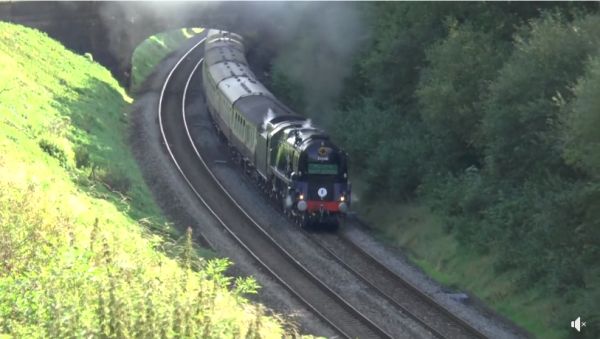 ---
16 July 2020 Please send photos, articles, words or jokes to yeovilrailway@hotmail.com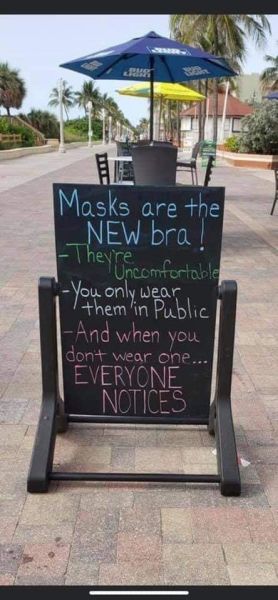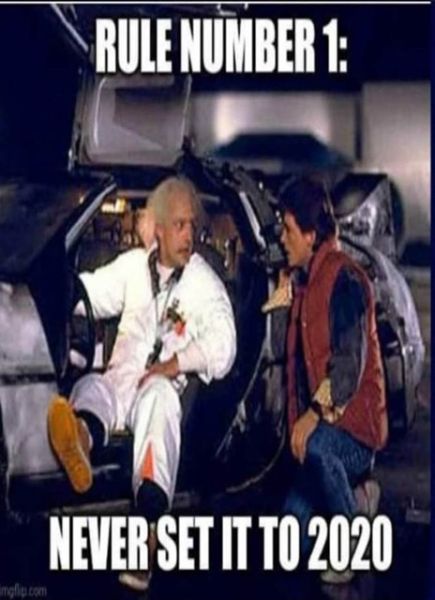 Class 50 cab ride Exeter to Salisbury possibly in 1991 as a Network South East liveried Class 47 is seen. Interestingly a section of wrong line working between Exmouth Junction and Pinhoe is included. There is no loop at Axminster (but Tisbury loop is in), nor the Class 159 diesel depot at Salisbury. At Yeovil Junction the upside sidings (now an extended car park) are still extant whilst Yeovil Railway Centre has another 3 or 4 years to go before it is born. Dinton sidings (up and down) are still connected but no traffic is seen. Signalling is controlled by local signalboxes.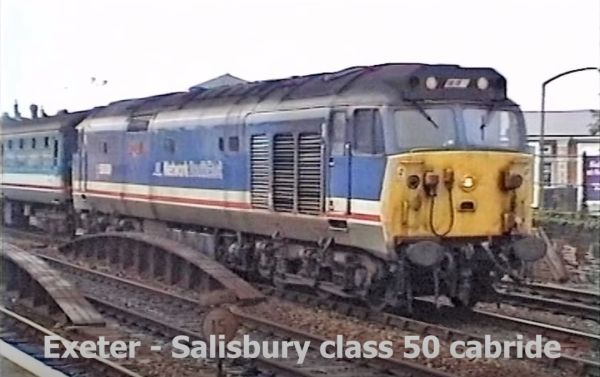 Detailed history of diesel operations between Waterloo and Exeter can be found by CLICKING HERE produced by Southern Electric Group.

Love this paragraph
10201 achieved notoriety as the only machine of this type to run beyond Exeter Central-by running away light engine down the 1 in 37 gradient to Exeter St Davids. Despite weighing in at 135 tons 10201 and 10202 were given a wide route availability and were passed to run to Plymouth through Okehampton, but none ever did so. Perhaps the 135 ton monster rolling on to its tracks put the Western Region off diesel electrics to build diesel hydraulics.


---
15 July 2020 Please send photos, articles, words or jokes to yeovilrailway@hotmail.com



Our Appeals If you are enjoying our page would you help us build our new Toilet Block by contributing to the Appeal? (updated-see above) or help our General Funds please see the links above! Any help will be greatly appreciated!

Steam at Speed including a couple of steam at night (lovely). An exhilarating series of short clips - the bogies are working overtime in some!

Click on the photo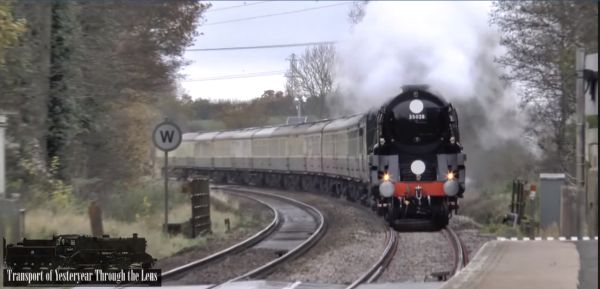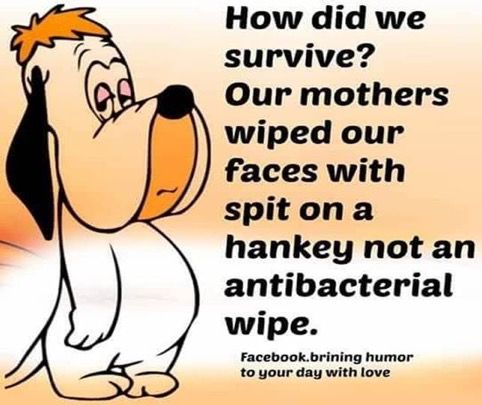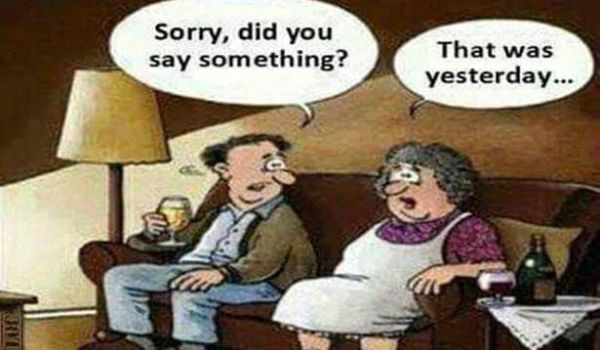 12 COMMANDMENTS FOR SENIORS

#1 - Talk to yourself. There are times you need expert advice.

#2 - "In Style" are the clothes that still fit.

#3 - You don't need anger management. You need people to stop pissing you off.

#4 - Your people skills are just fine. It's your tolerance for idiots that needs work.

#5 - The biggest lie you tell yourself is, "I don't need to write that down. I'll remember it."

#6 - "On time" is when you get there.

#7 - Even duct tape can't fix stupid - but it sure does muffle the sound.

#8 - It would be wonderful if we could put ourselves in the dryer for ten minutes, then come out wrinkle-free and three sizes smaller?

#9 - Lately, You've noticed people your age are so much older than you.

#10 - Growing old should have taken longer.

#11 - Aging has slowed you down, but it hasn't shut you up.

#12 - You still haven't learned to act your age, and hope you never will.


---
14 July 2020 Please send photos, articles, words or jokes to yeovilrailway@hotmail.com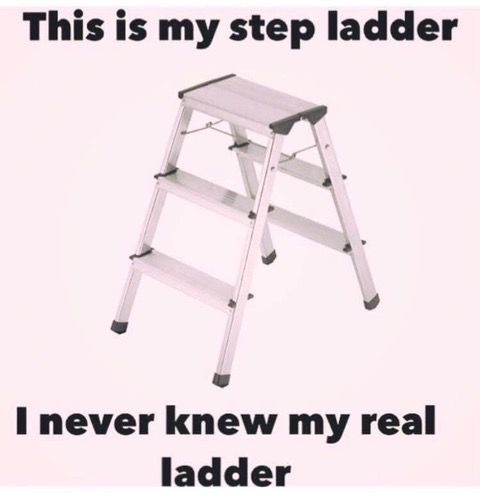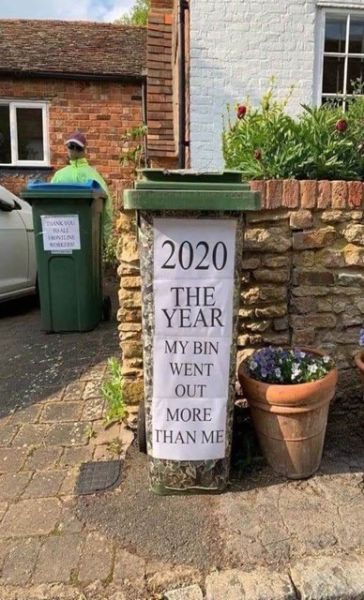 GB XI Climbs Evershot 26/04/19

Click on the photo.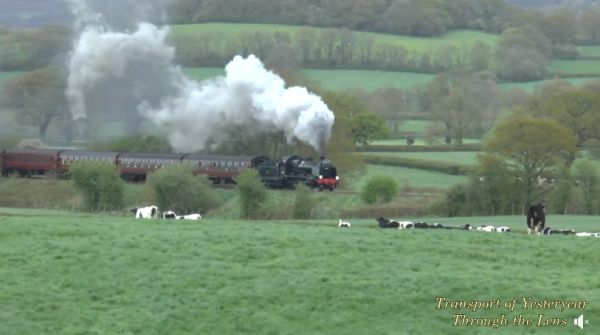 VOTED BEST JOKE IN IRELAND

John O'Reilly hoisted his beer and said, "Here's to spending the rest of me Life, making love of me wife!"

That won him the top prize at the pub for the best toast of the night!

He went home and told his wife, Mary, "I won the prize for the Best toast of The night."

She said, "Aye, did ye now. And what was your toast?"

John said, "Here's to spending the rest of me life, sitting in church beside me wife."

"Oh, that is very nice indeed, John!" Mary said.

The next day, Mary ran into one of John's drinking buddies on the street Corner.

The man chuckled leeringly and said, "John won the prize the other night at The pub with a toast about you, Mary."

She said, "Aye, he told me, and I was a bit surprised myself.

You know, he's only been there twice in the last four years.

"Once I had to pull him by the ears to make him come, and the other time he fell asleep".


---
13 July 2020 Please send photos, articles, words or jokes to yeovilrailway@hotmail.com

Yeovil's history (before 1970 approx) is recorded here fantastic amount of information!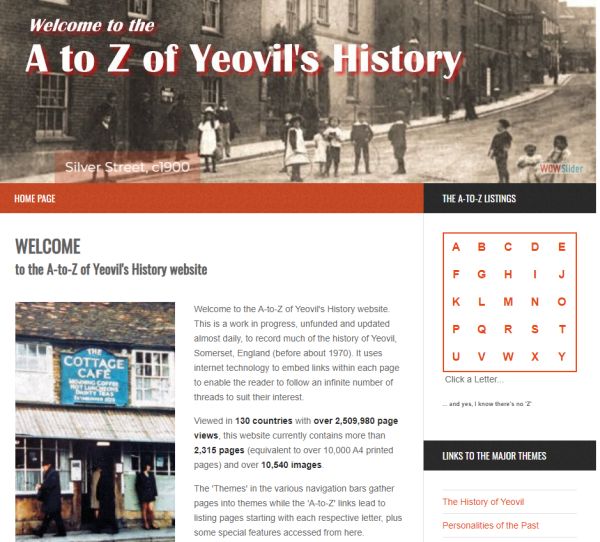 LMS Black 5 45212 on Yeovil Railway Centre's turntable seen from the special Viewing Platform.

Click on the photo.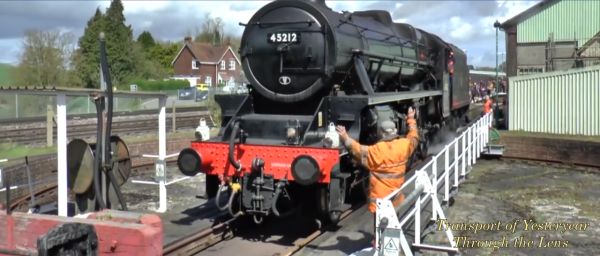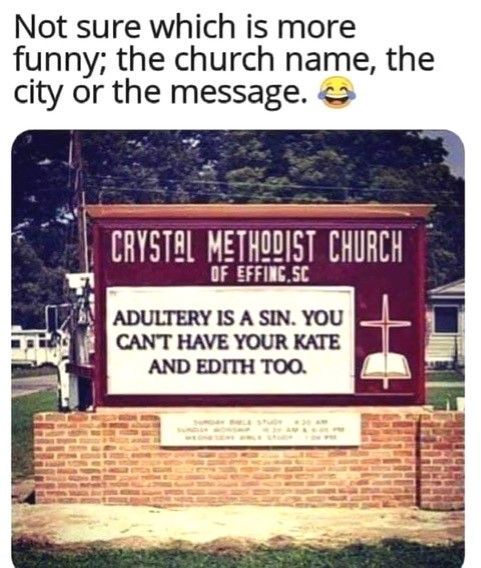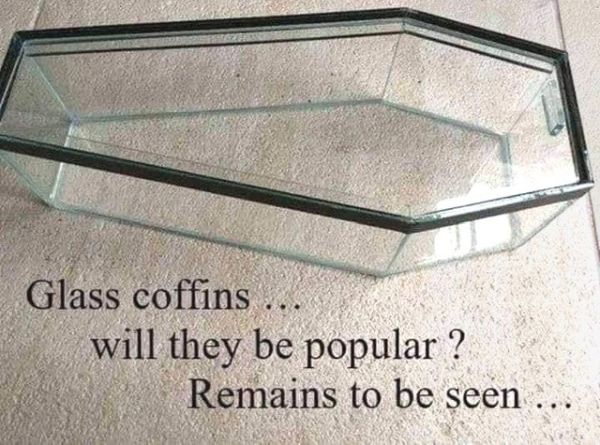 ---
12 July 2020 Please send photos, articles, words or jokes to yeovilrailway@hotmail.com

Model Railway Wagons
Delighted to say that three new designs are ready for despatch by Mail Order as well as collection through our Shop.

Click on the photo to go to the details!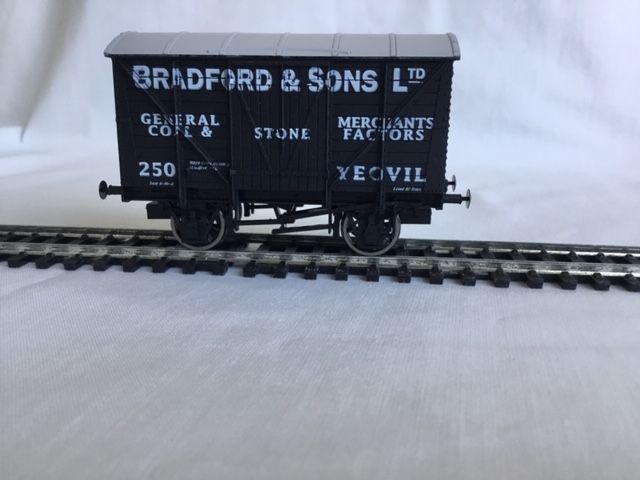 Pachelbel's Canon as performed by train horns Thanks Brian!

Click on the photo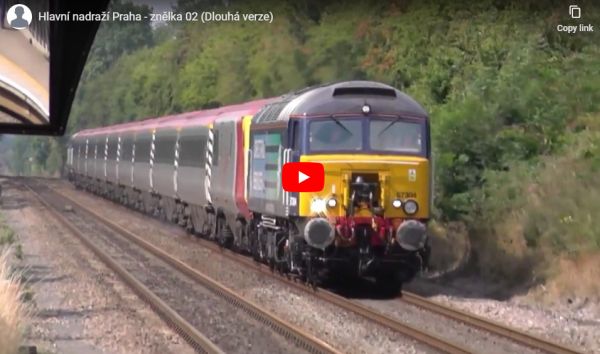 Train Simulator - BR(S) Rebuilt Merchant Navy Class Add-On - Bossman Games

Difficult to think its not real! - Click on the image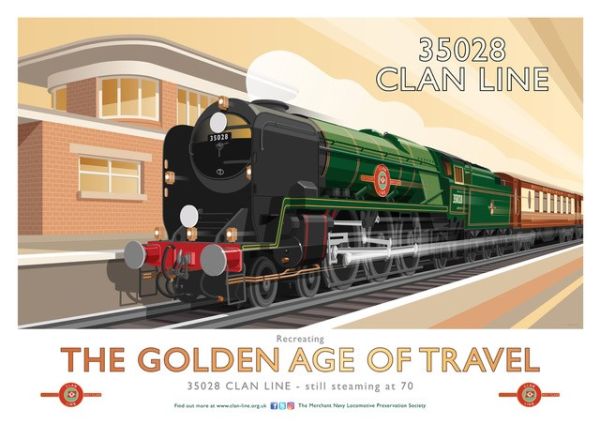 The NILE Virus (Type C) (thanks Rog!)

I thought you would want to know about this virus.

Even the most advanced computer programs from Norton, McAfee, and others cannot take care of this one.

It appears to target those who were born prior to 1948.

The lockdown seems to be increasing the chances of being affected!

Virus Symptoms

1. Causes you to send the same e-mail twice. (Done that)

2. Causes you to send a blank e-mail. (That too)

3. Causes you to send an e-mail to the wrong person. (Yup)

4. Causes you to send it back to the person who sent it to you. (Ah-ha)

5. Causes you to forget to attach the attachment. (Done that)

6. Causes you to hit SEND before you've finished. (Oh no, not again)

7. Causes you to hit DELETE instead of SEND. (Hate that)

8. Causes you to hit SEND when you should DELETE. (Heck, now what?)

This virus is called the C-NILE virus!

A lot of us have already been inflicted with this deadly disease and unfortunately as we age it gets worse.

And if you can't admit to doing any of the above, you've obviously caught the other strain - the D-NILE virus!


---
11 July 2020 Please send photos, articles, words or jokes to yeovilrailway@hotmail.com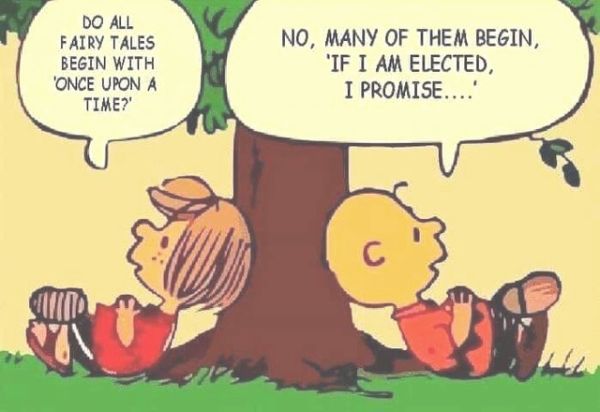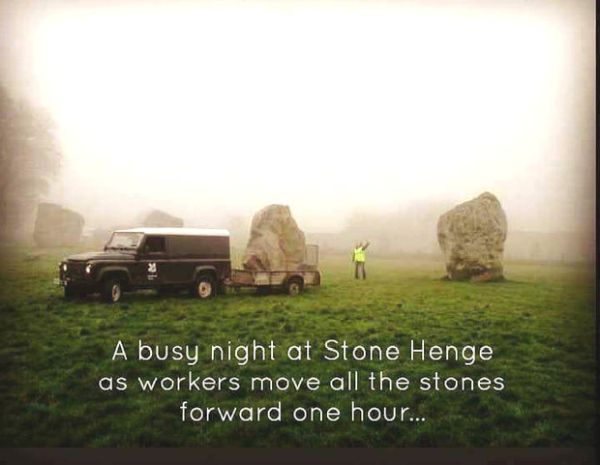 31806 returns to the main line after 49 years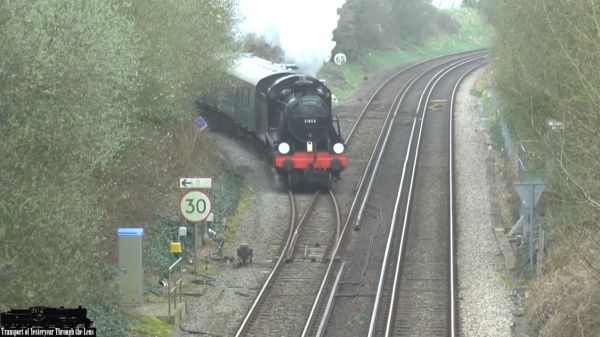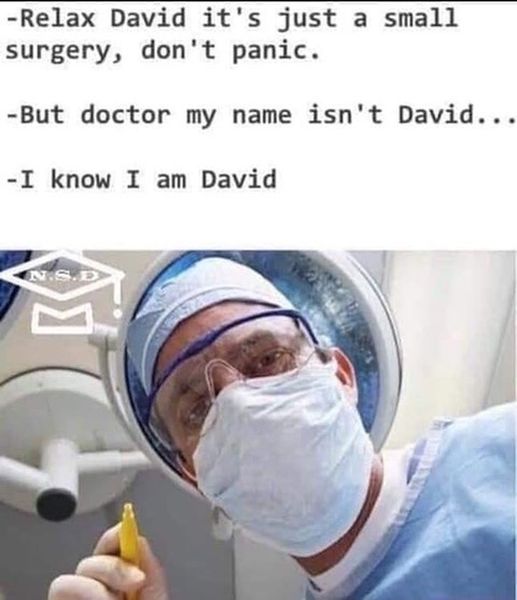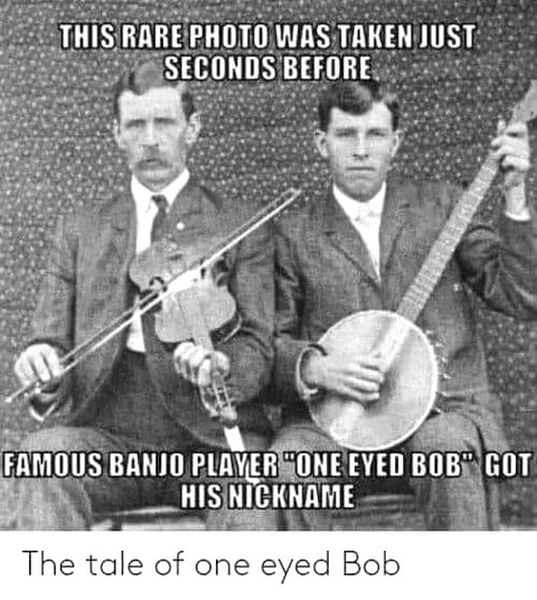 ---
10 July 2020 Please send photos, articles, words or jokes to yeovilrailway@hotmail.com

Shop at Yeovil Railway Centre re-opens this Sunday (12 July) from 10am to noon!

To celebrate, three new Model Railway Wagons are now available for collection (by mail order soon). Here are photos (better ones to follow!):-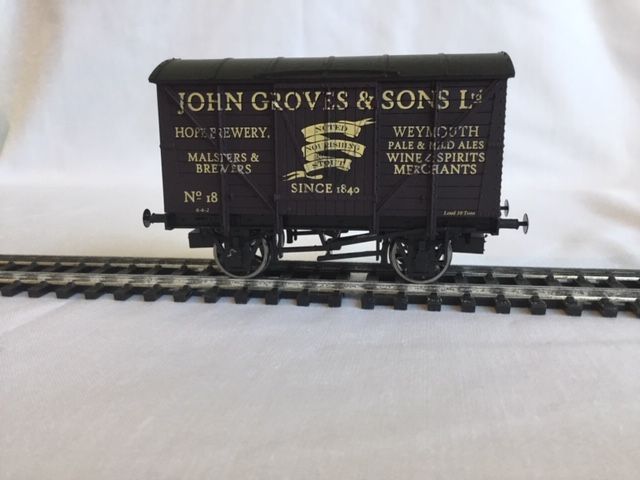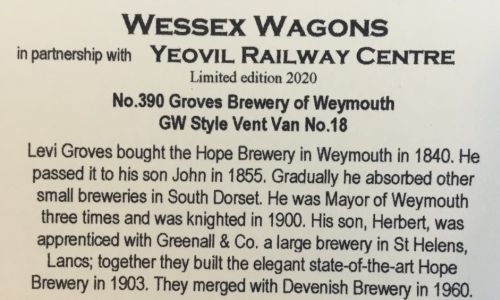 Limited edition of 147 wagons at £15.00 each, boxed with certificate.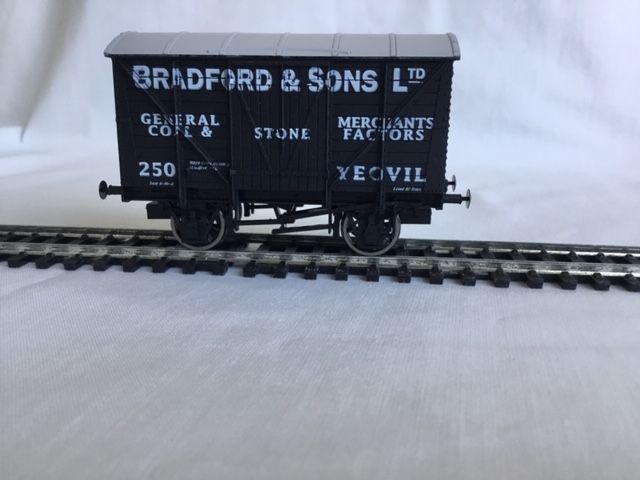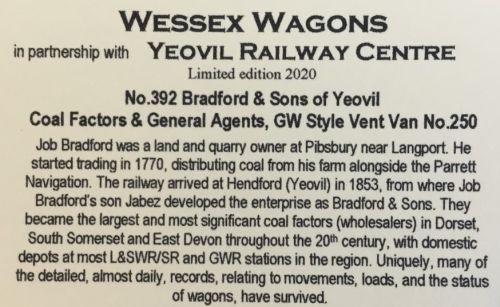 Limited edition of 109 wagons at £15.00 each, boxed with certificate.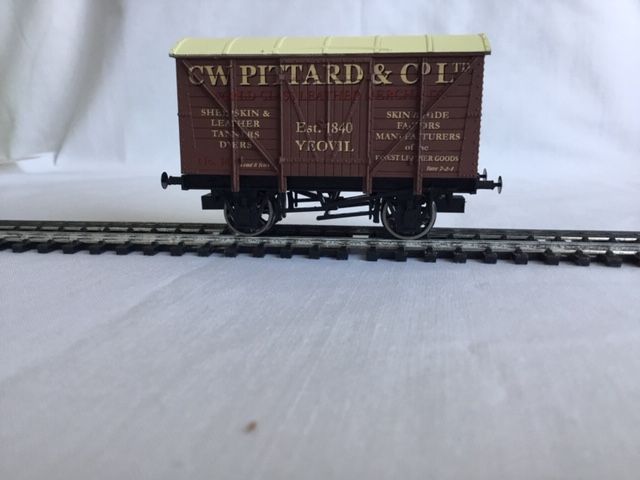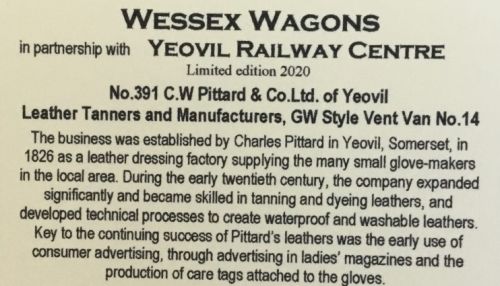 Limited edition of 97 wagons at £15.00 each, boxed with certificate.

When visiting the Shop, please use the sanitiser provided and note that only two customers can be admitted at any one time due to the space available. There is a one-way system in place.
Card payments are much preferred!

Salisbury steam 1989 (also Templecombe, Yeovil Junction etc)

With Exhibition Coaches at Salisbury, goods train, run past at Templecombe, Class 50 and 33, pre-Yeovil Railway Centre scenes at Yeovil Junction!

Please click on the photo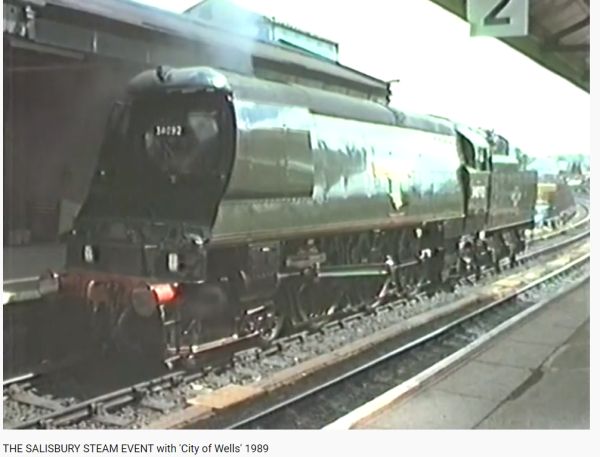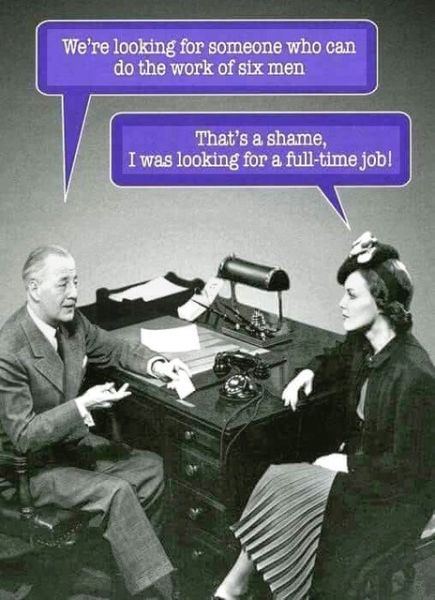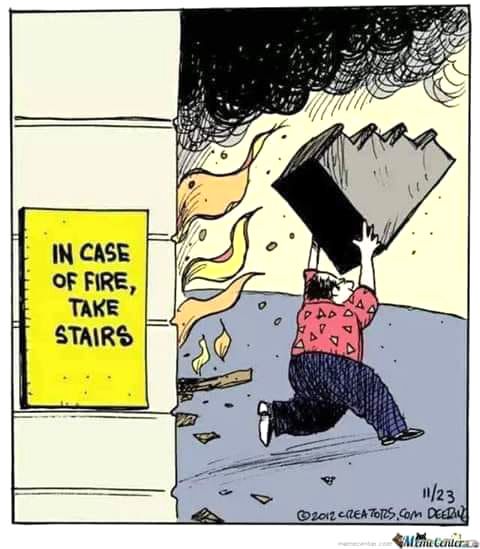 ---
09 July 2020 Please send photos, articles, words or jokes to yeovilrailway@hotmail.com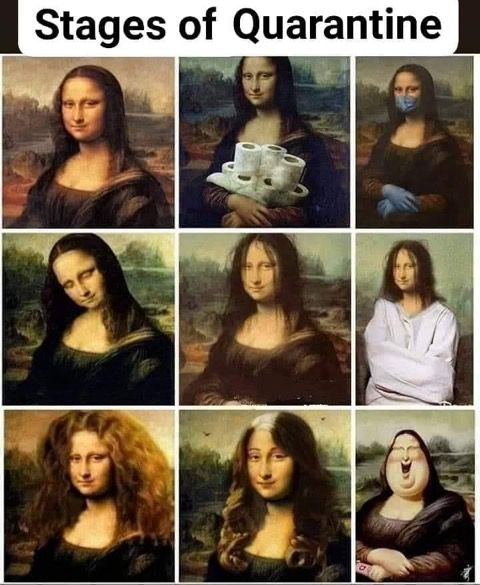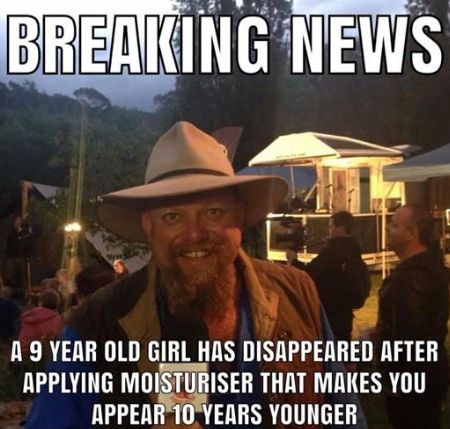 Alderney has a railway and somewhat unusual rolling stock. I believe of the Channel Islands, Jersey has a circular steam railway

Firstly a bit of the history - click on the picture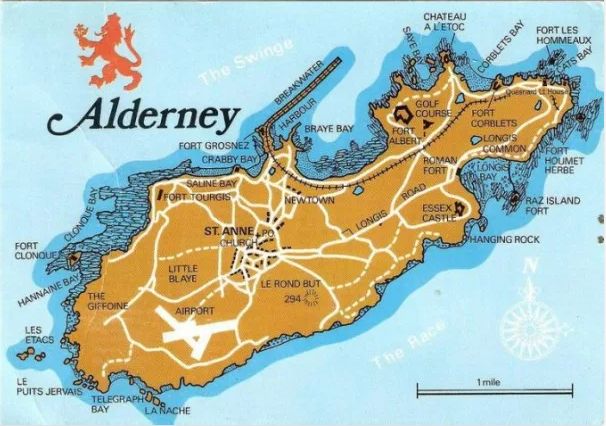 Next, Alderney Railway's website:-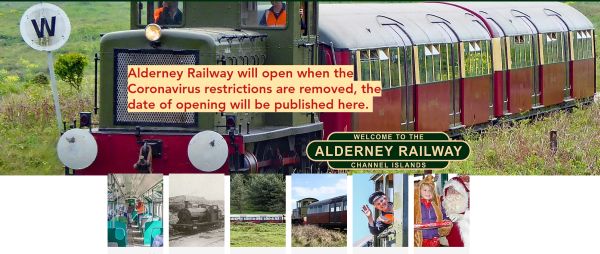 Following the train trackside.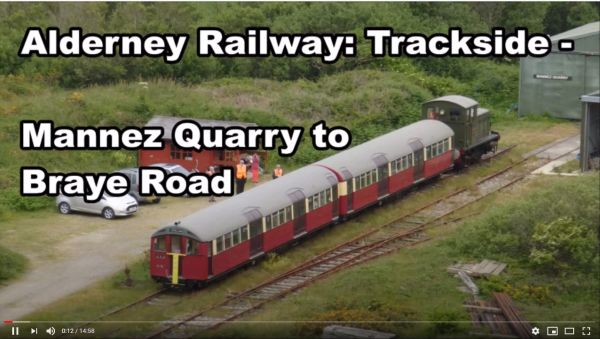 Wickhams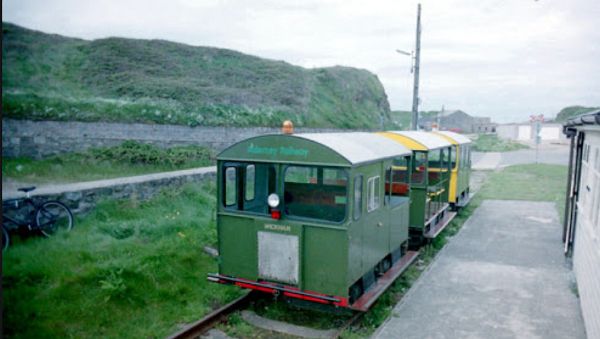 <

Steam Crane-in use, stored at Braye Harbour, isolated and out of use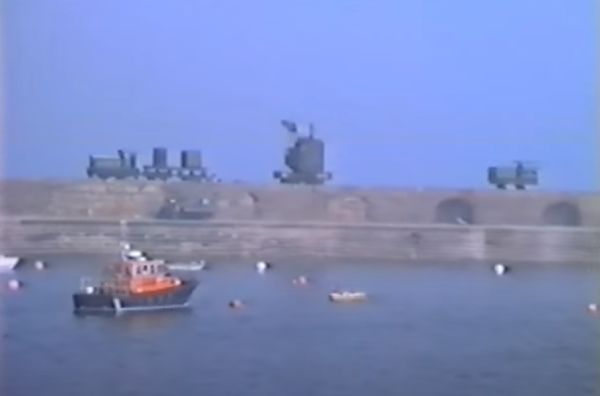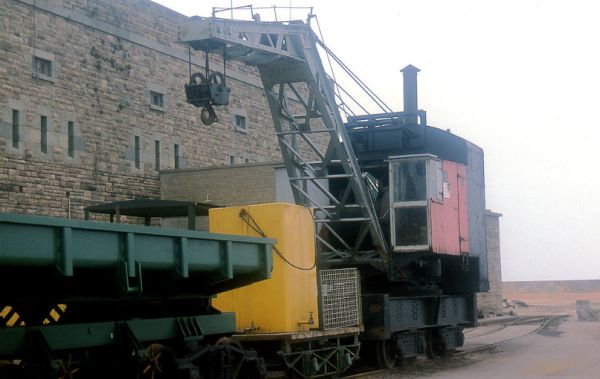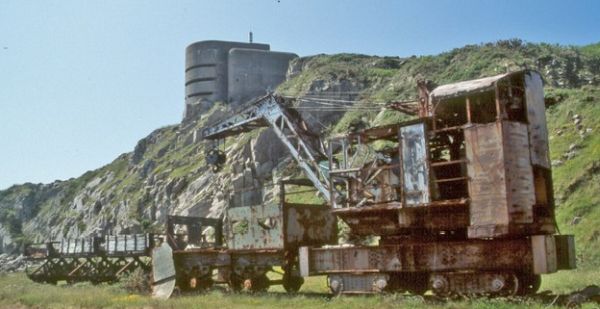 ---
08 July 2020 Please send photos, articles, words or jokes to yeovilrailway@hotmail.com

Colas Operated Test Train ran on 2 July 2020. Our friend Dave has sent in a photo of 67023 and 67027 passing Exhibition Way, Exeter.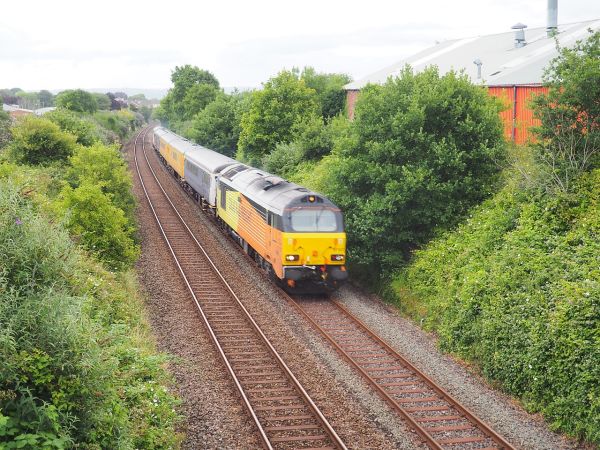 Wordsworth in Lockdown:

I wandered lonely as a cloud,
Two metres from the madding crowd,
When all at once my name was called
To enter Waitrose hallowed hall.

This was the pensione's special hour
I'd gone to get a bag of flour,
But I forgot -when through the door -
What I had gone to Waitrose for.

The Waitrose staff are extra kind
I told them it had slipped my mind,
They ask what else I had forgot
They clearly thought I'd lost the plot.

I phoned my wife again to ask
She reminded me of this special task
"I need some flour to bake a cake
With all that cream you made me take!"

"Ah yes, I recall" I had to lie,
I dared not ask what flower to buy,
But then I saw them at the tills
A bunch of golden daffodils.

Can imagine the reception on return home....

Peter has sent in a link to the latest Severn Valley Newsletter

Click on the photo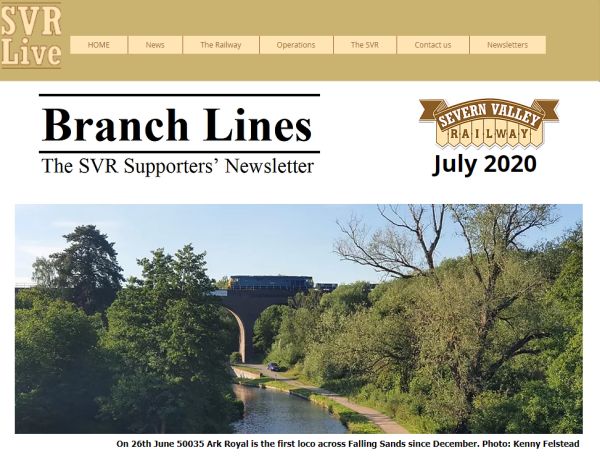 Thanks to Rog for a further Jethro clip
---
07 July 2020 Please send photos, articles, words or jokes to yeovilrailway@hotmail.com

Last train to Wadebridge Hopefully the line back to Wadebridge from Boscarne Junction can be restored by Bodmin & Wenford Railway in time!
Click on the photo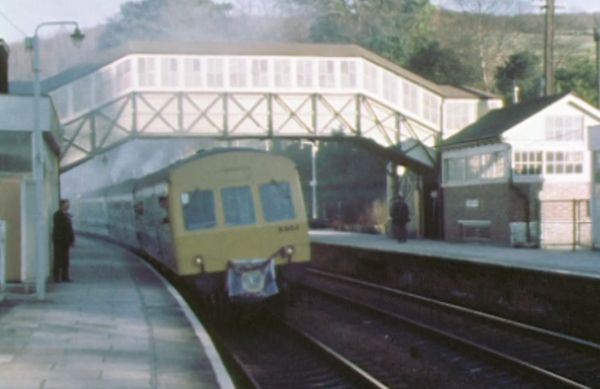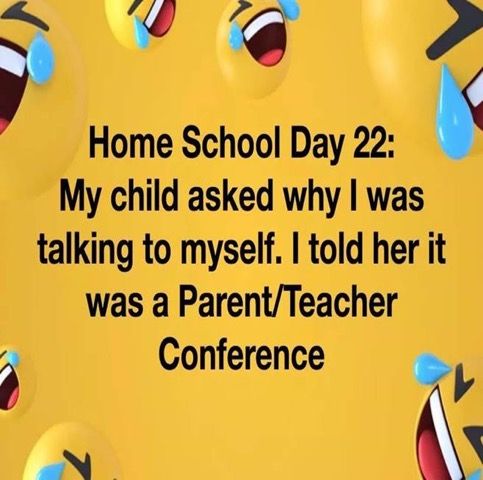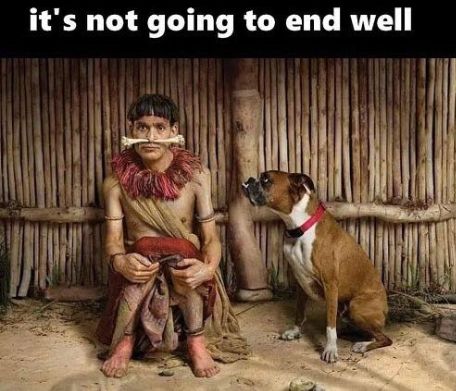 For the Yeovil people - Clarks factory
Click on the photo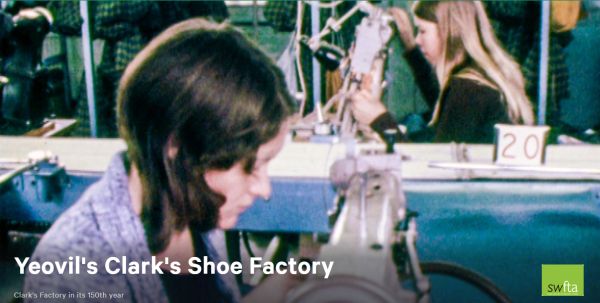 BREAKING NEWS!

Cadbury's have just delivered a giant chocolate bar to The Bank of England.

It's a massive Boost for the economy.

#WorldChocolateDay

South Western Railway's MD, Mark Hopwood updates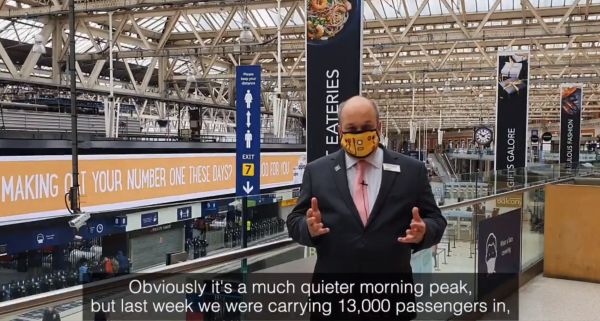 ---
06 July 2020 Please send photos, articles, words or jokes to yeovilrailway@hotmail.com



Our Appeals If you are enjoying our page would you help us build our new Toilet Block by contributing to the Appeal? (updated-see above) or help our General Funds please see the links above! Any help will be greatly appreciated!

Low Bridge - no problem!

Click on the photo!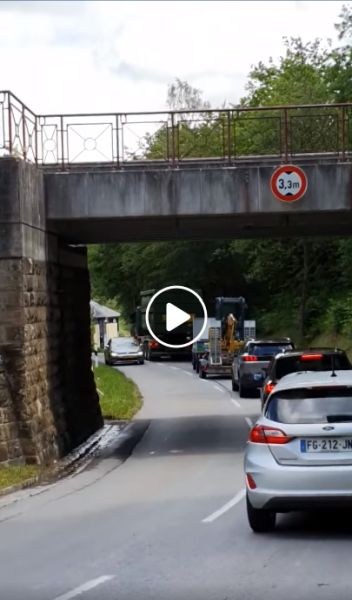 The Great Railway Cavalcade: Rocket 150 at Rainhill on 24, 25 and May 26 1980. BBC programme with Brian Redhead
Click on the photo.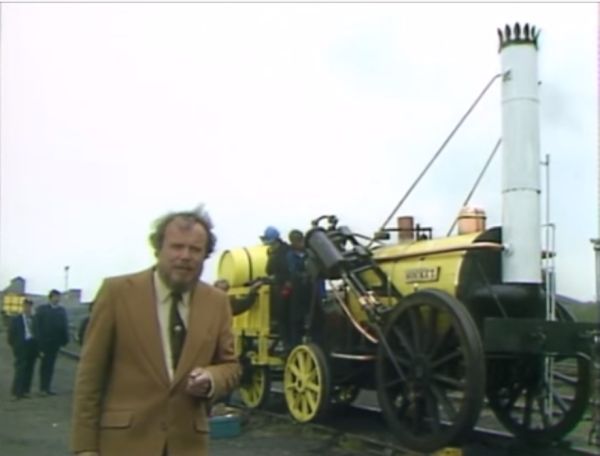 One evening a family brings their frail, elderly mother to a nursing home and leaves her, hoping she will be well cared for.

The next morning, the nurses bathe her, feed her a tasty breakfast, and set her in a chair at a window overlooking a lovely flower garden.

She seems OK, but after a while, she slowly starts to fall over sideways in her chair. Two attentive nurses immediately rush up to catch her and straighten her up.

Again she seems OK, but after a while, she starts to tilt to the other side. The nurses rush back and once more bring her back upright.

This goes on all morning. Later the family arrives to see how the old woman is adjusting to her new home.

"So Ma, how is it here? Are they treating you all right?" they ask.

"It's pretty nice," she replies. "Except they won't let you fart."
---
05 July 2020 Please send photos, articles, words or jokes to yeovilrailway@hotmail.com

Lipreading Politicians.... Thanks Roger!




Yeovil For those who are interested in Yeovil, a long film taken in 1960's(?) including George Hotel and building Reckleford dual carriageway and Bus Station. There are a couple of railway clips - one of an M7 propelling and 34060 '25 Squadron'. Some of the film quality is better than other parts!
Click on the photo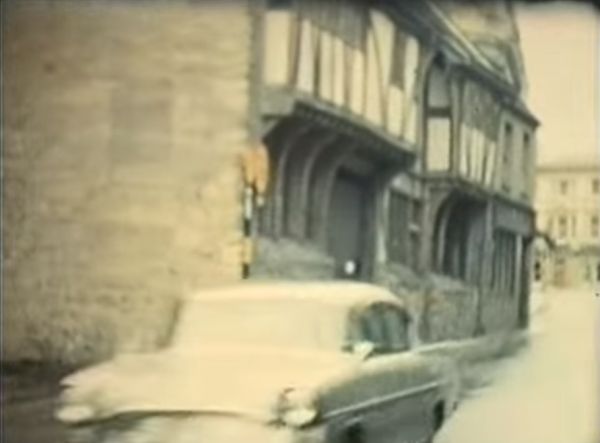 Tangmere to Yeovil Junction. in 2009
Click on the picture.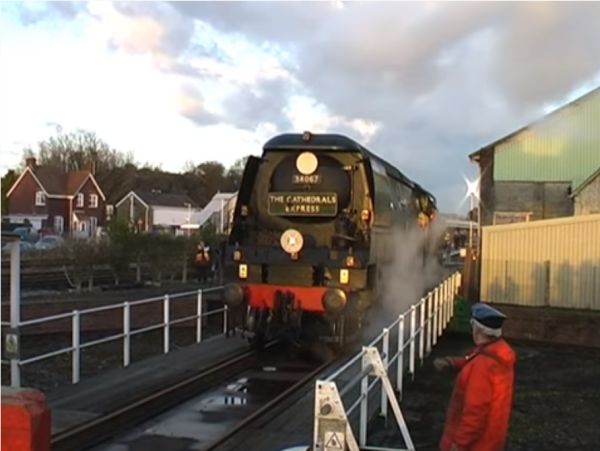 John decided to go skiing with his buddy, Keith. So they loaded up John's minivan and headed north.

After driving for a few hours, they got caught in a terrible blizzard. So they pulled into a nearby farm and asked the attractive lady who answered the door if they could spend the night. 'I realize it's terrible weather out there and I have this huge house all to myself, but I'm recently widowed,' she explained. 'I'm afraid the neighbors will talk if I let you stay in my house.'

'Don't worry,' John said. 'We'll be happy to sleep in the barn. And if the weather breaks, we'll be gone at first light.' The lady agreed, and the two men found their way to the barn and settled in for the night.

Come morning, the weather had cleared, and they got on their way.

They enjoyed a great weekend of skiing.

But about nine months later, John got an unexpected letter from an attorney. It took him a few minutes to figure it out, but he finally determined that it was from the attorney of that attractive widow he had met on the ski weekend.

He dropped in on his friend Keith and asked, Keith do you remember that good-looking widow from the farm we stayed at on our ski holiday up north about 9 months ago? 'Yes, I do.' Said Keith. 'Did you, ER, happen to get up in the middle of the night, go up to the house and pay her a visit?'

'Well, um, yes!,' Keith said, a little embarrassed about being found out, 'I have to admit that I did.'

'And did you happen to give her my name instead of telling her your name?'

Keith's face turned beet red and he said, 'Yeah, look, I'm sorry, buddy. I'm afraid I did.' Why do you ask?'

'She just died and left me everything.'


---
04 July 2020 Please send photos, articles, words or jokes to yeovilrailway@hotmail.com

SS Great Britain although we have had one video, it was 50 years ago the ship returned to Bristol. Here is the BBC account of the day.

Eric has sent in details of a Model Railway 'Melbury', a fictious station between Yeovil and Dorchester.
Click on the picture.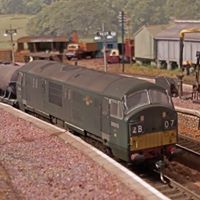 Rog continues the funnies

12 COMMANDMENTS FOR SENIORS
1 - Talk to yourself. There are times you need expert advice.

2 - "In Style" are the clothes that still fit.

3 - You don't need anger management. You need people to stop pissing you off.

4 - Your people skills are just fine. It's your tolerance for idiots that needs work.

5 - The biggest lie you tell yourself is, "I don't need to write that down. I'll remember it."

6 - "On time" is when you get there.


---
03 July 2020 Please send photos, articles, words or jokes to yeovilrailway@hotmail.com

Network Rail has today issued a Strategic Planning review of the Waterloo-Exeter route detailing the various improvements required to the infrastructure and provision of new trains in the forseeable future.

Its a long read so make yourself a cup of tea or have something stronger whilst contemplating which parts might actually happen!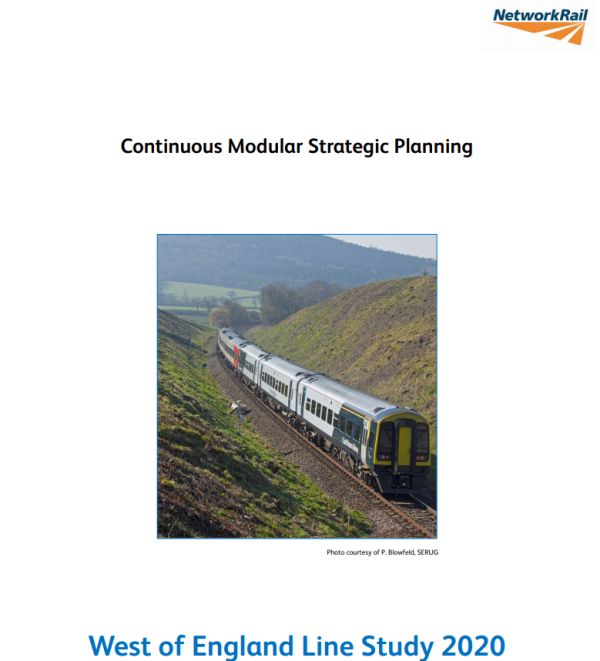 Icy or What?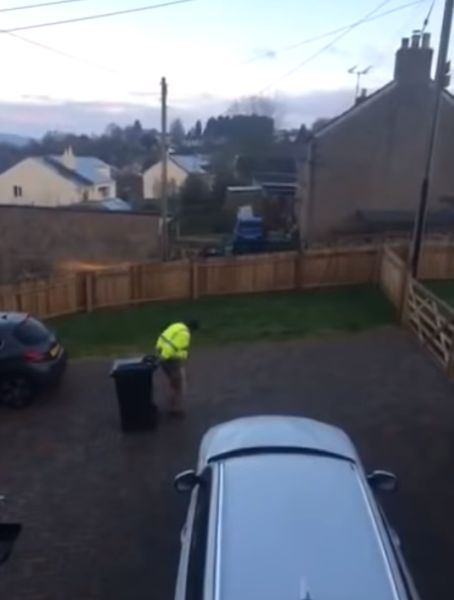 Exmouth-Exeter cab view (no sound). Taken a while ago as at Topsham a Class 153 is leading a Class 143. The 153's left the area some time ago - also there is a full length HST at Exeter St Davids.
Click on the photo.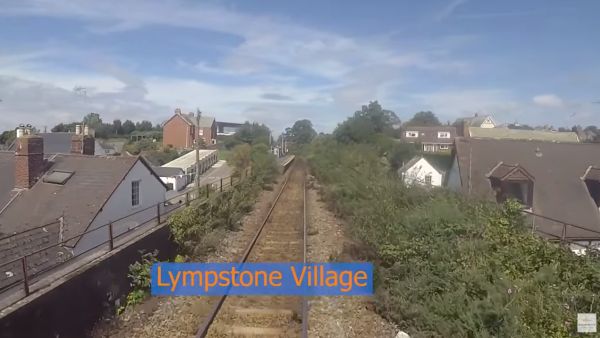 ---
02 July 2020 Please send photos, articles, words or jokes to yeovilrailway@hotmail.com

Merchant Navy 'Clan Line' on Honiton bank 10 August 2019


Click on the image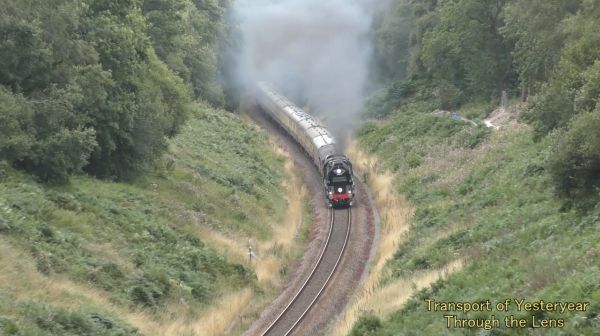 Some photos of the train at Yeovil Junction HERE

34067 'Tangmere' spectacularly climbed Upwey bank out of Weymouth with 11 coaches. Was due to have the assistance of a Class 37 diesel but this had failed. An air-braked Class 73 was brought down to Weymouth (seen in sidings) 'just in case' but could not be used (unless in an emergency) as the train was vacuum braked. Was this the heaviest unassisted climb out of Weymouth? The construction of the new Weymouth relief road can be glimpsed. Click on the image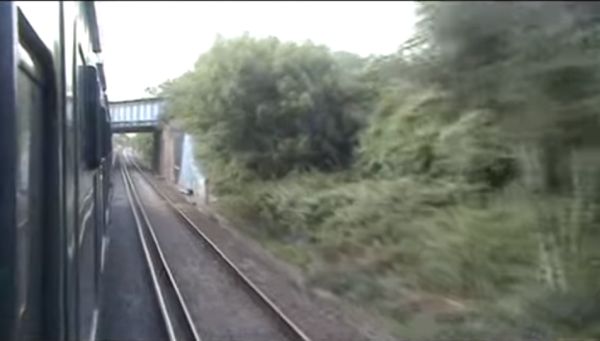 By contrast (click on photo) 5029 'Nunney Castle with 9 coaches on 29 August 2010.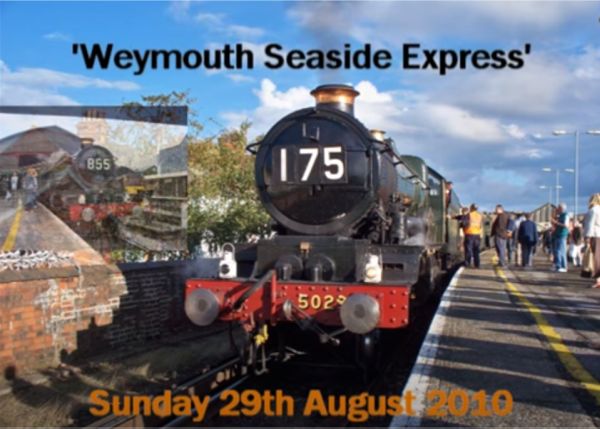 Same celebratory whistle at the summit!

If there's one thing children tend to forget about their moms, it's that they can often smell their secrets from a mile away. This holds especially true when moms suspect an attraction between their children and another person. Within, moments, mothers can pick up on very subtle body language, no matter how sincerely their children and special friend insist that their relationship is purely 'platonic.' Moms have a way of knowing. The mom in this joke had a hunch that her son and his attractive female roommate had something going on between them, so she decided to give them a simple test.

A mom visits her son for dinner who lives with a girl as a roommate. During his meal, his mother couldn't help but notice how pretty his roommate was. She had long been suspicious of a relationship between the two and this had only made her more curious.

Over the course of the evening while watching the two interact, she started to wonder if there's more between him and his roommate. Reading his mom's thought, his son volunteered, "I know what you must be thinking, but I assure you, we are just roommates."

About a week later, his roommate came to him saying, "Ever since your mother came to dinner, I've been unable to find the silver plate. You don't suppose your mother took it, do you?

He said, "Well I doubt it, but I'll email her just to be sure! He sat down and wrote,

Dear mom, After your visit me, the silver plate has been missing. "I'm not saying that you did take the silver plate from my house, and I'm not saying that you don't take it, but the fact remains that it has been missing ever since you were here for dinner. Love, Your son."

Several days later, he received an email from his mother which read: "Dear Son, I'm not saying that you do sleep with your roommate, and I'm not saying that you don't sleep with her: but the fact remains that if she was sleeping in her OWN bed, she would have found the silver plate by now, under her pillow. Love, Mom"


---
01 July 2020 Please send photos, articles, words or jokes to yeovilrailway@hotmail.com

Find.............

1- Find the C in the table below!

OOOOOOOOOOOOOOOOOOOOOOOOOOOOOOO OOOOOOOOOOOOOOOOOOOOOOOOOOOOOOO OOOOOOOOOOOOOOOOOOOOOOOOOOOOOOO OOOOOOOOOOOOOOOOOOOOOOOOOOOOOOO OOOOOOOOOOOOOOOOOOOOOOOOOOOOOOO OOOOOOOOOOOOOOOOOOOOOOOOOOOOOOO OOOOOOOOOOOOOOOOOOOCOOOOOOOOOOO OOOOOOOOOOOOOOOOOOOOOOOOOOOOOOO OOOOOOOOOOOOOOOOOOOOOOOOOOOOOOO OOOOOOOOOOOOOOOOOOOOOOOOOOOOOOO OOOOOOOOOOOOOOOOOOOOOOOOOOOOOOO

2- If you have already found the C, then find the 6 in the table below.

99999999999999999999999999999999999999999999999 99999999999999999999999999999999999999999999999 99999999999999999999999999999999999999999999999 69999999999999999999999999999999999999999999999 99999999999999999999999999999999999999999999999 99999999999999999999999999999999999999999999999

3- Now find the N in the table below. Attention, it's a little more difficult!

MMMMMMMMMMMMMMMMMMMMMMMMMMMMNMM MMMMMMMMMMMMMMMMMMMMMMMMMMMMMMM MMMMMMMMMMMMMMMMMMMMMMMMMMMMMMM MMMMMMMMMMMMMMMMMMMMMMMMMMMMMMM MMMMMMMMMMMMMMMMMMMMMMMMMMMMMMM

If you pass these three tests without a problem: - you can cancel your annual visit to the neurologist. - your brain is in decent shape! - you are far from having Alzheimer's

. Incredible WW1 Military Vehicle Convoy Steam Through Dorset 11/8/18 Click on the image!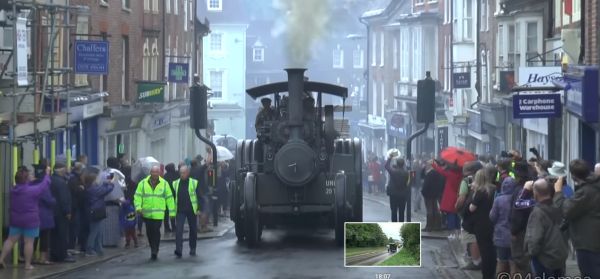 ---
30 June 2020 Please send photos, articles, words or jokes to yeovilrailway@hotmail.com



Our Appeals If you are able to contribute either to our Toilet Block Appeal (updated-see above) or our General Funds please see the links above! Any help will be greatly appreciated!

New South Western Railway electric units were dragged to Wareham before testing on the third rail to Weymouth. The Class 66s, barrier wagons and 701s were hauled onto the Swanage Branch where the shoegear was dropped (away from the third rail). Once done, the units were moved back to Wareham and the diesels were detached. Then not a lot happened and the units refused to move....However whatever the issue was it was corrected at Eastleigh and subsequent tests have been successful.
Please click on the picture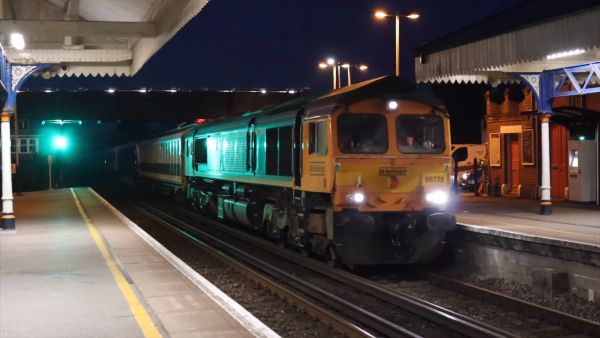 Ships in Weymouth Bay today Ventura, Queen Victoria, Azura, Queen Mary 2, Britannia and Carnival Breeze. By this evening, Queen Mary 2 and Carnival Breeze had both sailed.





Our new LSWR wagon has now been successfully moved from the upside at Yeovil Junction. A few photos of the move, involving the use of a sledge to counteract the low bridge access to the Centre. Also a photo of the axle and wheels which are marked 'Patent Shaft and Axletree 1877'. Mike has undertaken some research into this Company which ended up under Cammell Laird before closing in the 1980's.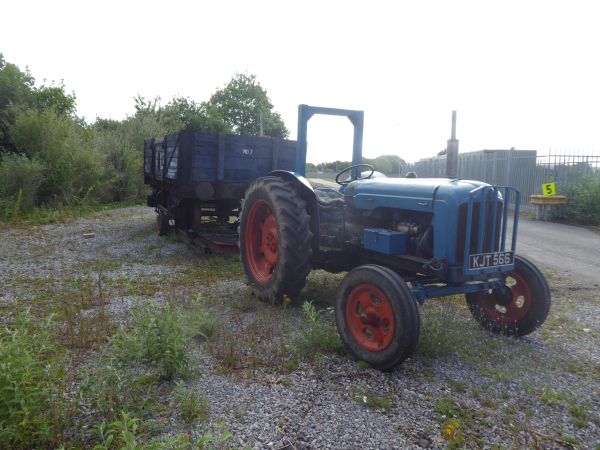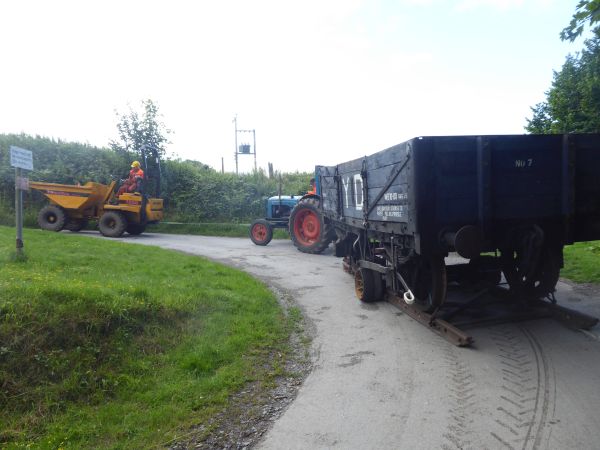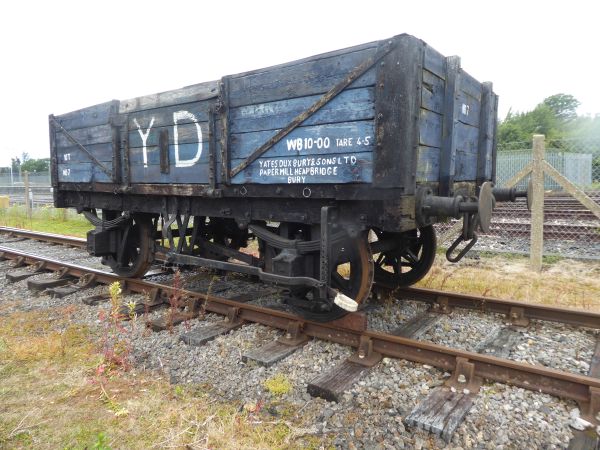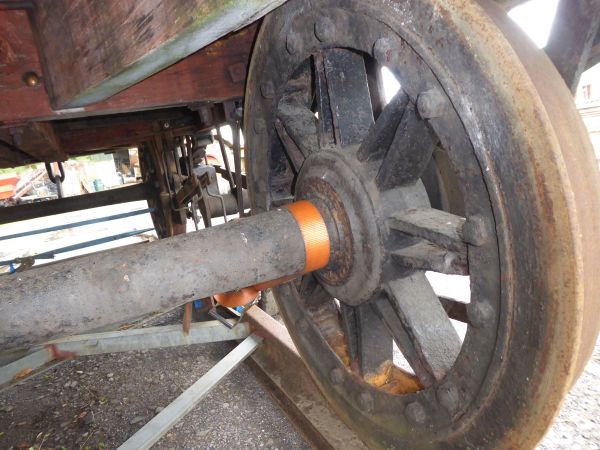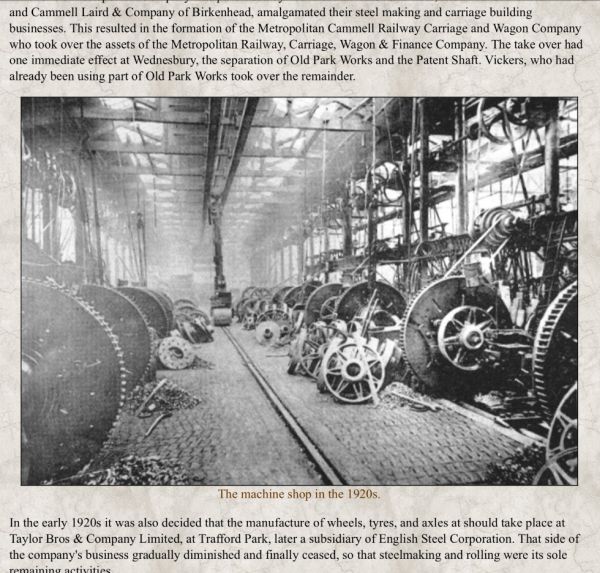 Installation of a couple of wheel stops to aid safety is being proceeded (even in the rain!).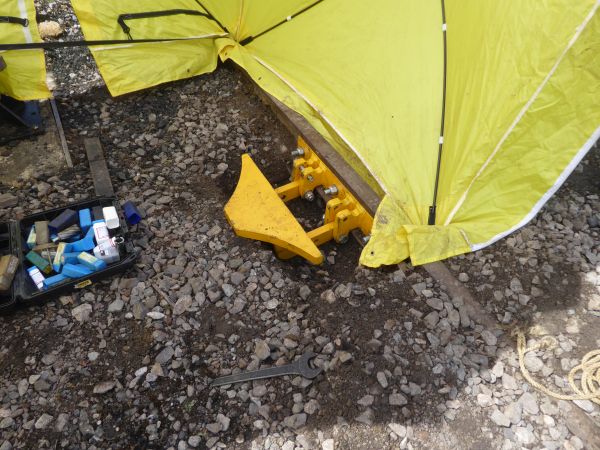 ---
29 June 2020 Please send photos, articles, words or jokes to yeovilrailway@hotmail.com

Trouble in Weymouth!!!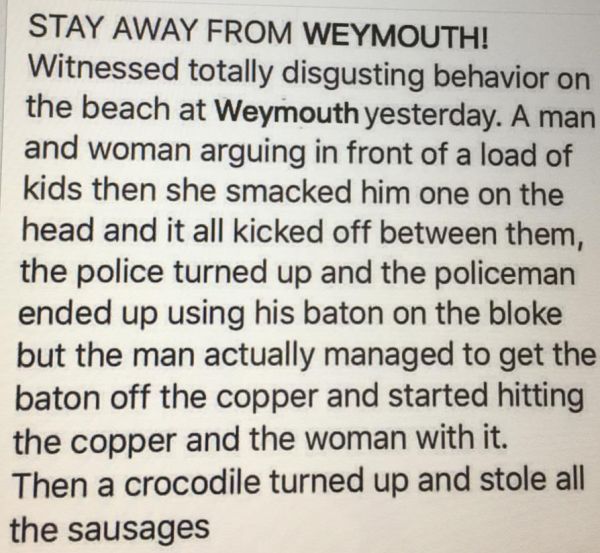 History of Slip Coaches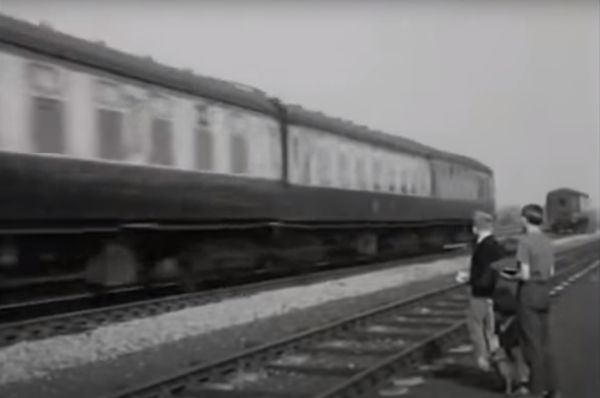 Excellent Police Work!
---
28 June 2020 Please send photos, articles, words or jokes to yeovilrailway@hotmail.com

Wonderful imagination during Lockdown!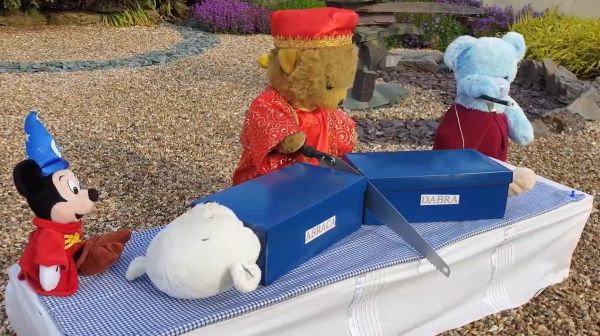 CLICK HERE. and CLICK HERE

British India Line A visit to Yeovil Junction on 9th July 2019. Click on the image.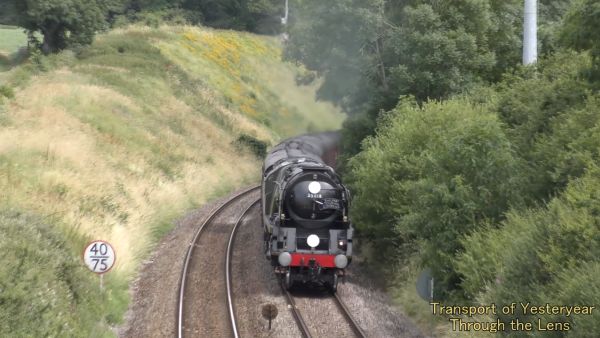 The Leveller magazine Download the June edition by clicking the link. Note that the magazine has views on certain matters that it doesn't hold back on expressing!
CLICK HERE


---
27 June 2020 Please send photos, articles, words or jokes to yeovilrailway@hotmail.com

Interesting facts about Lake Superior (continued).

The maximum wave ever recorded on Lake Superior was 9.45 meters or 31 feet high.

If you stretched the shoreline of Lake Superior out to a straight line, it would be long enough to reach from Duluth (a port on the north shore) to the Bahamas.

Over 300 streams and rivers empty into Lake Superior with the largest source being the Nipigon River.

The average underwater visibility of Lake Superior is about 8 meters or 27 feet, making it the cleanest and clearest of the Great Lakes.

Underwater visibility in some spots reaches 30 meters.

To be concluded

34092 'City of Wells' 1988 Pacing run

As part of a Salisbury steam event, Area Manager Gerald Daniels arranged a pacing run with a Class 33 and Inspection saloon and 34092 'City of Wells'. This used the bi-direction line between Templecombe and the outskirts of Yeovil Junction and the adjacent down line. There are copies of the official video made by the Southern Region but this has different and interesting views.
Please click on the link.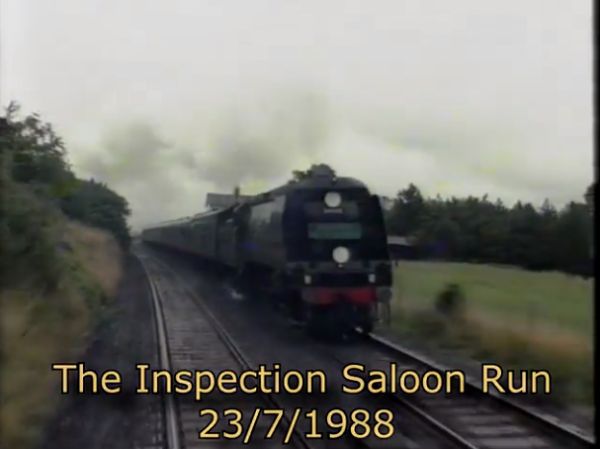 SERUG (Salisbury to Exeter Rail Users Group) Newsletter for June 2020 issued.
Please CLICK HERE
You may wish to join if you have an interest in the promotion of the line.


---
26 June 2020 Please send photos, articles, words or jokes to yeovilrailway@hotmail.com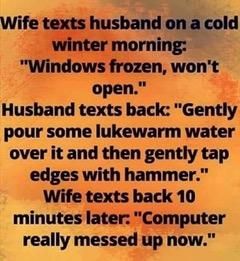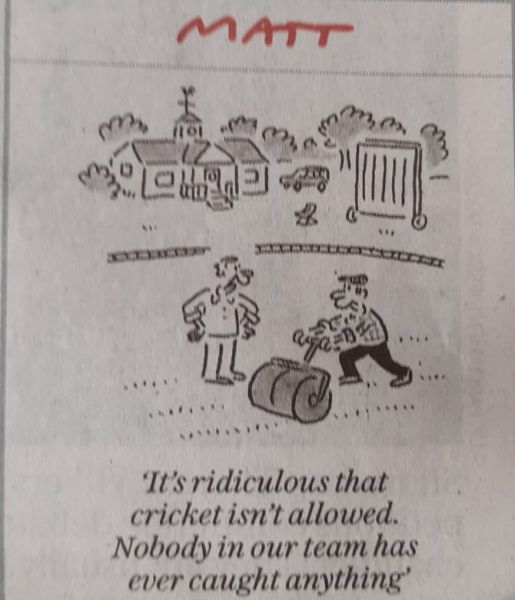 EWS Steam Training weeks - end frames and return of 35005 'Canadian Pacific' with Class 37 37308.
Click on the image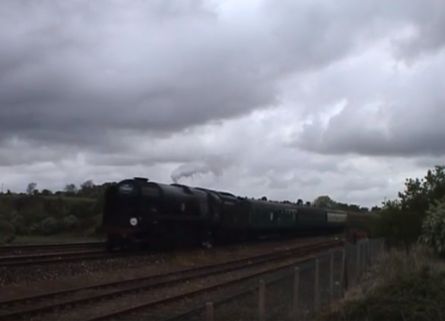 The Mule One response, from Dave, to the question why the line through Yeovil Junction is nicknamed 'The Mule'. Dave reports that it has been suggested that 'Mule means the line is a plod, but you eventually get there.'. Is that fair? Although its not the quickest of journeys, the intermediate stations (normally) have the best service ever. Any comments?


---
25 June 2020 Please send photos, articles, words or jokes to yeovilrailway@hotmail.com

EWS Steam Training weeks

Only one item today but its a fine record of some of the runs of 35005 'Canadian Pacific' during the EWS steam crew training runs. Note the Spacia 'To Let' sign on the Transfer Shed and the old way of handsignalling any passenger trains away from Platform 3. Now there is a dummy which Basingstoke Panel controls which is the authority.

Click on the image, sit back and enjoy! Thanks Bob!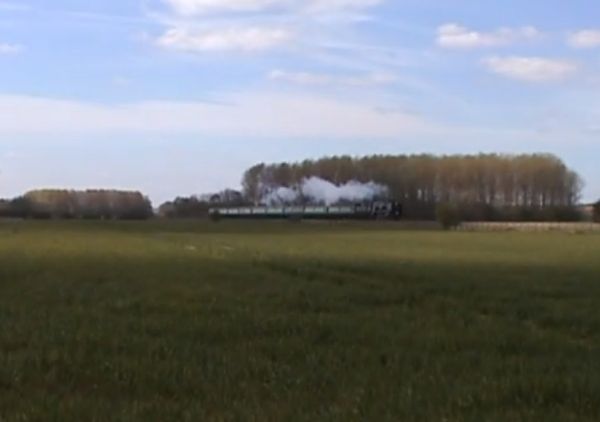 ---
24 June 2020 Please send photos, articles, words or jokes to yeovilrailway@hotmail.com

Bob has sent in a great short video of a rare sighting of a Class 58 at Yeovil Junction.




Bob has given the detail of this tour.

'The Tone Bone Tour' on 27th October 2001

"The Tone Bone" was a Pathfinder Rail Tour which utilized a multitude of traction, part of which was class 58 no 58030 From Westbury to Taunton via the mule.

The title of the tour name came from the Taunton River Tone, and the nickname for ' Class 58s of 'Bones'.

The Tour traction & route details of 1Z46 are as follows.

No 56063 - Crewe Birmingham - Swindon.
No 66156 - Swindon - Westbury.
No 58030 - Westbury - Y.J. - Taunton.
No 67026 + 59203 - Taunton - BTM - Newport.
No 60062 - Newport - Gloucester.
No 56063 - Gloucester - Birmingham - Crewe

The Mule is a expression used in relation to the Salisbury-Exeter line. Can anyone explain why - I don't think Mules are used any more?


---
23 June 2020 Please send photos, articles, words or jokes to yeovilrailway@hotmail.com

Mishap 1958 CLICK HERE
There are several videos on procedures to be followed on British Railways - everyone does seem calm in this one!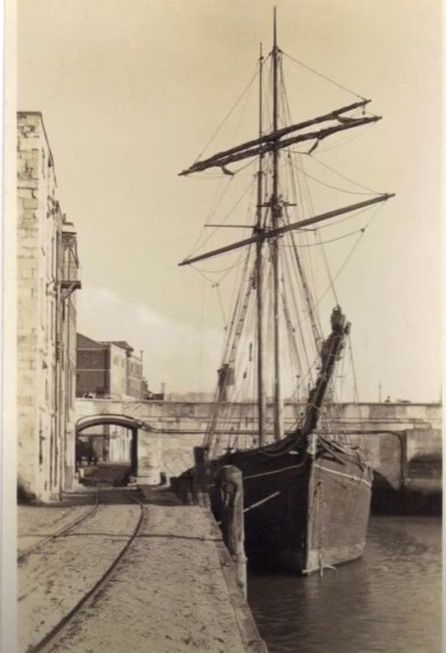 Weymouth-old and new. The above photo looks quite different now!
CLICK HERE and CLICK HERE

GOD'S WONDERFUL RAILWAY (conclusion)

And then, on 8 January, 1985, my great enthusiasm for railways and my love, for such it is, of the ghost of the GWR reached their peak when I was invited to sit in the driving cab of a High Speed Train and make the thrilling trip from Bristol to Plymouth. It is, I suppose, fitting that this, one of childhood's prime ambitions, should have been achieved in my second (almost) childhood. Not, I hasten to reassure anxious passengers, that I was allowed actually to drive the train but, perched up beside the driver, within reach of the controls and with the breath-taking view ahead along the shining rails, I could imagine that I was in charge.

Oddly enough there was no impression of real speed. The dial said that we were doing ninety mph but it seemed like forty: and when we slowed to forty we seemed to be barely moving. Built-in safety devices caused bells and buzzers to sound from time to time, their purpose explained to me by the genial drivers. Occasionally warning notices indicated track repairs (cheerful waves were exchanged with the workers) and sometimes a distant signal forbade fast onward progress. As instructed by trackside notices saying either W (WHISTLE) or SW (SOUND WHISTLE, I assume), we dutifully whistled, or rather we made that distinctive High Speed two-note honking noise (what else to call it?) that carries for miles. If the road ahead was level or downhill and we had reached ninety, the limit for the run, the driver shut off power and we coasted along under our own momentum and for an appreciable time without dropping speed. We could run thus for many miles and I was told of a train that, making for Paddington, ran out of fuel ten miles out and managed to get into the station, all the signals being friendly, without difficulty.

Perhaps the best part of the trip was when we left Exeter and ran along the side of the Exe estuary and, reaching the coast at Dawlish Warren, negotiated the sea-wall with its many curves, bends, tunnels and rocky outcrops: and so into Teignmouth and up along the Teign estuary and its birds, boats and muddy smells. Then on to Newton Abbot and Totnes and up to the heights of Rattery and South Brent, and thence the long downhill glide into Plymouth. Frequently the journey became like something in an agreeable dream and I had to keep pinching myself. Enjoyment was total and I could have sat there for ever.


---
22 June 2020 Please send photos, articles, words or jokes to yeovilrailway@hotmail.com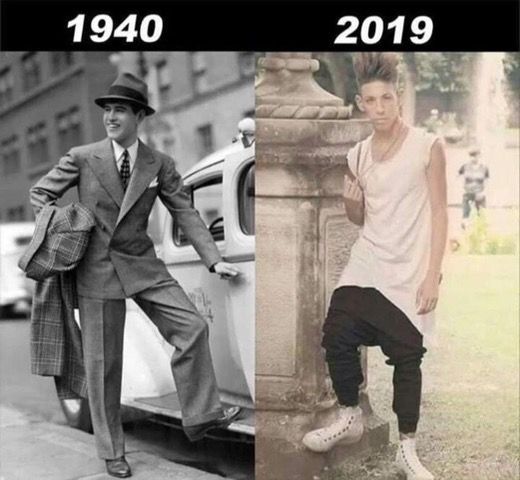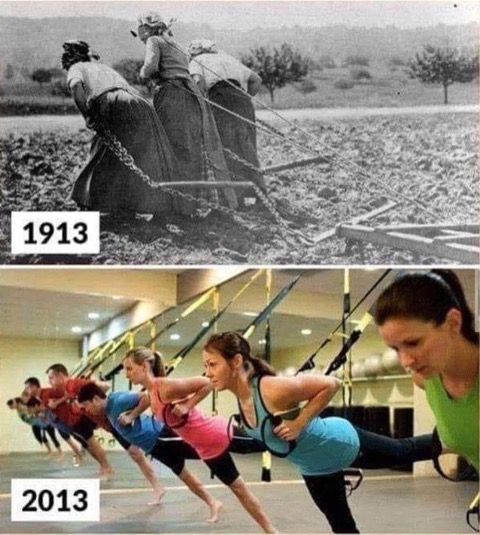 Third part

Arthur Marshall

GOD'S WONDERFUL RAILWAY

Sometimes in our London days we went, instead of to North Devon, to the South and the Dartmoor district (my parents were both keen walkers) and on these occasions one of the many excitements was that we positively travelled on the Cornish Riviera and had lunch (four courses, magically prepared in that tiny kitchen) in the restaurant car. When we arrived at Plymouth's North Road station, we got out and changed platforms for the stopping train up to Yelverton and our Furnished Rooms, a type of holiday accomodation then much more plentiful than hotels. And at Yelverton there was the GWR branch line to Dartmoor and Princetown (an incredible 1,373 feet above sea level) and a gateway to the moor with its wonderful walks and chances of tor-climbing. This remarkable line, built in 1883, was an engineering triumph with its innumerable curves winding ever upwards (my father always insisted, as a joke for juveniles, that if you were to lean out of the end coach you would be able to shake hands with the engine driver, so sharp were the bends). The names of the stations, if such they may be called (a single wooden platform six feet wide), are with me to this day - Burrator Halt, King Tor Halt, Ingra Tor Halt. We used them all, either as a starting place for a walk or to bear us away, exhausted, at the end of the day.

Maps of the South and West of England stir endless railway memories. A troop train after the Dunkirk evacuation that found its way onto the GWR network and tipped us all out at an army camp near Castle Cary. A childhood journey with my Cousin Madge along the spectacular Welsh coast to Tenby when we sat in first class seats with third class tickets, risking, or so I feared, instant imprisonment. Once at Didcot I remember an agitated old gentleman rushing up and down shouting: 'But I must have a seat in a lavatory compartment' (they very hastily made room for him).

To be concluded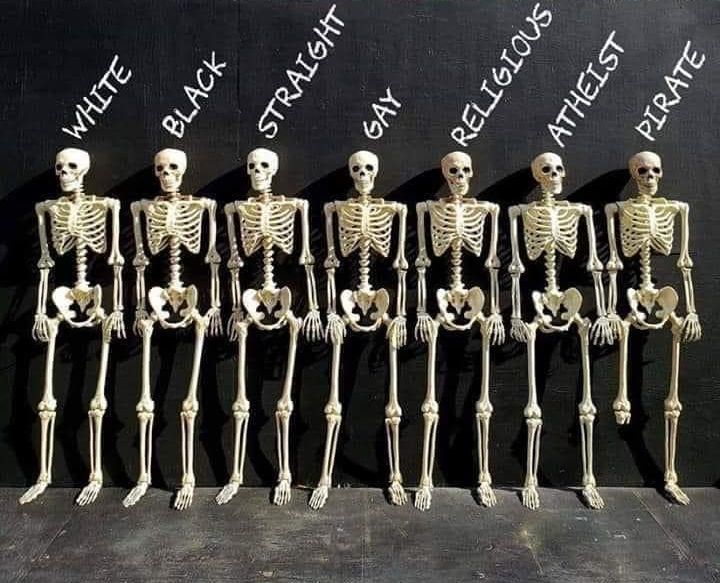 ---
21 June 2020 Please send photos, articles, words or jokes to yeovilrailway@hotmail.com

Public Statement from the board of trustees of Yeovil Railway Centre

A digital online meeting of the board of trustees took place on Thursday 18th June.

After much discussion and considering the latest guidance from the Government on Covid-19, it is with much regret that we have decided that the rest of season up to and including Halloween has been cancelled. This is one of the hardest decision the board has had to make as it has a direct impact of the future financial position of Yeovil Railway Centre.

A further decision on whether we can safely run Santa Specials during December will be taken before September.

Network Rail Wessex Twitter https://twitter.com/NetworkRailWssx

Line should re-open Monday morning 22 June.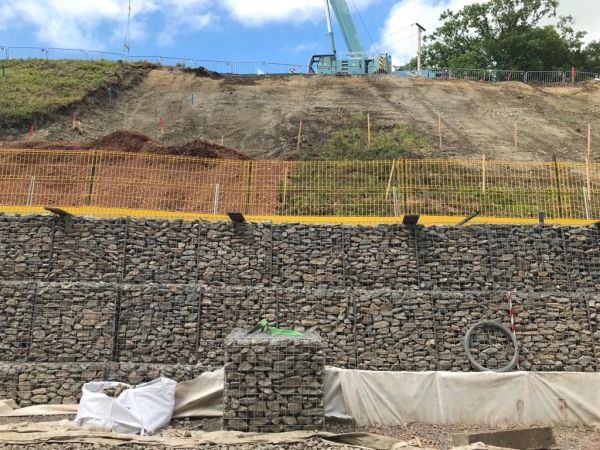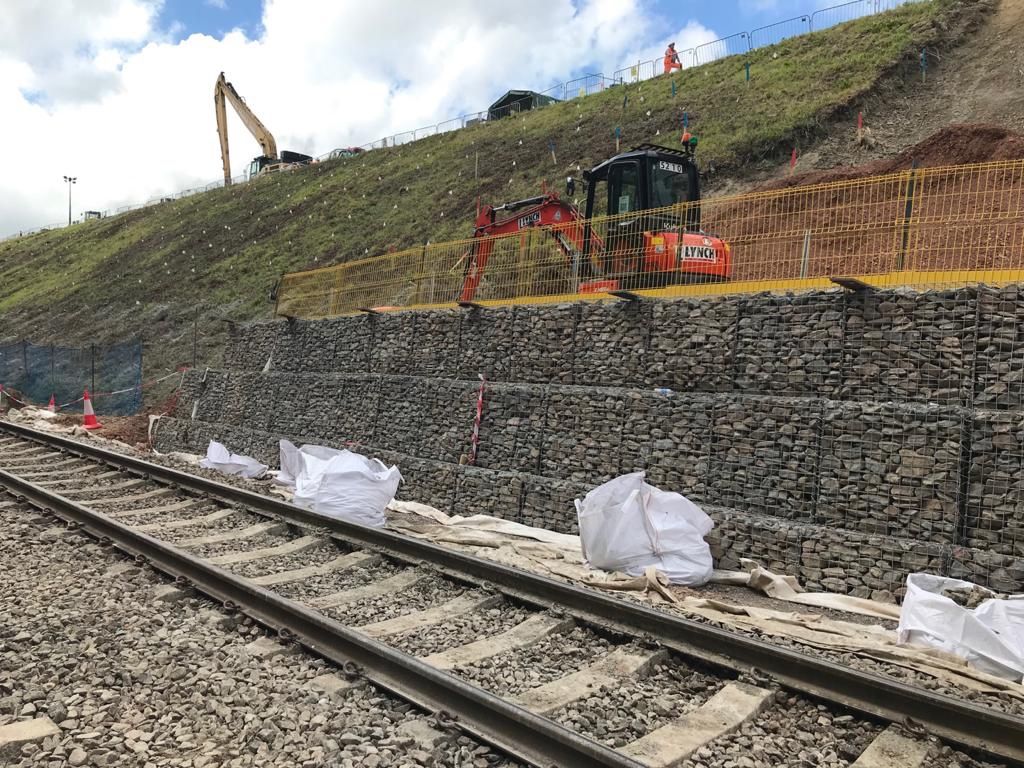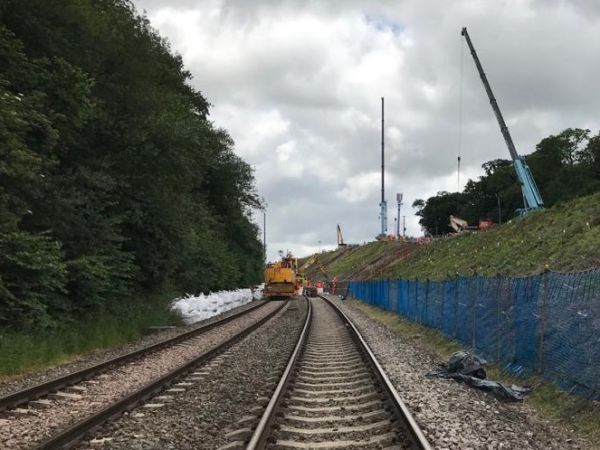 Second part

Arthur Marshall

GOD'S WONDERFUL RAILWAY

Everything about trains fascinated me from early on and a little later in life I used to stay with friends in a handsome house in Oxfordshire that had for me the great advantage of being within sight and sound of the railway line that ran, and still blessedly runs, between Oxford and Cheltenham and Worcester. By day there was the exciting view of the beloved chocolate and cream coaches flashing past at an incredible sixty mph (Phew!) but best of all was the night time when, safely tucked up in bed, one could just see the lights of a train (too late to be the Cheltenham Flyer) and hear the occasional whistle. The swoosh of a train as it goes flying through the night is a romantic sound.

Even now and old as I am, I would happily live practically on a railway line. I frequently travel nowadays from Paddington to Exeter and as the train winds down the banked curves (there is a speed limit) that lead to the station at Bruton in Somerset, there is on the right a very small house that cannot be more than ten feet from the track. It has a well placed window from which all passing traffic must be visible. I wonder if it is ever for sale.

When in 1921 we left London and went to live in Newbury, it was a comfort to know that our line would be the Great Western. I was sometimes sent on my bicycle to do morning shopping in the town and I used always to time my errands to coincide with the arrival of the Cornish Riviera express, that grandest of all trains, that went whizzing through Newbury non-stop to Plymouth, scooping up water from those troughs near Aldermaston and Frome. It left Paddington at ten-thirty a.m. and ran the whole year round. I think the locomotives in those days were King Class and the journey took four hours. Were there slip-coaches? I dare say so, and the whole gleaming splendour was fully visible from a convenient bridge from which I goggled, entranced.

Many years later I was privileged to have an even closer look at this train of trains. This was when we came to live in Devon in the beautiful Teign Valley and our railway was the pleasant little single track that wound its hilly way between Exeter and Newton Abbot (four trains a day each way). On one occasion when the main line along the coast at Dawlish had been blocked by a landslide, all trains had to be diverted and many made use of our line. On hearing that the Cornish Riviera express was also coming our way, many of us hurried down to the station to give it a welcome and to cheer it on its way. Soon it came majestically into view, carefully rounding our tight curves at a sober fifteen mph or so and picking its way like some elderly dowager caught unexpectedly in a field full of cowpats. Indeed, I shall never forget the haughty looks and upturned noses of the first class passengers, resentful of the diversion and wondering where on earth they had got to. They clearly thought that we were some Peasants' Rising and we would shortly set about them with pitchforks. Our dear little line exists no more but at least its station is still there, transformed into a commodious pink dwelling. I wonder if ghost trains (and who can ever forget the marvellous stage effects in that famous play?) fly past in the silent watches of the night.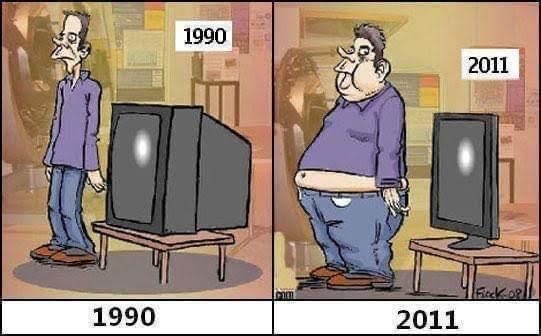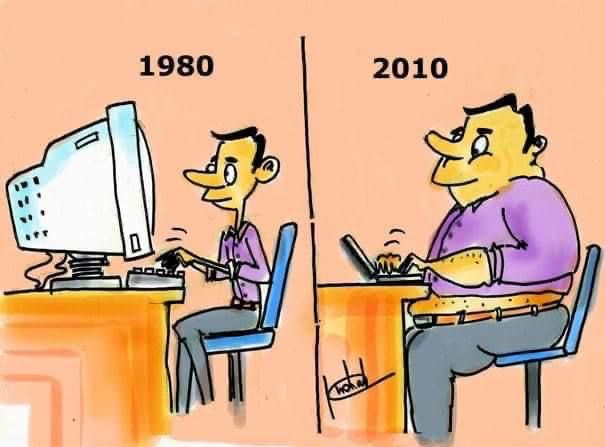 ---
20 June 2020 Please send photos, articles, words or jokes to yeovilrailway@hotmail.com

First part

Arthur Marshall

GOD'S WONDERFUL RAILWAY

'Yes. I thought you looked a Paddington type.'

I have had some strange things said to me in my time and that was among the strangest, uttered quite recently by a cheerful taxi-driver who had picked me up outside my club in Pall Mall and whom I had asked to take me to Paddington, 'Gateway to the West', though I left that addition unsaid.

What on earth, I wondered, could have given me away as an old Great Western addict? It could hardly be my clothing - tweed cap, macintosh, sober slacks and shoes - or my luggage (small suitcase). Fearful of hearing something damaging to my pride, I did not dare to ask what had betrayed me, even though there was, as is now customary, a free exchange of news and views - the state of the pound, Mrs Thatcher's policies, the National Gallery extension - shouted through the pulled-back glass panel. Gone for ever in taxis is the closed window, the silent back of the head, the absence of conversation. A flow of cheery talk is now expected: and very friendly too.

I think that perhaps what the driver meant by 'Paddington type' was simply that I looked happy. I have spent much of my life either boarding trains at Paddington or alighting from them and I have noticed, down the years, a pleased expression on the faces of most of my fellow travellers. After all, they have probably just come from, or are just going to, some of the country's most beautiful places and buildings - the Cornish coastline, the City of Bath, the Welsh mountains, the Cathedral at Wells, the Cotswolds, the Exe valley, the rolling Somerset hills.

I have also had occasion in my life to use most of the other main railway stations of London and they make an interesting and varied study. Waterloo produces the harassed look of the bothered business man. Liverpool Street, for some so far away and difficult to get to, is thronged with panting people gasping out: 'I didn't think I was going to make it.' Victoria used to be full of weak stomachs wondering whether the Channel would be choppy. Euston now possesses too few places where you can sit comfortably down and exhaustion is a poor preparation for a lengthy trip north. King's Cross has its points but its trains run to a number of places that hardly rank as beauty spots. But Paddington has it over them all.

I well remember, as a London child, our regular holiday journeys to Ilfracombe and to my grandparents in North Devon. There was in those spacious days a 'through carriage' from Paddington and to save trouble our heavy trunks had already been despatched by Luggage in Advance and would, unbelievably now, precede us without extra charge and would be waiting for us at the other end. We set off about midday and my father used to get a Paddington Railway official to telephone ahead and get them to prepare a luncheon basket for four. This was usually put on for us at Reading (it was a great excitement to see a station restaurant man holding a laden basket aloft and calling our name), though occasionally we had to wait till Newbury (stops were frequent) and once, in mounting suspense and alarm, we waited until the aptly named Hungerford. The basket contained cold chicken joints, bread rolls, butter, buns, cheese and fruit. For my parents there was a half bottle of Hock, my brother and I making do with oranges. The basic cost was, I think, about three shillings a head and the empty basket could be handed out and got rid of at Taunton. Less elaborate refreshment was obtainable from those wheeled and attractively stocked trolleys that paraded the platforms at every stop. They did a fine trade, but now seem, alas, to have vanished.

Shortly after Taunton the train branched off, making amid charming country for Barnstaple and passing through Dulverton and South Molton and, to a child, a funny-sounding station called Morebath (Lessbath was what one was after). And at Barnstaple, full of the smell of the sea, our carriage was uncoupled and soon we set out alone, tugged by a small tank (I suppose) engine, for the steep climb up Devonian tors to Braunton and Morthoe (first actual sight of the sea). The straining puffs of the engine seemed, as we went higher, to be saying 'I-think-l-can. I-think-I-can', followed, as we coasted down the slopes into Ilfracombe, by a triumphant 'Thought-I-could, thought-I-could, thought-I-could'. The buffers at Ilfracombe station always looked to me to be insubstantial and flimsy and I feared that we would go crashing through them and down into the town, much of which lay below. But no such calamity occurred.

(To be continued)


---
19 June 2020 Please send photos, articles, words or jokes to yeovilrailway@hotmail.com

Network Rail Wessex Twitter https://twitter.com/NetworkRailWssx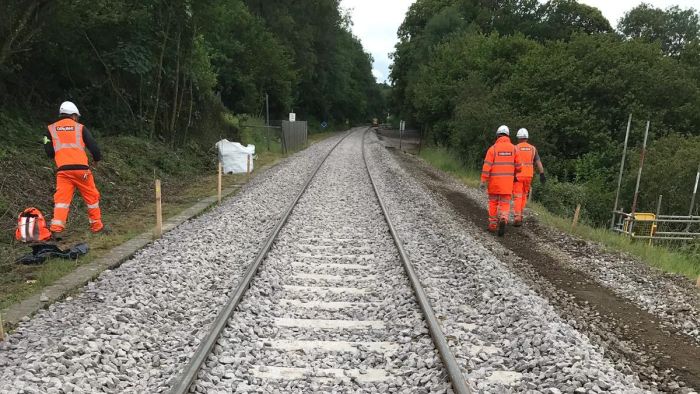 Network Rail Wessex
@NetworkRailWssx
It's the last day at our site near #Gillingham, where we've been repairing track.
Engineers have lowered the embankment slightly and installed new track on a stronger part of it.
This repair will improve reliability between Gillingham and #Templecombe
3:49 PM - Jun 19, 2020-Twitter Web App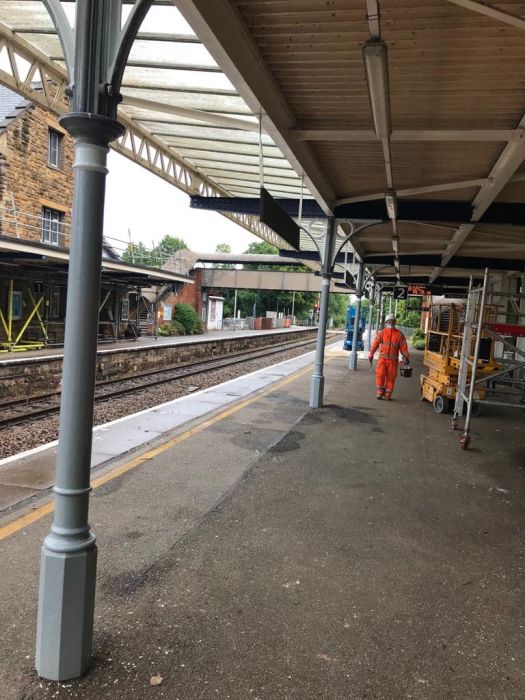 A quick update from #Sherborne where the platform canopy repairs are coming along nicely.
The facias and columns are being painted and new glass is being installed.
We've given a new lick of paint to the station building too, as you can see here.
1:26 PM - Jun 19, 2020-Twitter Web App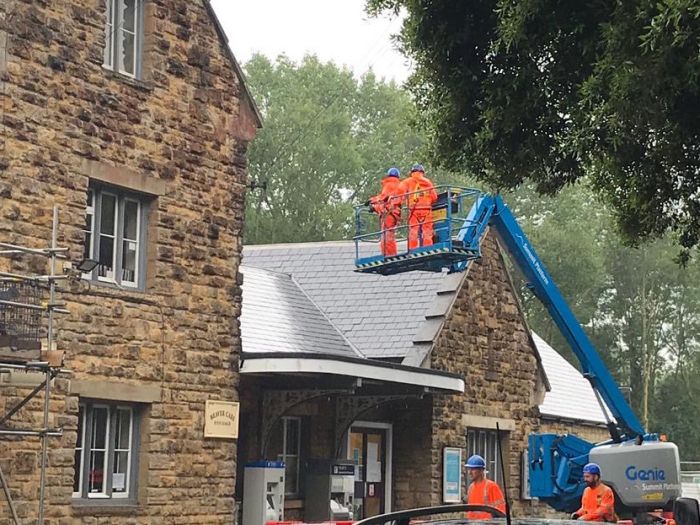 Over at #Sherborne our teams are making improvements to the picturesque station building>
The slate roof is being repaired, one of a few jobs we've added to our #Templecombe project in order to make the most of this quiet time on the railway.
2:04 PM - Jun 18, 2020-Twitter Web App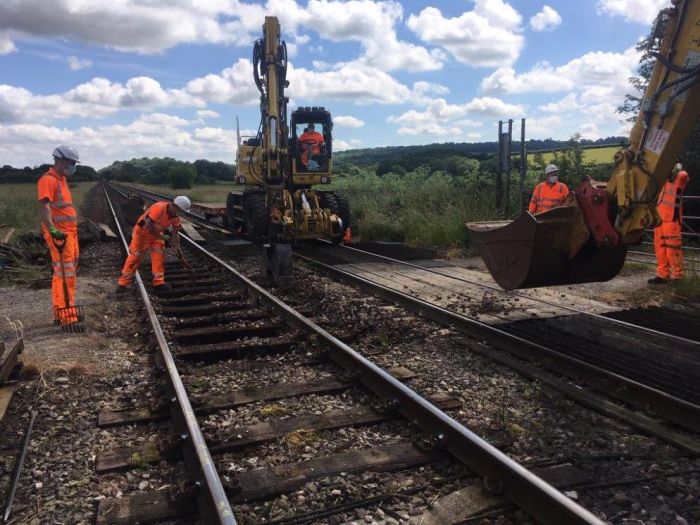 The West of England line has a number of farm crossings and we've been refurbishing a couple of them.
This is Bedmill Crossing between #Sherborne and #Yeovil Junction. Our teams are renewing the timbers and ballast and repairing the crossing surface.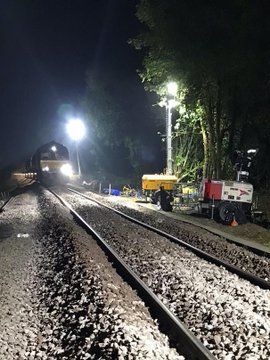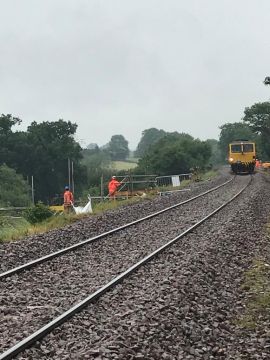 Good news - we have trains on the line at #Gillingham!
An engineering train and tamper have passed over the 400m of new track we've installed.
With a strengthened embankment we should see a more reliable railway in this area, plus better performing trains.
12:02 PM - Jun 18, 2020-Twitter Web App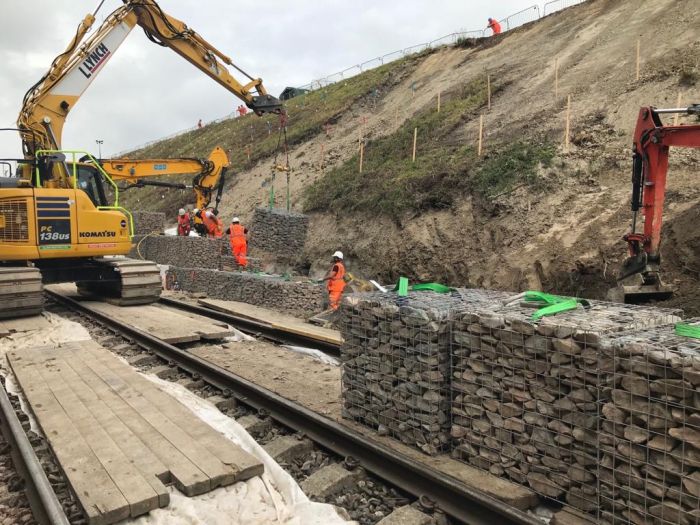 At #Templecombe, the main worksite, engineers continue to install gabion baskets.
This will form a protective wall at the foot of the strengthened cutting.
12:02 PM - Jun 18, 2020-Twitter Web App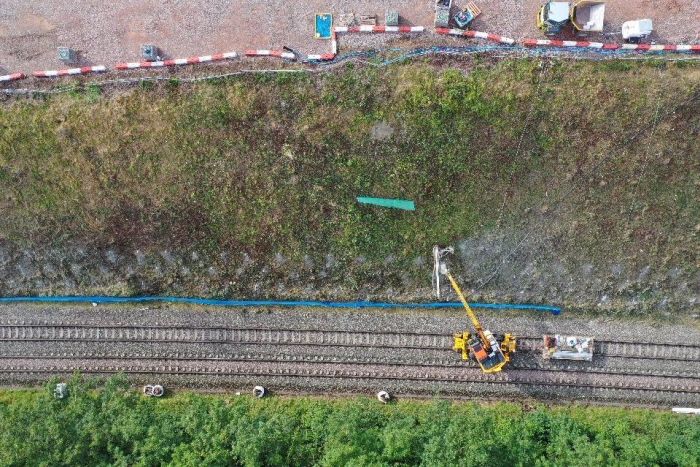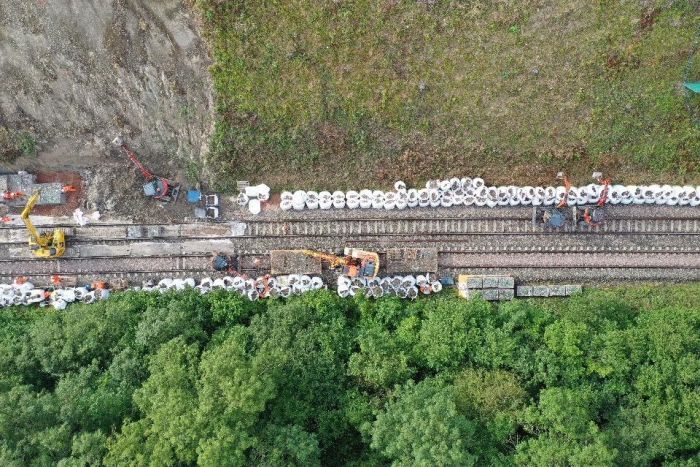 Some more great shots from @OsborneNews show the Road Rail Vehicle (RRV) installing the soil nails that are strengthening the cutting.
You can also see the temporary bagged wall being removed, which is what the gabion wall will replace.

Another Jethro joke As always comes with a modest health warning!

---
18 June 2020 Please send photos, articles, words or jokes to yeovilrailway@hotmail.com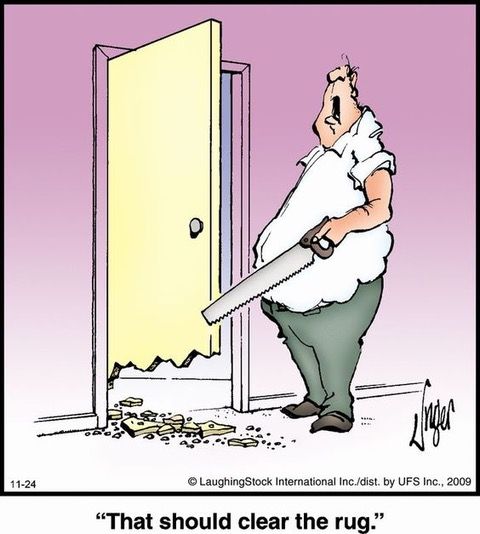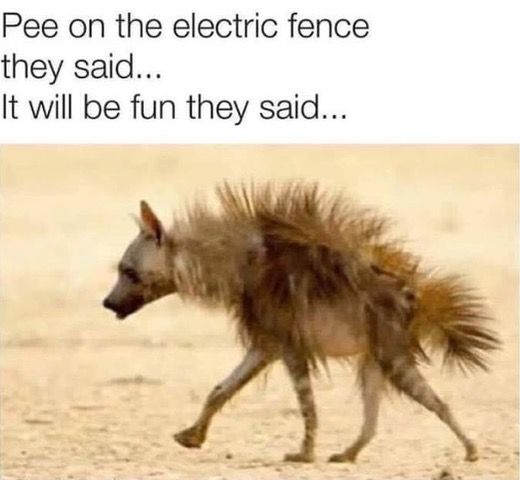 LSWR wagon arrives at Yeovil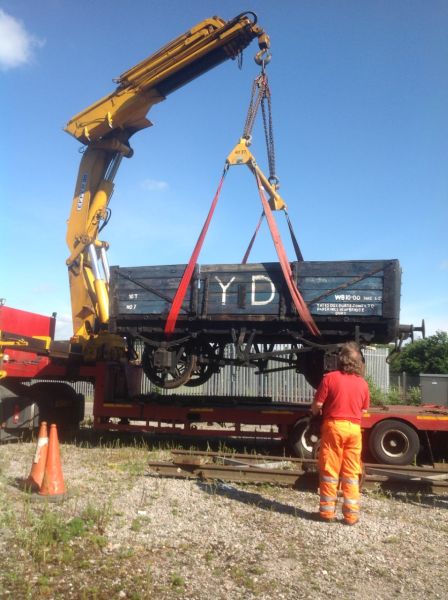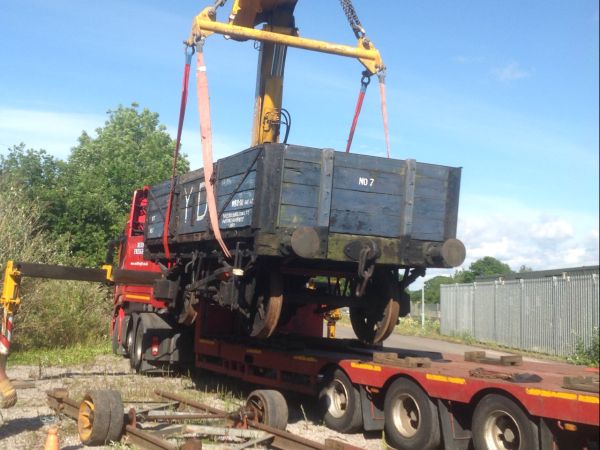 Thanks to Keith of Bury Standard 4 Group we have a little of the history of this wagon - "Thanks for the video. However, the wagon is not an original Yates & Duxbury of Bury. The wagon came from Royal Devonport Dock, Plymouth via Vic Bury scrap yard, Leicester. It was bought in the sale of wagons & acquired by the late John Bolton for the East Lancs Railway. He then painted it to look like a Yates & Duxbury as we had the engine, May, from the video on our line at the time."

Interesting facts about Lake Superior (continued).

It contains as much water as all the other Great Lakes combined, plus three extra Lake Erie's!

There is a small outflow from the lake at St. Mary's River (Sault Ste. Marie) into Lake Huron, but it takes almost two centuries for the water to be completely replaced.

There is enough water in Lake Superior to cover all of North and South America with water one foot deep.

Lake Superior was formed during the last glacial retreat, making it one of the earth's youngest major features at only about 10,000 years old.

The deepest point in the lake is 405 meters or 1,333 feet.

There are 78 different species of fish that call the big lake home.

To be continued (again!)
---
17 June 2020 Please send photos, articles, words or jokes to yeovilrailway@hotmail.com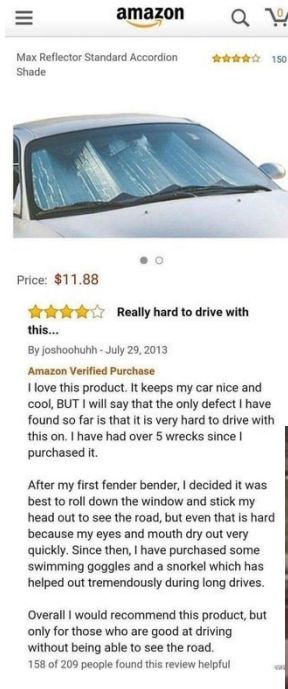 Network Rail has issued a mid-project newsletter and videos showing what they are doing between Yeovil Junction and Gillingham whilst the line is closed.
(Click on the photo)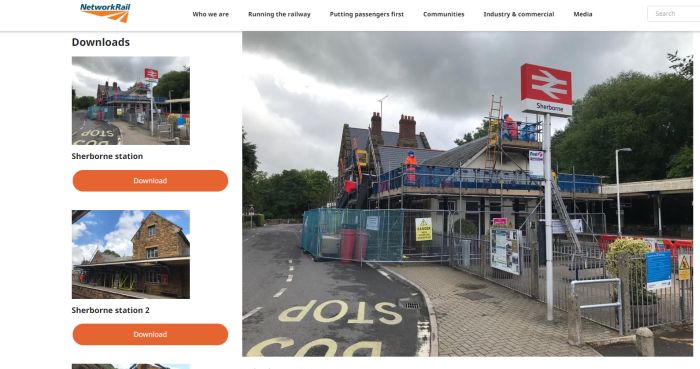 Interesting facts about Lake Superior.

- Lake Superior contains ten percent of all the fresh water on the planet Earth.

- It covers 82,000 square kilometers or 31,700 square miles.

- The average depth is 147 meters or 483 feet.

- There have been about 350 shipwrecks recorded in Lake Superior

- Lake Superior is, by surface area, the largest lake in the world.

- A Jesuit priest in 1668 named it Lac Tracy, but that name was never officially adopted.

To be continued!


---
16 June 2020 Please send contributions to yeovilrailway@hotmail.com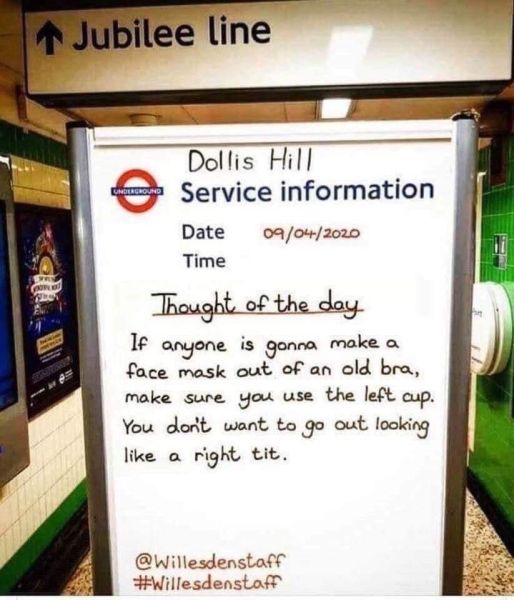 Exeter Rail Fair 1 May 1994 A two day highly successful rail fair was held in Riverside Yard - including 6024 on short demonstration runs. An amazing variety of steam, diesel and electric locos and other items was gathered. Click on the image:-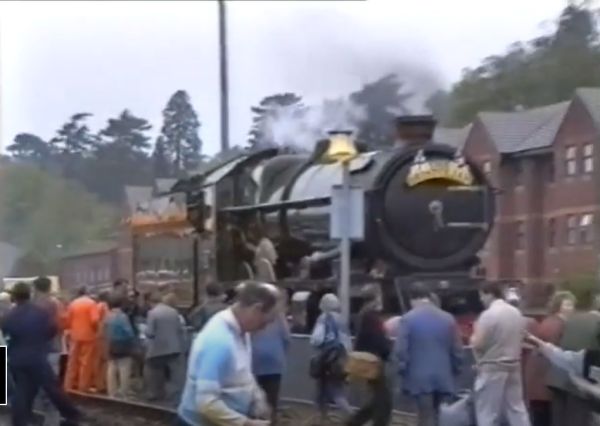 Exeter Railfair news feature - Westcountry Live (An amusing piece with Ruth Langsford's tounge in cheek!)-click on the image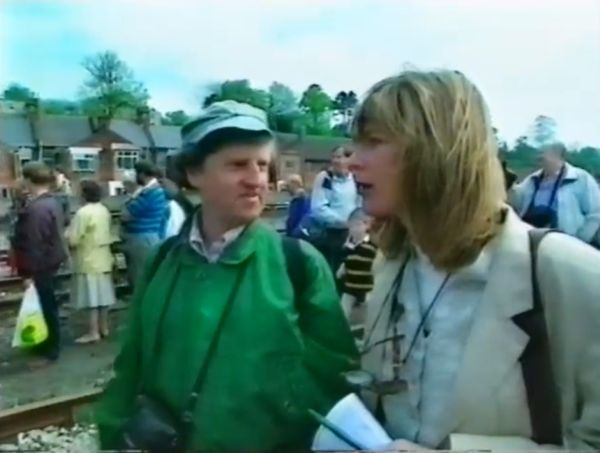 Jethro joke As always comes with a modest health warning!

---
15 June 2020 Please send contributions to yeovilrailway@hotmail.com

I've just had a decorator in to do some work. I got chatting to him and it turns out he is actually a furloughed British Airways pilot, just earning a bit of extra cash.
I have to say - he made a really lovely job of the landing.

Two bears sitting on the stairs, which one's the pilot? The one who wants the landing light on.

Isambard Kingdom Brunel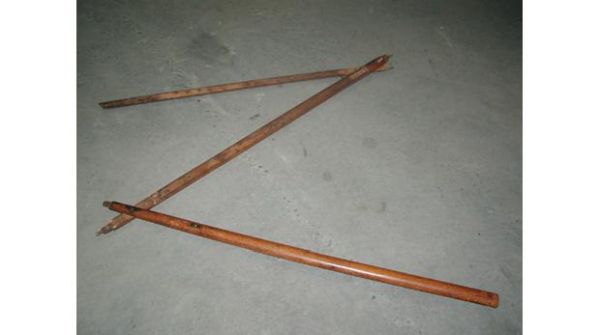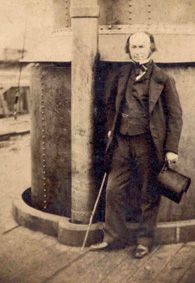 Last Photograph of Brunel, taken shortly before the fatal stroke on the deck of the Great Eastern (ss Great Britain Trust)

Network Rail
Did you know Brunel's walking stick was made to unfold to 7ft 1/4 inch (2.14 metres) at the flick of a wrist.
This was the width of his broad gauge railway and enabled him to check it was being laid to the correct width.
Railway Heritage Trust
The walking stick was handed down from IKB to his successor and so on right until David Harris, the last BR(WR) CCE retired, when it went to the NRM. (Sadly David died unexpectedly only a couple of weeks after he retired).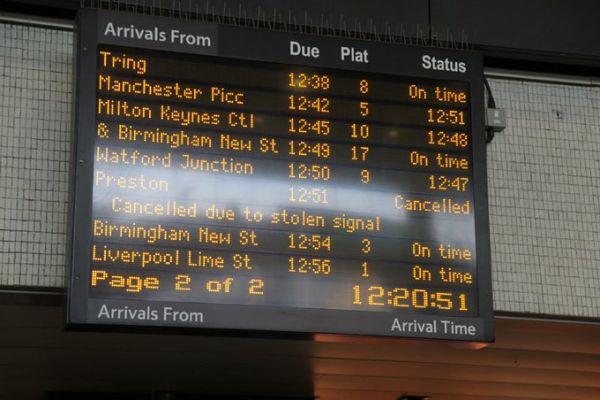 True I believe!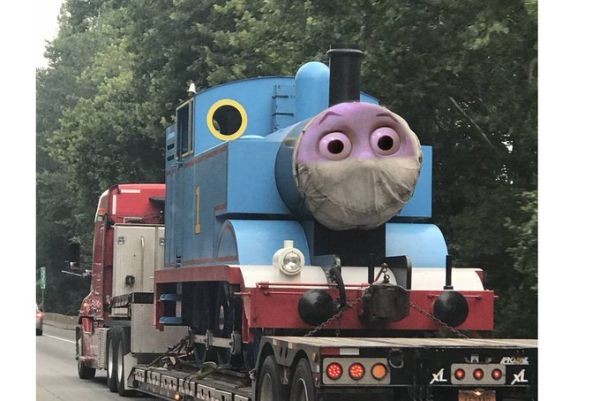 ---
14 June 2020 Please send contributions to yeovilrailway@hotmail.com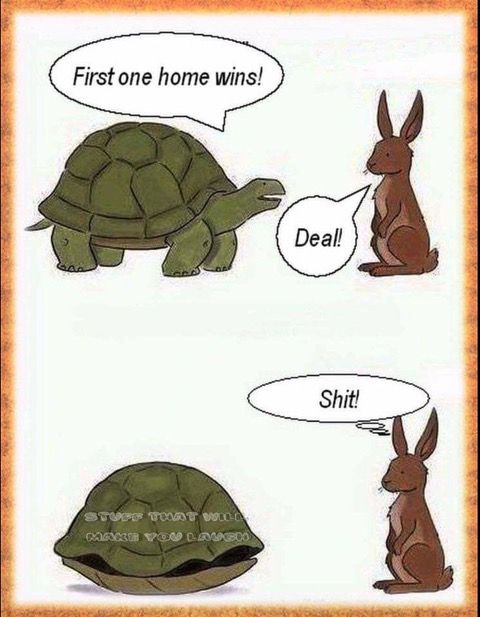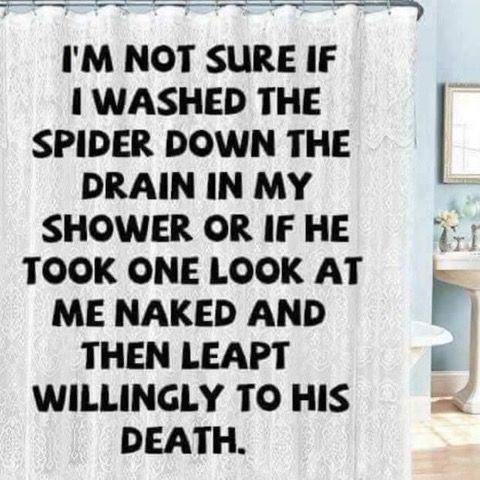 Wagon acquired Almost a year ago we were altered to a LSWR wagon for disposal at Bury. After waiting for the haulage company to have another load to minimise costs, the wagon has finally arrived at Yeovil. It has possibly been altered during its life and ended up at a paper mill at Heapbridge, near Bury Lancashire. More information is being sought but it appears the wagon came into the possession of Bury Standard 4 Group at Bury Transport Museum after the mill closed.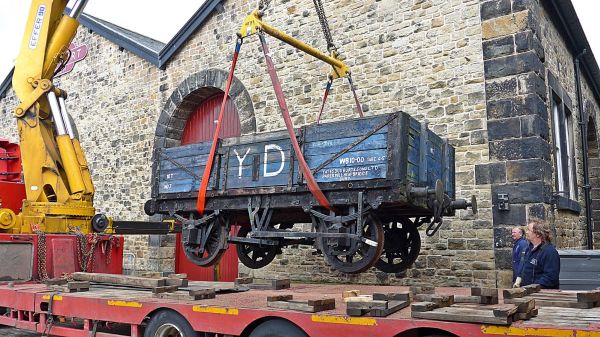 Courtesy Bury Standard 4 Group Restorations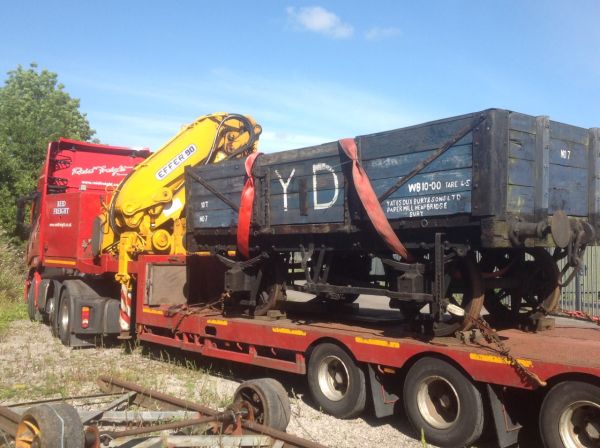 On arrival at Yeovil

Super sleuth Eric has found this You Tube video of steam in action at that mill. Click on the image.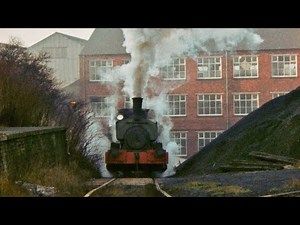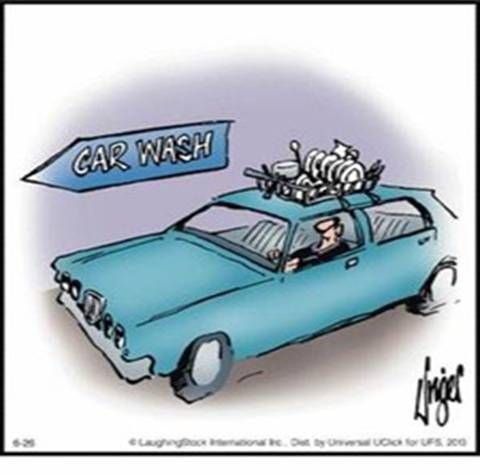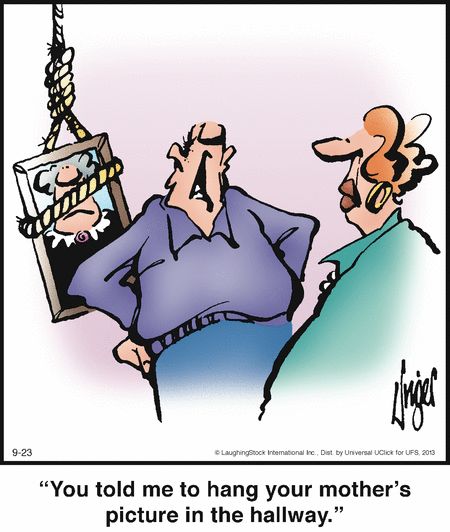 ---
13 June 2020 Please send contributions to yeovilrailway@hotmail.com

You're never too old to learn something stupid.

I'm supposed to respect my elders, but it's getting harder and harder for me to find one now.

Peter sends in a photo of Yeovil Junction in 1925 with King Arthur class number 754 'The Green Knight' waiting to depart. The Clifton Maybank goods platform and building can be seen clearly in the background with that GWR branch not being closed until 7 June 1937. There is a train in the bay (what class of engine?) whilst there may be a couple of wagons towards the cliff (which is devoid of any trees).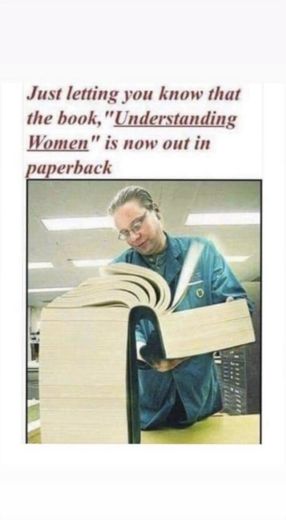 ---
12 June 2020 Please send contributions to yeovilrailway@hotmail.com



Our Appeals If you are able to contribute either to our Toilet Block Appeal or our General Funds please see the links above! Any help will be greatly appreciated!

Not something you would want to be caught out in! even in a car. (Includes one distressing photo).




Here is a film (the second part of two) taken by Alan Leslie of 'Pectin' (as BAC No 2) at Burntisland in the summer of 1967 when he worked there (and used with his kind permission).The other locomotive with the copper cap to the chimney was British Aluminium no. 1. It is now located at the Caledonian Railway in Brechin. The works number was 1376 built in 1915. We are indeed fortunate to have this record and note that there is no sound on this video.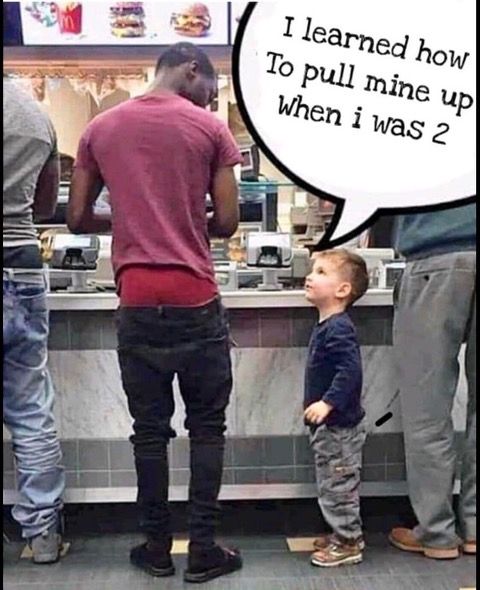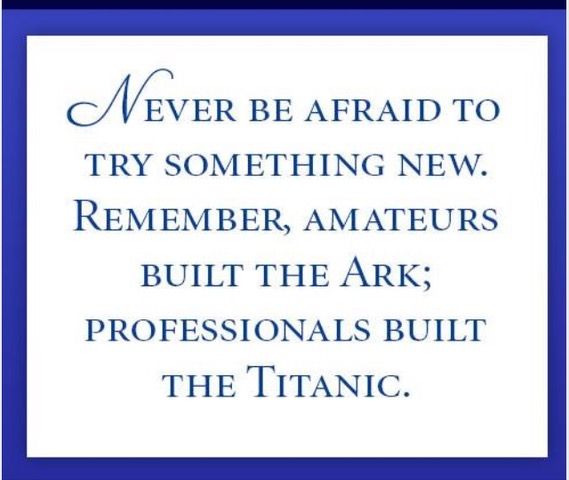 ---
11 June 2020 Please send contributions to yeovilrailway@hotmail.com

This from Brian Cheers!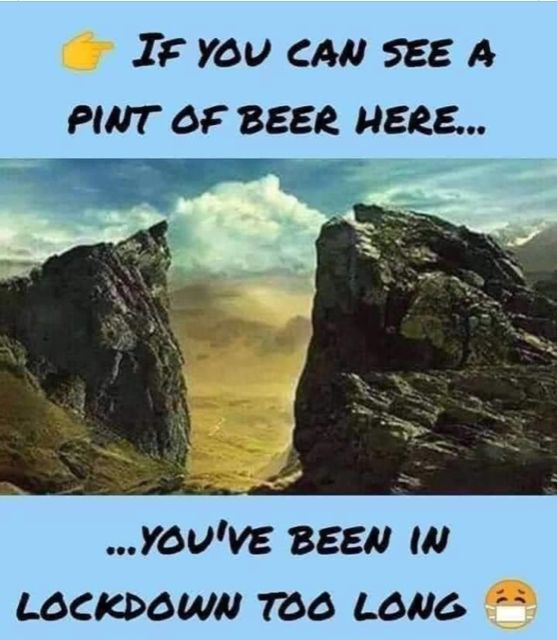 Typo time! Thanks Brian for this one CLICK HERE

Flood barrier at Exeter CLICK HERE

also from same site is a reminder

Line closed Yeovil Junction and Templecombe 13-21 June 2020 with trains diverted via Westbury and a shuttle service Salisbury - Gillingham. CLICK HERE

Peckett 'Pectin' and Fowler 'Cockney Rebel' complete the video sequence shown on 30 May and 8 June.




Thanks Rog for keeping the funnies coming!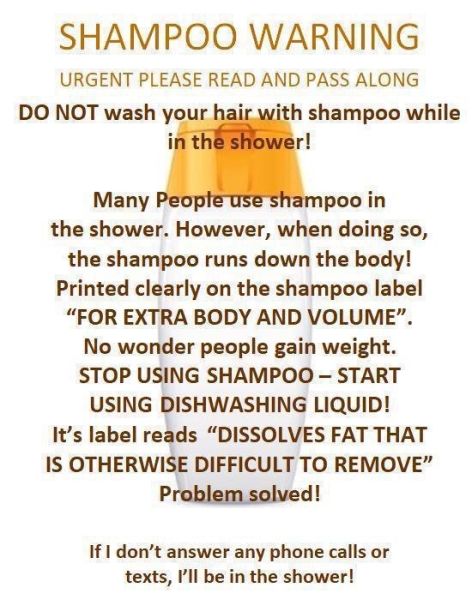 ---
10 June 2020 Please send contributions to yeovilrailway@hotmail.com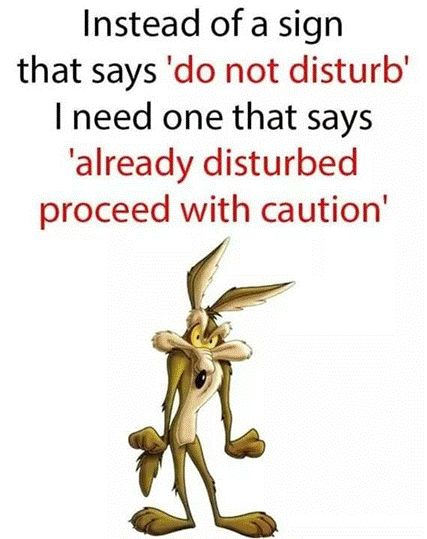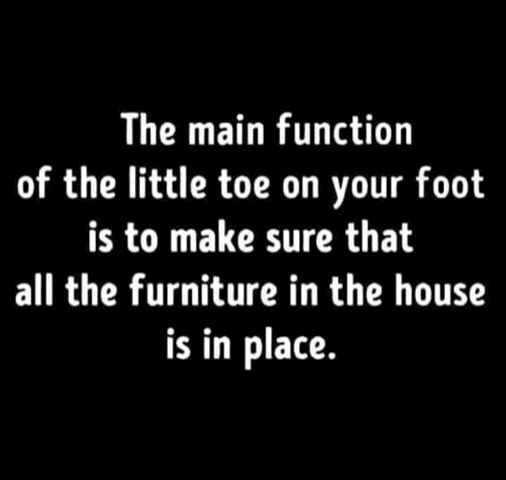 Class 37 37612 Ran today from Bristol-Exeter-Yeovil Junction and then three return trips to Yeovil Pen Mill and back for route knowledge purposes. Then back to Exeter. Photos are at Pinhoe (courtesy Dave Tozer) and Yeovil Junction.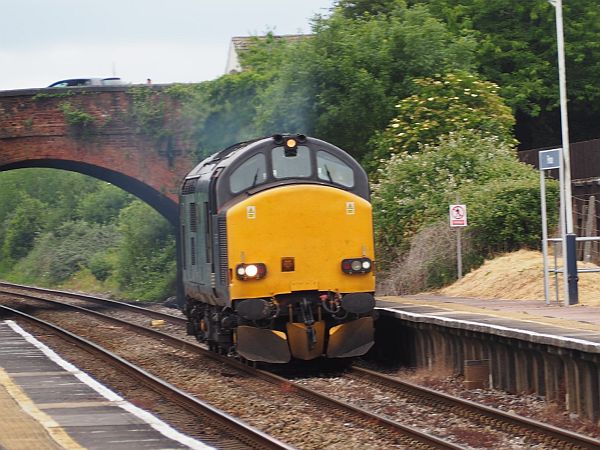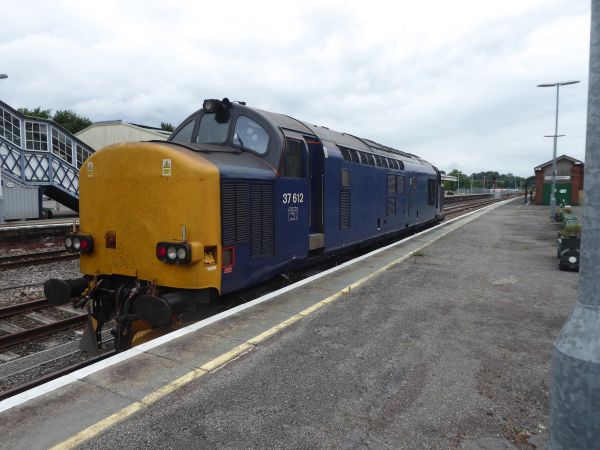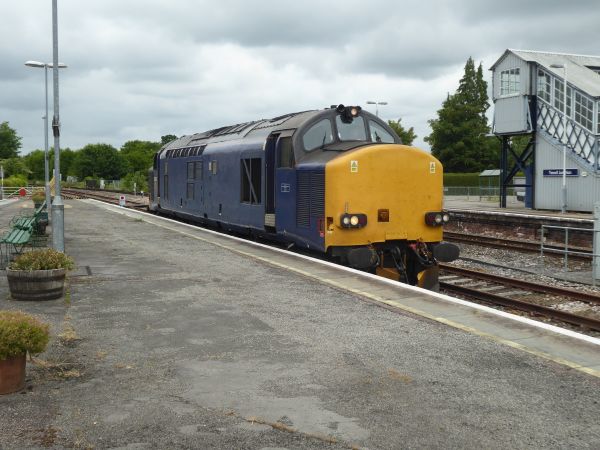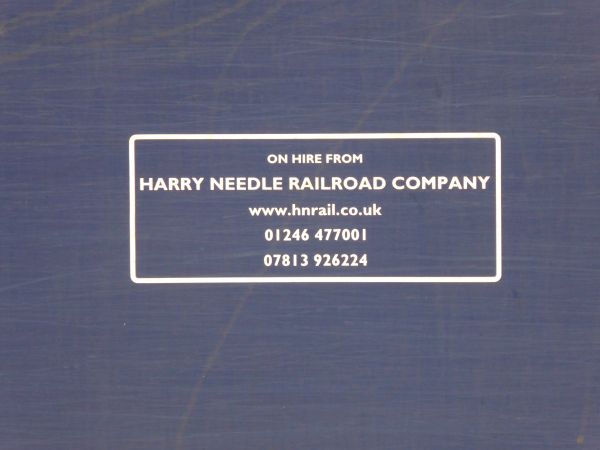 Paraprosdokians (continued)

To be sure of hitting the target, shoot first and call whatever you hit the target.

Going to church doesn't make you a Christian any more than standing in a garage makes you a car.


---
09 June 2020 Please send contributions to yeovilrailway@hotmail.com

Paraprosdokians (continued)

Women will never be equal to men until they can walk down the street with a bald head and a beer gut, and still think they are sexy.

You do not need a parachute to skydive. You only need a parachute to skydive twice.

I used to be indecisive, but now I'm not so sure.

'PECTIN' (Currently out of traffic with a 10 yearly overhaul to be completed. Anticipated completion 2020. Last in service 1 August 2004 after a 10 yearly overhaul to 30 March 2014.)

Pectin is an 0-4-0 saddle tank previously owned by 6000 Locomotive Association. It was built in 1921 (number 1579) by Peckett & Sons Ltd of Bristol at its Atlas Works, having been designed to perform shunting duties on standard gauge factory sidings. Its working life was spent at the British Aluminium Co (BAC), Burntisland, Fife, Scotland. The engine was purchased for £225 on 24 December 1971 and arrived at its new home at Bulmers Cider in Hereford on 2 March 1972. The loco arrived in Yeovil in 1995 having had its third boiler overhaul costing some £15,000.

During 2004 'Pectin' was given a full 10 year overhaul at Yeovil with much of the work being undertaken by the Centre's volunteers and in 2006 the engine was gifted to South West Main Line Steam Co as part of the winding up of 6000 Locomotive Association. We are delighted to maintain our contact with the ex-members of 6000 Locomotive Association with a special event each year.

The locomotive is now withdrawn for a further 10 yearly overhaul.

PRINCIPAL TECHNICAL DETAILS

Cylinders - 2
Piston Dia. & Stroke - 10in & 15in (254 x 431)
Overall length - 19ft 6 1/4in (5.96m)
Width - 7ft 6in (2.15m)
Wheelbase - 5ft (1.52m)
Wheel Dia. (inc flange) - 2ft 9in (838mm)
Working pressure - 160lb/sq.in (11.5kpa)
Drawbar pull - 6000lb (2.67KN)
Weight in working order - 18 tons
Class - Beaufort

Here is a film (the first part of two) taken by Alan Leslie of 'Pectin' (as BAC No 2) at Burntisland in the summer of 1967 when he worked there (and used with his kind permission).The other locomotive with the copper cap to the chimney was British Aluminium no. 1. It is now located at the Caledonian Railway in Brechin. The works number was 1376 built in 1915. We are indeed fortunate to have this record and note that there is no sound on this video.


Lockdown Jobs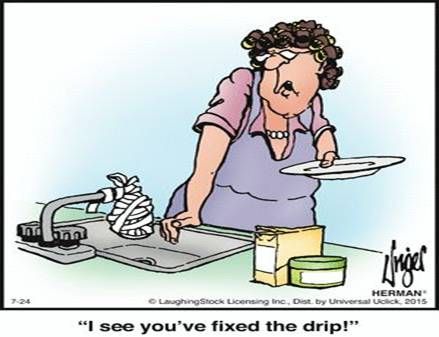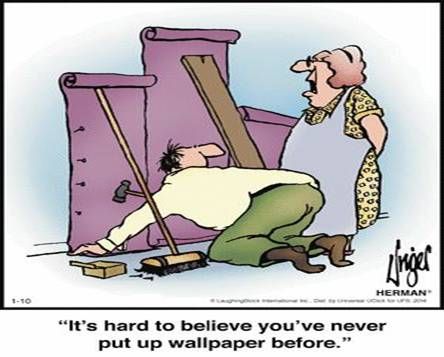 ---
08 June 2020 Please send contributions to yeovilrailway@hotmail.com

21 August 1954 Photo full of interest. 'Our' Transfer Shed has already had the end concrete blocked up although there is still a short siding leading to it with some rolling stock. There is a glimpse of the former Clifton Maybank goods platform with its building on the left. Cattle wagons are on the north side of Yeovil Junction whilst an express thunders through on the up through. Impressive telegraph poles!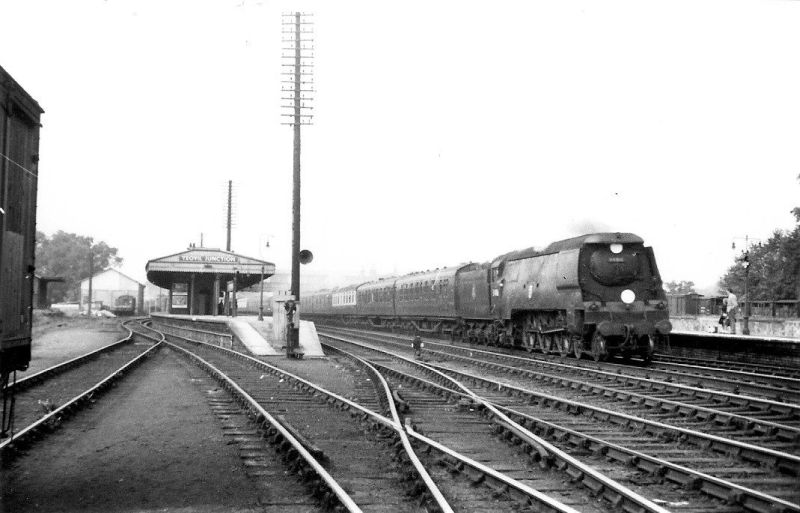 Photographer unknown.

Bob has kindly converted this Video into MP4. Follows on from 30 May 2020. On 09 December 2008, after 'Pectin' had hauled 7 coaches up to the station when getting ready for The Santa season, our Ruston (driven by the late and lamented John Cornelius) moves a brake van and then the start of the return of the coaches is seen.




Tommy Cooper's finest....

'You know, somebody actually complimented me on my driving today.
They left a little note on the windscreen. It said, 'Parking Fine.' So that was nice.'

A man walked into the doctors, he said, 'I've hurt my arm in several places'
The doctor said, 'Well don't go there anymore'


---
07 June 2020 Please send contributions to yeovilrailway@hotmail.com

Land projected to be under water by 2050 Climate Central states on their website -
"Mission Climate Central communicates climate change science, effects, and solutions to the public and decision-makers.
Who We Are
Climate Central is an independent group of scientists and communicators who research and report the facts about our changing climate and how it affects people's lives. We are a policy-neutral 501(c)(3) nonprofit.

Click on the image to see their projections in thirty years time.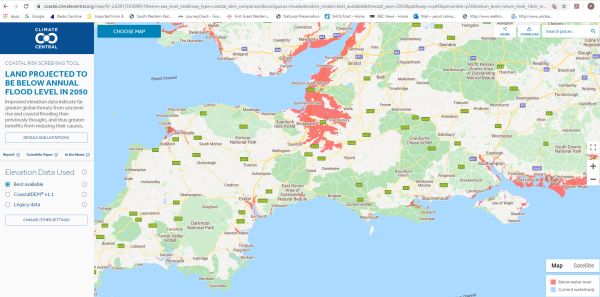 Empties to Marpit Sidings Another model railway video by Roger. Lots of great detail!
Click on the image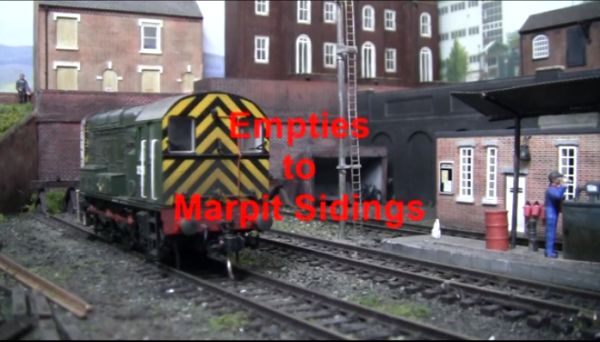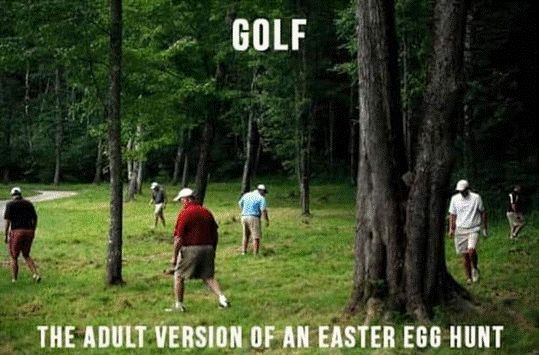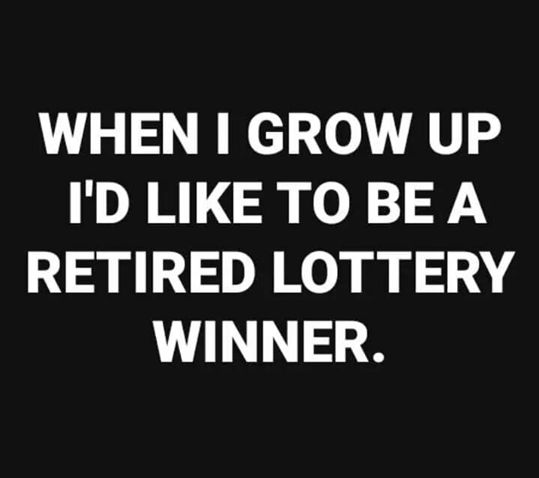 SS Great Britain - Eric has kindly sent in this ITV report on the history, rescue of the hulk from the Falkland Islands and transport back to Bristol and subsequent restoration.

There is a fascinating 16 1/2 minute video at the bottom of the report. Achieving the Impossible. Sit back, enjoy and be inspired! Click on the image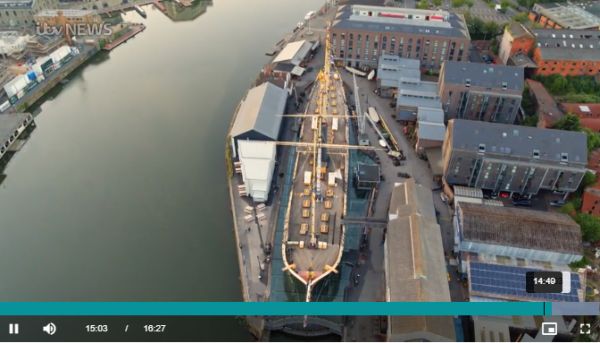 ---
06 June 2020 Please send contributions to yeovilrailway@hotmail.com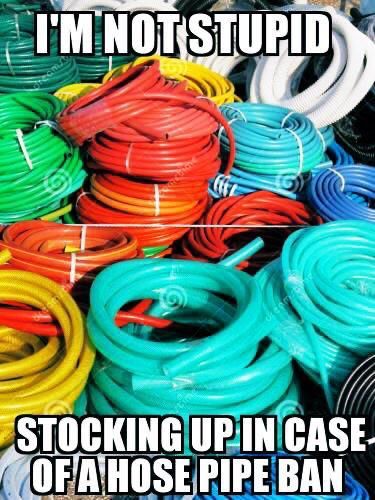 Lawyer!


Dorset snow 1962-63.A memorable time for those of us of a certain age! Filmed in and around Beaminster.
Click on the image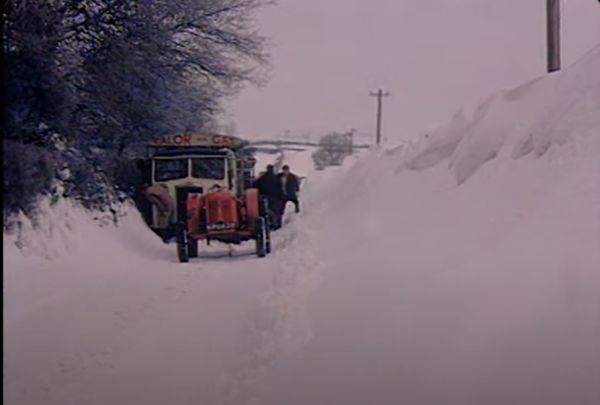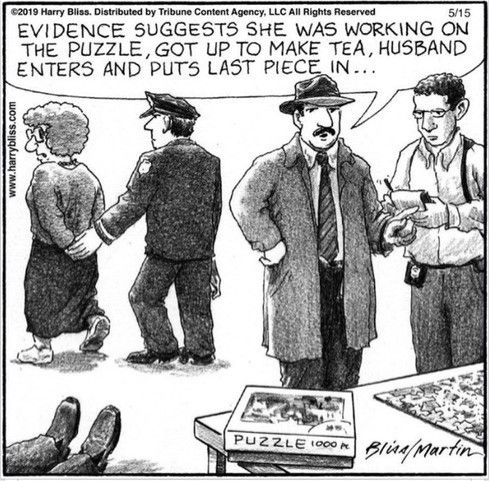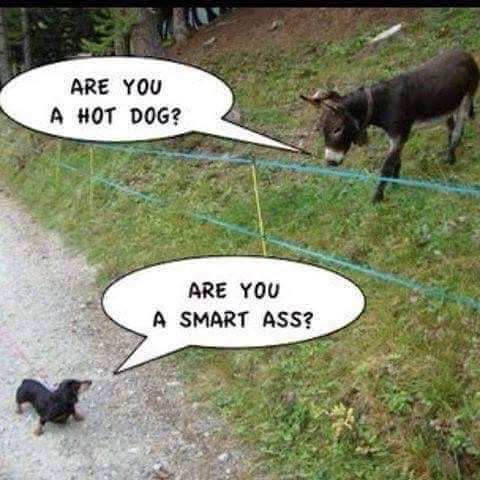 ---
05 June 2020 Please send contributions to yeovilrailway@hotmail.com

Templecombe A short piece about reopening the station.
Please click on the image



Great Western Railway have recently released a cab ride video of the last day of the HST Plymouth-Paddington
"Saturday 18 May 2019 the 06:57 Plymouth to London Paddington, headcode 1A76 with power cars 43002 (Sir Kenneth Grange) and 43198 (Driver Brian Cooper and Driver Stan Martin)."
Lots of interesting things to watch out for, not least the Dawlish Sea Wall. Please click on the image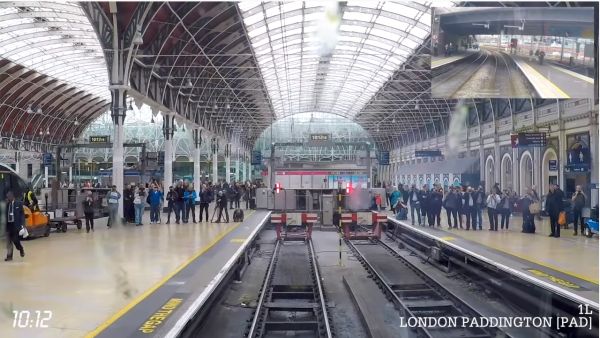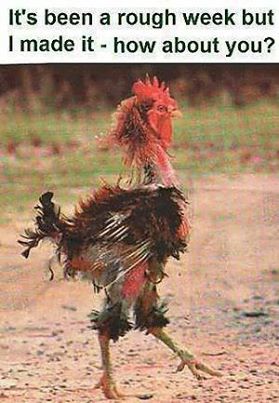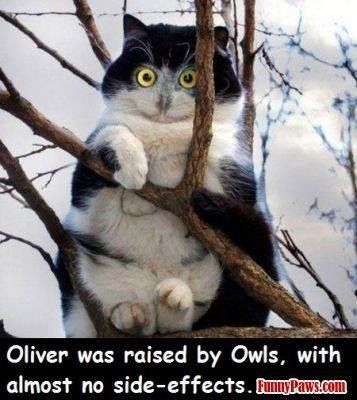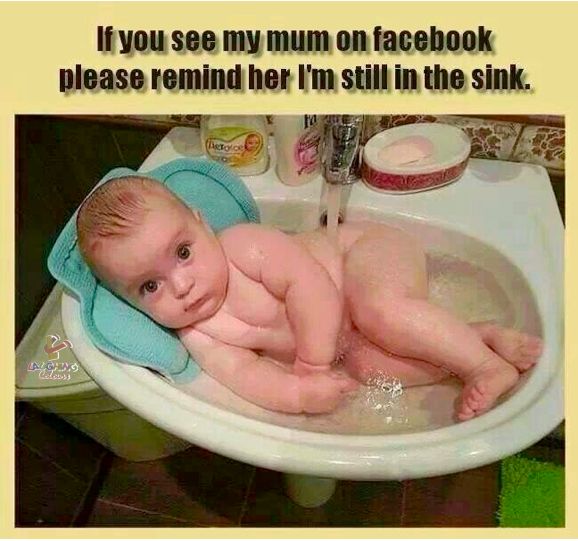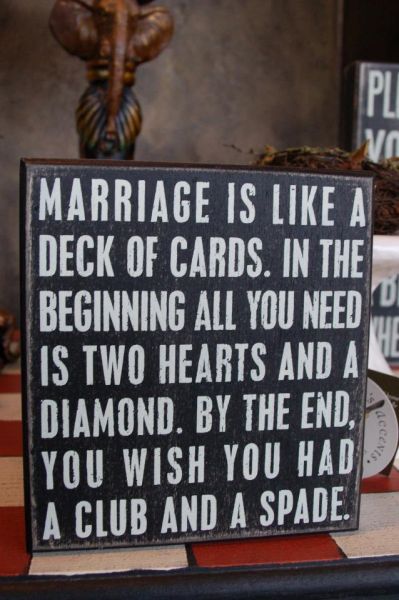 ---
04 June 2020 Please send contributions to yeovilrailway@hotmail.com

Nature taking over! The site is looking a little unloved but will start to improve now that limited volunteer activities have resumed (with all respect to the current restrictions). However, please note that we are NOT open to the public at this time.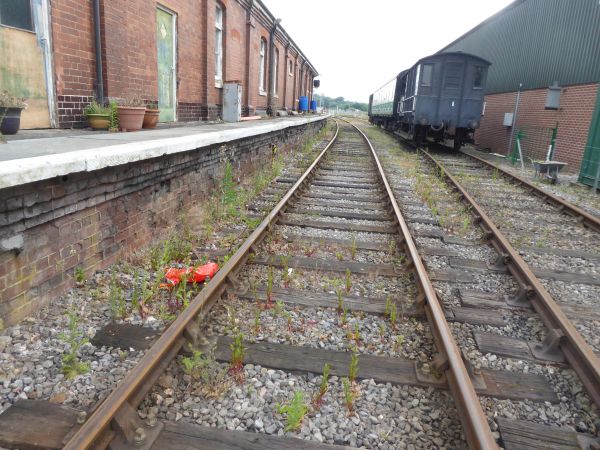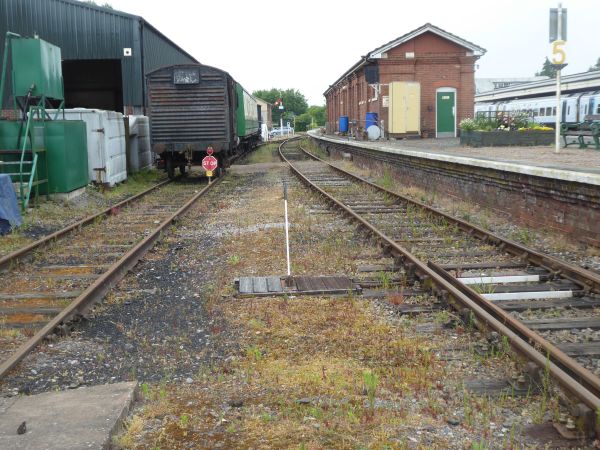 Network Rail Measurement train ran today and was spotted by two of our contributors.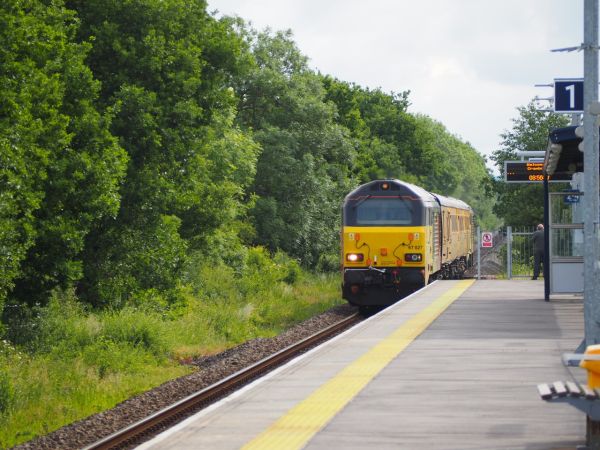 67027 at Cranbrook en route to Exeter (Courtesy Dave Tozer)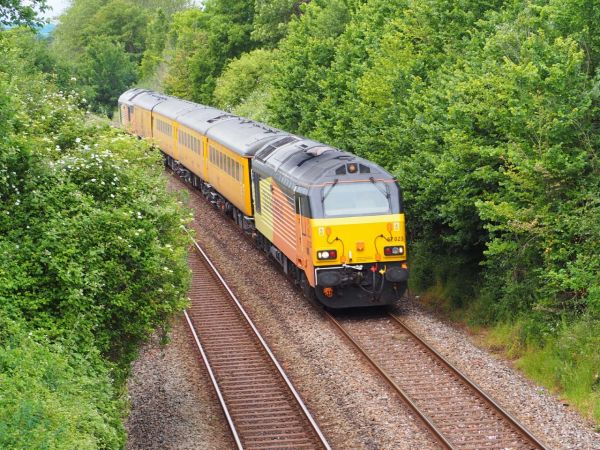 67023 at Pinhoe returning to Salisbury (Courtesy Dave Tozer)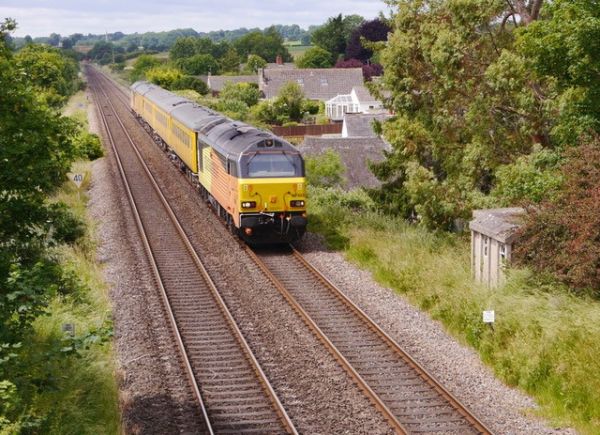 Seen at Bradford Abbas (Courtesy Brian Haigh)

Weymouth newsreels including opening of Town Bridge with great celebrations! Interesting to see the width of the Esplanade, now expanded to include the Jubilee Clock. Also the old theatre.
Click on the image below:-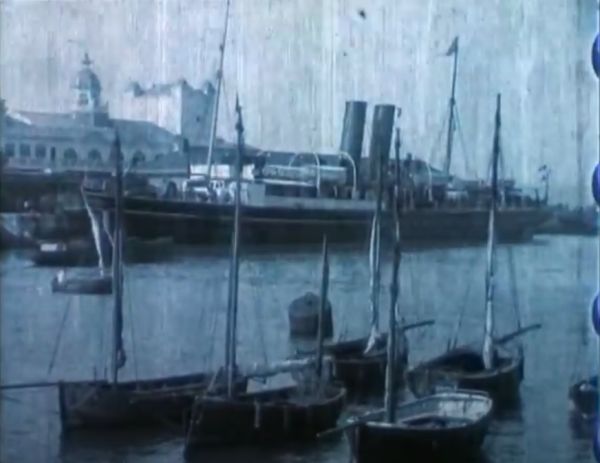 A couple of Tommy Cooper's finest jokes.

Two fat blokes in a pub, one says to the other 'Your round.'
The other one says 'So are you, you fat bastard!'

Police arrested two kids yesterday, one was drinking battery acid, and the other was eating fireworks. They charged one and let the other one off.


---
03 June 2020 Please send contributions to yeovilrailway@hotmail.com



Our Appeals If you are able to contribute either to our Toilet Block Appeal or our General Funds please see the links above! Any help will be greatly appreciated!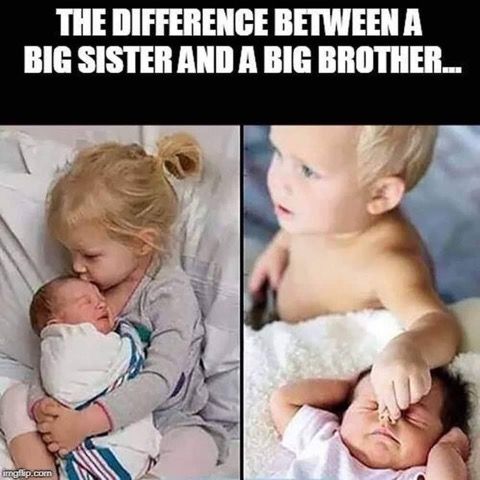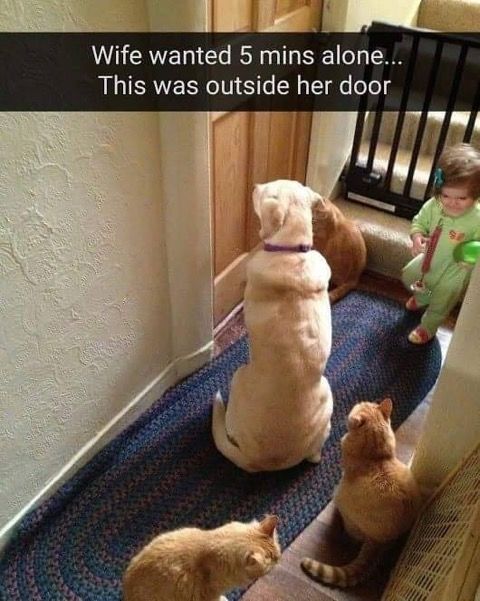 Railway Roundabout Sequences from Southern's Withered Arm (Okehampton etc), also Seaton Junction etc. Click on the image.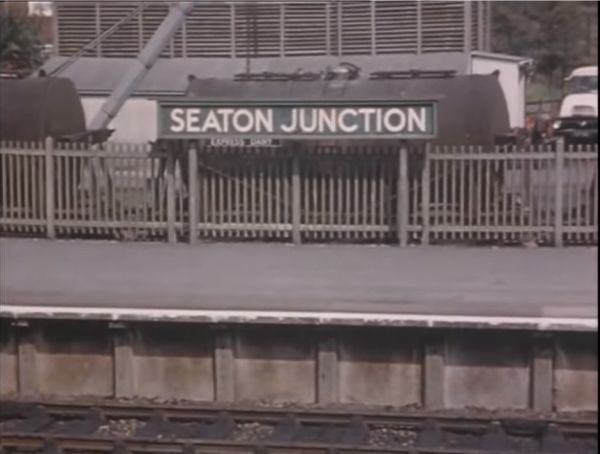 Paraprosdokians (continued)

To steal ideas from one person is plagiarism.
To steal from many is research.

I didn't say it was your fault, I said I was blaming you.

In filling out an application, where it says, "In case of emergency, notify..." I answered "a doctor."


---
02 June 2020 Please send contributions to yeovilrailway@hotmail.com

Important news re closure of line Yeovil Junction and Gillingham





Dear Stakeholder, I wanted to give you notice of engineering works that are due to close the line between Yeovil and Gillingham from 00:05 on the 13th to 04:00 on the 22nd June 2020. Passenger numbers are currently low on the West of England line due to the Coronavirus outbreak and Government advice to avoid non-essential rail travel. As such, we have chosen to take advantage of this reduced passenger flow to improve the safety and reliability of this part of our network ahead of any anticipated increased in journeys as future easements to the lockdown are introduced.

With regards to the safety of our colleagues during the present Coronavirus outbreak, please rest assured that our people come first and we are committed to safe working environments for them. We recognise our important role in supporting the economy and society through this incredibly challenging period. While you may see a lot of workers on site throughout the duration of the project, we have adopted all best practice measures on protective equipment, health advice and working practices.

What are we doing? We will be stabilising a cutting to the west of Templecombe Station. This work is critical in helping to lift two emergency speed restrictions that were imposed on the railway line due to a landslip last winter and will help prevent any further issues and keep the railway safe.

There will also be works alongside the line closure aimed at reinforcing the embankments.

As the work gets underway, please follow our @NetworkRailWssx Twitter account for the latest updates.

What do you need to know about the works through Templecombe? The railway line is closed from the 13th to the 22nd June 2020 (04:00) There will be no direct services from London Waterloo to Exeter Monday - Saturday during the works so passengers will be required to change at Salisbury and continue on a diverted service via Westbury Train services will not call at Templecombe or Sherborne for the duration of the works but a rail replacement bus will operate from Gillingham to Yeovil Junction on a 2-hourly basis which may result in extended journey times for passengers using these stations. A rail shuttle will operate between Salisbury and Gillingham Full details on the train service for the duration of the works are available on the South Western Railways website at https://www.southwesternrailway.com/plan-my-journey/planned-improvements/templecombe-engineering-works

Follow up works

After the closure, we will also carry out lineside follow up works. These works are essential to ensure the successful completion of the project, however the line will remain open during this time. These works will take place as follows:

22nd June to 14th August 2020

The site will then be decommissioned throughout August and into September.

Do you need further information?

Please do not hesitate to contact Jonny Nesbitt (jonathan.nesbitt@networkrail.co.uk), the Stakeholder & Public Affairs Manager for the Wessex route, should you have any queries or concerns ahead of, or during, the line closure.

Thank you for your continued support.

Tommy Cooper once again!

Two elephants walk off a cliff...boom, boom!

What do you call a fish with no eyes? A fsh.

So I was getting into my car, and this bloke says to me 'Can you give me a lift?'
I said 'Sure, you look great, the world's your oyster, go for it..'

Apparently, 1 in 5 people in the world are Chinese. There are 5 people in my family, so it must be one of them. It's either my mum or my Dad, or my older brother Colin, or my younger brother Ho-Cha-Chu.
But I think it's Colin.

Bob has kindly sent in:-

I was at Yeovil Junction on 30th Sept 2000 filming WC no 34016 Bodmin on the 'Devon Quarryman' charter from Woking to Exeter & Alton doing a splash and dash.

"The charter punters across the foot crossing during splash & dash.
Bodmin was welling out loads steam/smoke as it gained its feet, with a slight slip for the camera"




Paraprosdokians (continued) Paraprosdokians are figures of speech in which the latter part of a sentence or phrase is surprising or unexpected and is frequently humorous. (Winston Churchill loved them).

We never really grow up - we only learn how to act in public.

War does not determine who is right, only who is left.

Knowledge is knowing a tomato is a fruit. Wisdom is not putting it in a fruit salad.

To steal ideas from one person is plagiarism. To steal from many is research.


---
01 June 2020 Please send contributions to yeovilrailway@hotmail.com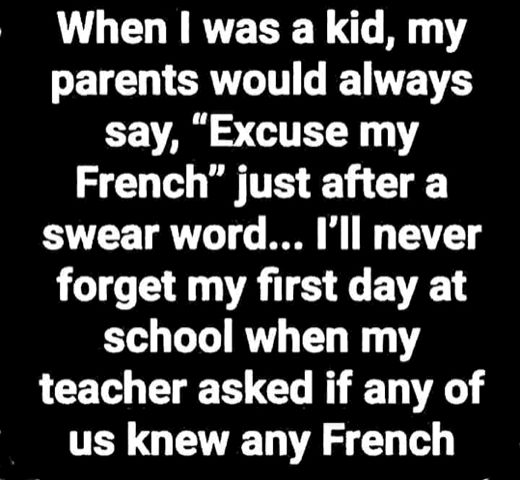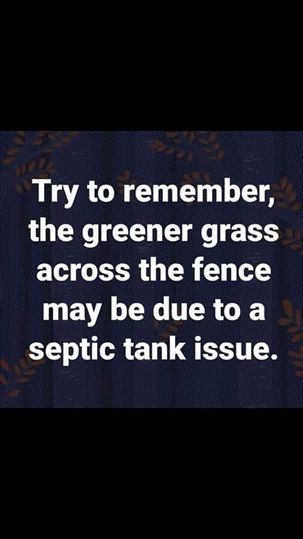 Bridport Branch A couple of videos showing the latter days of the Bridport branch.

Dorset Belle Click on the image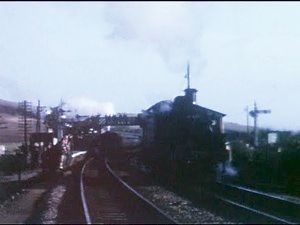 and Toller (and lots of Crewkerne!) Click on the image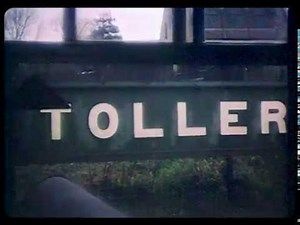 Arrival of coach 59515 at Yeovil Railway Centre A fraction under 7 years ago!

Click on the image



Paraprosdokians Paraprosdokians are figures of speech in which the latter part of a sentence or phrase is surprising or unexpected and is frequently humorous. (Winston Churchill loved them).

The last thing I want to do is hurt you ... but it's still on my list.

Since light travels faster than sound, some people appear bright until you hear them speak.

If I agreed with you, we'd both be wrong.

(to be continued!)


---
31 May 2020 Please send contributions to yeovilrailway@hotmail.com

Home time!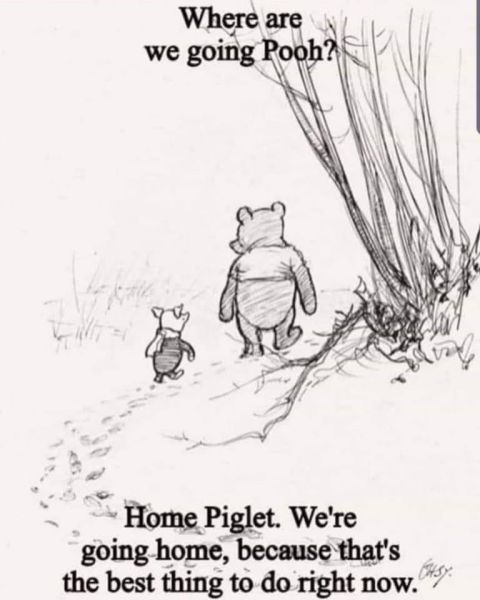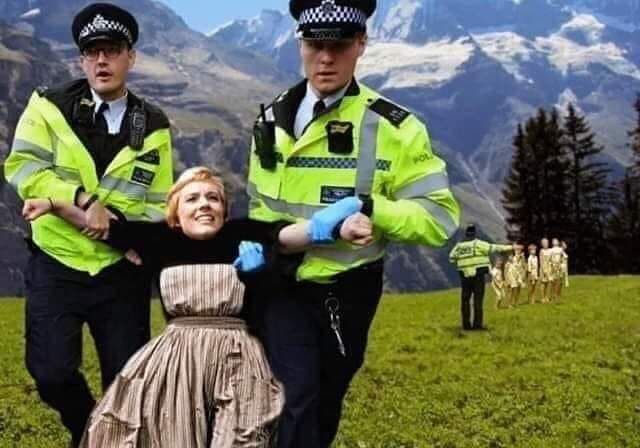 Stone Lane Motive Power Depot Another Model railway layout courtesy Roger. Wonderful detailing.

Click on the image-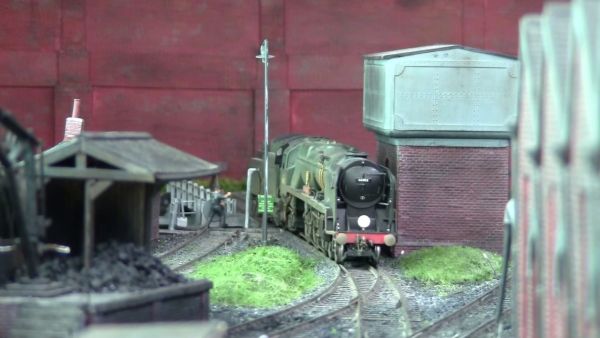 Chariots of Fire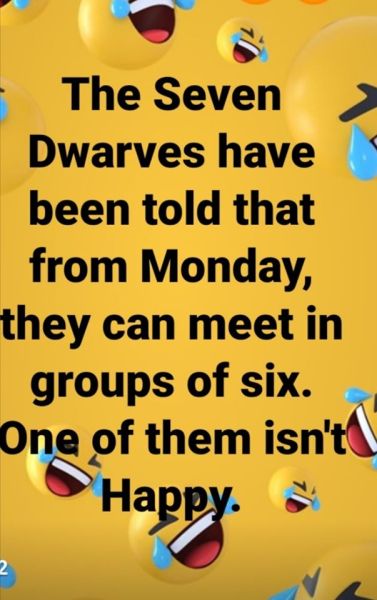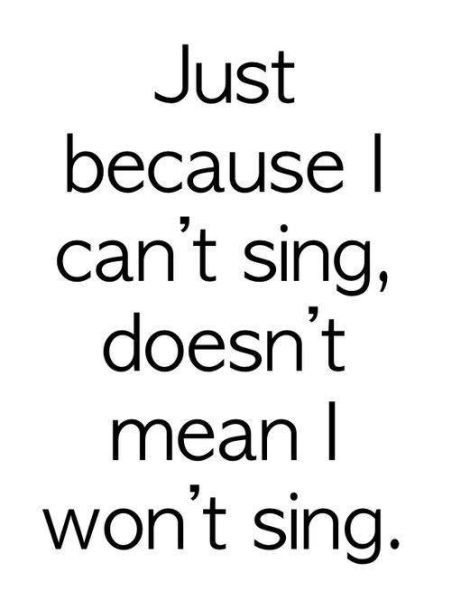 ---
30 May 2020 Please send contributions to yeovilrailway@hotmail.com

Rutland Ospreys webcam - won't be there for ever so watch soon! CLICK HERE

Bob has kindly converted this Video into MP4. Shows a shunt of seven coaches using Peckett 'Pectin' on 09 December 2008 when getting ready for The Santa season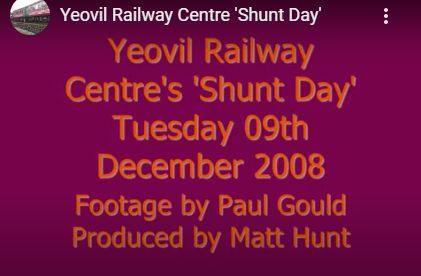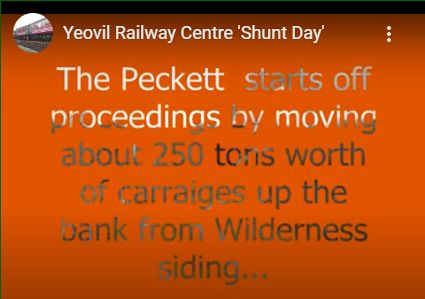 Been working around the house during lockdown?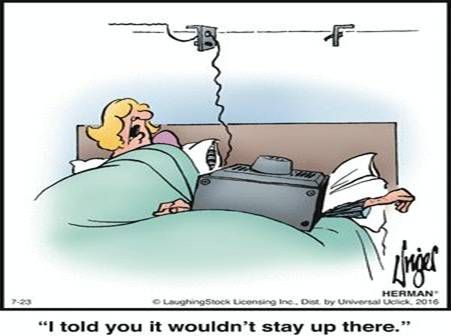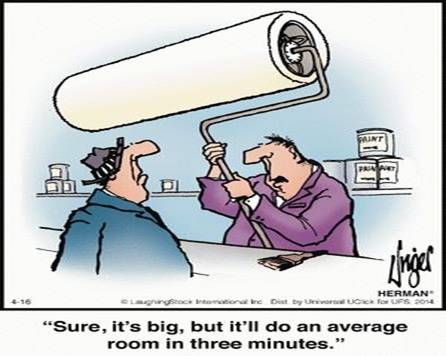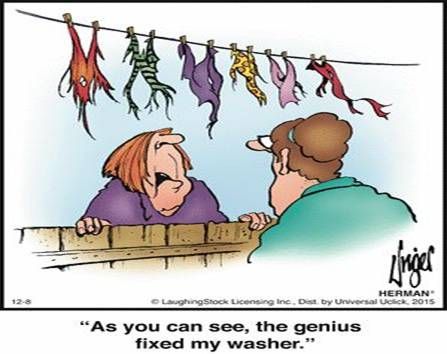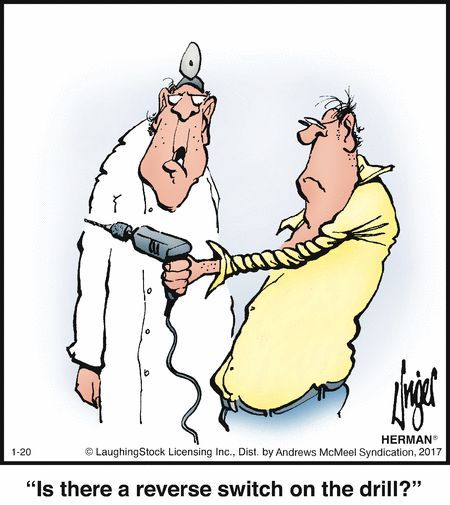 ---
29 May 2020 Please send contributions to yeovilrailway@hotmail.com

Been a while since we had a Tommy Cooper pun or two!

A man takes his Rotteweiller to the vet. 'My dog is cross-eyed, is there anything you can do for him?'

'Well,' said the vet, 'let's have a look at him' So he picks the dog up and examines his eyes, then he checks his teeth.

Finally, he says, 'I'm going to have to put him down.' 'What? Because he's cross-eyed?'

'No, because he's really heavy'

And a second.

Guy goes into the doctor's. 'Doc, I've got a cricket ball stuck up my bottom.'

'How's that?'

'Don't you start.'

The Hampshire Venturer Railtour" of 18th April 1964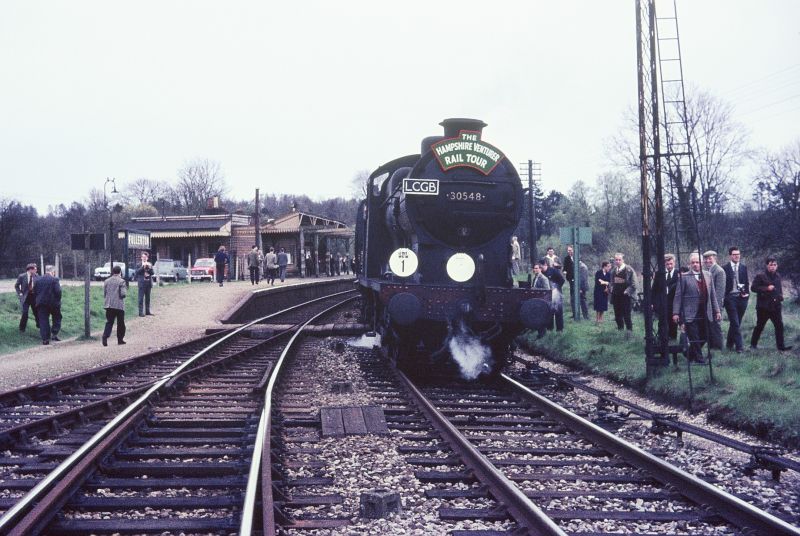 SR Q class 30548 with the LCGB's "Hampshire Venturer Railtour" at Fullerton Junction station.
(Used under a Creative Commons licence which has more details.

Fratton to Eastleigh -1964

Eastleigh Works visit - 1964

Eastleigh to Andover - 1964

Salisbury and Poole in 1964

The S&D in 1964 - The Hamworthy branch

For further information Six Bells Junction hold a vast amount of Railtour information. See HERE for details of this excursion.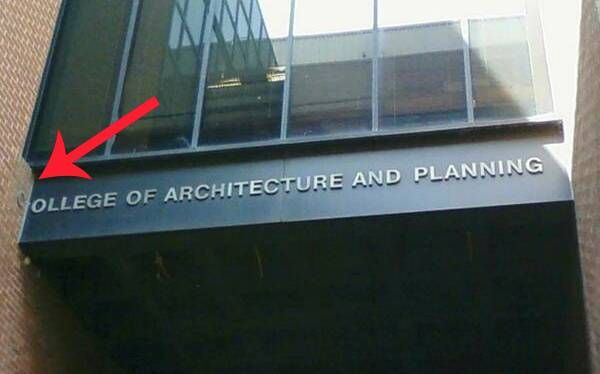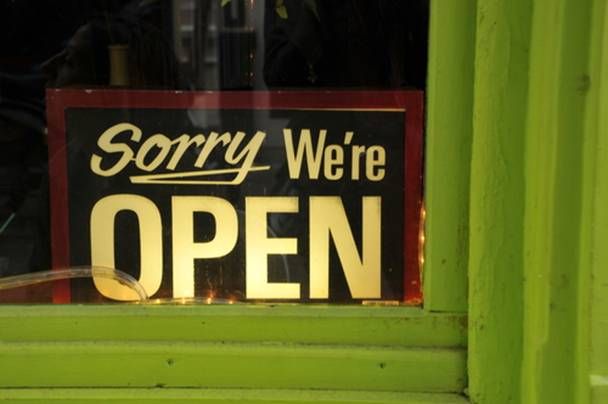 ---
28 May 2020 Please send contributions to yeovilrailway@hotmail.com



Our Appeals If you are able to contribute either to our Toilet Block Appeal or our General Funds please see the links above! Any help will be greatly appreciated!

Great Orme Tramway in Llandudno (final part)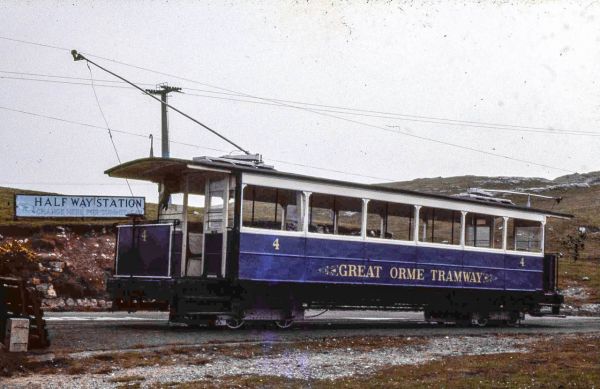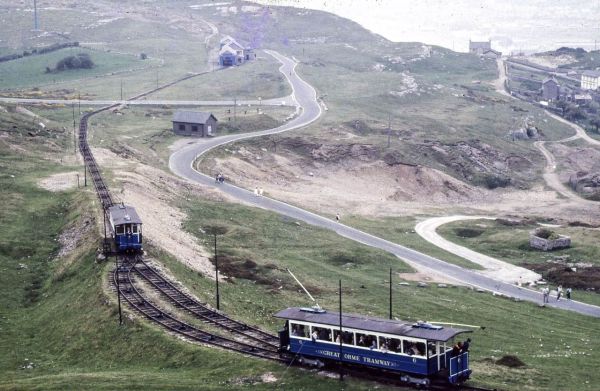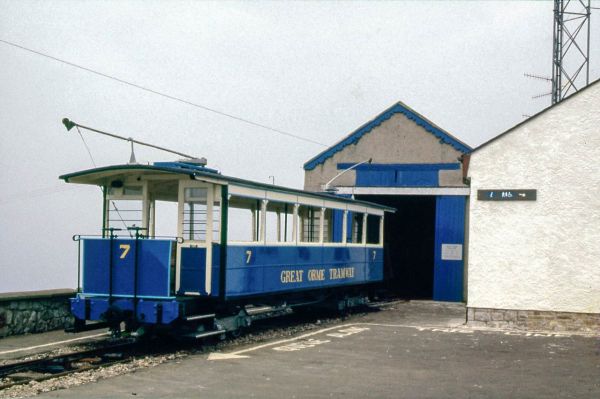 Please see commentary on 25 May 2020.

Thanks once again to Roger for these pictures and information.

American troops of the 1st Infantry Division leaving the port of Weymouth, England en route to Omaha Beach in Normandy in June 1944.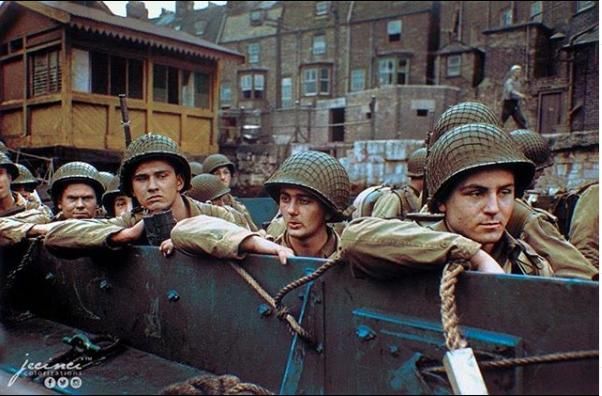 A thought provoking video! Thanks to the other Roger.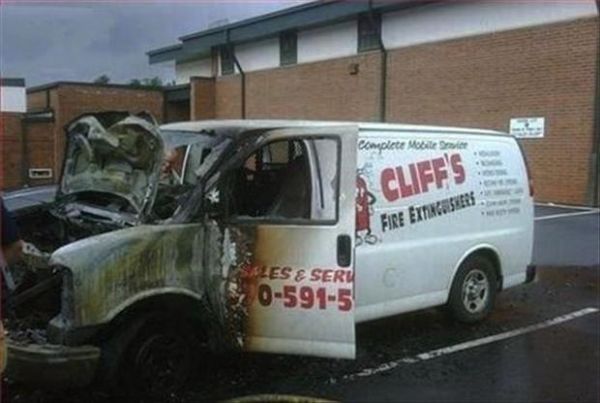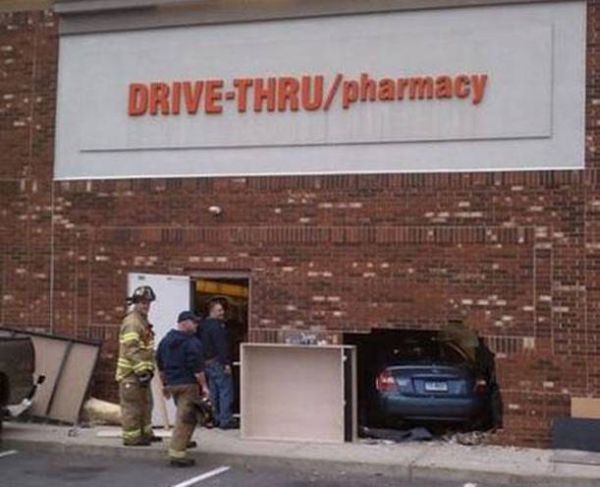 ---
27 May 2020 Please send contributions to yeovilrailway@hotmail.com

Good Twittering!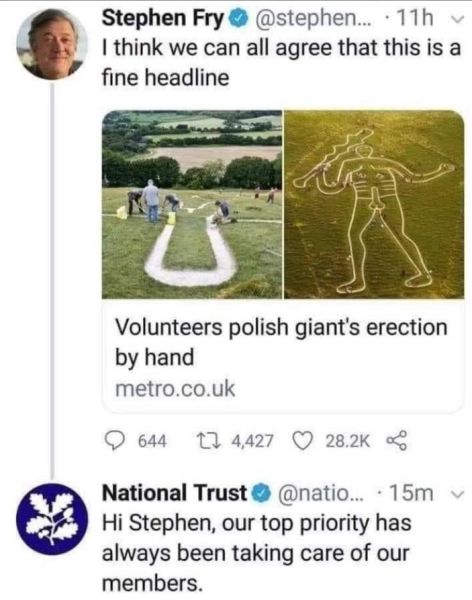 The Breeze to be rebranded as 'Greatest Hits Radio'. See HERE

The Leveller May's edition is HERE Thanks Peter for the heads up!

Great Orme Tramway in Llandudno (continued)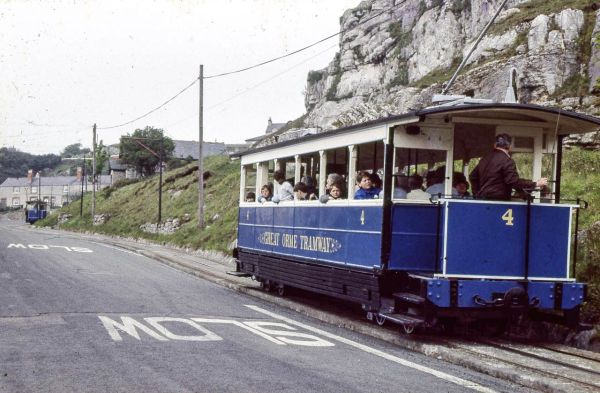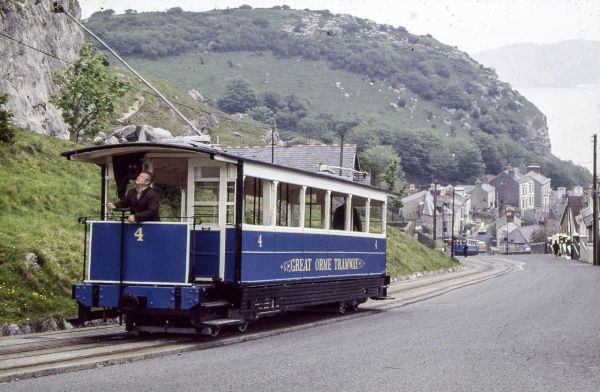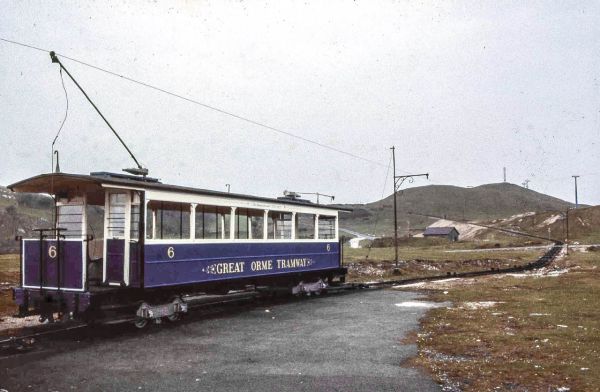 Please see commentary on 25 May 2020.

Anne Frank, said it so well:

"The best remedy for those who are frightened, lonely or unhappy is to go outside, somewhere they can be alone, alone with the sky, nature and God. For then and only then can you feel that everything is as it should be and that God wants people to be happy amid nature's beauty and simplicity,

As long as this exists, and that should be forever, I know that there will be solace for every sorrow, whatever the circumstances. I firmly believe that nature can bring comfort to all who suffer."


---
26 May 2020 Please send contributions to yeovilrailway@hotmail.com

Malcolm sends in this brilliant flight safety briefing!




Great Orme Tramway in Llandudno (continued)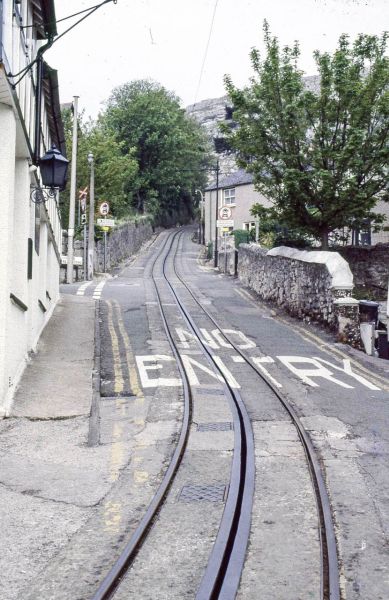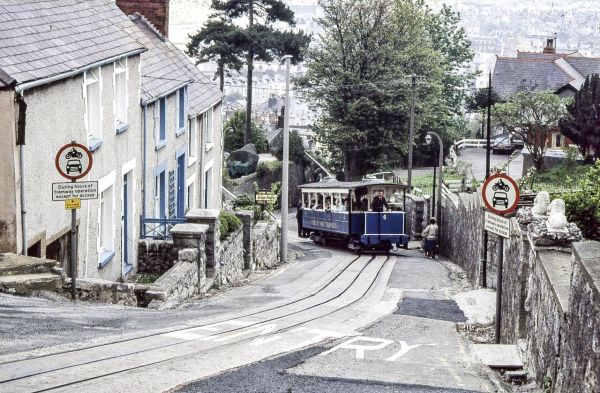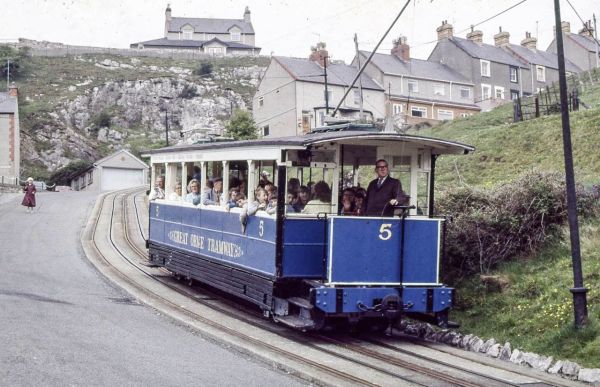 Please see commentary on 25 May 2020. However, Roger has added some interesting information regarding the (almost) double track in the final picture today.

" This is the explanation to your question regarding the tramway track.

Obviously as you can see the trams are not motorised, but drawn along by a wire rope that runs in the channel in between the running rails. The rope is operated from a winding house situated at 'Halfway Station' on level ground. Starting at the bottom station the track is single with both the upward and downward ropes running in the singe channel between the track. The track is single in order to leave enough room for motor vehicles the use the narrow roadway.

After the road junction between Old Road and Ty-Gwyn Road the carriageway is wide enough for two-way traffic and the tramway has a small passing loop. At this point the wire ropes (one up and one down) diverge.

Above the passing loop the tracks run closely side by side, each housing its respective wire rope in the centre. It remains like this right up to the Halfway Station. Trams can only pass on the short crossing loop just above the single track. In the area just above the passing loop the double track is spaced close together to maximise road width for motor traffic, but trams cannot pass one another. However, should one track be taken out of operation for any reason the trams can still operate over the remaining track.

Another interesting point is that the trams still have their contact poles from when the tramway was operated using overhead electric wiring and the lineside poles are still in place minus wires."

Thanks Roger for taking the time to provide such a full explanation! More photos of the route over the next few days!

The other Roger send this in:-

Short and funny..............

When I was young I decided to go to Medical School.

At the entrance exam we were asked to rearrange

the letters PNEIS and form the name of an important human body part which is most useful when erect.

Those who answered spine are doctors today while the rest of us are sending jokes.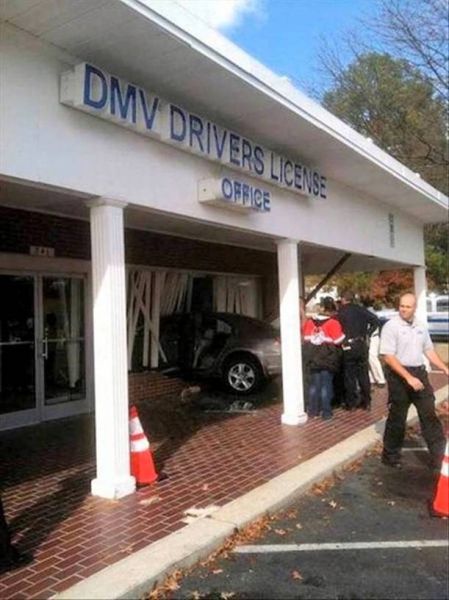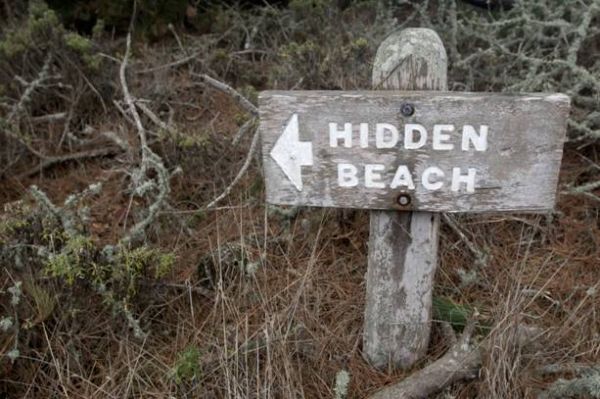 ---
25 May 2020 Please send contributions to yeovilrailway@hotmail.com

One of our current volunteers in a younger version in an official capacity! Thanks Rog. Bill says he was looking after Railtrack's money and checking on the contractors.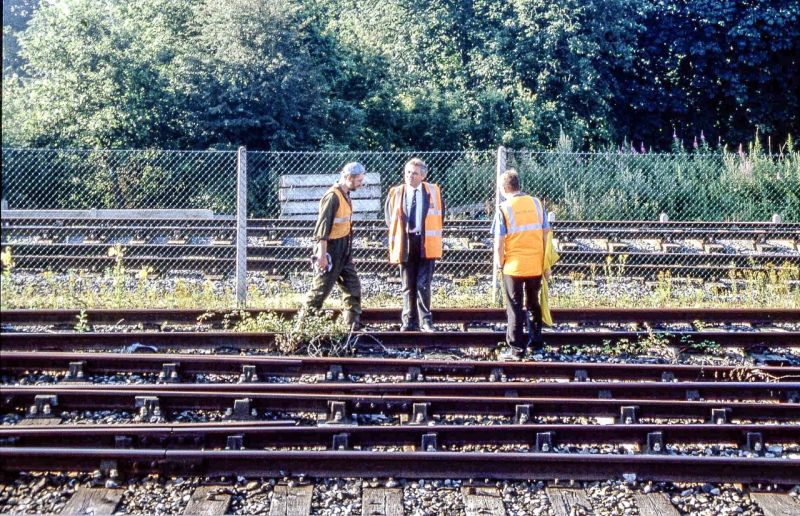 Great Orme Tramway in Llandudno. (Another great article from Roger with photos from 1985)

A bit of an historical write-up:

In 1898 the Great Orme Tramways Act was passed which laid out the length of the Tramway, the gauge and the fares to be paid. The original purpose of the Tramway was to transport passengers, goods and parcels up and down the Great Orme.

In April 1901, the construction of the Tramway began. R White and Son of Widnes were the contractors for the rails, machinery and tramcars, while Thomas & John Owen of Llandudno did the building work.

On July 31st 1902, the first paying passengers rode on the Tramway. They were seen off by the Town Band, playing God Save The King. At this time, only the lower section was completed.

On July 8th 1903, The Tramway's upper section opened to the public and people from around the country flocked to the Great Orme. The Tramway even carried coffins to the Halfway Station for burial at St Tudno's churchyard. There was no concession for grief - the mourners were charged full fare, plus 2s 6d (12.5p) for transporting the coffin!

In 1904 Victoria Station on Church Walks was built on the site of the former Victoria Hotel.

In 1932 tragedy struck. After 30 years of carrying over 3.75 million passengers safely, a tramcar on the lower section broke loose from its cable, derailed and crashed into a stone wall. The attendant and a 12 year old girl were killed and several passengers were injured. The accusation and threat of compensation claims drove the company into liquidation and it was sold. The new owners changed the name to the Great Orme Railway Company Ltd.

In 1934 the Tramway reopened to the public with strict new safety measures. It was as popular as ever and ran all through the Second World War.

On January 1st 1949, the Llandudno Urban District Council took over the line.

In 1957 the Halfway Station, the old steam-powered engines were replaced by more efficient electric engines.

In 1974 following local government reorganisation, control of the Tramway was passed to Aberconwy County Council.

In 1977 the Tramway reverted to its original name, the Great Orme Tramway. It is now run by Conwy County Borough Council as a unique and treasured part of Llandudno's heritage.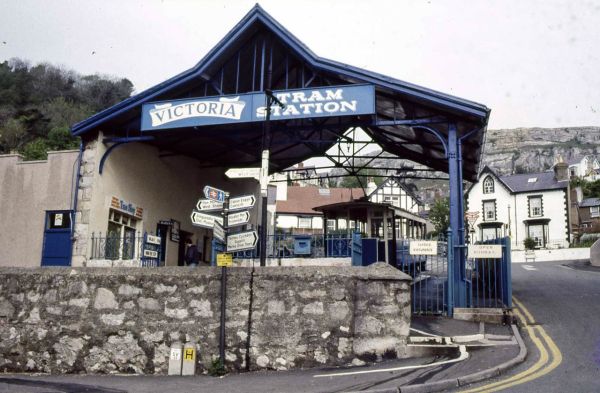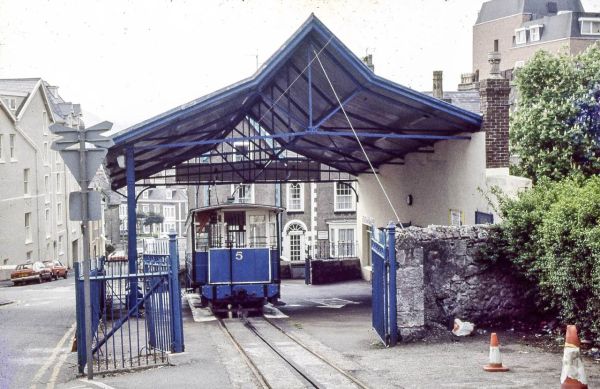 Victoria Tram Station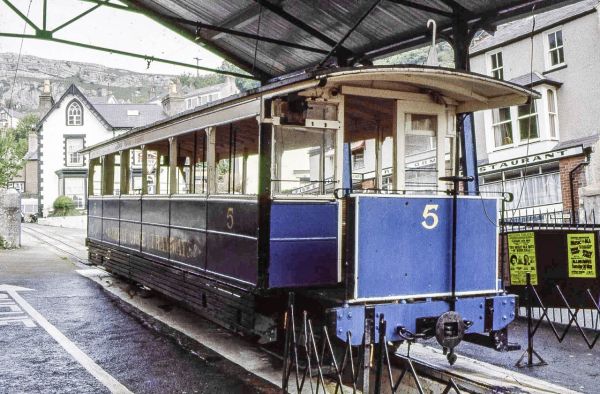 More photos of the route over the next few days!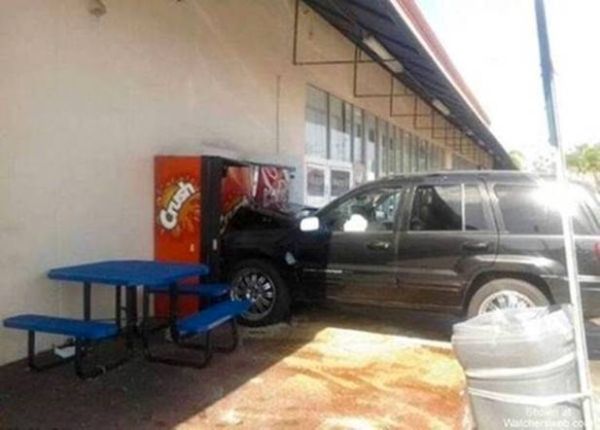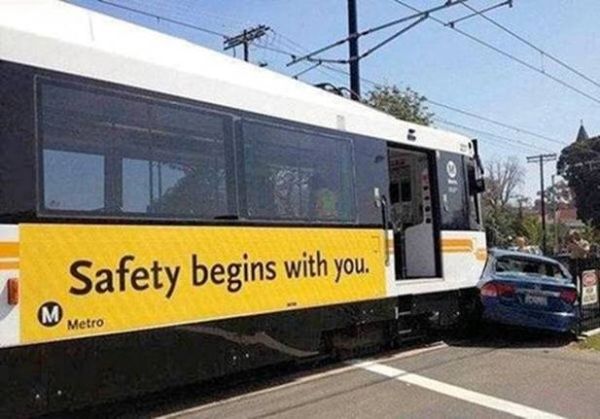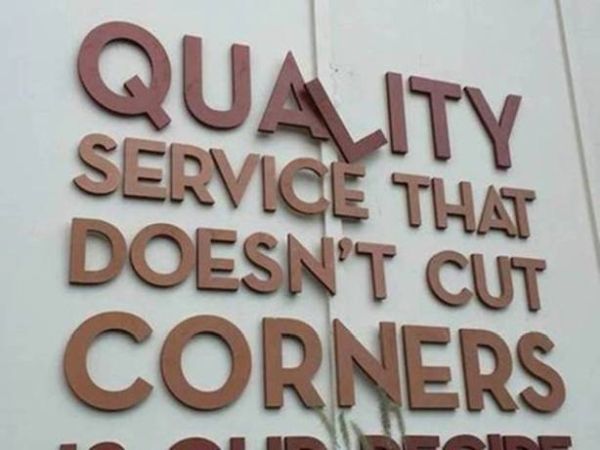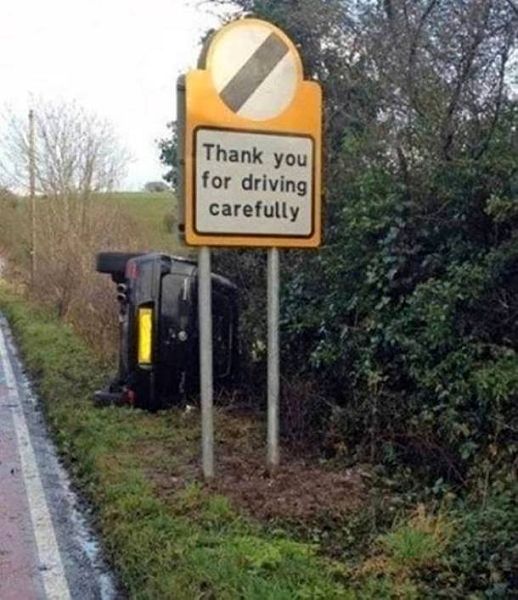 ---
24 May 2020 Please send contributions to yeovilrailway@hotmail.com

Accidents Galore! Click on the image:-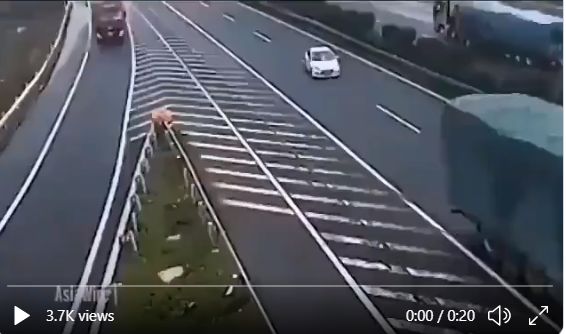 Chilmark Narrow Gauge Click on the image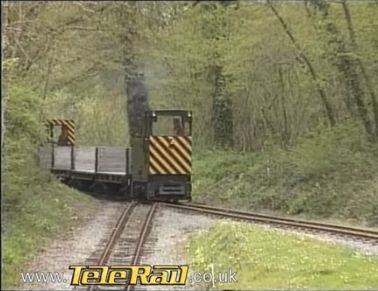 Loose coupled with ammo on board....

A Google.com map with an interesting addition! CLICK HERE

More history here:- CLICK HERE

What happened later? See the Sun newspaper report:- CLICK HERE

Air Show Disaster - AIRCRAFT HITS FOUR BUILDINGS

This is tough to see. It just shows the dangers of attending these events.

Amazing photo below shows great detail.

The pilot at low level had no control over his aircraft.

It narrowly misses a crowd gathered for the air show and slams into four buildings.

One can only imagine the horror of the occupants inside those buildings.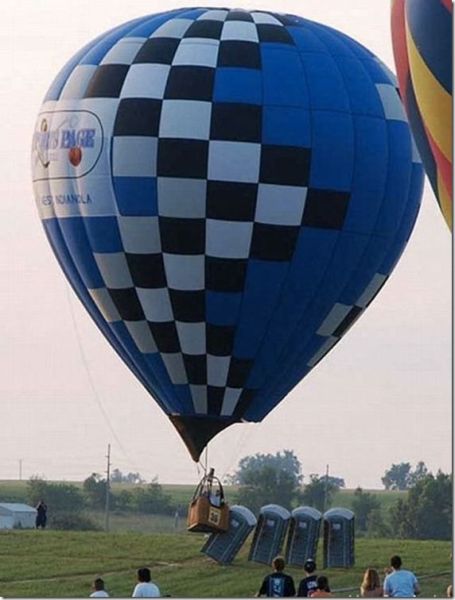 No one was killed, but it probably scared the shit out of them.


---
23 May 2020 Please send contributions to yeovilrailway@hotmail.com

Bagpipes anyone? Bob sends in this video - not seen this before!

He says:- I visited the Steam Co on Sat 4th Nov 2000 to film 4472 Flying Scotsman on a Paddington to Yeovil Junction 'Posh nosh' Charter.

"After the loco and stock had arrived it was time to do the servicing and turnaround. As I filmed the mighty loco on the turn table the piper was invited on to the side of the loco by the crew and starting playing his bagpipes."




Our website comments:- "An unexpected visit by 4472 Flying Scotsman took place on Saturday 4 November 2000 when, at 4 days notice, we were asked to organise an event to keep some 250 passengers amused for 2 hours.

The train was originally booked to pass Yeovil Junction non-stop on its way to Exeter and Taunton but due to the heavy rains, the track at Cowley Bridge (just north of Exeter) had been washed away.

Some hectic arrangements were made to steam 'Pectin' and open the site. Flying Scotsman has air braking and out turntable only has vacuum so muscle power was used the turn the engine, much to the amusement of the watching passengers (and the piper who played the bagpipes!).

A photo of the locomotive after servicing:-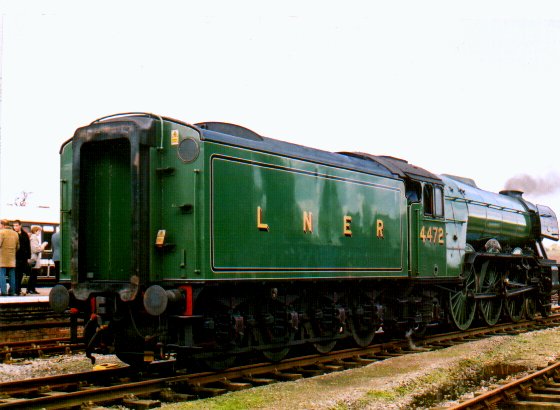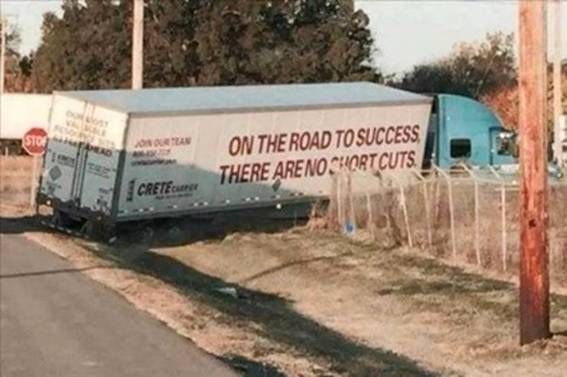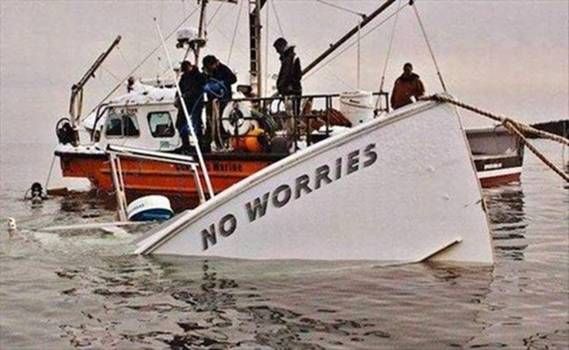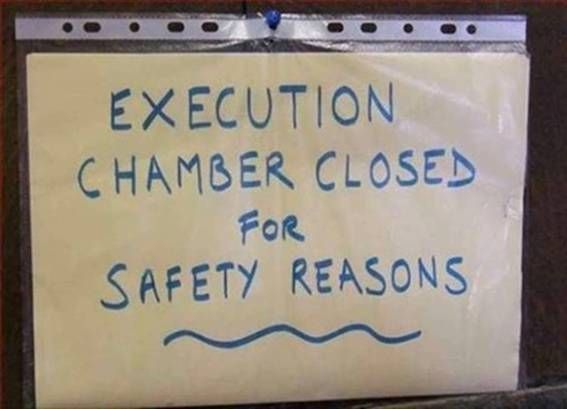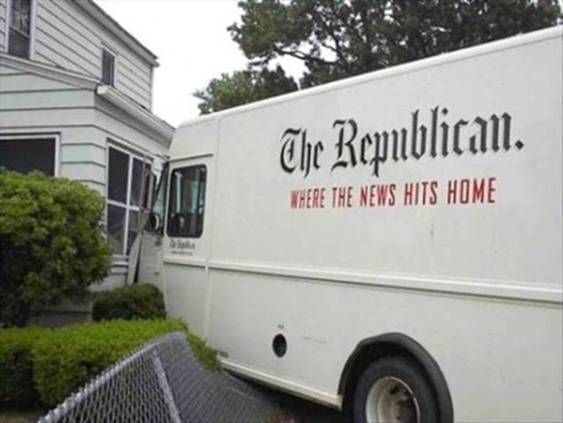 Eric has found this on You Tube - 2 East Coker Road Railway. Click on Image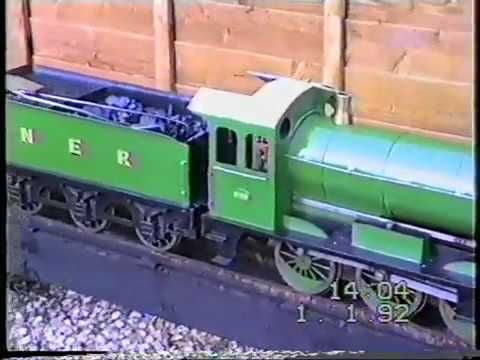 ---
22 May 2020 Please send contributions to yeovilrailway@hotmail.com



Our Appeals If you are able to contribute either to our Toilet Block Appeal or our General Funds please see the links above! Any help will be greatly appreciated!

A couple more Tommy Cooper jokes

Man goes to the doctor, with a strawberry growing out of his head.

Doc says 'I'll give you some cream to put on it.'

'Doc I can't stop singing 'The Green, Green Grass of Home'

'That sounds like Tom Jones syndrome. '

'Is it common?'

'It's not unusual.'

GWR150 celebrations. Roger says: 'In 1985 I applied to be a steward on the GW150 exhibition train that was touring the area. I was lucky to get accepted and had to go to BRB Headquarters at St. Pancras for an information and security briefing. I was selected to go on the train whilst it was at Salisbury for three days.

I have attached some photographs of the inside of the train, also a young Sugg manning the Yeovil & District Railway Society stand that we had at the time on the platform at Salisbury.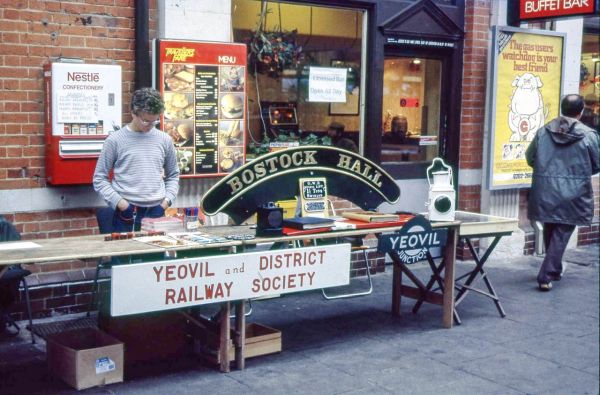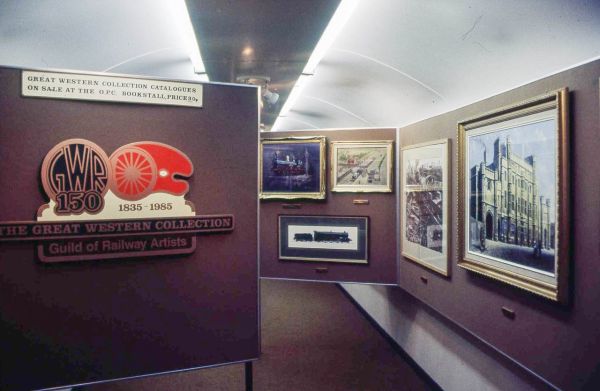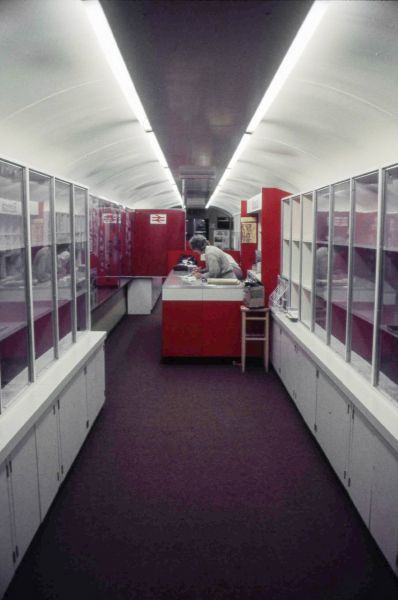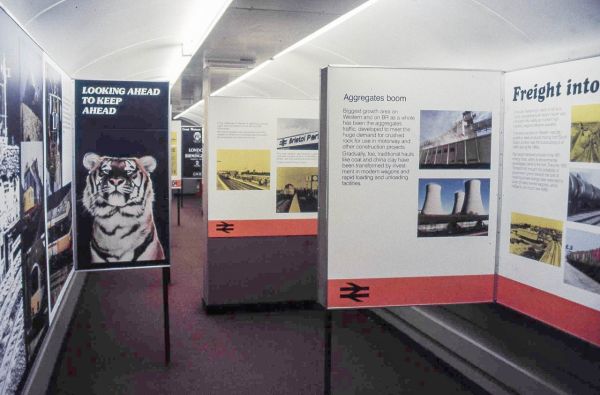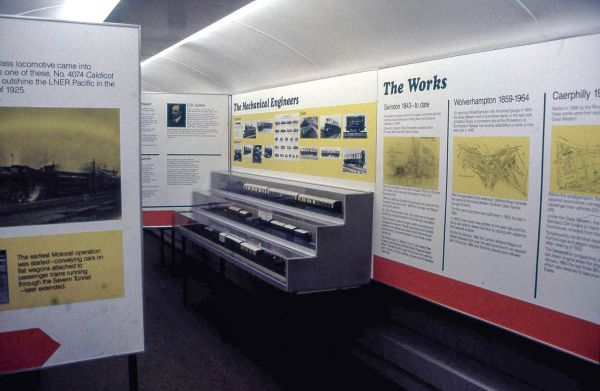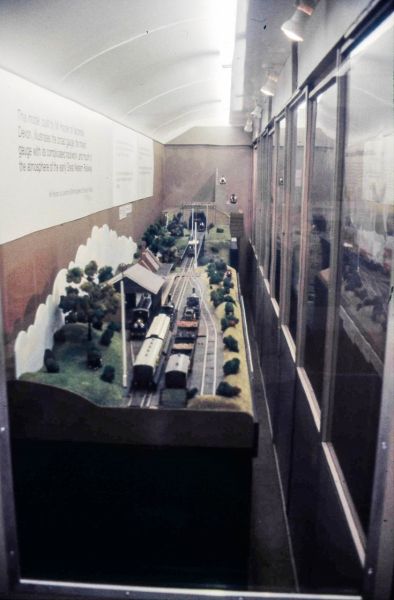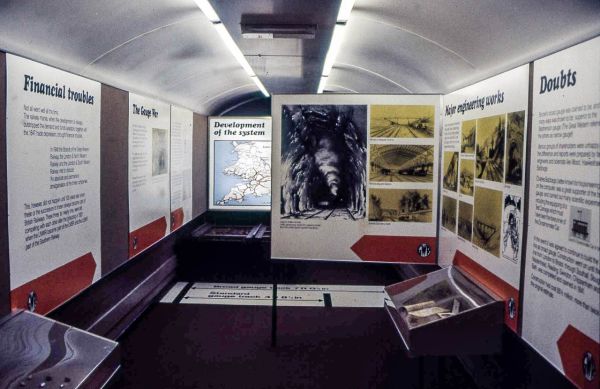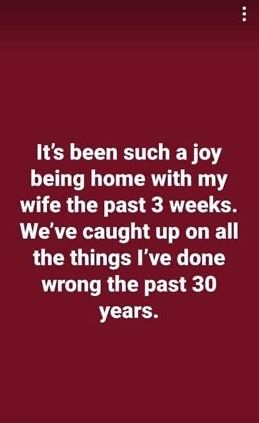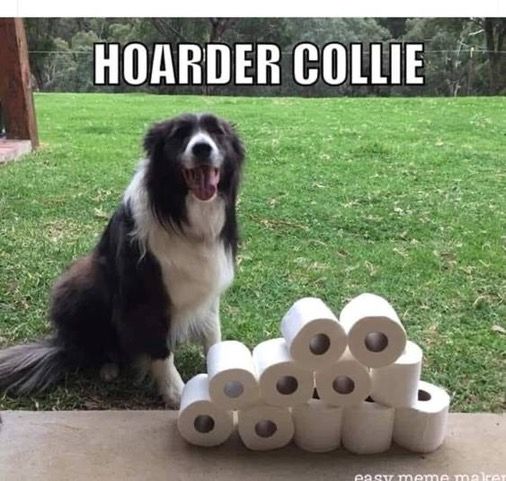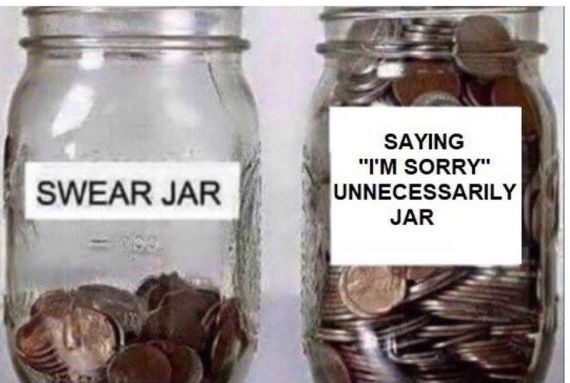 ---
21 May 2020 Please send contributions to yeovilrailway@hotmail.com

Diesel and Ship Day!

Roland has sent in photos of Class 37s at Maiden Newton on 20 May. He says: 'Two class 37's of Harry Needle fame, very rare down here, hauling the track measurement train (1Z22) 08.20 Tysley LMD. to Bristol High Level sidings, via Weymouth. Also surprise they were early! 16mins. going down, and 24 mins. going home. It's a great pity the train doesn't visit the centre via the branch on it's zig zag route. 37612 T&T 37610 pictured at Maiden Newton and a farm crossing near Stratton.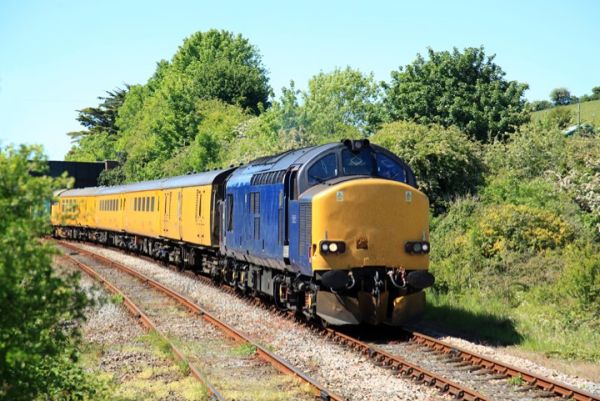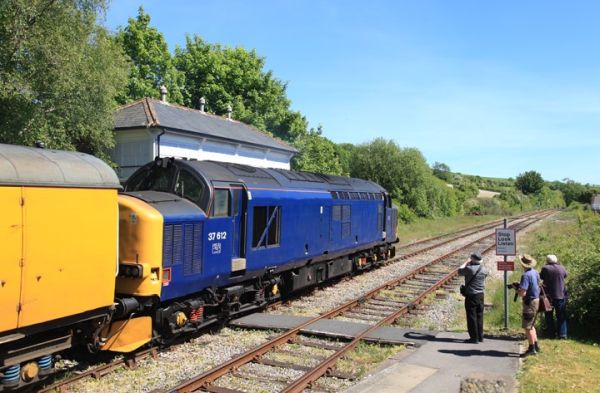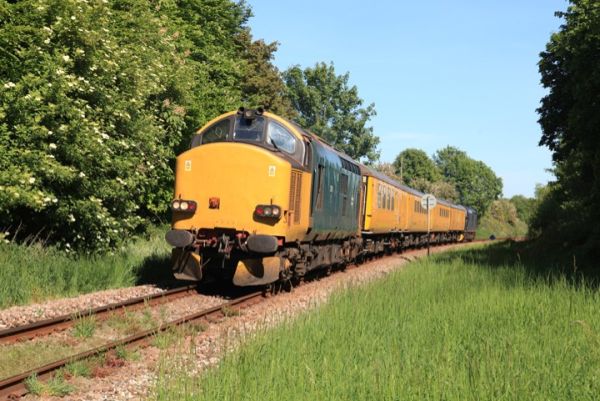 Roger has sent in photos of the cruise ships and liner in Weymouth Bay also on 20 May 'I took the attached photographs at Weymouth Bay yesterday evening.

The four passenger liners are Cunard's Queen Mary 2 and P & O Cruises Aurora, Britannia and Azura.

There are five more cruise ships moored off the south-east side of the Isle of Wight. If they moor in Southampton they have to pay a fee of £10k/week.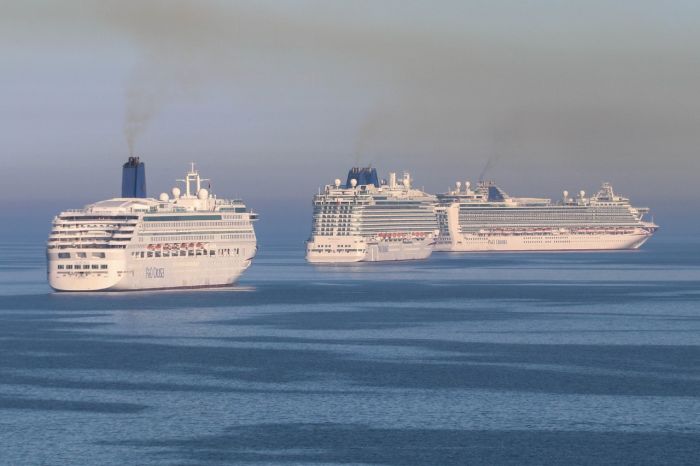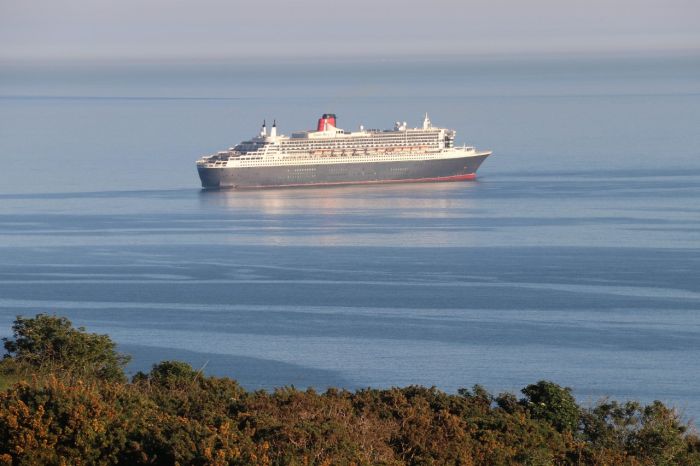 Mike recalls one of the few events the Centre has operated in 2020. This was the visit on 8 March 2020 by The Branch Line Society who operated 'The Devonian Crompton' (1Z38) from London Victoria via Yeovil Junction (twice!) to Exeter and the Coleford Junction (limit of Network Rail metals). Return (1Z39) was via Exeter, Taunton, Bristol and to London Waterloo. 33207 and D6515 feature with correct route code!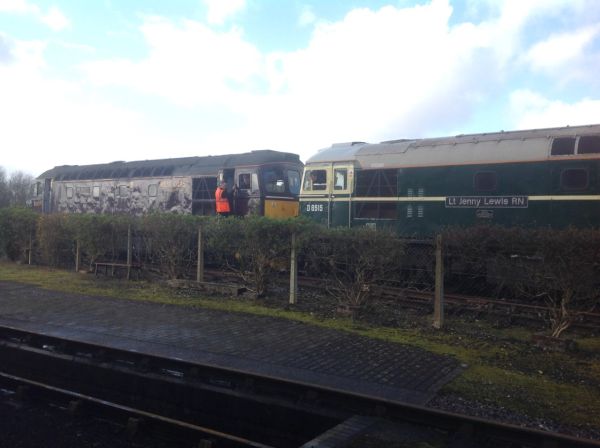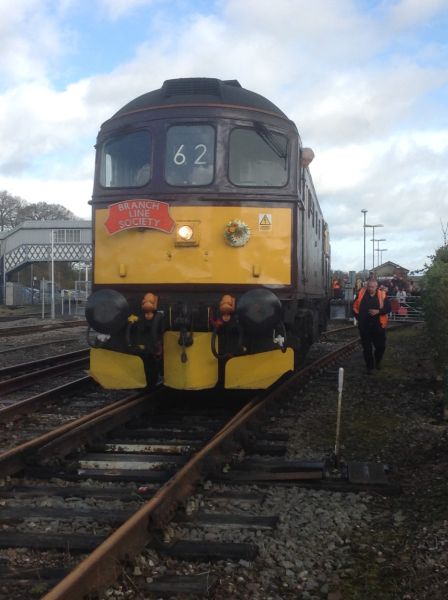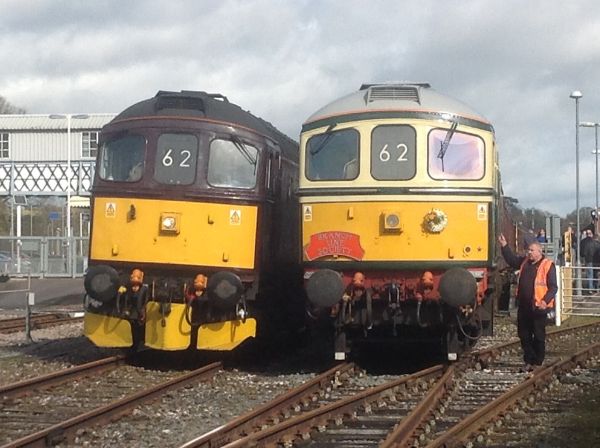 and a view of the Centre's motive power all lined up during a shunt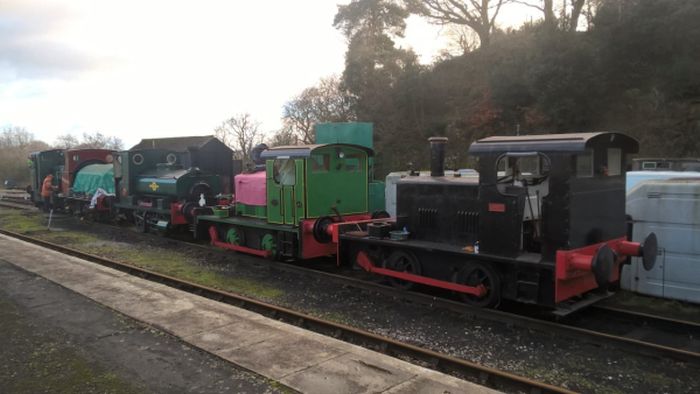 Bad Parrot

A young man named John received a parrot as a gift. The parrot had a bad attitude and an even worse vocabulary.

Every word out of the bird's mouth was rude, obnoxious and laced with profanity. John tried and tried to change the bird's attitude by consistently saying only polite words, playing soft music and anything else he could think of to 'clean up' the bird's vocabulary.

Finally, John was fed up and he yelled at the parrot. The parrot yelled back. John shook the parrot and the parrot got angrier and even more rude. John, in desperation, threw up his hand, grabbed the bird and put him in the freezer.

or a few minutes the parrot squawked and kicked and screamed. Then suddenly there was total quiet. Not a peep was heard for over a minute. Fearing that he'd hurt the parrot, John quickly opened the door to the freezer. The parrot calmly stepped out onto John's outstretched arm and said "I believe I may have offended you with my rude language and actions. I'm sincerely remorseful for my inappropriate transgressions and I fully intend to do everything I can to correct my rude and unforgivable behavior."

John was stunned at the change in the bird's attitude.

As he was about to ask the parrot what had made such a dramatic change in his behavior, the bird spoke-up, very softly,

"May I ask what the turkey did?"


---
20 May 2020 Please send contributions to yeovilrailway@hotmail.com

Exeter St Davids to Central fearsome bank - 4 differing outcomes! The bank is 1 in 37 and curved (and through a tunnel and road overbridge to boot!). Many a train over the years has come to grief and had to return down the bank to St Davids defeated.

Diesel D1015 'Western Champion' at full power makes it! Click on the image.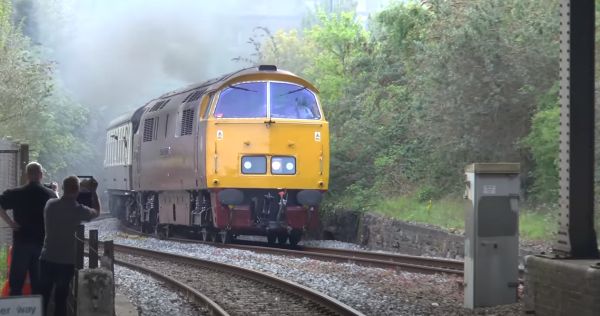 Battle of Britain 34067 'Tangmere' is banked by West Country 34046 'Braunton'. I still wait for the slip that never comes! Click on the image.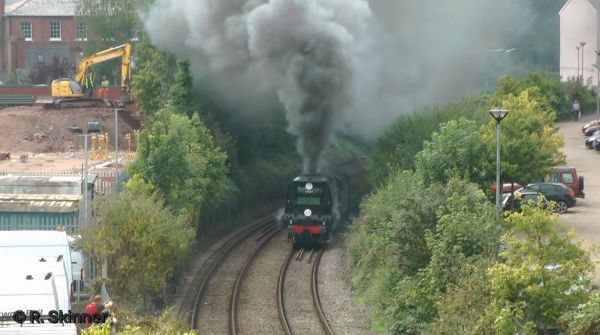 .
A different view with extra footage (including 5029 'Nunney Castle') is. Click on the image.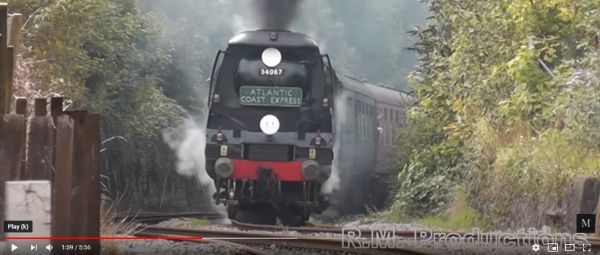 Two BR Standard Class 4 tanks 80080 and 80079 just amount make it albeit with much rail grinding! Click on the image.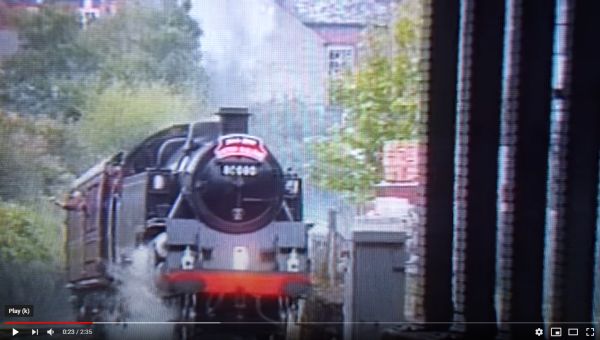 BR Class 4MT Pocket Rocket 76079 and Battle of Britain 34067 'Tangmere' fail in spectacular style. They were routed on the reversible down line and also double headed and not top and tailed. Did these factors prove the final straw to an already overloaded train? Click on the image.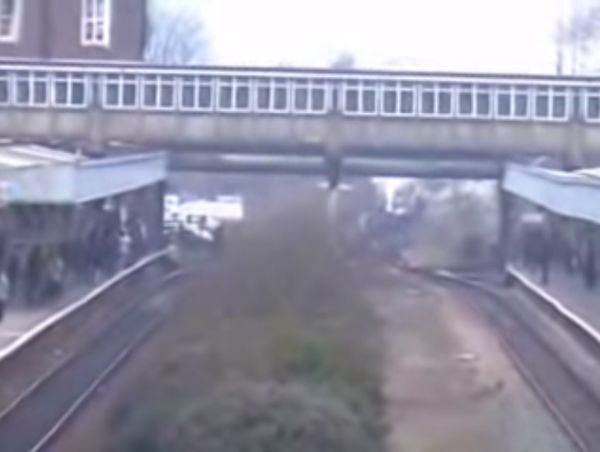 and for good measure

A derailed Class 66 on the bank which came to grief after running through trap points. One of many incidents over the years! Click on the image.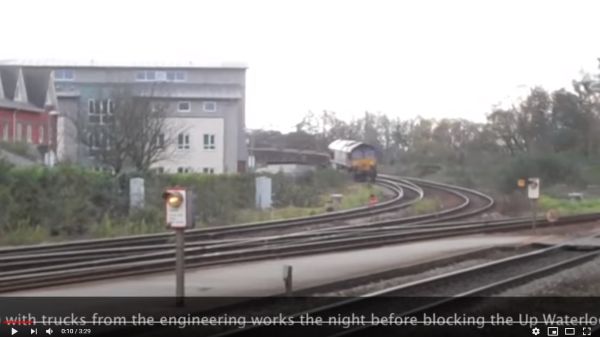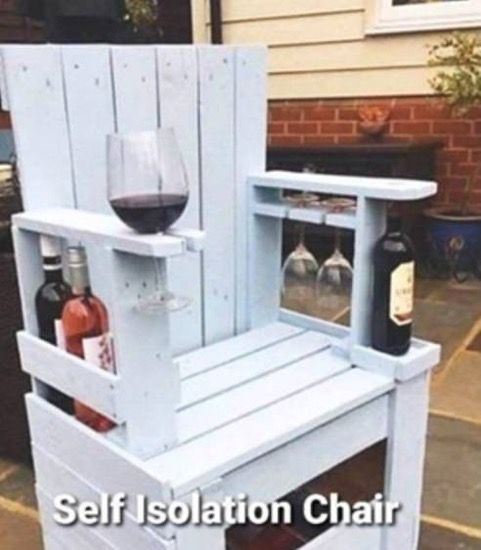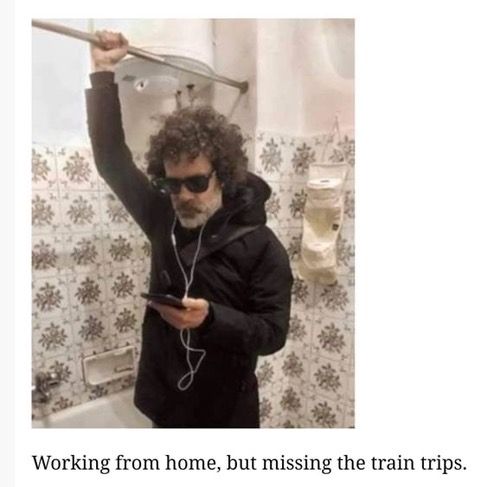 ---
19 May 2020 Please send contributions to yeovilrailway@hotmail.com

Five photos taken at Exeter in the late 1970s or early/mid 1980's Apologies for the not very good quality - no money!

a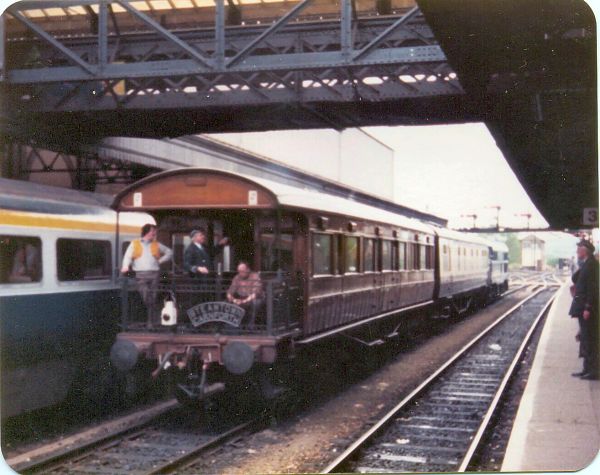 b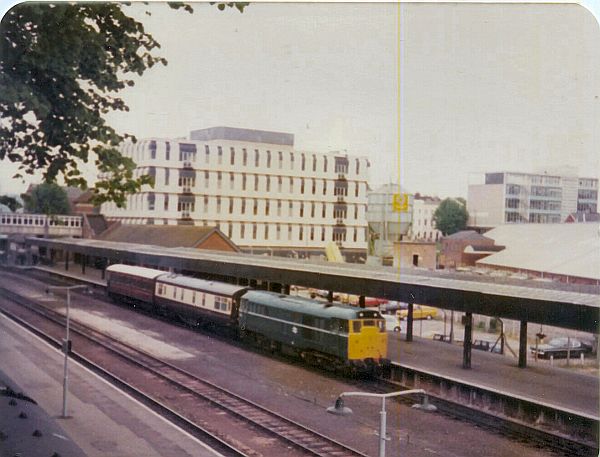 c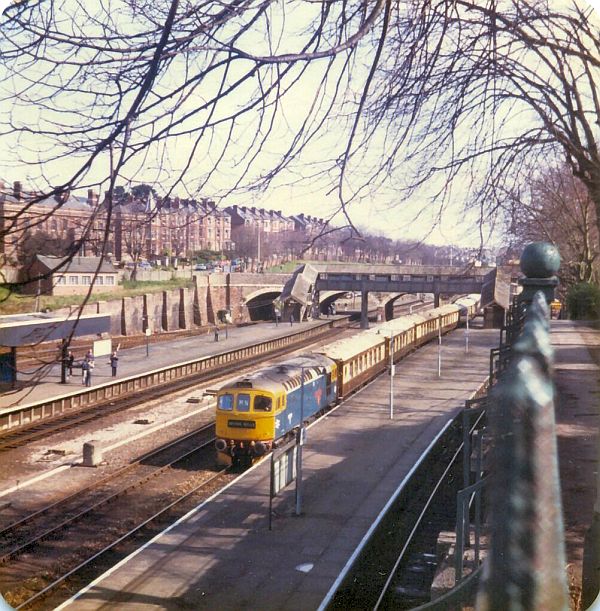 d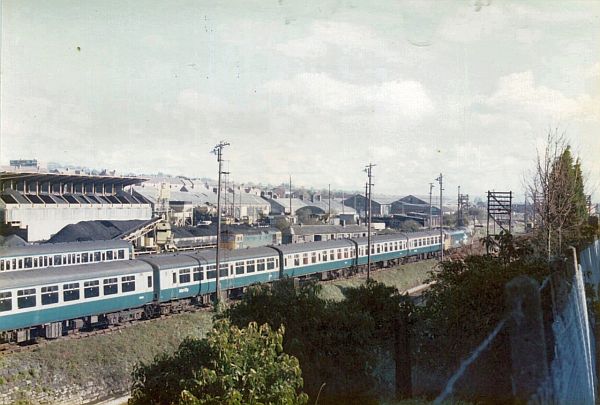 e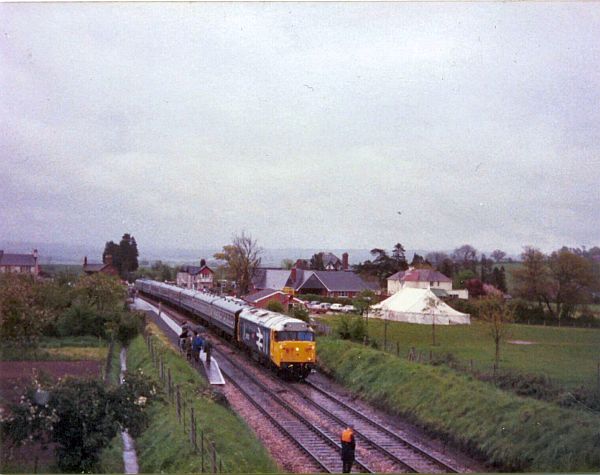 a - A special train hired by one of the McAlpine family is seen in the down middle road (now gone) at Exeter St Davids. Sir Bill McAlpine was a shareholder in Steamtown although later the Carnforth site was sold to David Smith who runs West Coast Railways from there.

b - Seen passing Exeter Central behind a Class 31 diesel. A DMU is in the bay whilst in the background can just been glimpsed Presflo cement wagons (depot now closed and sidings removed).

c - A Class 33 diesel with Pulman stock on a Devon Belle railtour at Exeter Central. The covered concrete footbridge in the background has been replaced by an open air modern version.

d - Main line stock stabled at Exmouth Junction - possibly during the remodelling of Exeter St Davids in early 1985. The stock appears to be that used on the Waterloo and Exmouth lines and would have terminated at Exeter Central. Sidings now disconnected, Coal Concentration depot closed and site being redevoped.

e - Re-opening of Pinhoe Station on 16 May 1983. Yes it was raining. Note the marquee and also the railwayman stood in the 4ft - but he does have a Hi-Vis!

More Tommy Cooper

A man came round in hospital after a serious accident. He shouted, 'Doctor, doctor, I can't feel my legs!'

The doctor replied, 'I know you can't, I've cut your arms off'.

I went to a seafood disco last week.and pulled a muscle.

Two Eskimos sitting in a kayak were chilly.. They lit a fire in the craft, it sank, proving once and for all that you can't have your kayak and heat it.

FGW HST's at Woking and Farnborough Unusally the HST's were diverted over the Christmas & New Year period from Westbury and ran via Salisbury, thence via Farnborough & Woking to London Waterloo. Shot on 1/1/2011. Link CLICK HERE

HSTs cross at Hook HERE on 29/3/2013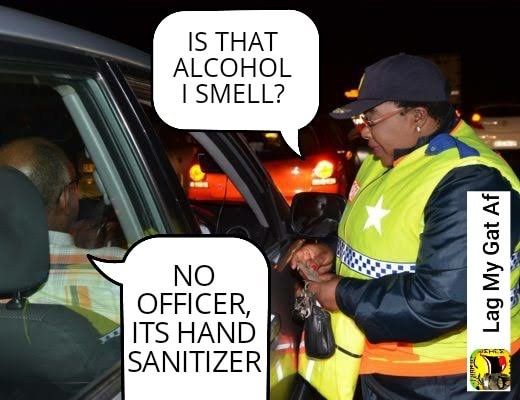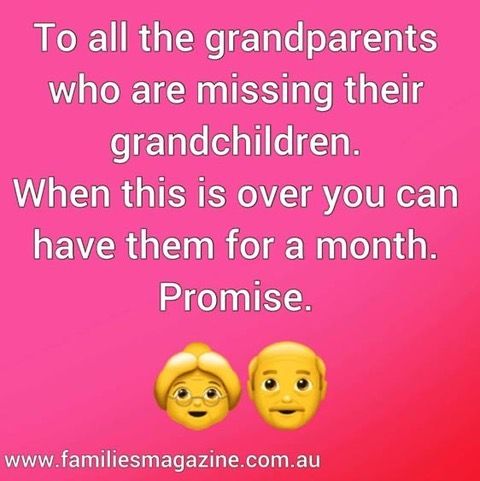 ---
18 May 2020 Please send contributions to yeovilrailway@hotmail.com

Rowtor Target Railway Before the world changed, I visited this railway on Dartmoor which is something I had wanted to do for a long time. The video on You Tube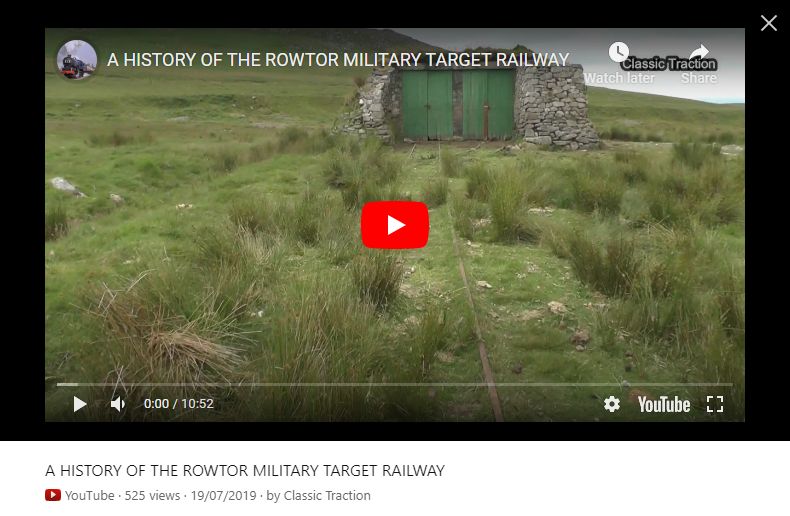 is quite lengthy but a visit by Dartmoor Railway Supporters Association reveals what is inside the Shed! Links in that report details the history of the Wickham trolley and the railway's history.

No idea what he is singing but....you do get the idea!


A wealth of history can be found here: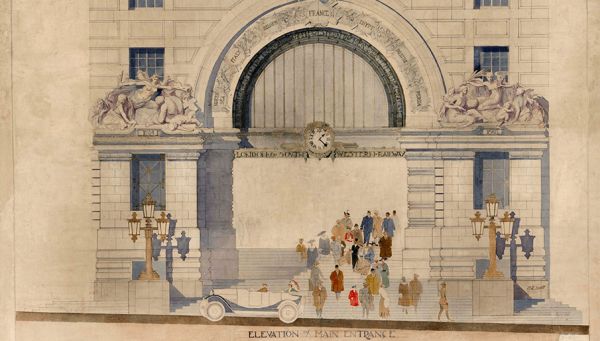 Thoughts for the Day!

My wife asked if she could have a little peace and quiet while she cooked the dinner, so I took the batteries out of the smoke alarm.

Anyone got an owners manual for a wife? Mine's giving off a terrible whining noise!

My wife apologised for the first time ever today. She said she's sorry she ever married me.


---
17 May 2020

Our Appeals If you are able to contribute either to our Toilet Block Appeal or our General Funds please see the links above! Any help will be greatly appreciated!

Bob sends in another 'Pectin' video' This is from November 2000




Today's thoughts

After my wife died, I couldn't even look at another woman for 10 years. But now that I'm out of jail, I can honestly say it was worth it.

Got an e-mail today from a "bored housewife 32, looking for some action!" I've sent her my ironing, that'll keep her busy.

The wife's been hinting she want's something black and lacy for her birthday. So I've got her a pair of football boots.

Christie, Adams & Hill 6ft 6in single 114 Frome at Yeovil in August 1862 with driver Hicks on the footplate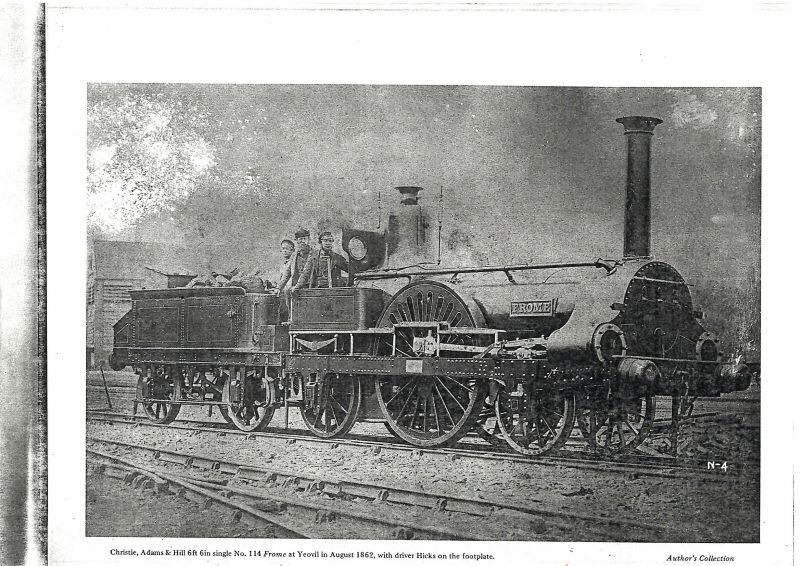 ---
16 May 2020
MEMORIES OF STEAM IN VALLEYS (Part 5 and final) by Roger Marsh - see commentary 12 May 2020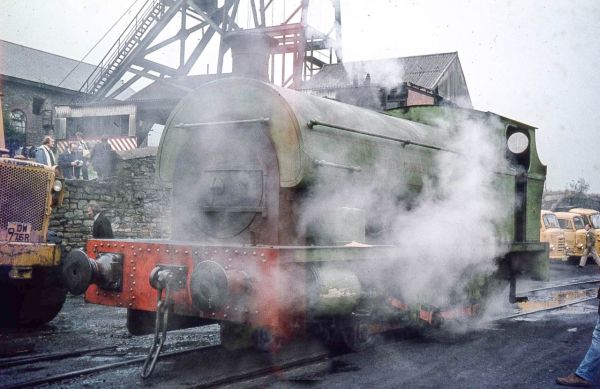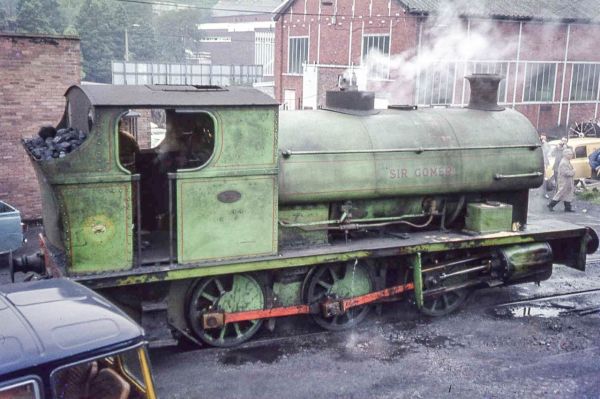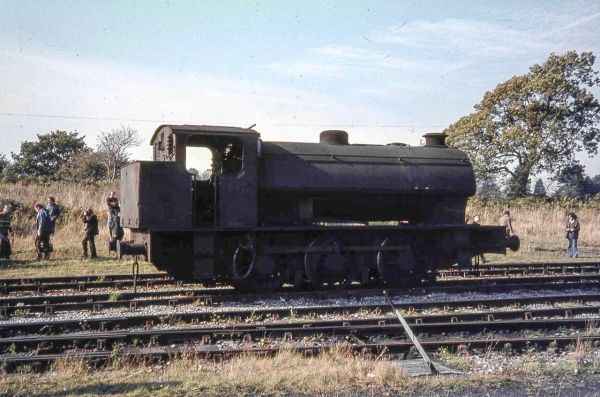 Many thanks Roger for these most interesting memories.

Stay Alert!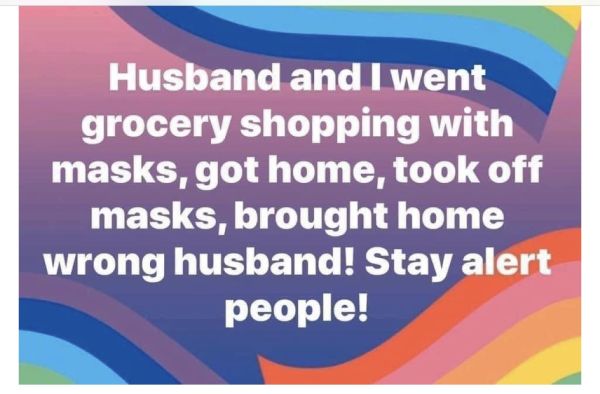 Thanks to Roger (the other one) for the above and for the below

The CIA had an opening for an assassin. After all the background checks, interviews and testing were done, there were three finalists: two men and a woman.

For the final test, the CIA agents took one of the men to a large metal door and handed him a gun.

"We must know that you will follow your instructions no matter what the circumstances. Inside the room you will find your wife sitting in a chair. Kill her."

The man said "You can't be serious. I could never shoot my wife".

The agent said, "Then you are not the right man for this job. Take your wife and go home".

The second man was given the same instructions. He took the gun and went into the room. All was quiet for about five minutes. The man came out with tears in his eyes, "I tried, but I can't kill my wife."

The agent said, "You don't have what it takes, so take your wife and go home "

Finally, it was the woman's turn. She was given the same instructions to kill her husband. She took the gun and went into the room. Shots were heard one after another. They heard screaming, crashing, and banging on the walls. After a few minutes, all was quiet. The door opened slowly and there stood the woman, wiping sweat from her brow.

"The gun was loaded with blanks" she said. "I had to kill him with the chair."

From Brian - many thanks An interesting photo from the late Ray Baker collection, it is not in the best condition but has been improved with Photoshop tweaks, it is after all over 100 years old and dating from the time of the end of the Boer War when the troops returned to Southampton.

General Redvers Buller was well regarded by his soldiers but had disagreements with the establishment.

The photo is is a 'Cabinet View' sized one measuring 8" x 6" . It shows the Nine Elms built T9 No.120 decorated with evergreens and flags, a picture of General Sir Redvers Buller is on the smokebox door with the Buller coat of arms above the smokebox door. On the buffer beam is a disc with the initials RB over the right buffer, then centre a heraldic device of a castle and three towers, and over the left buffer beam a special train disc.

This may have been the locomotive for the special train taking General Buller from Salisbury to his home town Crediton in 1900. The South Western Cicle monograph No. 9 page 141 shows a photo of a similarly decorated T9 whose number cannot be read. The only difference is that there are no evergreens around the special train disc.

Does anyone know the identity of the two men posing by the engine?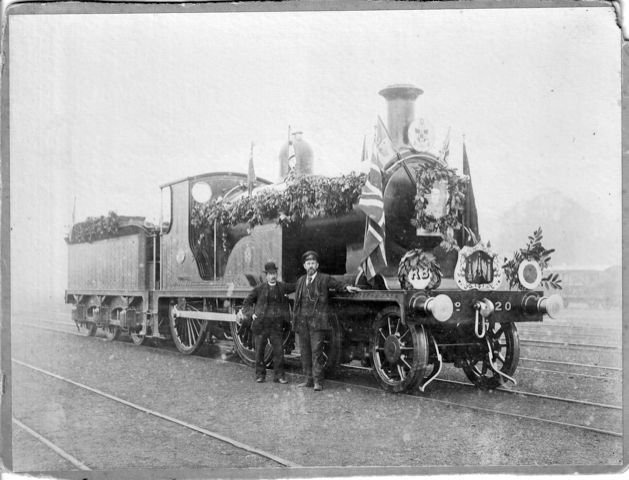 (The Wikipedia page is HERE )

Today's thoughts

I have kleptomania, but when it gets bad, I take something for it.

- Robert Benchley

The weather person is the only person that I know, that can be wrong 99.9 % of the time and still have a job the next day.

-Johnny Carson


---
15 May 2020

MEMORIES OF STEAM IN VALLEYS (Part 4) by Roger Marsh - see commentary 12 May 2020 Final part tomorrow.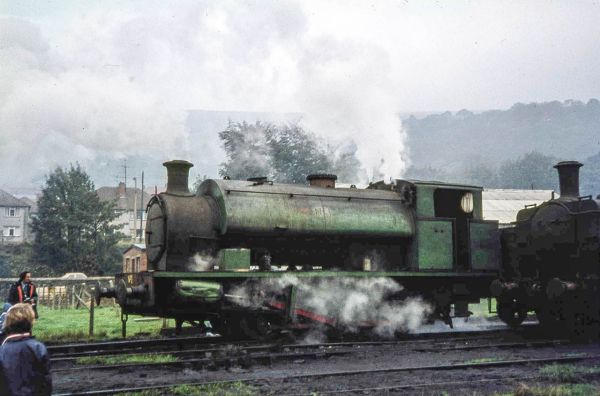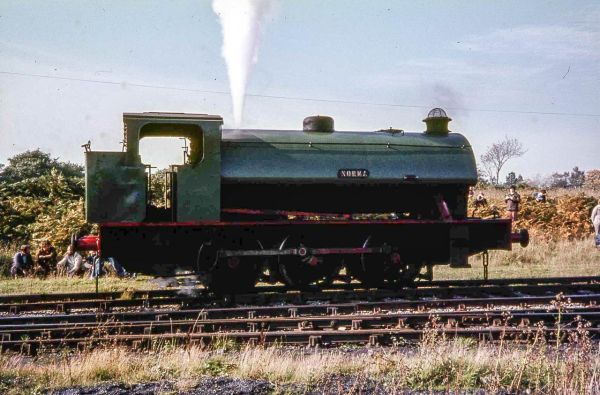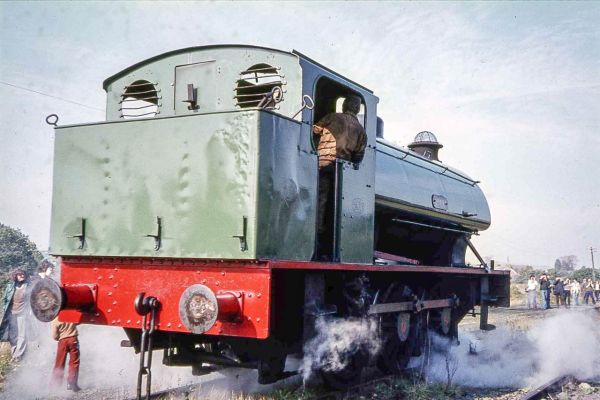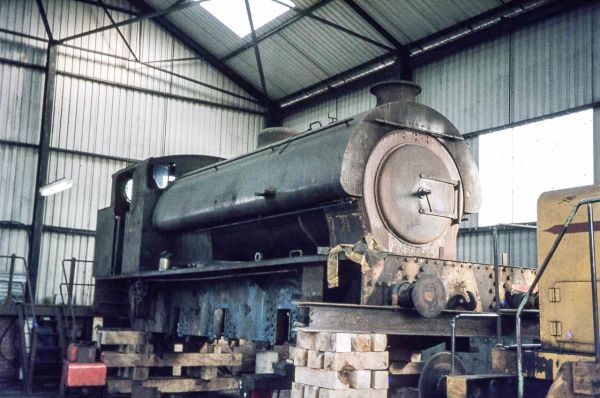 The Chase For those who watch that quiz programme an interesting exchange between a contestant and Chaser Anne Hegerty CLICK HERE

Derek sends in this quote from Rail magazine 'picked up the latest copy of Rail magazine yesterday and found this rather sobering statement on page 18. Quoting writer Andrew Roden he says, "To put HS2's carbon footprint in perspective, the estimated total carbon emissions from both building and operating Phase 1 for a full 120 years produces the same amount of carbon as just one month of the UK's road network!"

Hard to believe, or true? Who knows? Quite a statement though,don't you think?

More Tommy Cooper

I went to the butchers the other day and I bet him 50 quid that he couldn't reach the meat off the top shelf. He said,'No, the steaks are too high.'

'My friend drowned in a bowl of muesli. A strong currant pulled him in.'


---
14 May 2020
MEMORIES OF STEAM IN VALLEYS (Part 3) by Roger Marsh - see commentary 12 May 2020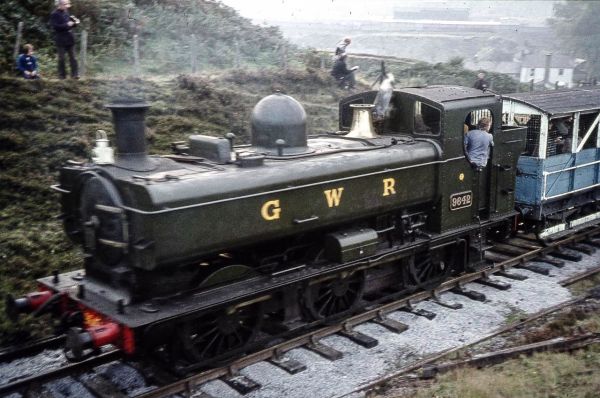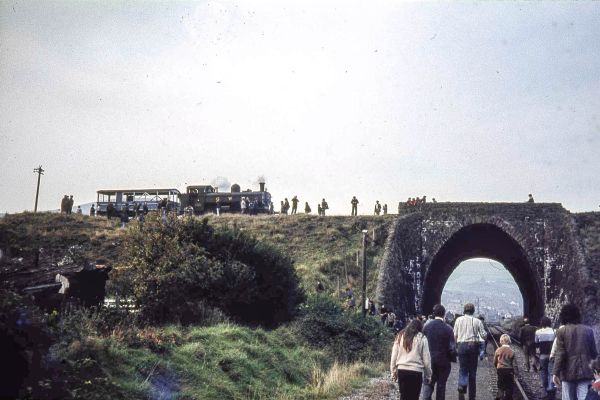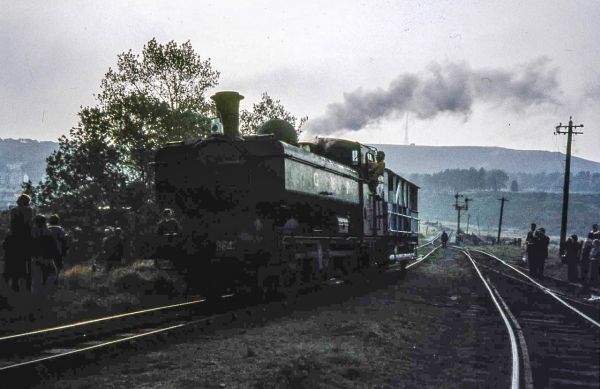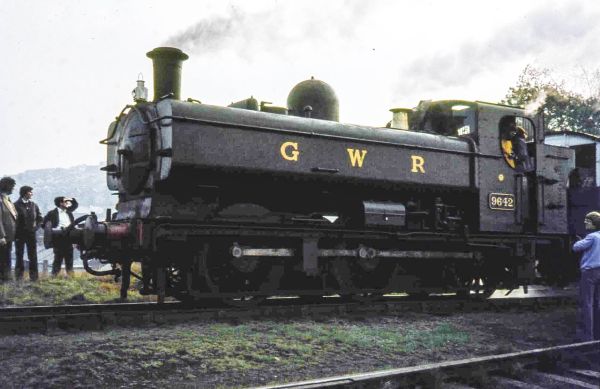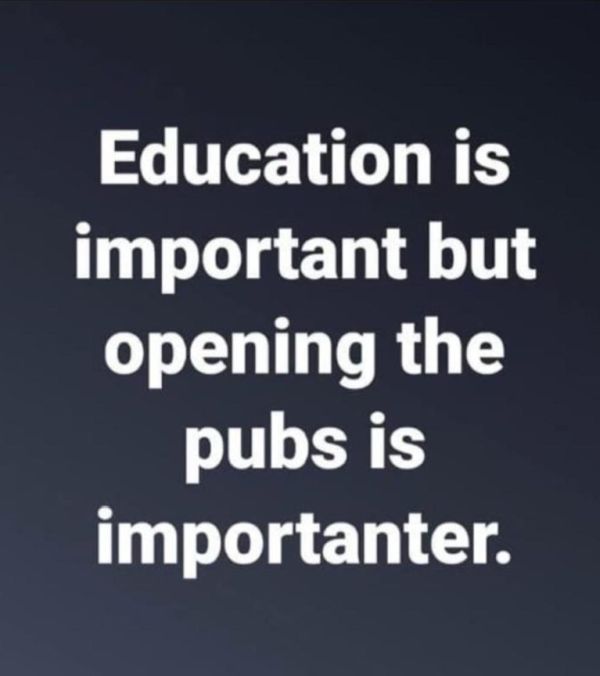 Evercreech Junction to Burnham on Sea and Highbridge 'The Branch'

Please CLICK HERE

Today's thoughts

The first piece of luggage on the carousel never belongs to anyone.

-George Roberts

If God had intended us to fly he would have made it easier to get to the airport.

- Jonathan Winter


---
13 May 2020
MEMORIES OF STEAM IN VALLEYS (Part 2) by Roger Marsh - see commentary 12 May 2020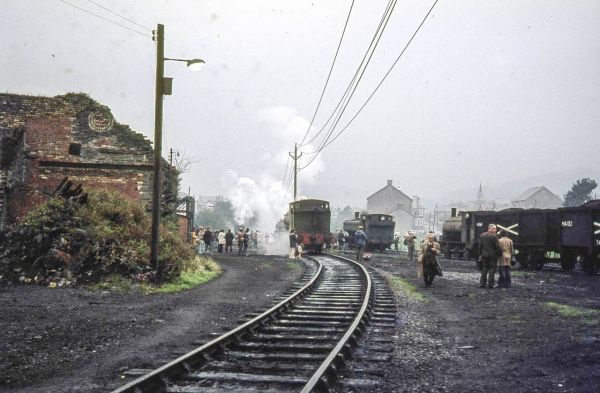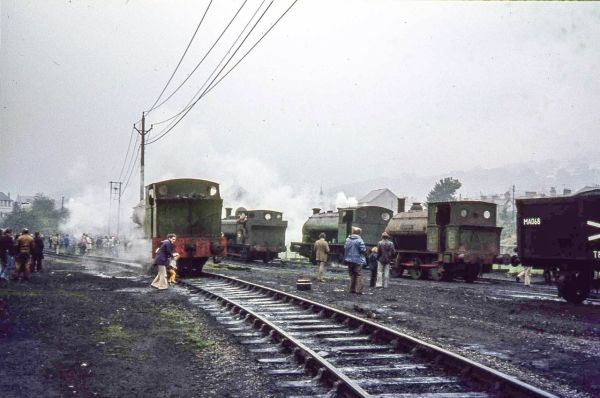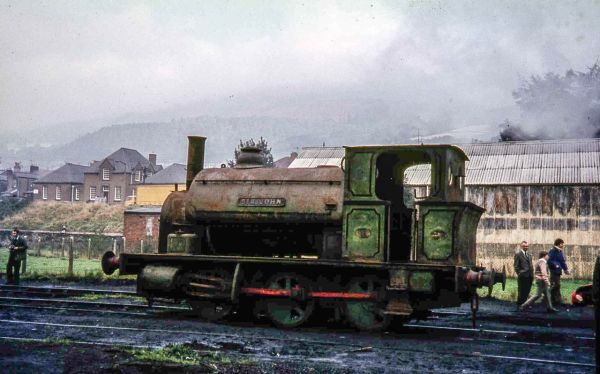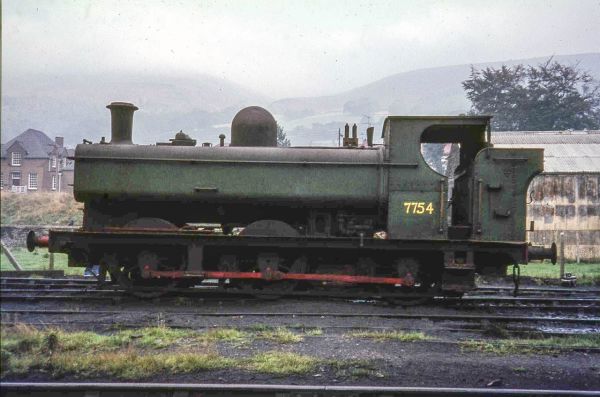 Bottle of Gin


Templecombe to Bath Green Park in 1963

35028 is at Templecombe Upper whilst there is a glimpse of Templecombe Motive Power Depot, Wincanton and much more in this 7 minute You Tube memory

CLICK HERE

Today's thoughts

Home cooking. Where many a man thinks his wife is.

- Jimmy Durante

America is so advanced that even the chairs are electric.

- Doug Hamwell


---
12 May 2020

CLICK HERE to go to our normal Index and other pages.

Deltic D9016 'Gordon Highlander' and Peckett 'Pectin' Bob has sent in a 'blast from the past'. He says: 'I went to Yeovil Junction to film the departure of the A4 on 15th Oct 2003 afterwards I was told that 'Pectin' was going to push the Deltic back into the shed. It was getting up a well big head of steam but for a little engine it did it easy'.


Why....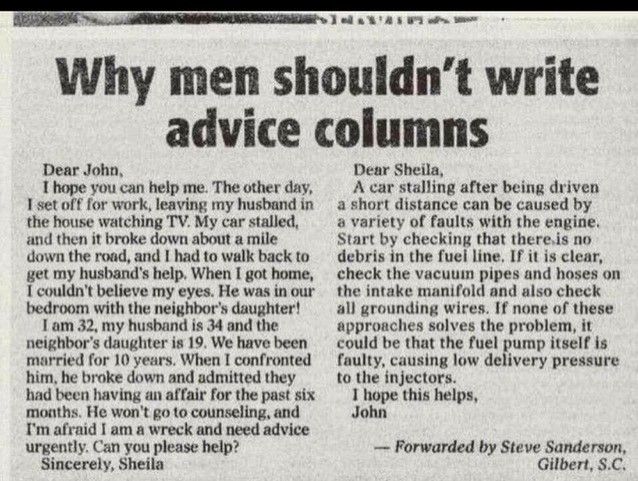 MEMORIES OF STEAM IN VALLEYS by Roger Marsh

Almost a decade after British Railways steam disappeared from the main line metals it was still working in the NCB collieries of South Wales.

The Monmouthshire Railway Society was renowned for their trips by DMU up the valleys of South Wales to view working steam before it also disappeared. On Saturday the 15th.October 1977 I took the opportunity to join one of their trips from Newport to visit Mountain Ash, Maesteg and Craig Merthyr (Pontarddulais) Collieries.

The DMU departed from Newport at 09.15 making its first call all Cardiff at 09.31. We then travelled to Mountain Ash Colliery via Radyr Quarry Junction. At Mountain Ash we spent a couple of hours photographing a rather dilapidated variety of locomotives including an Andrew Barclay, Hudswell Clarke and an Avonside. The GWR still live on though in the form of Pannier Tank No.7754, a locomotive subsequently preserved and now can be seen on the Llangollen Railway.

We were treated to a display of energetic shunting of empty mineral wagons by Andrew Barclay Works No 2074 Llantarnam Abbey 0-6-0ST and Hudswell Clarke Works No.1885 0-6-0ST NCB No.1 over some very rickety trackwork.

We rejoined the DMU and made our way back down the valley from Mountain to Cardiff. A trip along the main line was then made out beyond Bridgend to the Craig Merthyr Colliery at Pontarddulais. A special arrangement was made at this colliery to have Hunslet Austerity 0-6-0ST No. 3770 'Norma' in steam. Two other 0-6-0ST locomotives were also at the colliery, W G Bagnall Works No 2758 0-6-0ST on display outside and partly dismantled Hunslet Works No. 3844 0-6-0ST inside the workshop.

After a short time we again rejoined our DMU to return via Bridgend to make a final trip up the valley to the colliery at Maesteg. Again a special effort was made in that Ex.GWR Pannier Tank No.9642 was in steam to provide brake van rides. Interestingly the locomotive was previously shedded at both Weymouth and Bridport between 1948 and 1956.

Finally a return trip was made via Bridgend and Cardiff arriving back at Newport at 5.42 pm and all for the princely sum of £4.25.

There are 19 photographs in total, the remainder will follow over the coming days. We really appreciate the great photographs and informative commentary which Roger has kindly provided!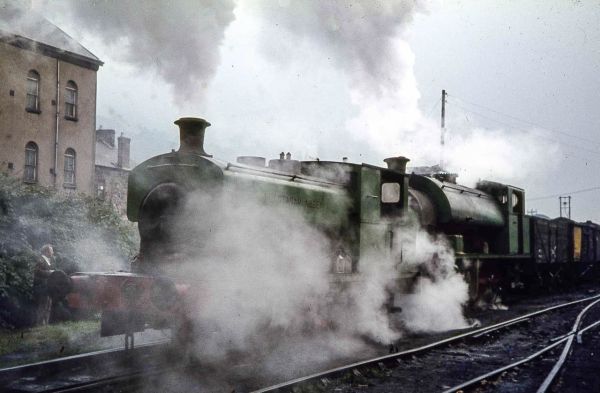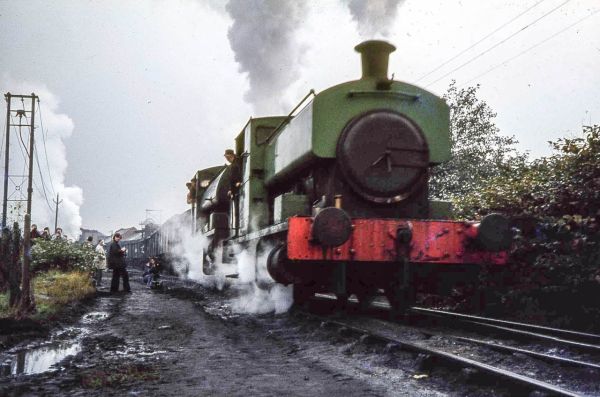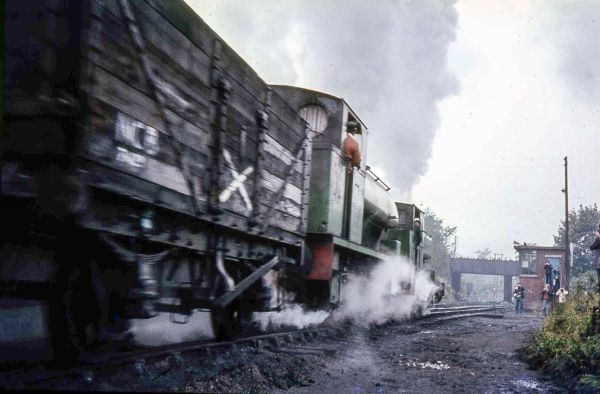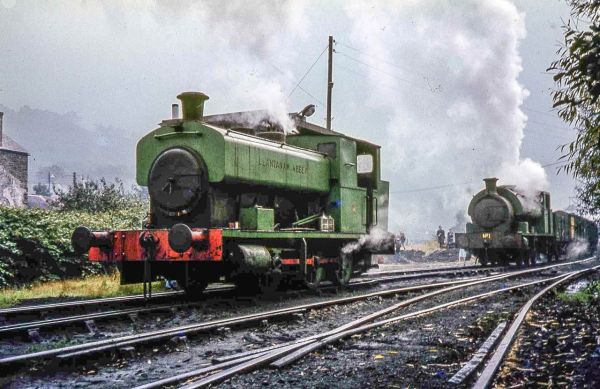 Some more Tommy Cooper

A guy walks into the psychiatrist wearing only Clingfilm for shorts. The shrink says, 'Well, I can clearly see you're nuts.'

I went to buy some camouflage trousers the other day but I couldn't find any.


---
11 May 2020

Green Arrow Completing the set of photos provided by Rog of the visit by 'Green Arrow' on 7 August 1999 we see the engine at Platform 4 (with our Water Tower under construction) and a view of the engine enroute back to Weymouth at Thornford.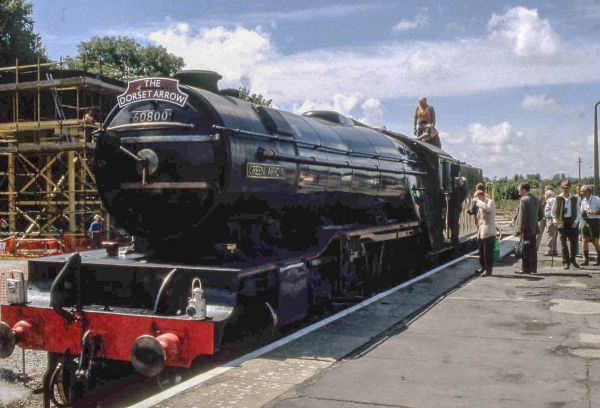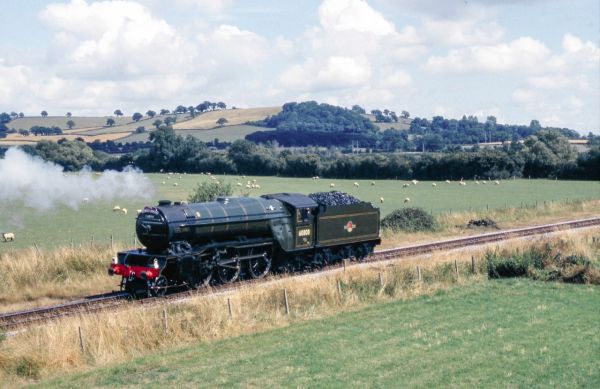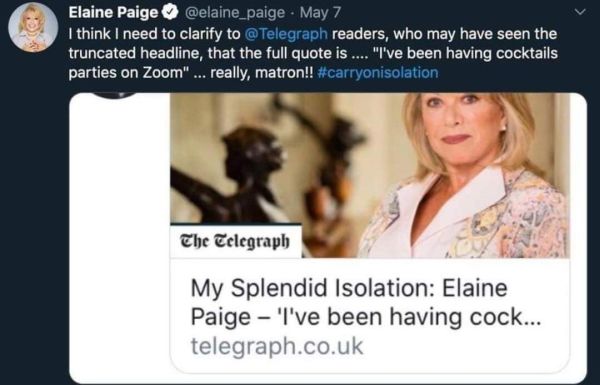 Templecombe Upper, Motive Power Depot and a journey to Bath Please CLICK HERE

Today's thoughts

If life were fair Elvis would still be alive today and all the impersonators would be dead.

- Johnny Carson

Hollywood must be the only place on earth where you can be fired by a man wearing a Hawaiian shirt and a baseball cap.

- Steve Martin


---
10 May 2020

S15 Class 828

An interesting video has appeared on You Tube. First section is a run on 26 September 1993 with 'West Country' 34027 'Taw Valley' from Salisbury to Yeovil Junction. This is just prior to Yeovil Railway Centre being established. Interesting to note the lack of the upside car park and also seen is a brief glimpse of the large Coal Concentration depot, situated where the Permanent Way depot is now sited.

A second section (starting at around 26.50) has scenes at Castle Cary and Trent when 828 was in use on Yeovil-Castle Cary shuttles during our second Railway Festival. 828 also appeared during our first Railway Festival held in 1994.

CLICK HERE .

We already have a photo of the run from Salisbury (courtesy Roger Marsh)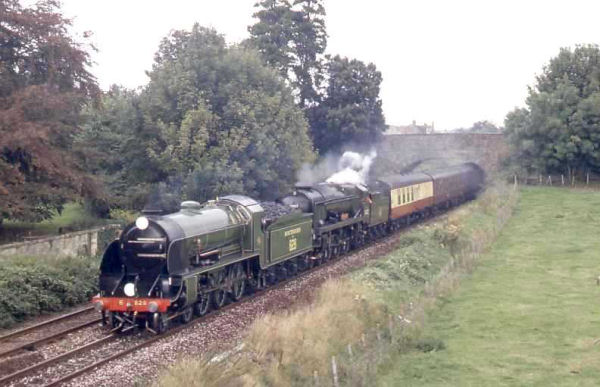 Today's thoughts

Having more money doesn't make you happier.

I have 50 million dollars but I'm just as happy as when I had 48 million.

- Arnold Schwarzenegger.

We are here on earth to do good unto others. What the others are here for, I have no idea.

- W. H. Auden


---
9 May 2020

Bubble Car - again! On 6 May, the SWT Bubble Car was featured at Bruton. Here is a short video of the unit there (courtesy Bob).




Tommy Cooper anyone?

1. Two blondes walk into a building..........you'd think at least one of them would have seen it.

2. Phone answering machine message - '...If you want to buy marijuana, press the hash key..'

Last Days of the Lyme Regis branch - two You Tube videos with Ivatt tanks.

HERE and HERE

Today's thoughts

Lawyers believe a man is innocent until proven broke.

- Robin Hall

Kill one man and you're a murderer, kill a million and you're a conqueror.

- Jean Rostand.
---
8 May 2020

Churchill's victory speech and Red Arrows flypast - VE Day 75 - BBC CLICK HERE

Green Arrow - continued See commentary yesterday. Now we see the coaling operation, then using a conveyor and individual coal bags. Now of course it's bulk and loaded via an elevator at Yeovil.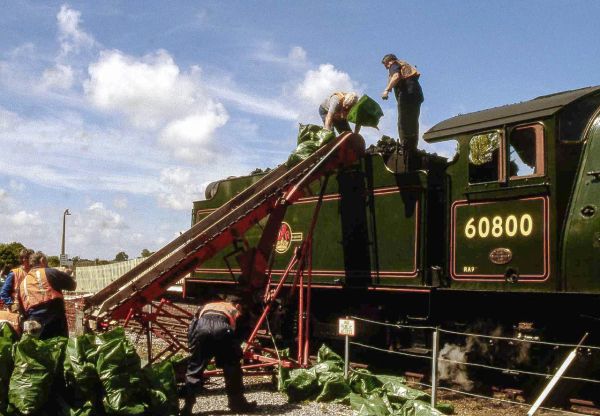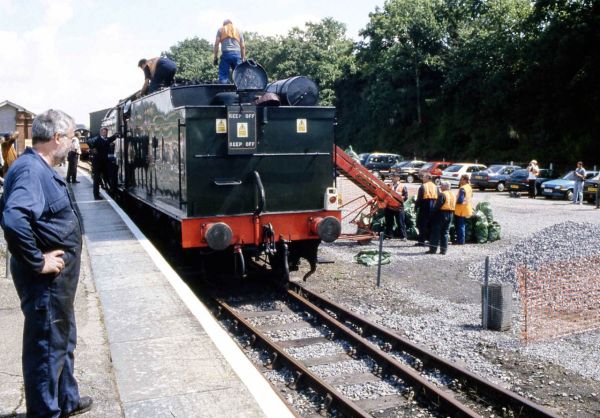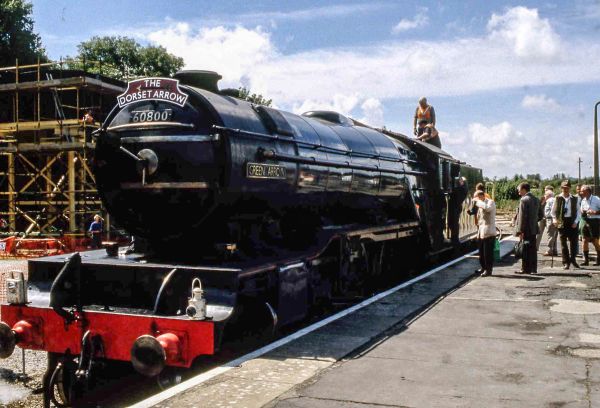 Today's thoughts

Wood burns faster when you have to cut and chop it yourself.

- Harrison Ford

The best cure for sea sickness, is to sit under a tree.

- Spike Milligan


---
7 May 2020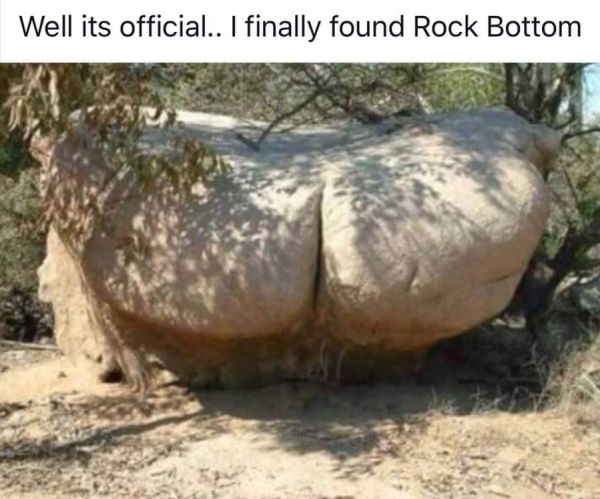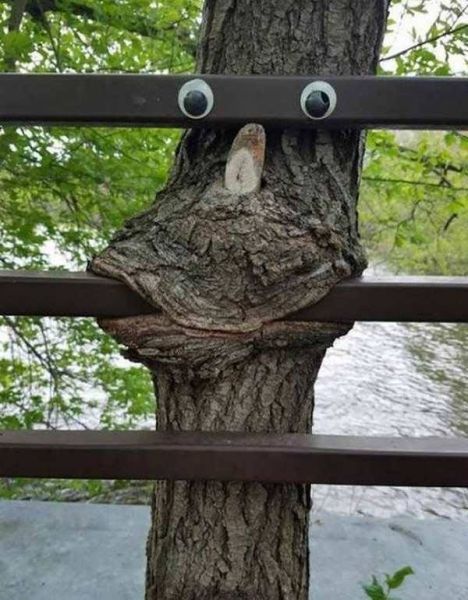 Yorkshire Airlines


60800 'Green Arrow' Rog remembers: "On the 7th.August 1999 LNER Class V2 No.60800 'Green Arrow' hauled the 'Dorset Arrow' rail tour from Paddington to Weymouth. The locomotive came off at Yeovil Pen Mill and the train continued on to Weymouth diesel hauled.

The attached photographs show the train at Trent on the outward journey, the locomotive being services at the Yeovil Railway Centre and finally the light engine move to Weymouth taken at Thornford. There may be some familiar faces in some of the photographs".

More photos of this visit tomorrow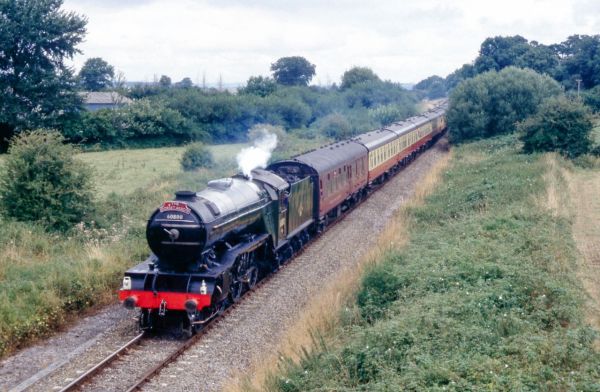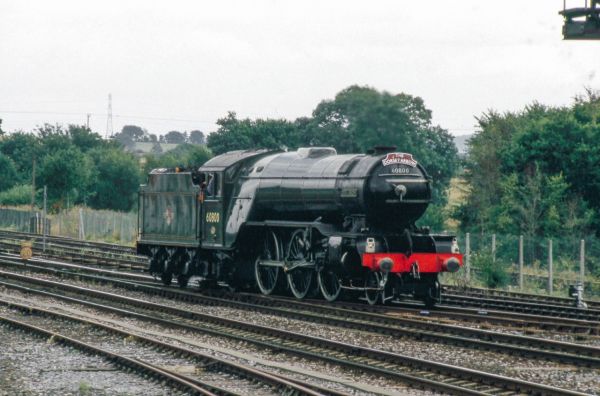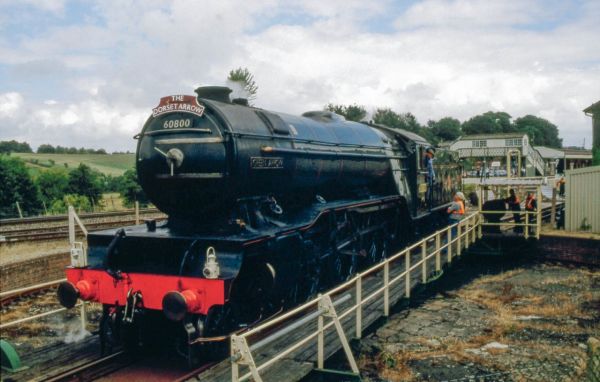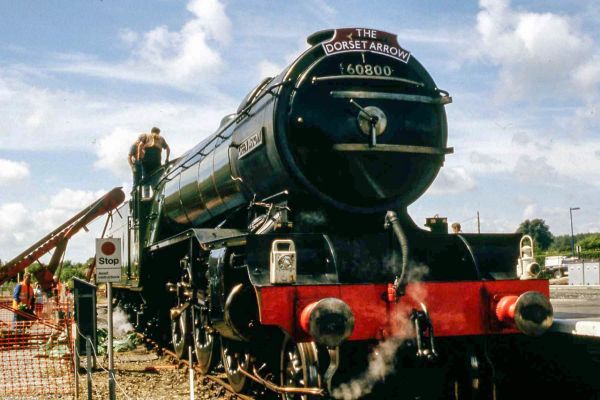 Today's thoughts

I've been married to a communist and a fascist, and neither would take out the garbage.

- Zsa Zsa Gabor

When a man opens a car door for his wife, it's either a new car or a new wife.

- Prince Philip


---
6 May 2020

Our Appeals If you are able to contribute either to our Toilet Block Appeal or our General Funds please see the links above! Any help will be greatly appreciated!

Bring Back BR - All is Forgiven....... CLICK HERE

Find the 8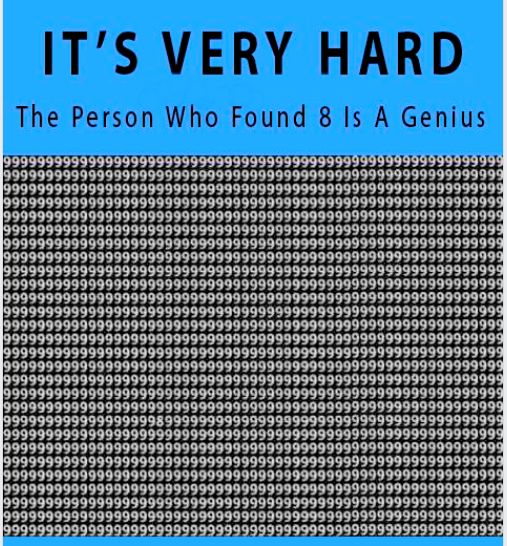 Bob relates: "On Thurs 12th April 2007. I went to Bruton in search of return engineer trains to Westbury, which did not show as usual!!

But the SWT Bubble car came whizzing up the hill.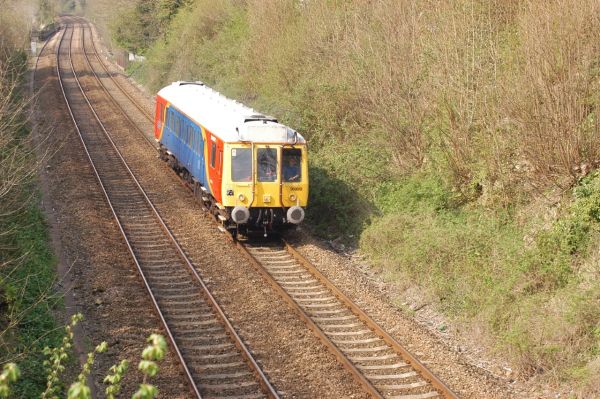 and here for good measure is the same unit at Yeovil Junction (en route to Exeter) on 26 February 2006.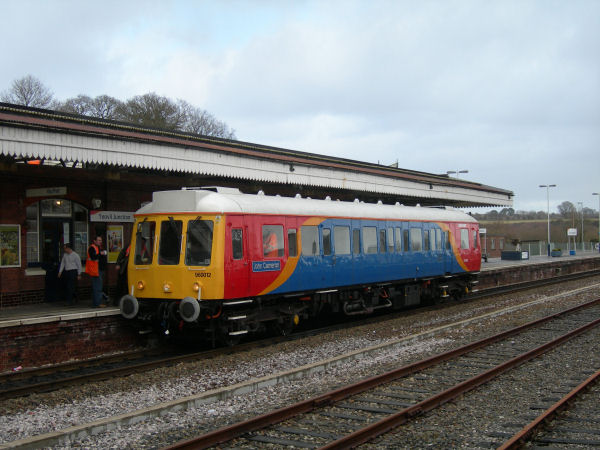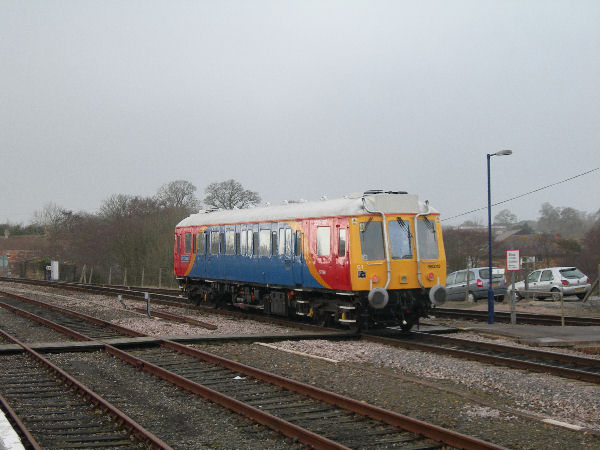 Ronald Reagan


Today's thoughts

After the game, the King and the Pawn go into the same box.

- Italian proverb

The only reason they say 'Women and children first' is to test the strength of the lifeboats

- Jean Kerr


---
5 May 2020

6024 King Edward I Rog says: "Hopefully you can open this video of 6024 at Taunton on our final run on March the 17th 2012. I was on the footplate as the owners rep and we were running just short of our max permitted speed of 75mph. I was on the engine from Exeter to Bristol and it was one of the most enjoyable runs I have had on the engine., this ended a run of 37 rail tours with no major issues." View this thrilling scene with whistle in action HERE

Funny video from Rog




More photos of Snowdown in 1993. See commentary yesterday Thanks the other Rog.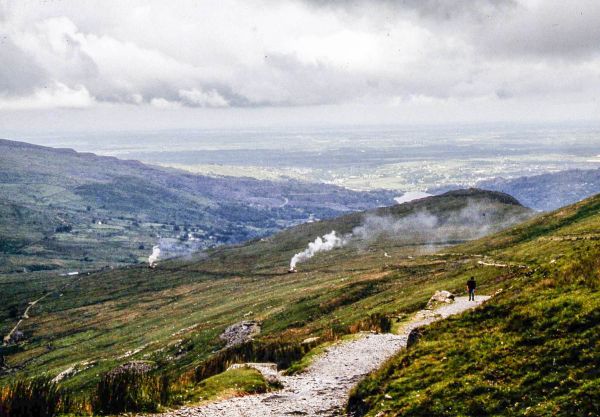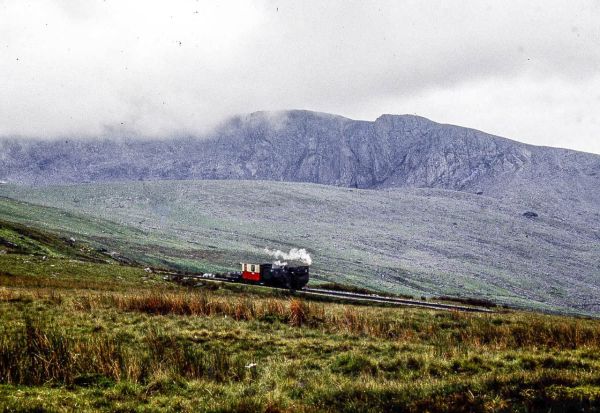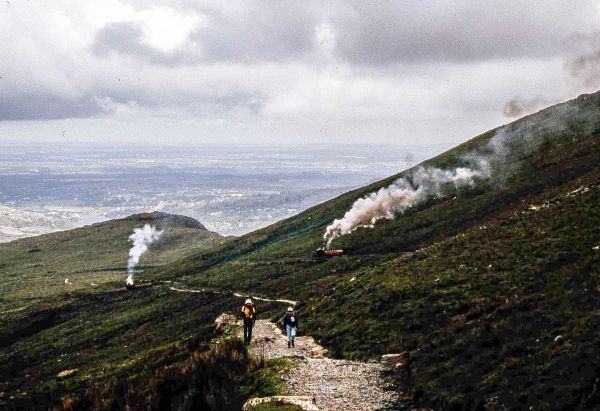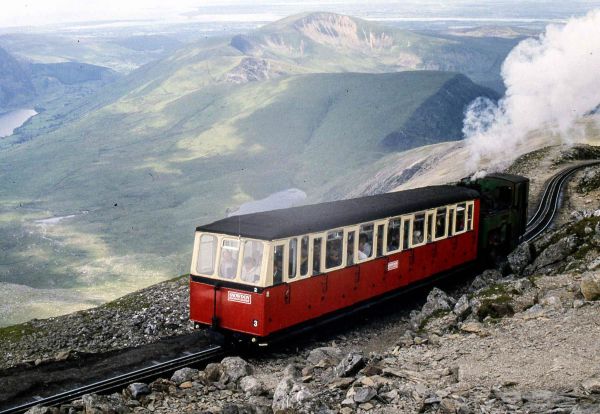 Today's thoughts

America is the only country where a significant proportion of the population believes that professional wrestling is real but the moon landing was faked.

- David Letterman

I'm not a paranoid, deranged millionaire. I'm a billionaire.

- Howard Hughes


---
4 May 2020

Fox Thanks Bob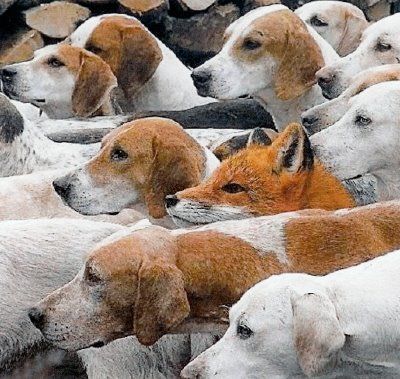 Another beast! Thanks Rog

Whether or not you own a dog, you must appreciate the efforts of this owner trying to sell her dog.

Look at the picture of this lovable Chinese Mastiff and then read the sales pitch below.

Dog For Sale.

Excellent guard dog.

Owner cannot afford to feed Jethro any more, as there are no more drug pushers, thieves, murderers or molesters left in the neighbourhood for him to eat.

Most of them knew Jethro only by his Chinese street name,
Ho Lee Schitt.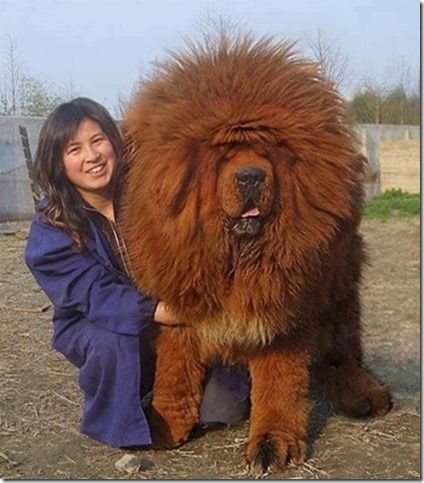 Snowdon - more photos tomorrow Rog remembers back when:

In 1993 my wife and I had the first of many holidays in North Wales. We were a lot younger and fitter then and we did quite a lot of walking.

On the first Thursday of our two-week holiday we thought that we would walk up Mount Snowdon. Being unfamiliar with the area we were not sure which of the several routes to take to reach the top of the mountain. In the end we decided to walk the Rhyd Ddu Path which started from the now site of the station on the Welsh Highland Railway.

We set off in sunshine but before reaching the top the cloud descended, however we pressed on. After walking precariously along a ridge back we finally reached the top. The sun broke through the clouds for 30 seconds and that was it.

We then walked part way down until we got below the cloud level where we sat under a wall and ate our lunch. We then retraced our steps back to the car park.

Not to be outdone, the following Tuesday we decided to walk to the top again. This time we walked the path from Llanberis, which for most of its way followed the railway track.

Now here was an opportunity for a bit of railway photography. Luckily this time the cloud level was high and we managed to reach the top in partial sunshine. Now many of you may have been to the top of Snowdon?

I expect most have travelled there on the train. I suspect that some 27 years later I would also be using that way to the top now!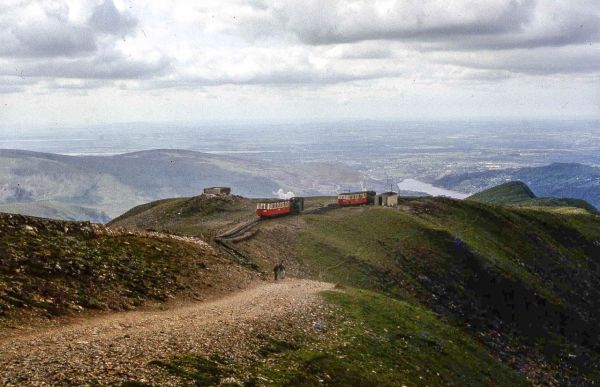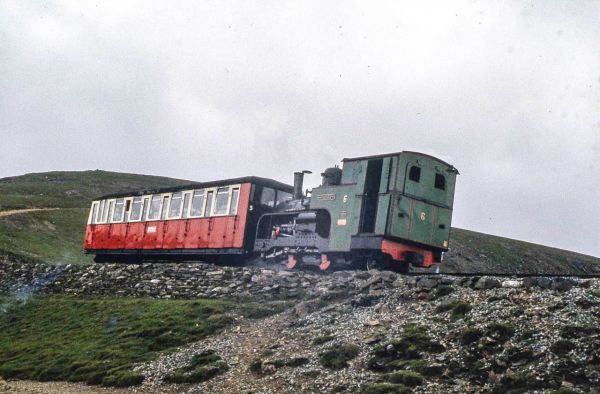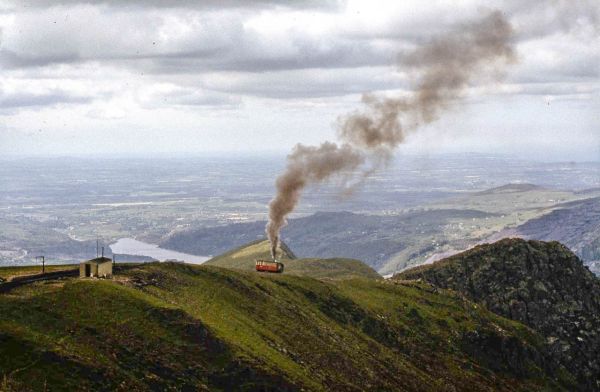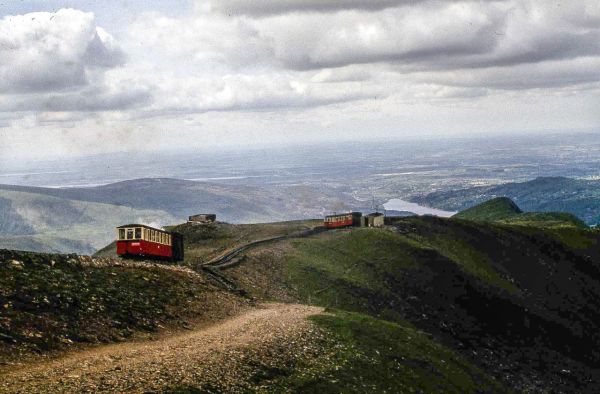 Today's thoughts

As I sat, strapped in my seat waiting during the countdown, one thought kept crossing my mind... every part of this rocket was supplied by the lowest bidder.

-John Glenn

When the white missionaries came to Africa they had the Bible and we had the land. They said 'Let us pray.' We closed our eyes.

When we opened them we had the Bible and they had the land.

- Desmond Tutu


---
3 May 2020

A visit to Yeovil Junction (pre-Centre days) in 1988 as photographed by Roger.

In October 1988 80080 visited.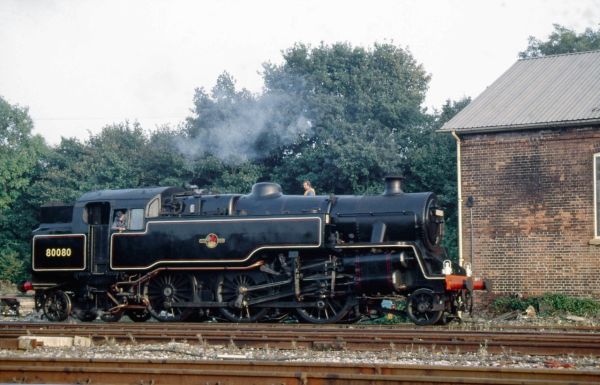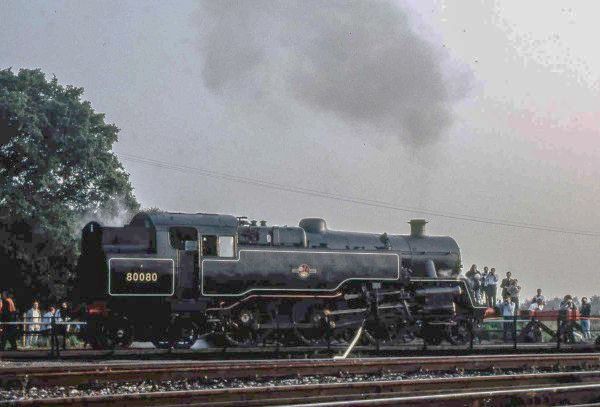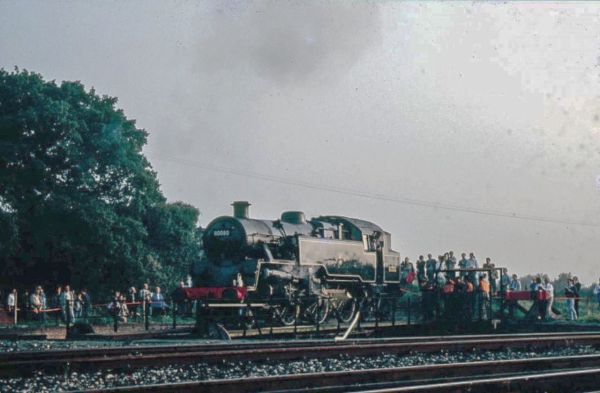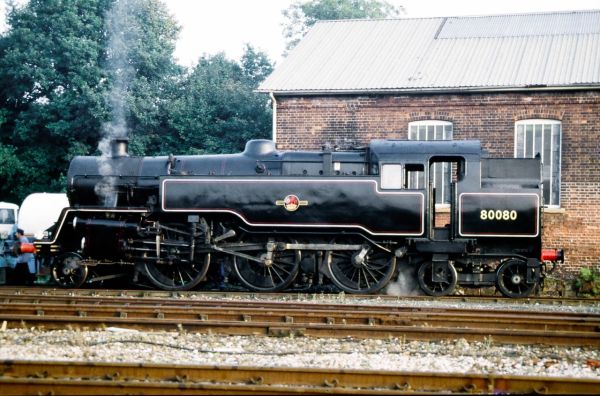 Today's funny - a Doritos advert courtesy (the other) Rog




TransportXtra has masses of news and information on all forms of Transport. CLICK HERE

Colouring page for copy and print featuring our logo.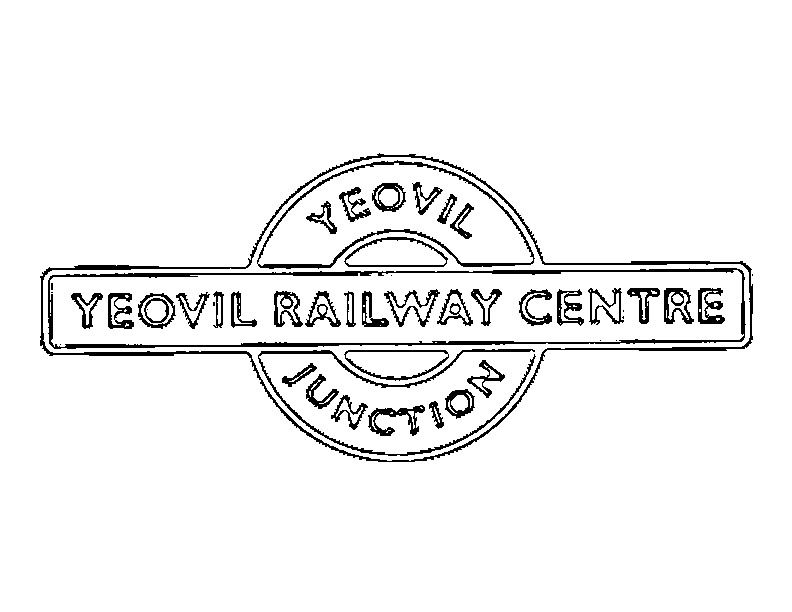 ---
2 May 2020

A Sad Railway Enthusiast Eric has sent this in CLICK HERE

Adrian has a tolerant wife!

Another Rog (not the original) funny



Plymouth, Dartmoor and Looe in 1954. Lots of vintage transport including the GWR Princetown Line HERE . BBC Spotlight recreated the journey in 2018 and this is the FIRST PART and HERE is the part relating to GWR line over Dartmoor and the final part is HERE Finally for good measure is a photo of Ingra Tor Halt (site) on 12 October 2016.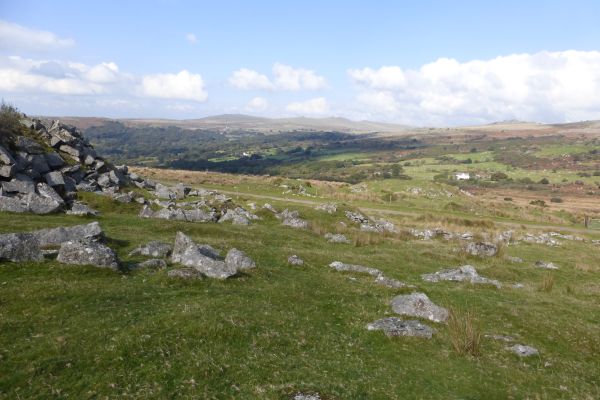 ---
1 May 2020

Don't get stuck on a level crossing - quite shocking. Truck driver in Porsgrunn, Norway causes chaos this morning. Fortunately no injuries. Trailer with boat became stuck on a level crossing, it's hit by, and derails a train. 2 people video the collision
CLICK HERE (apologies for adverts)

Excess Sanitiser! Thanks Roger!




Weymouth Quay Did you know a Parry People Mover have a brief trial on the Quay Line?

CLICK HERE

Whilst in that area here are two You Tube videos of the last passenger train from Weymouth to Easton.
HERE and HERE

Show Off!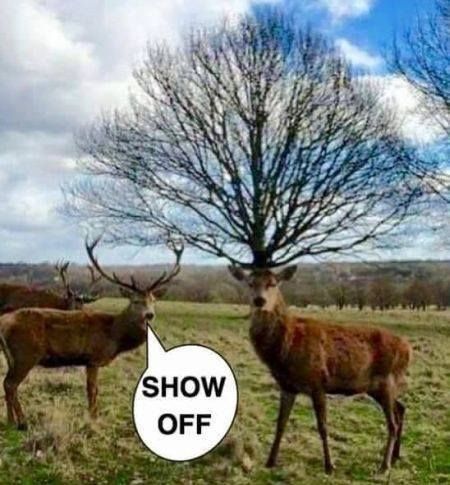 ---

30 April 2020 Just a reminder, please, to keep those contributions coming. There has been a great response so far. Thank you!

Virtual Model Railway Show Over on Facebook, Andy has been busy compiling some video of Model Railways in lieu of our, sadly cancelled, actual 2020 show. Have a look HERE

Peter has been busy! "attached is a photo for your collection of my lock down activity. A South Chord!! I have built one along with a narrow gauge Fowler. 45mm G / 16mm scale. It is still a 0-4-0 like Sam. It is so small that the final drive looks like a wheel."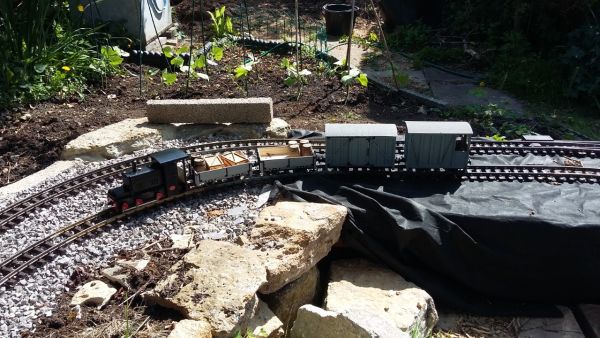 Doing your daily exercises? You will be able to do this with just a little practice.
Bend and Stretch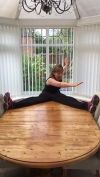 Careful as you go!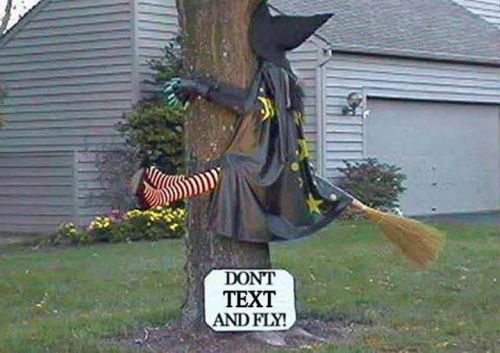 Toilet Roll Challenge Anyone up for this? CLICK HERE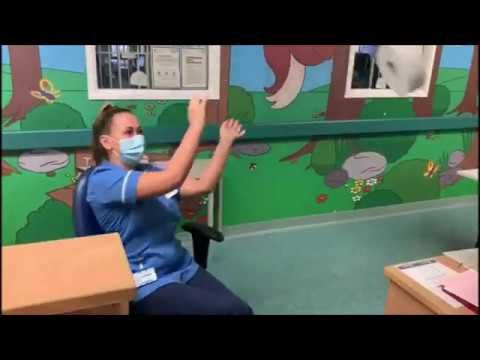 If there are willing particiapnts these can be combined and the results shown. Send your video (small file only please) to yeovilrailway@hotmail.com

On 15 April this was asked. Where in the world is this? stews.issued.shaky Some of you may already know how to find the answer but for those who don't all will be revealed in a few days!

Now is the time to say where this is! - Of course its Yeovil Railway Centre - where else!

what3words is a really simple way to talk about location. "We have assigned each 3m square in the world a unique 3 word address that will never change."

Read more about this HERE We all know about Postcodes etc but in some places a Postcode may cover a large area whilst what3words divides the world into 3m squares and is increasingly used by emergency services to locate a precise location.

Try: stews.issued.shaky - and check the result! Try your own property in the Search Box and see what 3 words come up for you! Apologies - there was an error in the original question which is now corrected!


---
29 April 2020 The World of Nature through webcams You can lose hours looking through the webcams hosted by Explore.Org On occasions a live stream from the Space Station is carried.

NASA live stream is HERE

Colouring picture for today is (on the turntable) from Right to Left - Ruston shunter, Yeovil Gas Works wagon and Gunpowder Van.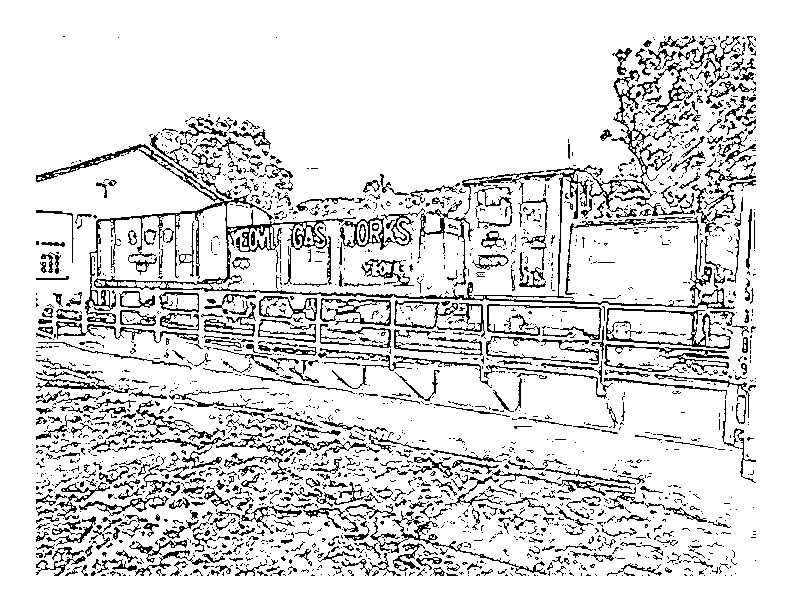 Cerne Giant Has been in the news recently:
2020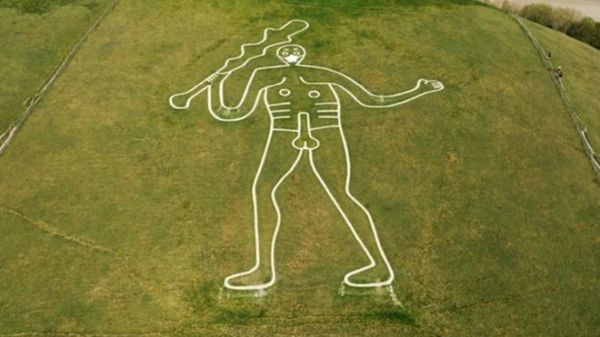 2019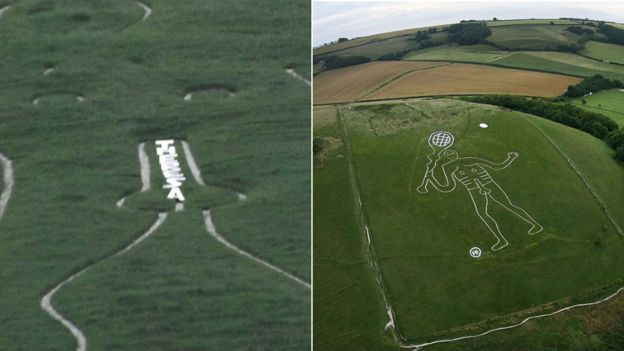 (both from BBC website)

Bob Tucker writes:

Cerne Abbas Giant July 2007

A figure of Homer Simpson had been painted next to the Cerne Abbas giant in Dorset.

The figure, representing Homer in his Y-fronts holding up a doughnut, is standing to the left of the chalk giant. The cartoon character was drawn on the hill slope to promote the new Simpsons film, which will be released later that month. He was painted with water-based biodegradable paint that will wash away when it rains.

Its amazing they got permission to do something so ridiculous. Being an area of scientific interest.

The giant has previously been used to promote products such as jeans and bicycles. He receives a full rechalking every 25 years.

2007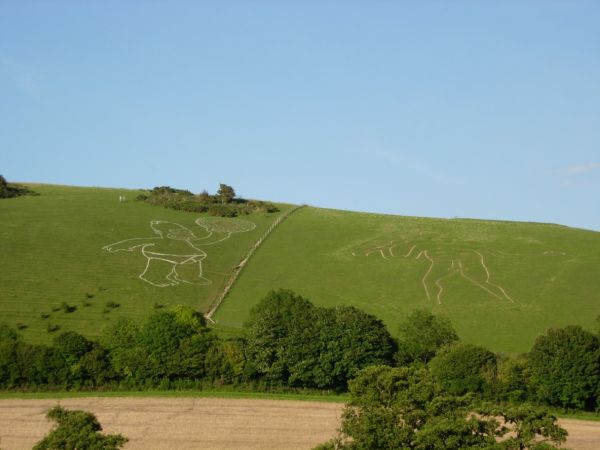 Sound of Music right music but words reworked for today - very clever!

CLICK HERE


---
28 April 2020

1898 - Barnstaple to Ilfracombe HERE (Note there is a 15 second gap around 3.17 but does resume) Posted by South West Film & Television Archive who also hold archives of Westward TV 1961-1981, TSW 1982-1992 and BBC South West 1961 - present. Established in 1993 by TSW.

Gus Honeybun Those of you who used to get those ITV channels will probably remember the rabbit! Here is an episode of him with Judi Spiers. With Gus the announcer would read out a birthday card and the puppet would give a jump, known as bunny hops, for each year of the child's life. Alternatives to bunny hops were ear waggles, head stands, winks and later "putting out the lights" and a colour distorting "magic button".

Gus appeared with virtually every Westward/TSW presenter, including the late Ian Stirling, Fern Britton, Judi Spiers, David Fitzgerald, Ruth Langsford & Sally Meen.

My Wife Won't Like This:

While riding my Harley, I swerved to avoid hitting a deer, lost control and landed in a ditch, severely banging my head.

Dazed and confused I crawled out of the ditch to the edge of the road when a shiny new convertible pulled up with a very beautiful woman who asked, "Are you okay?"

As I looked up, I noticed she was wearing a low'cut blouse with cleavage to die for... "I'm okay I think," I replied as I pulled myself up to the side of the car to get a closer look.

She said, "Get in and I'll take you home, so I can clean and bandage that nasty scrape on your head." "That's nice of you," I answered, "but I don't think my wife will like me doing that!"

"Oh, come now, I'm a nurse," she insisted. "I need to see if you have any more scrapes and then treat them properly."

Well, she was really pretty and very persuasive. Being sort of shaken and weak, I agreed, but repeated, "I'm sure my wife won't like this."

We arrived at her place which was just few miles away and, after a couple of cold beers and the bandaging, I thanked her and said, "I feel a lot better, but I know my wife is going to be really upset so I'd better go now."

Don't be silly!" she said with a smile. "Stay for a while. She won't know anything. By the way, where is she?"

"Still in the ditch, I guess." Thanks Rog for that!

SERUG Salisbury to Exeter Rail Users Group do an excellent job in keeping the recent poor performance before the decision makers. Their Chairman, Bruce Duncan, wrote to Rail Magazine and here is a reply from the Wessex Route Director, Network Rail and SWR Interim Managing Director.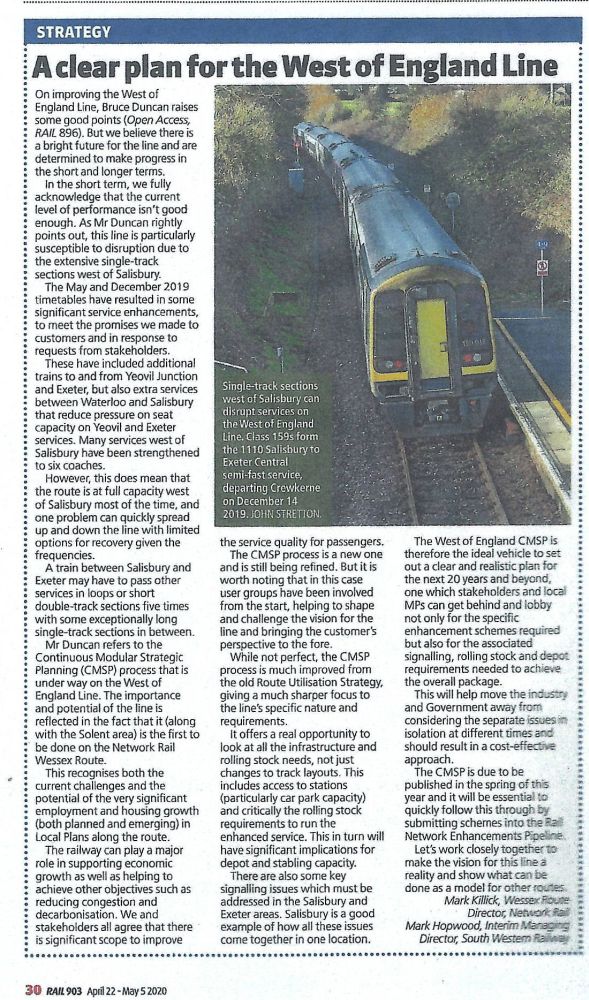 ---
27 April 2020

The innocence of youth! Des relates the following story: "As promised. My introduction to train spotting was by my father who was track ganger based at Cattistock. Then about 1954 he got a better paid job for United Dairies cheese factory. As he finished later and not coming home for dinner (as I expected) I went down Mill Lane to find him climbing through the fence. I sat on rail of the down line to wait.

Luck was on my side, his old work mates found me just before the stopping train to Weymouth passed through. Had I been 15 minutes earlier it was the Channel Island express. I can't remember it but have it being told to me many times."

Des also worked on the railway for some 4 years undertaking relief duties around the Yeovil area (up to Gillingham and down to Maiden Newton and Bridport branch either maintaining the signal lamps (not a favourite job especially the gantry at the Junction) or on other days dealing with the newspapers off the down early morning train from Waterloo.

Another page to copy, print and Colour This is Lord Fisher and the coach at our platform.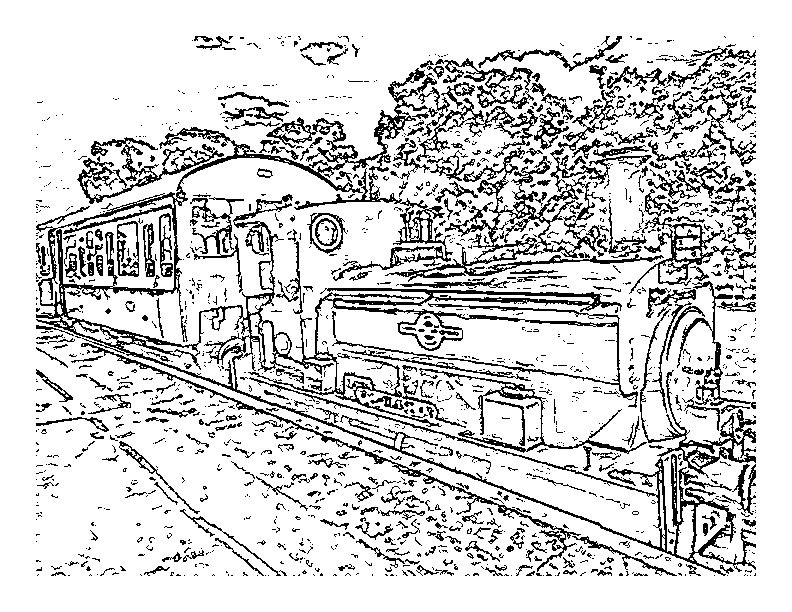 BBC Caption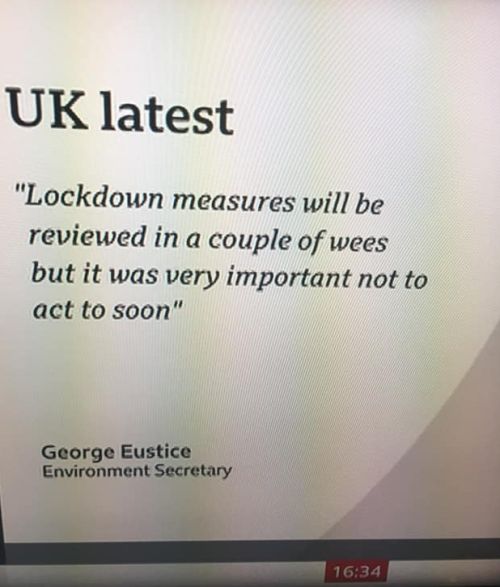 Another failure to plan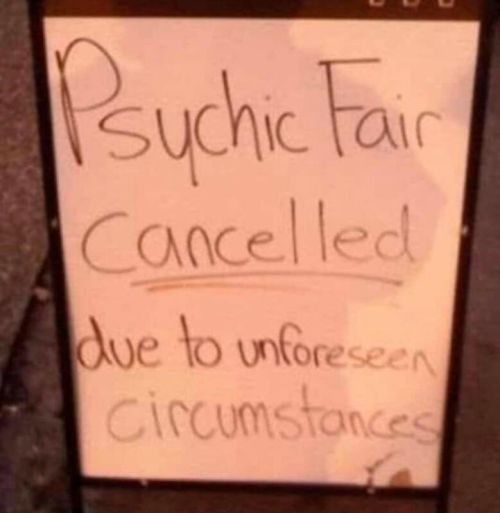 One for the GWR fans - 5028 'Llantilio Castle' A website dedicated to the only Castle class engine to be withdrawn directly as a result of an accident.

See the website HERE. If you would like to watch the You Tube video of 5028 Llantilio Castle crossing the Royal Albert Bridge with the Down Cornish Riviera Express Summer 1959 in a larger size the link is HERE. This is before the road bridge was built alongside and there are shots pictures of the old car ferries below as well as the single line token exchanges and signalbox scenes. Another You Tube video of the construction of the new Tamar Road bridge is HERE and also has railway scenes.


---
26 April 2020
Hot off the Axminster Press

Some logic here?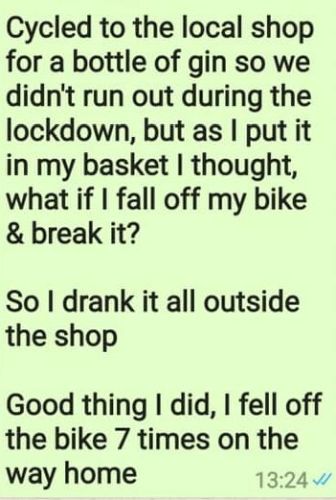 Blue Peter Roger has submitted some photos of 60532 'Blue Peter' at Dinting Railway Centre and Yeovil Railway Centre. He says "I have been scanning some of my railway slides and I came across several that I took at the Dinting Railway Centre when I went on 'The White Rose' railtour on the 31st.March 1979. Among the slides were some pictures of LNER 532 'Blue Peter' and it reminded me of the time when she was stabled at the Yeovil Railway Centre in July 2000. Attached are some photographs of both locations"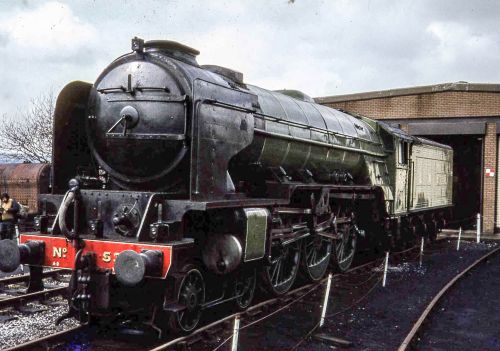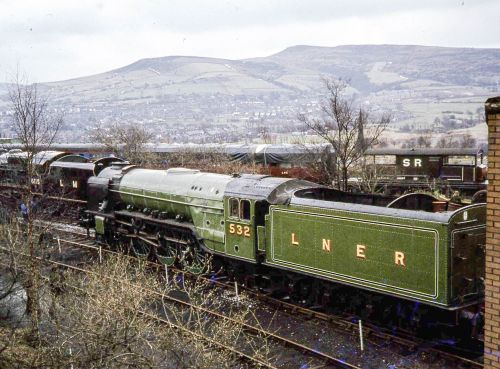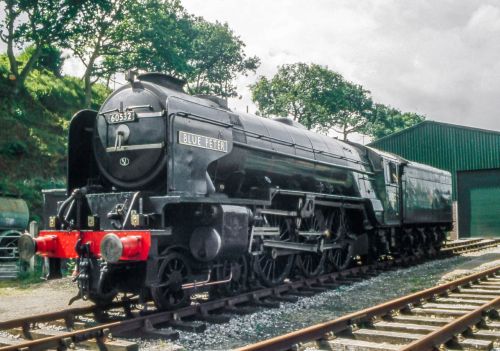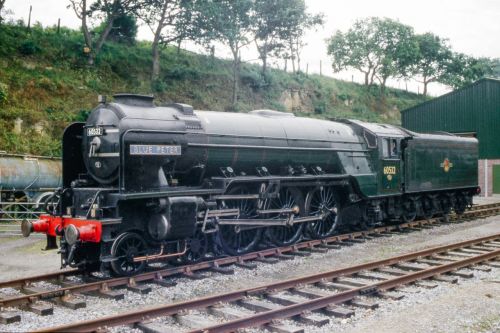 Worth noting that the second Shed road had yet to be laid, the old blue water bowser and the less amount of vegetation and trees on the cliff face.

As an aside Dinting Railway Centre (as a Heritage site) was open from 1968 to 1990 and housed many important locomotives. I believe the derelict shed is still there with a plan to build housing having being refused. Here is a You Tube video of a visit by 'Lion'

Talking of closed sites here is a long You Tube video of Pectin and King George V at a Bulmers Cider open day. And here is another. Both feature Pectin and the Toad brakevan, which now reside at Yeovil Railway Centre. Seems both spent as much time going backwards as they still do at Yeovil! If anyone spots our Roger let me know!

More Breaking news, this time from Malcolm President Trump's comments have led to the first official death, a clergyman in Oregon dies after his wife injected him with disinfectant.

A police spokesman stated they had attended a Domestos incident and recorded the death as a bleach of the priest.


---
25 April 2020

Another picture to copy and colour The left hand vehicle is our SR brakevan (recently returned to service), then the LSWR Gunpowder van and to the right is the ICI Acid tanker. You can find photos by looking through our Gallery HERE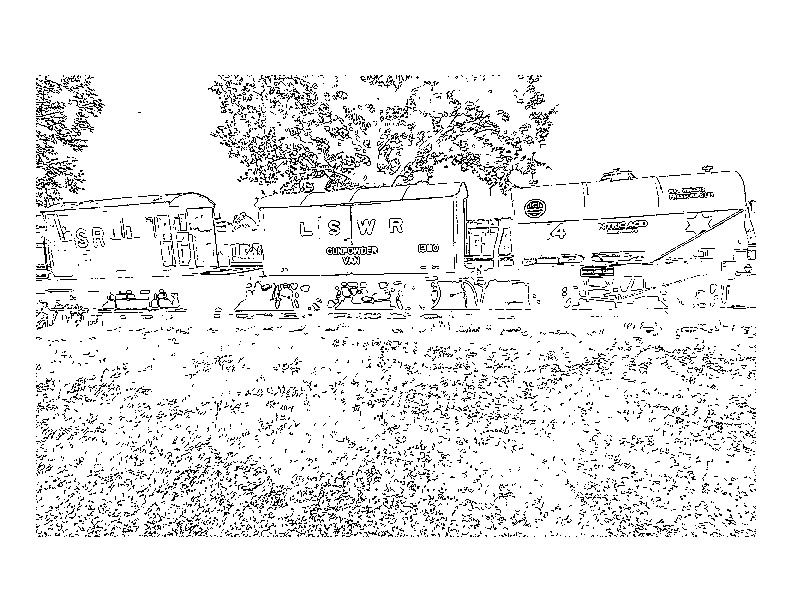 On 23 April three photos were sent in by Brian - Roger has looked at these and kindly comments:
"I'm locating the three photographs of Ray Bakers that Brian supplied. The right hand one of the train running past a stone building is actually Castle Farm, Oborne Road, Sherborne. The stone building is still there."

then

"Just located the other two photographs. Both are taken near Castle Farm. The lower one is facing Sherborne with the distant signal in the photograph. In the far distance Castleton Bridge can just be made out. The first photograph is take looking up Oborne Bank, just across to the north side of the track and from a point near to the previous photograph. Both are about two hundred yards up the trach from Castle Farm."

and finally regarding the motive power:

"Looking at the photographs of the two passenger trains I would date them around the late 1920's as they both look like Urie King Arthurs with the design of cab roof. These locomotives were the mainstay of west of England express passenger trains at the time. The class were gradually fitted with smoke deflectors from 1927 onwards, so the photographs are probably from around that time. Concerning the other photograph of the T9. This is in the unrebuilt condition and rebuilding was completed by 1929, so I think that all the photographs date from the mid to late 1920&s.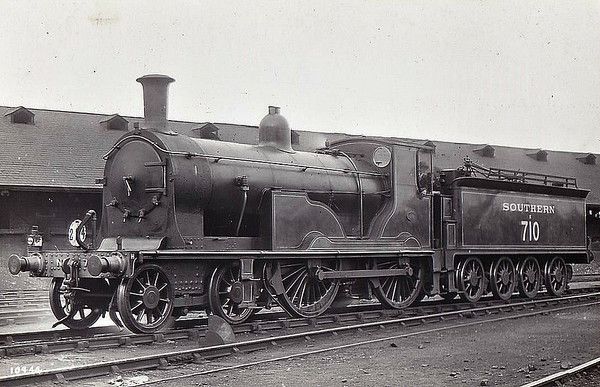 Thanks to Brian for sending in the photos and Roger for his research!


---
24 April 2020

Virtual Model Railway Show Over on our Facebook page HERE is a request for videos of Model Railways so we can have a 'Vitual Model Railway Event on a separate Facebook page HERE

On the subject of Model Railways courtesy Roger. Marpit Sidings - Hunslet The owners of Marpit Sidings have purchased a Hunslet 0-6-0ST from NCB Littleton Colliery so that they do not have to rely totally on BR providing a Class 08 to carry out the shunting movements. (click on the picture)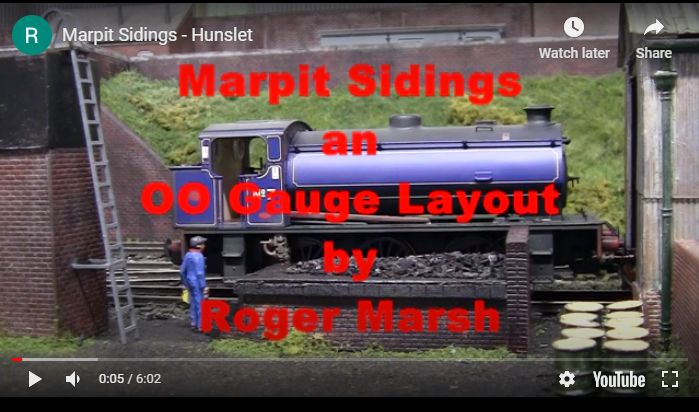 These are genuine clips from council complaint letters (at least it says on Facebook):
1. My bush is really overgrown round the front and my back passage has fungus growing in it.
2. He's got this huge tool that vibrates the whole house and I just can't take it anymore.
3. it's the dog mess that I find hard to swallow.
4. I want some repairs done to my cooker as it has backfired and burnt my knob off.
5. I wish to complain that my father hurt his ankle very badly then he put his foot in the hole in his back passage.
6. And their 18 year old son is continually banging his balls against my fence.
7. I wish to report that tiles are missing from the outside toilet roof. I think it was bad wind the other night that blew them off.
8. My lavatory seat is cracked, where do I stand?
9. I am writing on behalf of my sink, which is coming away from the wall.
10. Will you please send someone to mend the garden path? My wife tripped and fell on it yesterday and now she is pregnant.
11. I request permission to remove my drawers in the kitchen.
12. 50% of the walls are damp, 50% have crumbling plaster and 50% are plain filthy.
13. I am still having problems with smoke in my new drawers.
14. The toilet is blocked and we cannot bath the children until it is cleared.
15. Will you please send a man to look at my water; it is a funny colour and not fit to drink.
16. Our lavatory seat is broken in half and is now in three pieces.
17. I want to complain about the farmer across the road; every morning at 6am his cock wakes me up and its now getting too much for me.
18. The man next door has as large erection in the back garden, which is unsightly and dangerous.
19. Our kitchen floor is damp. We have two children and would like a third, so please send someone round to do something about it.
20. I am a single woman living in a downstairs flat and would you please do something about the noise made by the man on top of me every night.
21. Please send a man with the right tool to finish the job and satisfy my wife.
22. I have had the clerk of works down on the floor six times but I still have no satisfaction.
23. This is to let you know that our lavatory seat is broke and we can't get BBC2.

Check your Buffer Stop! (Click on the picture)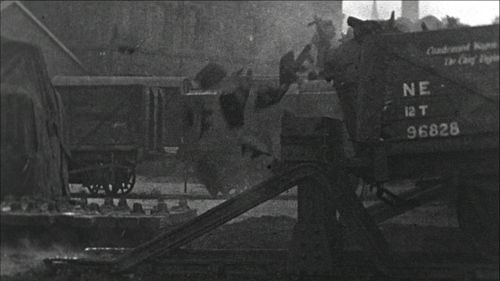 ---
23 April 2020
Three pictures from the steam era.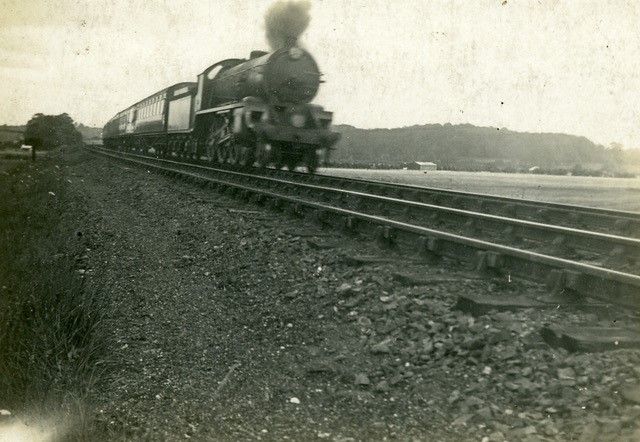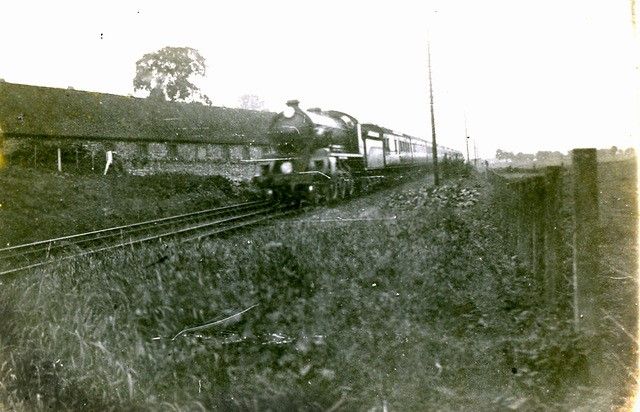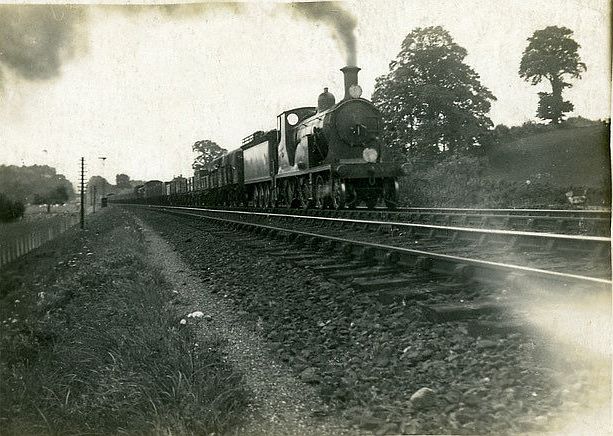 The second photo shows the train passing Blackmarsh Farm ,Sherborne which is still there today. Brian says: "Here are three more photos from the late Ray Baker's collection, not brilliant quality but historic, they were taken near Oborne. Dates? -at a guess pre WW2, say 1930's, wooden wedges are holding the rails in place, the track and trackside vegetation look well maintained. The locos are clean and shining so not post war grime with steam leaking from every joint. The first carriage of the express passing Blackmoor farm has a destination board. I don't know what type of carriages they are. On the goods train one of the wagons has painted lettering. All clues for dating, any experts out there who could give more information?

More information re date, locomotive class etc much appreciated!

Another colouring page to copy and print (Thanks Helen) This is of Black 5 45212 on the turntable. LMS Stanier Black Five 45212 was built at Armstrong Whitworth in 1935, returned to the mainline in 2017.

45212 is one of 842 'Black Fives', as they became affectionately known, built for the London Midland and Scottish Railway. It is one 18 members of the class to survive into preservation.

The engine started life in Bradford and was withdrawn from Lostock Hall (Preston) in 1968 but not before having the distinction of heading the final steam-hauled revenue-earning service for British Railways on 4th August 1968.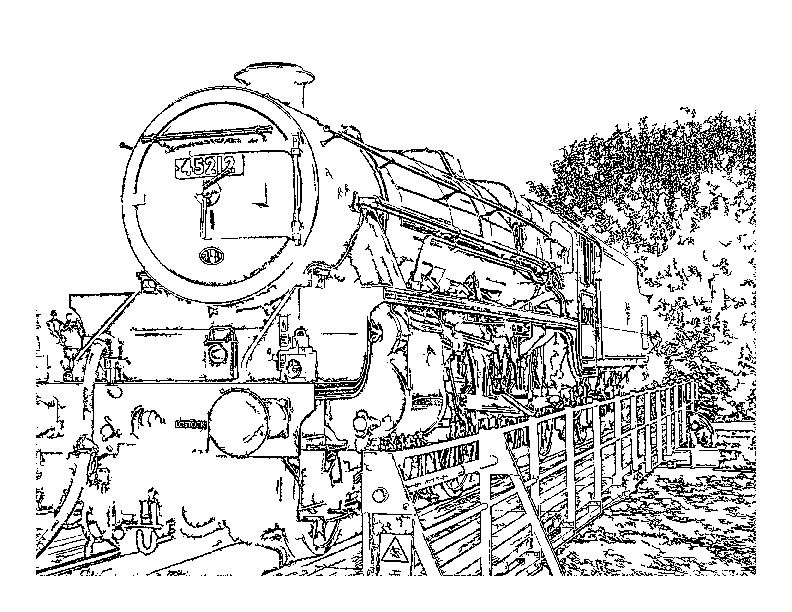 Rog (the other one) hopes this makes you smile!
---
22 April 2020

Goods Sheds For those interested in the buildings side of railways HERE is a most interesting listing of surviving goods sheds (including ours) and a description of styles, architecture etc.

and HERE is a listing of Second World War Prisoner of War Camps with the following:-
ST 5600 1446 194 405 - Barwick House Camp, Barwick, Yeovil Somerset - 4 Base Camp Restored parkland, cropmarks visible on Getmapping coverage
There are stories of Italian prisoners of war carving icons into the cliff alongside the Centre. The small caves are still extant but any carvings are gone. Perhaps Barwick Camp is where the Italians were housed?
There are also listings for Motcombe (Shaftesbury) and Maiden Newton.

Stone Lane Following on from yesterday's photos, here are three of Roger's layout with more to come soon.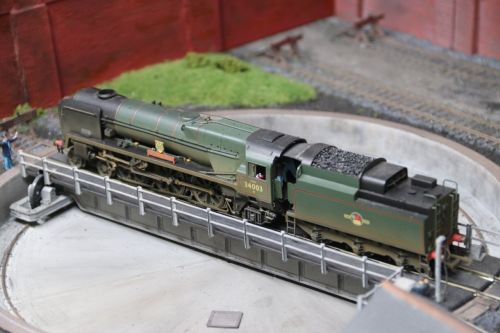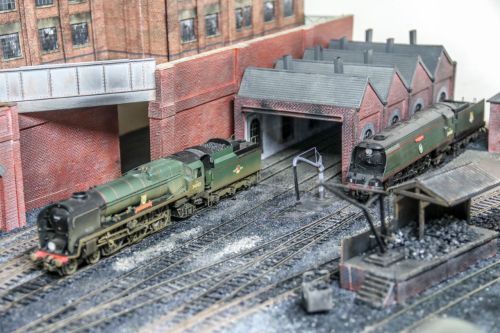 Colouring picture today is 'Lord Fisher'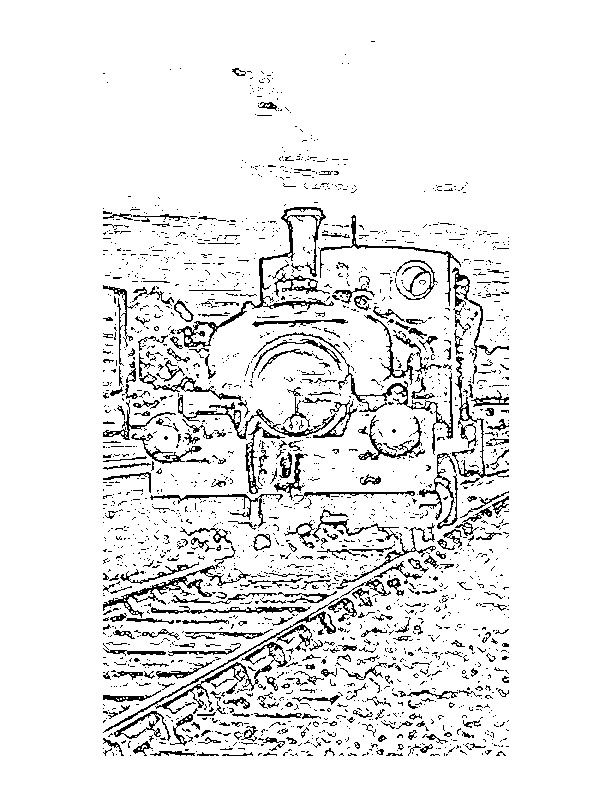 And finally for today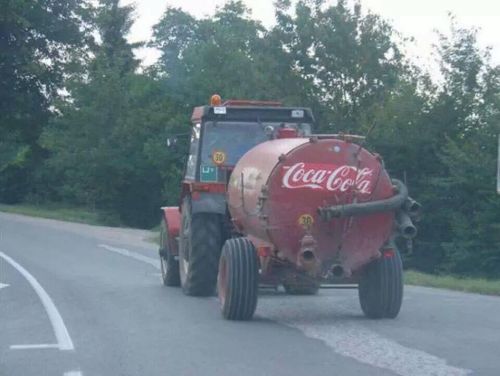 ---
21 April 2020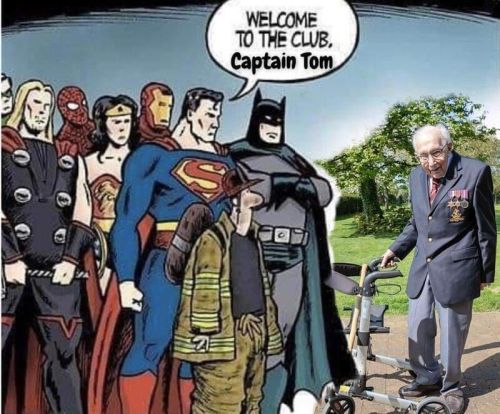 Stone Lane - Motive Power Depot Rog has sent in some photos of scratch built structures for his third layout which fits on a table top. The detail is outstanding! Photos of the layout in the next couple of days.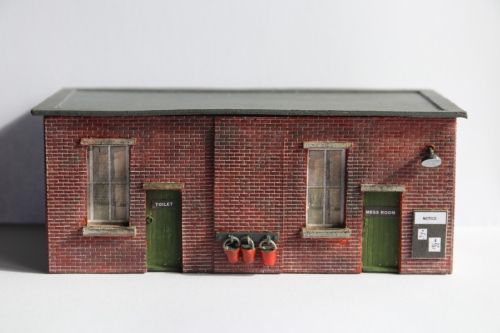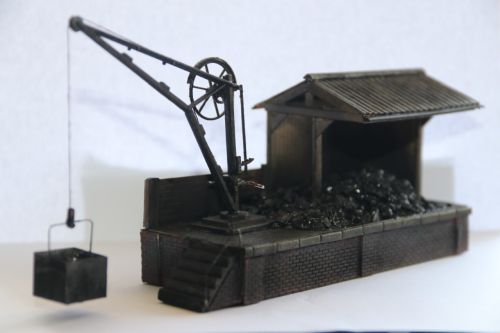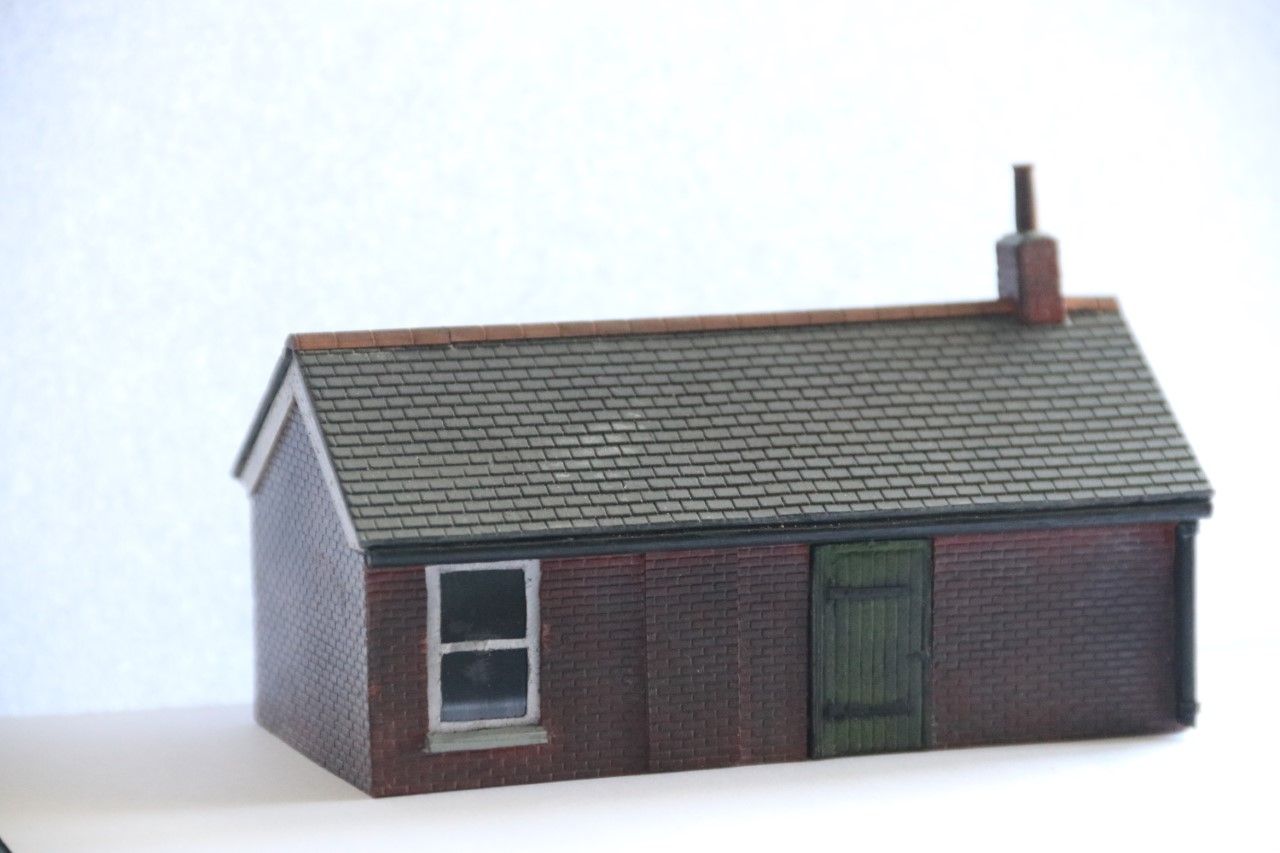 Union of South Africa Third picture to copy and colour is 60009 Union of South Africa visiting Yeovil Junction. This engine has recently retired from main line work.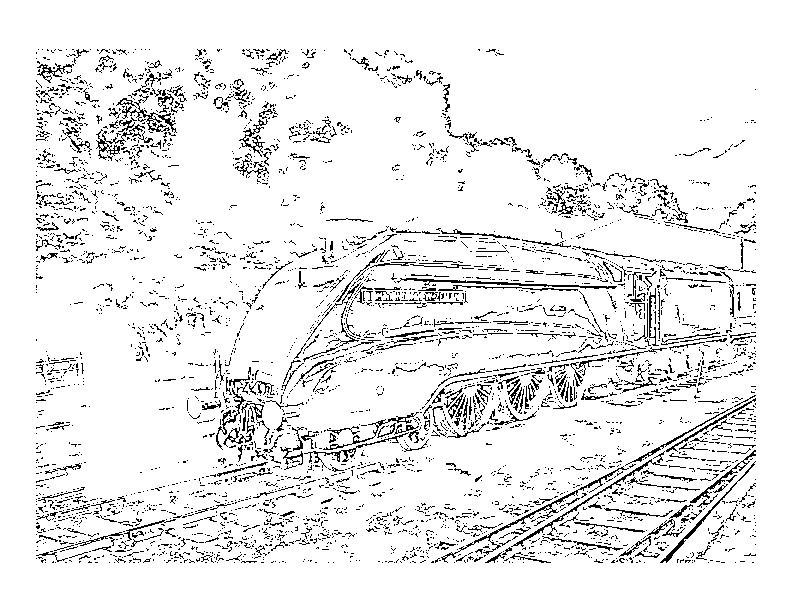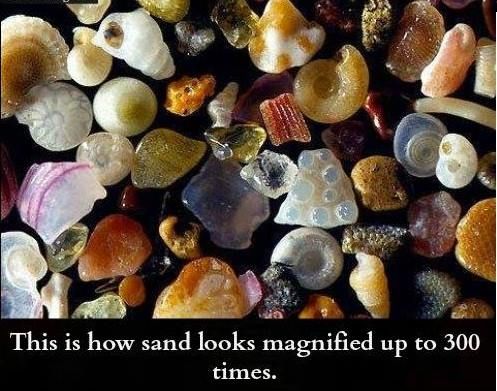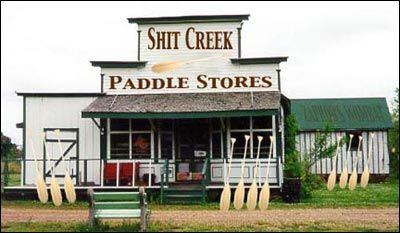 Thanks Bob for that one!


---
20 April 2020

Flower train. Here's the second picture to copy, print and colour. This is a engine and two trucks containing plants and flowers on our platform. There is the bridge and a house in the background. The main station canopy and buildings are to the right.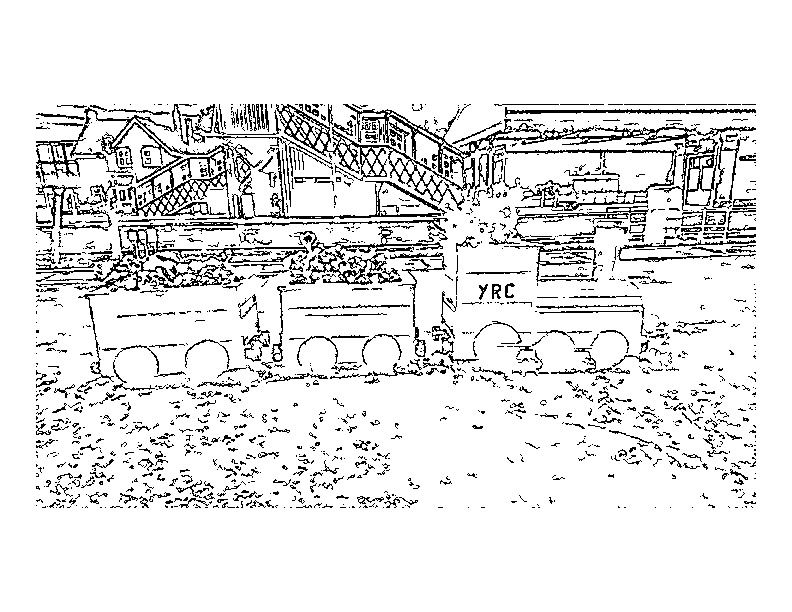 Unseen Steam Here are three links to short You Tube videos of 1956 colour films featuring Yeovil and Lyme Regis.

Yeovi, West of England lines

Yeovil to Axminster

Lyme Regis Branch


---
19 April 2020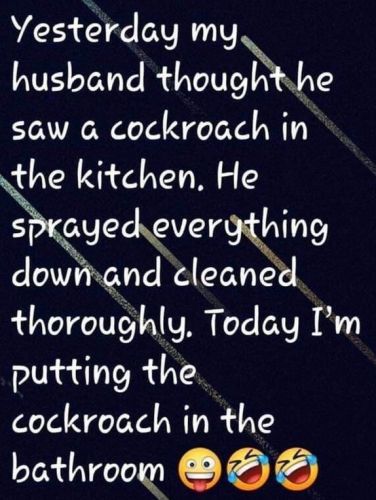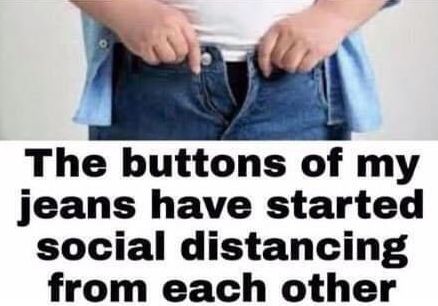 First of a series of Colouring pages (for children and adults alike) to copy. Produced by Helen-thank you! This is of our little diesel Ruston shunter 'River Yeo'. In the background is a South Western Train 159 unit in front of Yeovil Junction station buildings. Feel free to look at our photographs if any inspiration re colours is required! If you want to send in your completed picture we would be very pleased to publish it! Send to yeovilrailway@hotmail.com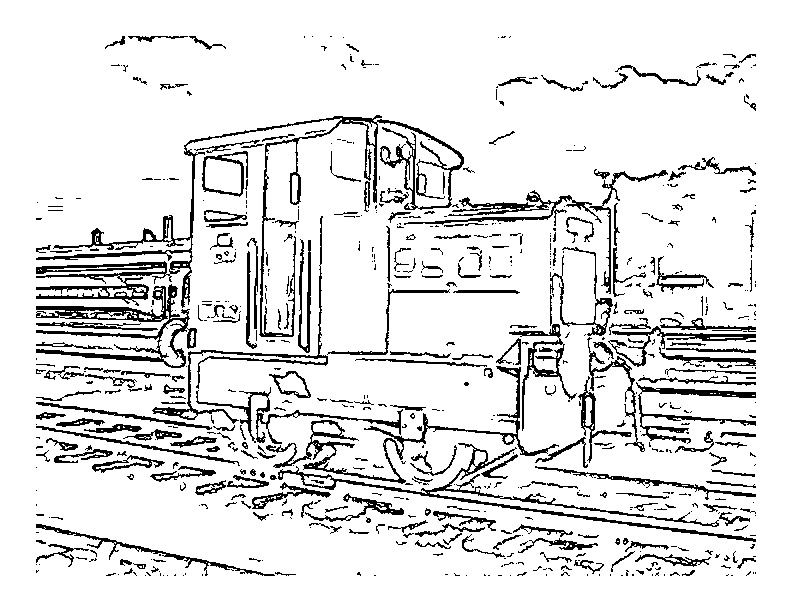 Roger says Perhaps readers of the website would be interested to see my video presentation of the Welsh Highland Railway that both Jill and I have travelled on many times.

The video shows the return journey we made from Porthmadog to Caernarfon on the second day of through operation in March 2011. All photographs are my own.
Click on the photo: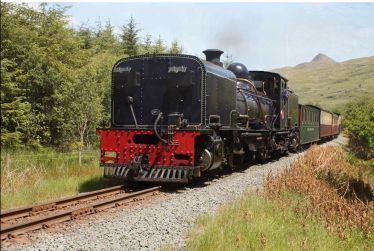 ---
18 April 2020

Lawrence of Arabia Bob sends in: 'Way back in 2005, I was working on a contract at Bovington Camp Dorset to upgrade facilities for those mobile destruction machines called tanks.

During that time I got to explore a bit around the area.

A mile or so just north of the main gate at Bovington is a viewing area for the public.

Sited in the car park is a memorial stone under a tree stating: Near this spot 'Lawrence Of Arabia' crashed on his motorcycle and was fatality injured. 13th May 1935"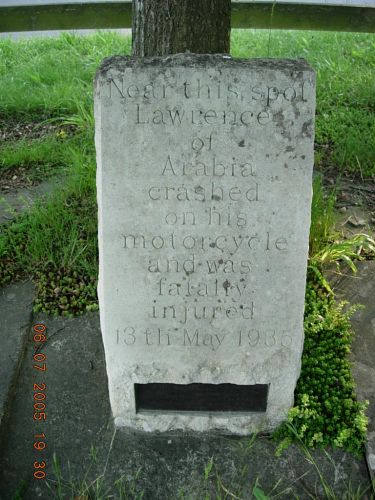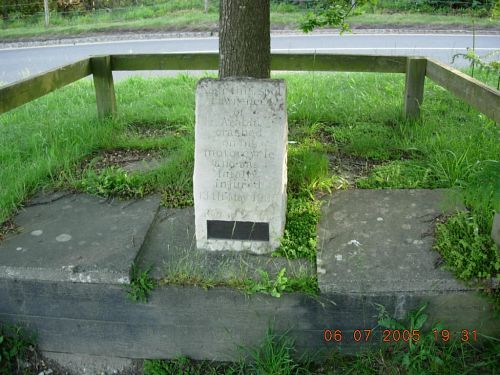 As a follow on - a second memorial The Accident Site

The site of Lawrence's fatal accident is marked by a stone erected by the T. E. Lawrence Society.

The site can be reached by heading north along a narrow footpath from the small car park situated 400 yards to the south of Clouds Hill on the road to Bovington.

In the car park is another memorial to Lawrence placed there in 1983 by Tom Beaumont who served with Lawrence in the Arab Campaign.

The road no longer follows exactly the same route as it did in 1935. It has been realigned since the accident and is wider, with the dips levelled out.

Lawrence is buried in the parish churchyard in Moreton. It is a quiet rural setting and just a very short walk from the church of St Nicholas and St Magnus where his funeral was held on May 21 1935.

The funeral was attended by Winston Churchill, other eminent friends, and friends from his Service days.

Moreton. The church received a direct hit from a fleeing German bomber in World War 2 which destroyed the stained glass windows. These were replaced by clear glass engraved by Laurence Whistler, giving a unique atmosphere and a worthy addition to your visit to Moreton.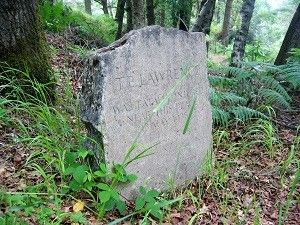 Further information and photo here
The windows at Moreton Church are certainly a WOW factor!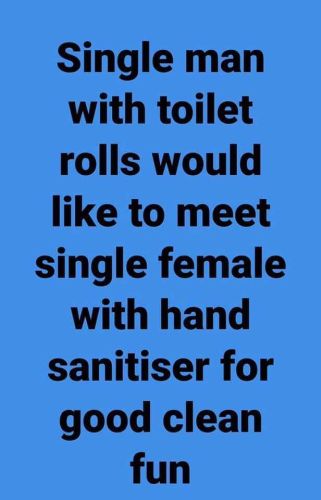 Thanks Roger (the other one)

Rog recalls a disappointing event! When I was a young lad I thought that I would try my hand at railway photography.

Whilst in Woolworth Stores in Sherborne one day I spotted that they had a small camera on sale for 4/6d. This was worth more than a week's pocket money in those days and it took me a couple of months to save up for one. I was so proud as I went into the shop and bought my first camera. It had a hinged frame that flipped up that you looked through and a small lever that you slid to one side to operate the shutter.

I then went to Mr. Lush the Chemist next door to Woolworths to enquire on the price of film. It was after saving a bit more pocket money that I then returned to buy my first and only film for the camera. After loading it I then went off down to Sherborne Station to try my hand at photography.

After about a week of 'snapping' I put my film into Mr.Lush for developing. Oh! was I so disappointed when I later returned to the chemist to pick up the results of my efforts. After finding the photographs down in the corner of the pocket of the packet I was surprised that they were about the size of a 35mm slide!

I was expecting much larger photographs that would match anything that I had seen in Trains Illustrated magazine! Most were off centre and some had corner distortion where the light had got in. But I still have those photographs today as a lasting memory of T9's, N's, and original Merchant Navy Class locomotives.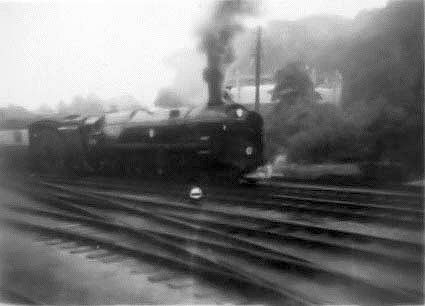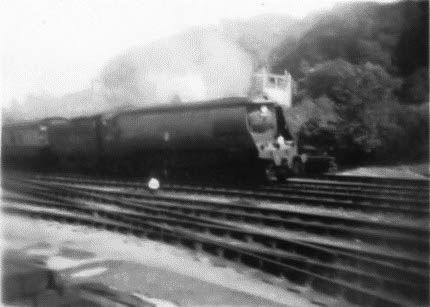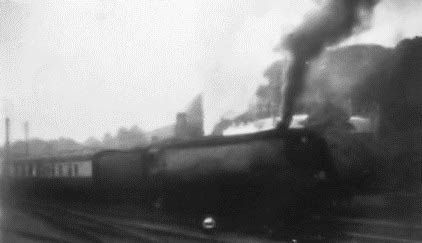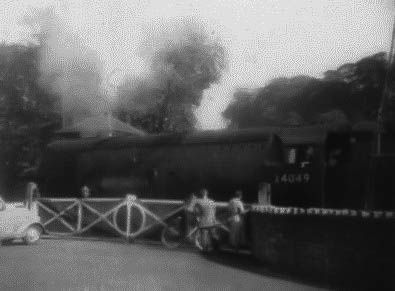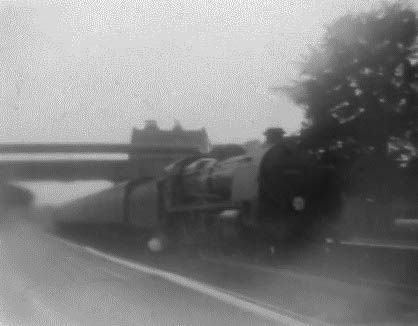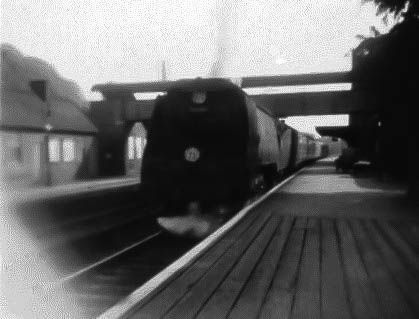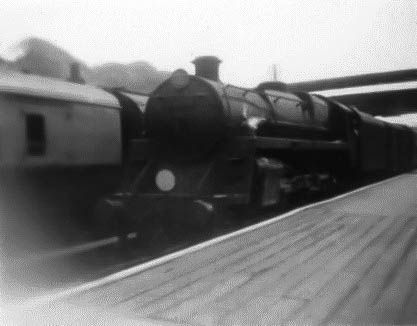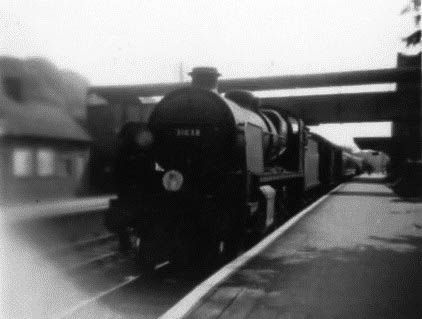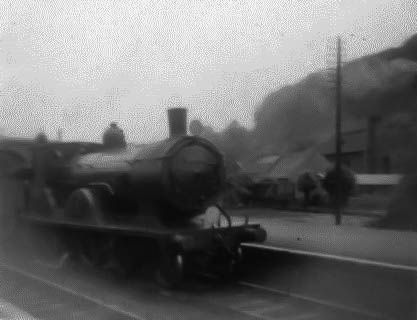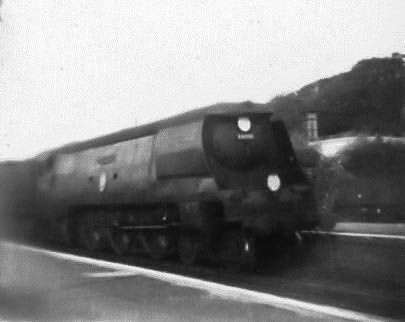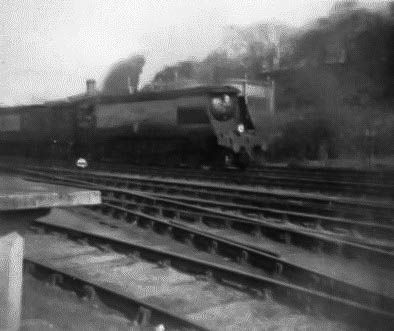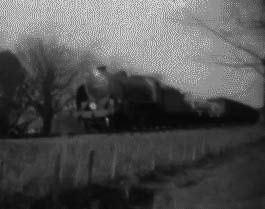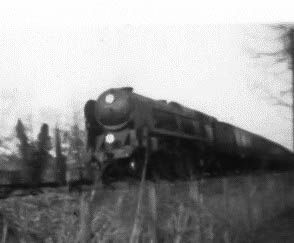 ---
17 April 2020

New Zealand One especially for our colleague currently residing there. A unusual train/road bridge! CLICK HERE

and another unusual crossing in Australia!: CLICK HERE

You are such an annoying bird!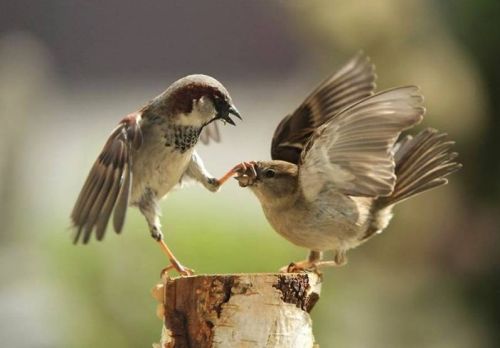 Marpit Sidings Roger says: 'Attached are three photographs from Marpit Sidings which is another one of my three model railway layouts. This is a layout of a coal distribution loading facility in the green diesel era of BR.'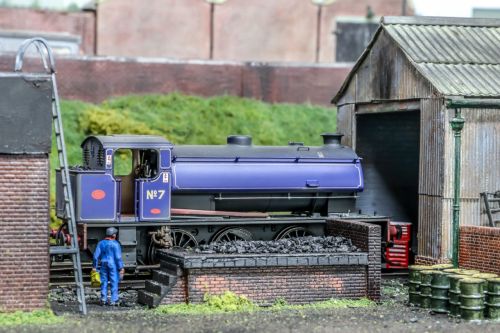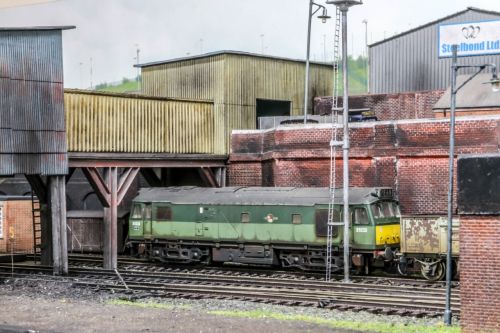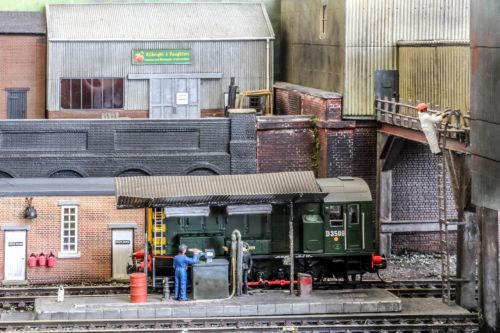 Rog (the other one) hopes this makes you smile!
---
16 April 2020

The Leveller is a free magazine for Somerset published monthly and usually available to pick up (from Yeovil Junction station amongst other places). This month (and thanks to Peter for drawing this to my attention) they have produced a .pdf version.

Note that the publication has views on some subjects and is not afraid to express them! Having said that it is an interesting read (in my opinion).

If you want to have a read please CLICK HERE and download a copy

Rog says: 'We won't be seeing a repeat of these scenes this year at Castle Cary. Photographs taken on the 27th.June 2019.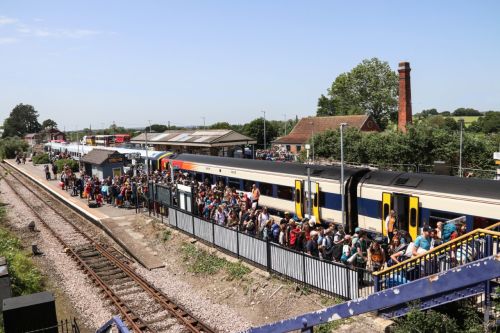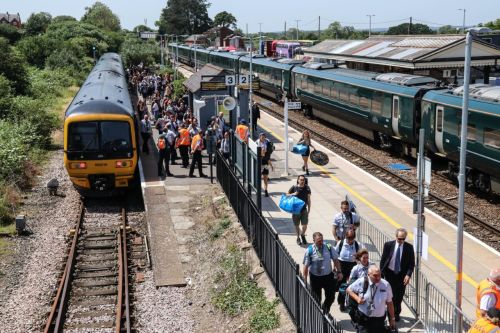 Oh dear! - it couldn't have happened to a nicer horse!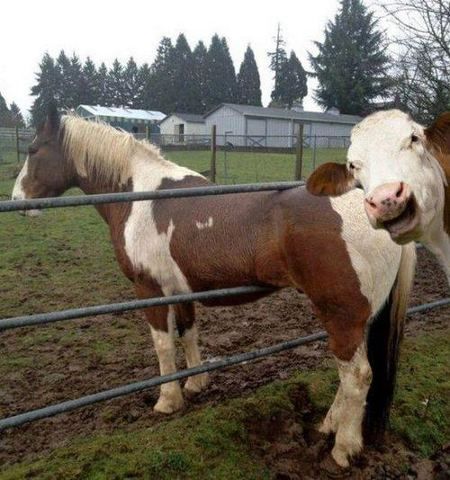 Rog (the other one) offers this ditty


Lucky escape. Bob says: ""On August Sundays in 1999 the Flying Scotsman was doing circular tours out from Paddington London via Bristol/Westbury/ Salisbury and back to London. Providing a high class dinning service.

On one of the Sundays it was reported a OAP jumped on the train at Westbury Station to travel to Salisbury mistaking it for a regular service. The tour promoters thought it was so funny they gave her the full dining service as a gesture dropping here off at Salisbury.

On the 22nd August I travelled up to the 1/2 barrier crossing at Codford (East of Warminster) expecting no 4472 to storm by. Unfortunately it was running late and quite a gallery had arrived. Lucky for me I had a good spot behind the barrier and took it as it went by.

As I turned around to get an away shot a woman in sun glasses had drifted on the down line to get her shot of F.S. Now remaining there to check the camera picture!. Certainly unaware of the danger of both lines being active and 159/8 units travelling on the down line at 90mph towards Warminster with her back to it.

I shouted at her above the noise but she looked at me rather strangely. Totally unaware of the dangerous position she was in. All the gallery were more intent on getting their shot than warning her"

Beware the public for they do not know what they do!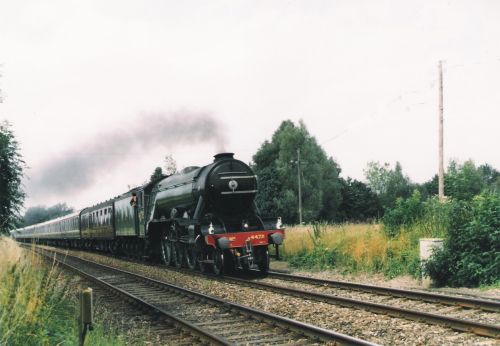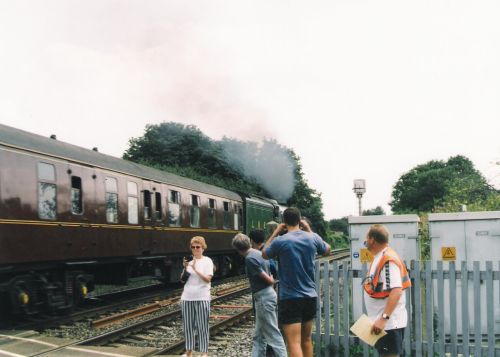 ---
15 April 2020

The Trustees have decided tonight that the Centre will remain closed to the General Public 'Until Further Notice'. We are all looking forward to re-opening but this can only happen when Government instructions and guidance allow. In the meantime stay safe and well.

Where in the world is this? stews.issued.shaky Some of you may already know how to find the answer but for those who don't all will be revealed in a few days!

Class 33 33032 Roger offers- "A rather grubby BRCW Type 3 Class 33 No.33032 heading a service to Exeter St Davids stands at Yeovil Junction on the 9th.October 1977. The same locomotive is seen standing near the same spot two years later on the 23rd.September 1979 looking slightly cleaner as it head 'The Devon Belle' railtour.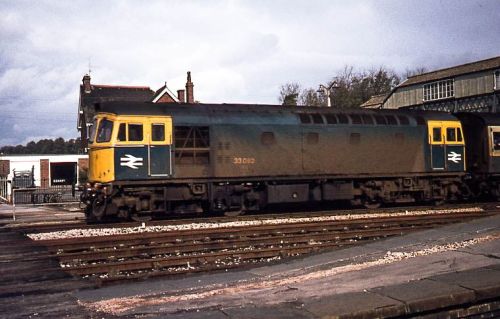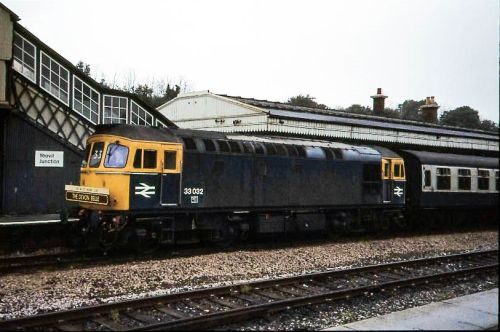 Finally couldn'nt resist this wallow!
CLICK HERE and ENJOY!
---
14 April 2020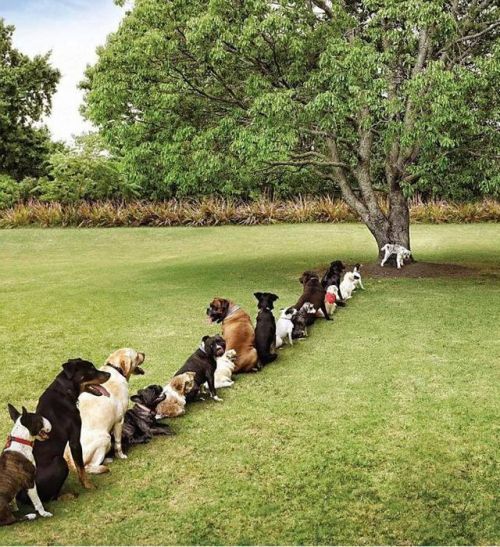 Roger shares 'A write-up an some photographs of my visit to the Ji-Tong Railway in China August 2004. I rode for 6 ½ hours on loco No.6882 as seen in the attached photographs.'
Wot! No Hi-vis...Looks like he enjoyed himself!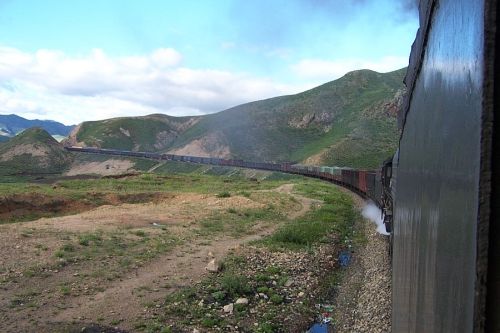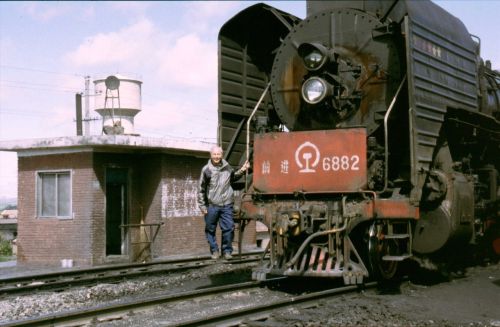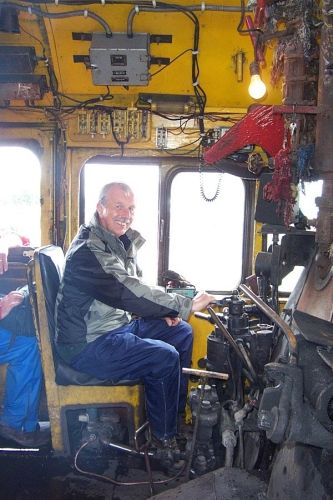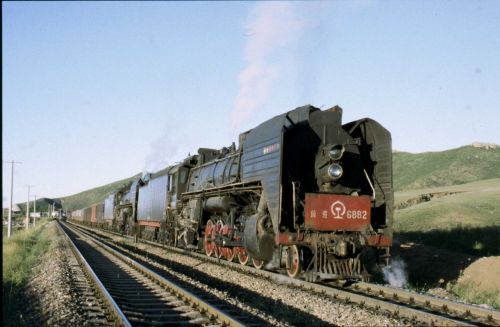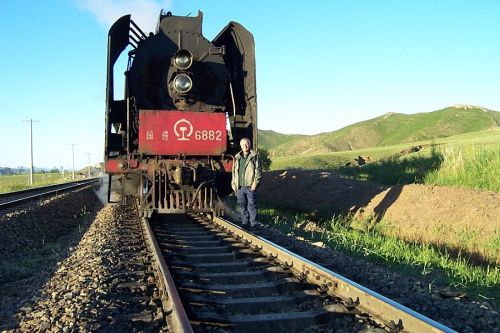 THE HORSEBRIDGE "IRONCLAD" CARRIAGE
BY
DAVID LINDSELL

The carriage now arriving at Platform One at Horsebridge Station is the 1pm from Stoneymarsh, Mottisfont. The picture depicts the arrival of a former London and South Western Railway "Ironclad" carriage for restoration at Horsebridge Station in Hampshire in 1987. It was driven up the old "Sprat and Winkle" line trackbed from Mottisfont Station site by a Haulage Contractor from Essex, who had transported the carriage from Branksome Depot in Bournemouth, where it had been part of the breakdown train unit. It had been bought for £2,000 from British Rail plus £1,500 moving costs, by Val and Tony Charrington who then spent some £30,000 restoring the coach.

The Charrington's had bought the station from Hampshire County Council in 1985, who had acquired it from British Rail (Southern) as part of the trackbed, to enable the Test Way Footpath to be built They then proceeded to restore it as it would have appeared in Southern Railway days, from derelict condition. The station, which became Grade 2 listed in 1986 by Historic England, was opened on the 6 March 1865 and closed on the 7 September 1964.

On arrival the coach was transferred to the track, just seen in the picture, which had been laid, by two railway workers, one from Winchester and the other who worked on the Mid-Hants Railway. Initially, the coach was restored in L & SWR colours but later reverted to Southern Railway Green to match the decor of the station.

Many of the station artifacts came from local Southern stations, such as signals from Weymouth and a buffer stop from Eastleigh. The signal box is from Yalding Station in Kent and the porter's barrows came from Winchester.

Now it is time to go back nearly 100 years to July, 1921 when the carriage was built at Eastleigh as a Third Class Corridor to diagram 24 and numbered 773, which was soon changed to 717 when it became part of Southern Railway set 431. "Ironclad" carriages were built to improve comfort for travellers using the Bournemouth line expresses and they were in use on the line for many years. The nickname "Ironclad" came from the construction of steel panelling and double framed bogies. They also had more generous dimensions at 57ft long, 9ft wide and 12ft 6ins high.

Number 717 was withdrawn from service between 1957 and 1959, as were many of the other "Ironclads", and became a Breakdown Train Unit (BTU) Staff Coach at Bournemouth Depot, numbered ADS226.

Once installed at Horsebridge and restored, the carriage was used as an overflow dining area and for dinner parties taking place at the station. In 2018 the carriage was completely internally restored and is currently being used as two-bedroom luxury self-catering accommodation. Details of the accommodation available can be found on the Mulberry Cottages website. Property Reference M555057. No doubt with this use it will survive for many more years after its centenary in 2021.

Pictures
1. The Carriage arrival courtesy of Val Charrington.
2. S728S in Clapham Yard Sidings in BR (S) green as part of set 435 in about 1957 by J H Aston/Mike King Collection.
3. ADS226 seen at Branksome Depot, Bournemouth in May 1985 by Mark Jamieson.
4. The carriage seen by the Author at Horsebridge on the 16 March 2020.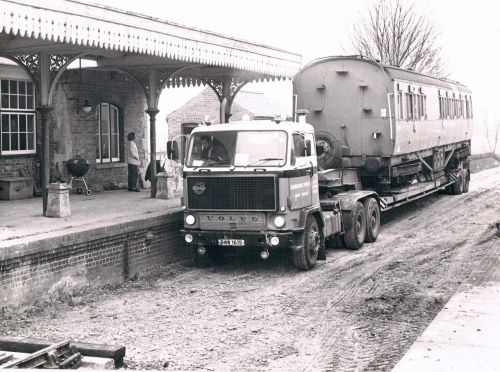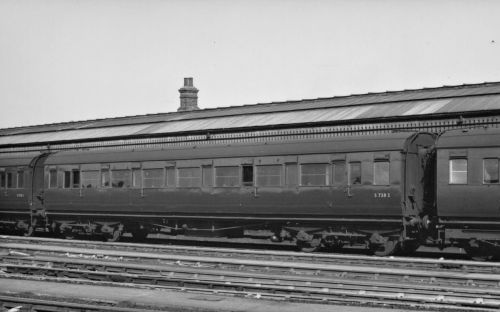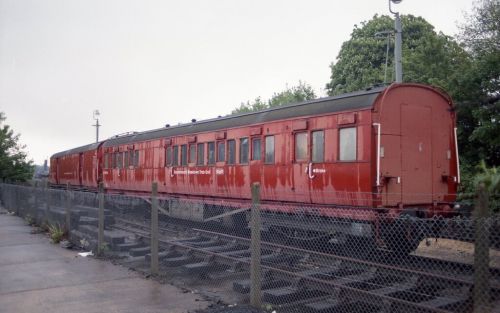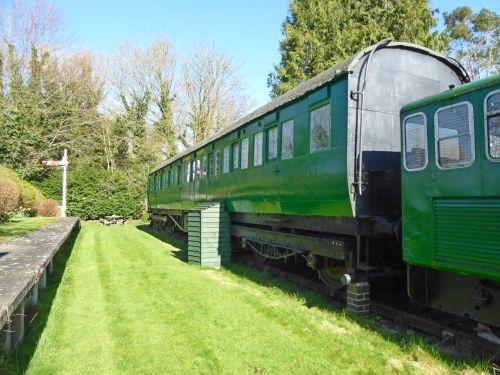 and finally for today - your contributions are needed to keep the updates coming!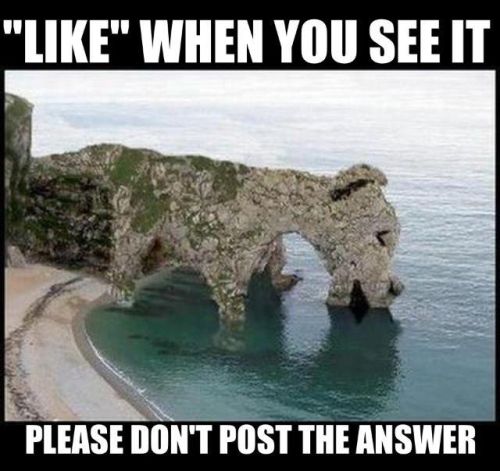 ---
13 April 2020


Roger - 'Attached are a couple of photographs that I took with my mother's Kodak Brownie box camera at Sherborne of consecutive trains one morning in 1961. (My trusted bike can be seen on the extreme left in one of the photographs - never did own a Bentley!).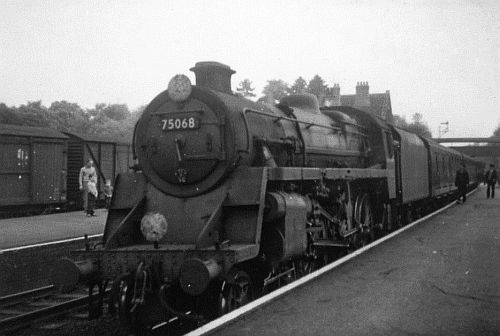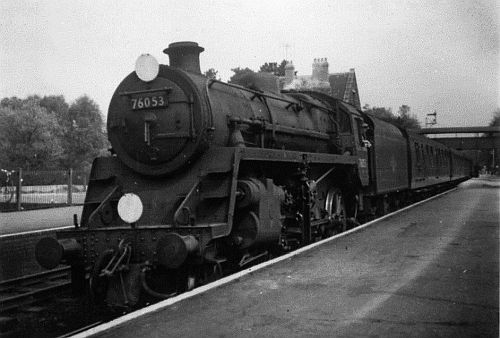 Bob obviously likes getting close to nature!"In August 2004 I was out travelling around in the Bruton area to catch the 31 turns and a possible return engineer it was another hot day. I moved to a bridge down from the station at Bruton waiting for the engineers train which did not show, I was just about to go home when this large bug landed on the parapet, sunning itself & flexing its wings.

Unusually I had a macro lens in the bag which enabled me to get the shot of it"

"Perhaps you could ask the punters to identify it."

"The 31s I did capture was the down Weymouth train 31454 + 31128 rear at Dimmer 26 08 2004" - email yeovilrailway@hotmail.com with the information - and any more contributions!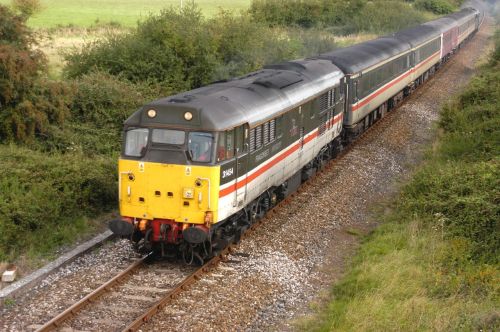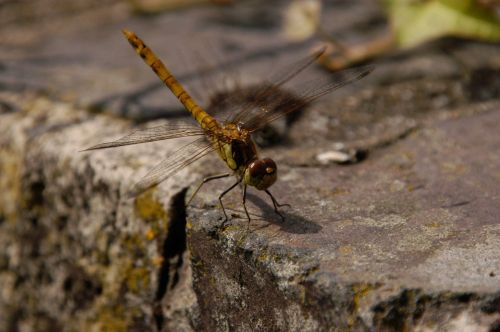 Roger, the other one, follows up the videos of his trip to Harz mountains which has been featured HERE by providing the following information: 'A brief summary of our trip to the Harz Mountains.

Our trip to the Harz mountains coincided with my Grandsons confirmation on Sunday 5th May 19 at Skivholme Nr Arhus Denmark.

Shaun decided he would like to drive over and break our journey by visiting the Harz Mountain railway. We set off on Tuesday the 30th April to catch the night ferry from Harwich to the Hook Of Holland. Wednesday we drove up to Wernigerode about 6hr drive, we stayed in the Altora Hotel over looking the railway and shed area. The Hotel has a neat way of delivering your drinks using a miniature railway when you are sat in the dining room, (also seen in Prague).

Thursday we caught the 8.55 train to the Brocken arrived 10.36, when we left Wernigerode it was 18c at the Brocken it was freezing guess who was not dressed for this. We then caught the 10.51 to Drei Annen Hohne arrived 11.43 We changed there and caught the 12.40 to Eisfelder Talmuhle arriving 13.48. We returned on the 14.08 arriving Drei Annen Hohne 15.16. We changed again and caught the 15.53 arriving at Wernigerode at 16.33.

Heights in Metres - Wernigerode 234m Drei Annen Hohne 540m Brocken 1125m Eisfelder Talmuhle 352m.This is a small part of the Harz Mountains you would need to spend a week to see the most of it, still on my bucket list.


---
12 April 2020

The final two clips from Roger's trip to Harz Mountains by steam - CLICK HERE

Matt has provided photos taken (he is a key worker) during the current situation, highlighting the recent changes have made on the use of public transport. ' Bath Spa empty about an hour ago (Sunday 12 April), Kings X/St P tube station empty during a weekday, a normally crowded XC Voyager empty, stranger in the camp at Ilford EMU depot East London, my 37 keeping company with many unused units due to reduced services, and an empty IEP from London.'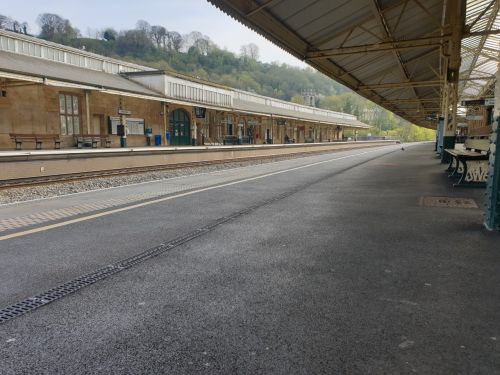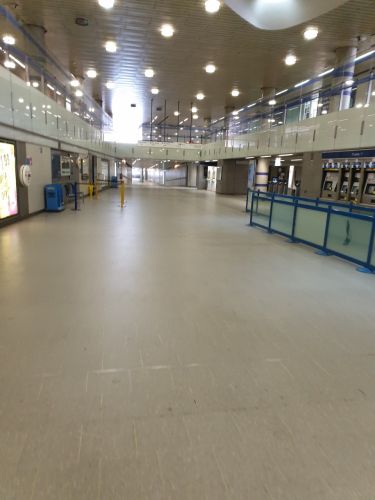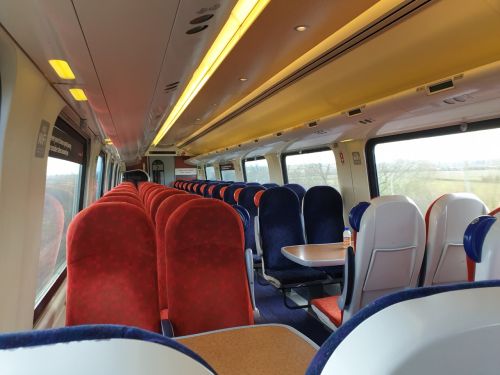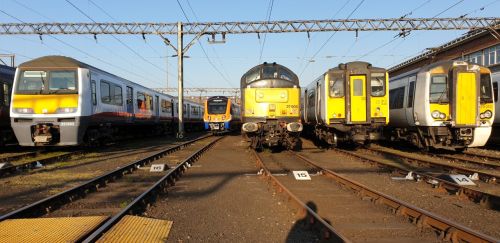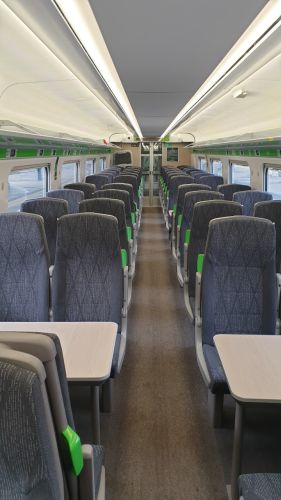 Finally for today Roger the original sends in a couple of photos taken on Sunday 19 October 1986 when 'Burton Agnes Hall' arrived with 'Blackmore Vale Express'. Note the Transfer Shed (with door open) was still in the possession of Border Engineering. The Class 50 seen is 50010 'Monarch'. The arrival of steam drew large crowds then, still does today and will do again in the future!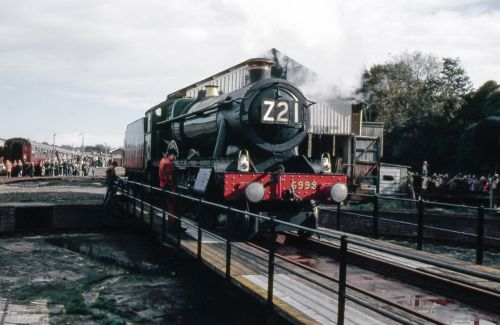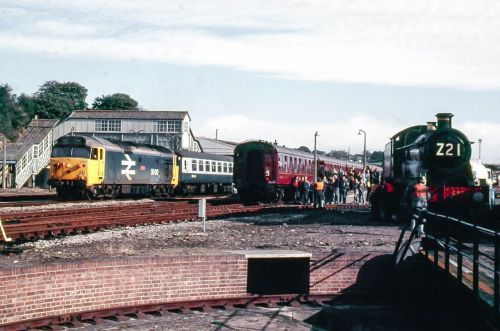 ---
11 April 2020

Another video of the Harz mountain trip by steam. Final two instalments tomorrow. Please CLICK HERE

Rog (original) sends in some more photo of car trains locally:- Attached are some photographs of 47095 at Sherborne on the 16th.March 1985 with a loaded train and the same loco at Milborne Wick returning on the same day with another loaded train.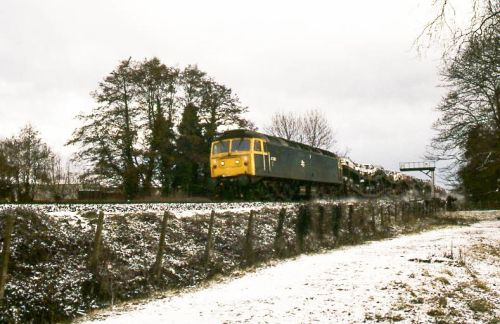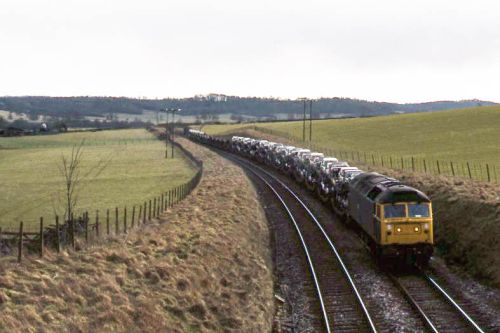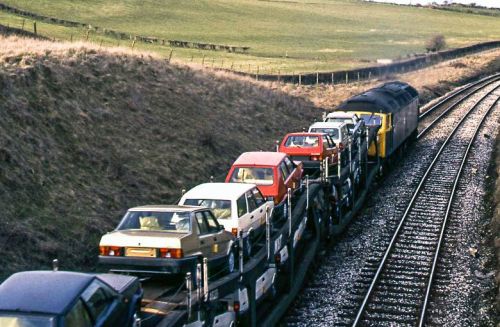 ---
10 April 2020

Two more clips of Roger's visit to the Harz mountains by steam. Turn the sound up and be impressed! - please CLICK HERE

Rog (the original) sends some very interesting photos. Also worth noting in the second photo are the Lighting Tower and that the siding immediately in front of the photographer (now the Centre's running line) connects with Railtrack's sidings. This was later slewed when the Centre took on the lease of the site.

'In 1985 a trial run was made between Yeovil Junction and Queenborough Docks with cars from Abbey Hill Motors of Yeovil. On the 2nd.March 1985 a loaded car transporter train is seen at Yeovil Junction hauled by BRCW Type 3 Class 33 No.33018.'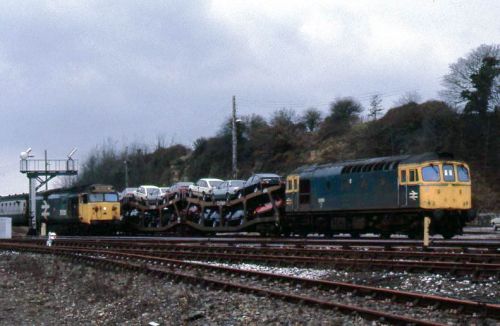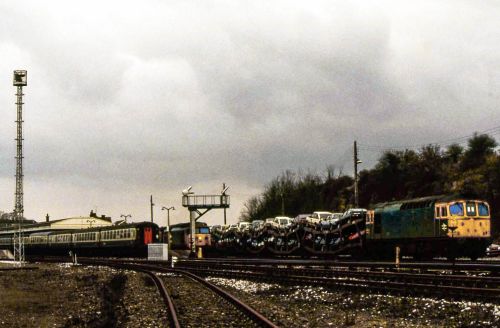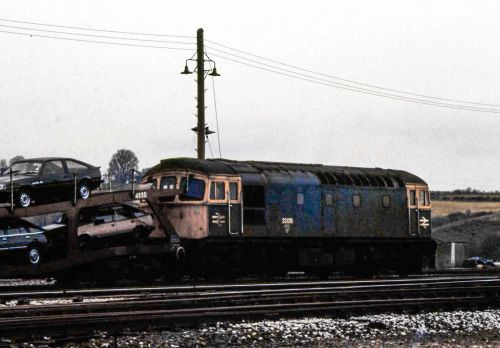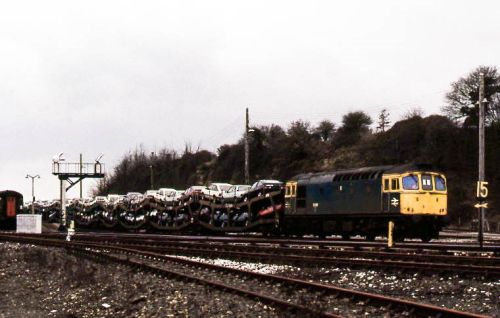 ---
9 April 2020

Keep the contributions coming! Tell us about your self - hobbies - embarrasing events - other funnies! email yeovilrailway@hotmail.com

Two more clips of Roger's visit to the Harz mountains by steam - please CLICK HERE

Brian writes:- Do you remember when in 1986 there seemed to be an almost overnight change to our stations, starting by painting the lamp posts red, (mocked at the time) but the start of a new way of looking at running our railways. A psychological as much as a physical change. British Rail had introduced sectorisation with a business led organisation by traffic type. Three passenger sectors were created in 1982, of which Network SouthEast (NSE) was one, responsible for commuter and inter urban traffic around London. It also took in the West of England line to Exeter.

The person responsible for making things happen was Chris Green who took over as director in 1986, with a proven track record of having already transformed and rebranded Scotrail. He now proceeded to do the same for NSE. Drab, dirty stations were to become clean, bright and colourful, and he was looking for reliability of services within five years. Station platforms had new red metal seating, which on sitting down in winter froze the parts which were not intended to be frozen. Then there were the click-clack digital clocks, red with the NSE logo along the bottom. Signs, advertisements, information, all were rebranded, and locomotives and carriages had a new livery of rail blue with a horizontal white (or very light grey) band with red stripe, the ends of which were later upturned (like a go fast stripe) to meet the yellow front. The carriage interiors were refreshed and brightened with seating recovered in rail blue moquette and the NSE logo on fittings. All this was done as an interim measure until new rolling stock could be introduced.

The off-peak Capital Card from local stations to London was introduced, with unlimited travel on bus and Tube journeys within the London area. Then there was the network card introduced to tap into the unused off peak leisure market which allowed a third off the fares after 9.30 am weekdays and all day at weekends. The whole of the NSE region was covered, from Exeter to Southend, Milton Keynes to Weymouth. NSE was launched with a massive TV and press campaign and proved a great success.

I made good use of this to go to London. At this time the main motive power on our line was the English Electric Class 50. Originally built to take heavy Anglo-Scottish expresses over Shap during the time the West Coast line was being electrified, once the Crewe to Glasgow section had been completed they moved to the Great Western. They in turn started to introduce HST's so the 50's passed to the West of England line. Powerful 100mph machines, they were an overcomplicated design and by the time they came to our line their age was showing. Designed for continuous full power running they were unsuitable for the stop-start nature of our line, much of it singled. So when a 50 sat down the timetable went through the window waiting for a rescue loco.

I experienced a problem loco one grey and misty November day. The up train arrived at Sherborne sounding rough and misfiring, occasionally cutting out then restarting. At Salisbury the engine finally stopped completely, I went up and asked the driver what was the problem, "contaminated fuel line, I am going to absolutely thrash it, we will see if that clears it, if that doesn't do it nothing will". He was as good as his word, once clear of Tunnel junction the 50 went up the rising gradient past Porton Down like a rocket, and so it continued. Andover came and went, then Basingstoke, between there and Woking there are long straight stretches, leaning out of the window I could see a succession of green signals stretching into the very far misty distance. The arrival at Waterloo was almost uneventful, but the problem had clearly been solved.

Another journey on a sizzlingly hot summers day in London, so hot you could fry an egg on the pavement, I departed from Waterloo in the late afternoon. With all the window vents open to try and get cooling air the sound levels from the engine's exhaust steadily increased as the train accelerated through Vauxhall, easing for Clapham Junction then really opening up to a full throated steady roar, exhilarating but at the same time with an element of apprehension as the ride became lively. How fast were we travelling? I had had this discussion on a previous occasion with an enthusiast armed with stop watch, timetable, gradient profile etc. He said up trains could achieve 100+mph, It was more difficult on the down ones as the gradients were against them, but with a good loco and driver it could be done.

(to be continued)

Paul recalls trying to check the speed of Class 50 hauled trains on the long straight approaching Templecombe from the Gillingham direction. Using the method of counting the number of rail joints he managed to convince himself that 100mph was achieved on occasions!

The Trustees are practising holding meetings via the internet using Zoom. Its a bit different - as long as only one person talks at a time it seems to work!


---
8 April 2020

A second clip of Roger's visit to the Harz mountains by steam - please CLICK HERE

Brian sends in a response. Following on from Roger's experiences at Sherborne signal box, here are some photos that were passed on to me by Ray Baker from the camera club.

His great grandfather John Isaac was signalman at Sherborne signal box about 1870's? The other two photos are of the station, one taken from the signal box dated 1875 (and appears in Salisbury to Yeovil by Mitchell and Smith). The other photo from the footbridge is in rather poor condition but may be from the same date. One of Ray's relatives was an amateur photographer, there are a few more photos to follow on other subjects.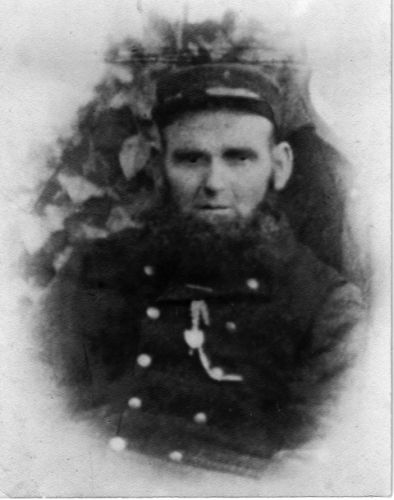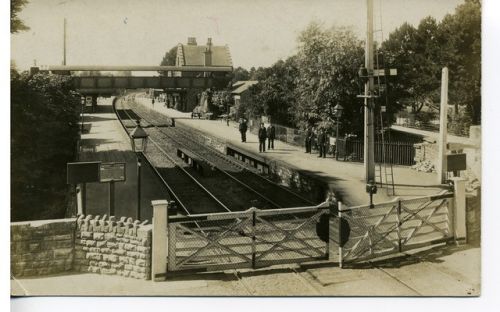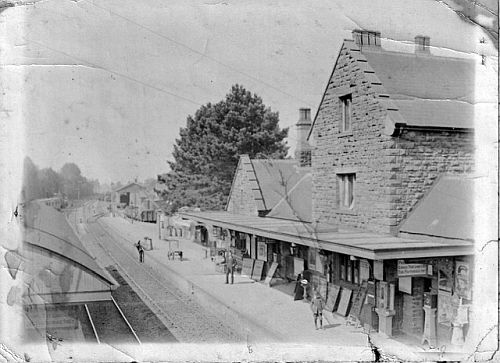 A heartening display locally marking an important birthday Please CLICK HERE


---
7 April 2020

Another Roger (you can't have too many Rogers) has forward lots of interesting clips of his (and family) visit to Harz mountains by steam on 1 May 2019. Turn up the sound and enjoy the action! We have created a Yeovil Railway Centre You Tube (thanks Tony) account to show these - please CLICK HERE

MEMORIES OF SHERBORNE STATION (by the original Roger...)

As a lad in the 1950's I used to spend hours at Sherborne Station which was at the other end of the town from where I lived. During the days spent on the platform I got to know a few of the station staff. Most memorable was Bill Downs who was a porter with a broad Devonshire accent. When on duty you could hear Bill bellowing out 'Shabone' as each stopping train drew to a halt in the platform.

One of my favourite times was watching the early morning shunter which was usually a Yeovil Town 'U' Class that spent time shunting various wagons around the yard before proceeding to the down side of the station to shunt the gasworks. The final part of the shunt was to propel a couple of box vans and a guards van up through the station to the Dorset Farmers sidings located where the Sainsburys supermarket is now located. The loco used to leave the guards van on the up line whilst it dropped off and pick up wagons from the sidings. Joy of joy - I was sat by the cattle dock one morning when Bill shouted across to ask if I wanted to ride in the guards van with him up to the sidings - of course I didn't want asking twice. It was only a small thing but it's funny after sixty years how the memory of that trip still lives on.

Whilst on the platform one morning I ventured to enter the parcels office and in conversation with the porter I discovered that he was a distant relation of mine - I was in. From then on I spent hours of my time helping Jimmy Read with his work. Sticking labels onto boxes of cheese that were delivered from the South Western Dairies for onward journey to London. Booking in boxes of flowers from a grower at Sandford Orcas to be sent to Covent Garden etc. Looking back now I realise how much free labour I gave the railway at that time. I must have been trusted (and used) as it was quite normal for me to be left holding the fort whilst Jimmy and a couple of others went for their mid-morning break across the road to the Woolmington Hotel - not drinking tea either! Then there was the afternoon Waterloo bound train where I used to help load the cheese boxes into the luggage compartment of the leading coach, with the guard looking on telling us to hurry up as he kept checking his watch and accusing us of holding up the train departure.

Some of these memories came flooding back a while ago when I came across the attached photograph of Battle of Britain Class No.34072 '257 Squadron' at Sherborne with postman Harry Green standing on the platform with the mail ready to load onto the train and the parcels office in the background.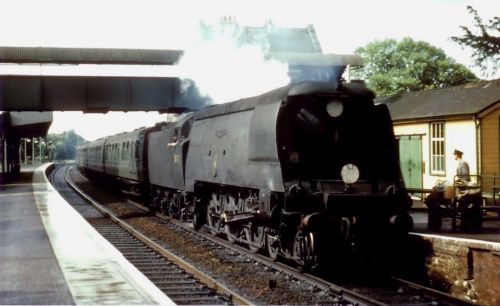 Happy days!

Derek has kindly sent in this tale (should make Ron smile...) and a few groany jokes at the end! Thanks Derek.

An amusing story as told to me by Stan Symes, a driver down at Swanage during my days down there.

Stan was firing a Bullied Pacific out of Waterloo when a "special" came out at the same time, headed by a GWR engine. A Castle I think, but it may have been a King. Now, back in the day, it was quite normal to be passed and then repass another train. Stan made sure that every time they passed the other engine, he was sitting in his seat with his newspaper open and giving them a cheery wave as the other fireman was shovelling hard. He did say, however, that he had to work really hard himself in between times to keep his fire right! One for the Southern over the GWR perhaps?

Also, to pass some time during our enforced imprisonment, I have been reading a joke book. Here are a few.

What's the difference between a kangaroo and a kangaroot? One's a marsupial, the other's a Geordie stuck in a lift.

Is the Isle of Dogs the Isle of Man's best friend?

And my favourite Daffynitions. Aardvark: the honest way to make money.

Climate: what you do with a ladder.

And lastly, one for this trying time.

Doctor, I've just been attacked by a giant beetle with an axe. Yes, there's a nasty bug going around!


---
6 April 2020

Some photos taken by the late John Cornelius (a much missed volunteer) as provided by Brian. You may already know that the later Chard signalling panel (not this one) - incorporating the Axminster loop is now at Yeovil Railway Centre and being worked on to, eventually, provide a simulation.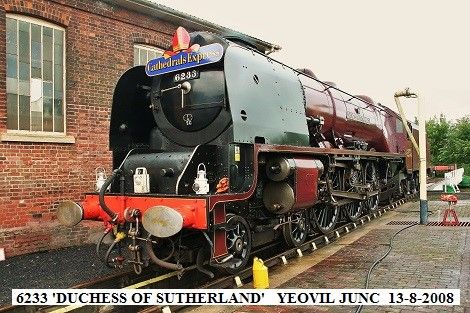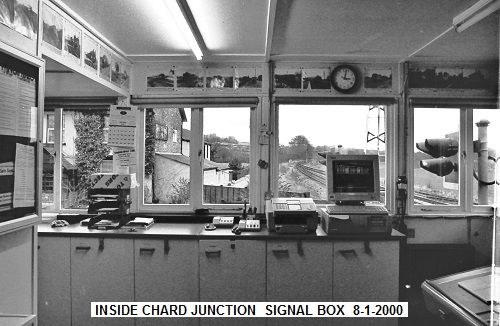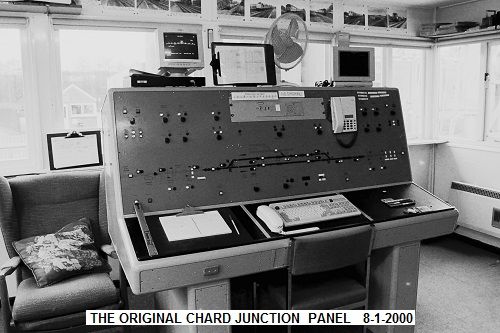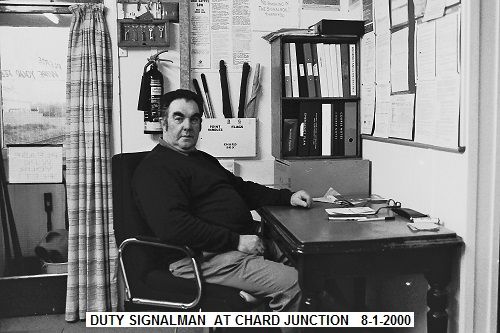 Roger has provided a link to an accident that happened at Templecombe on 10 July 1894 which may have had a bearing on the later remodelling of the station to provide a separate platform for S&D trains.

The accident report can be found HERE . A photo of the said accident follows which is full of interesting detail including the two wagon mounted cranes lifting the tender.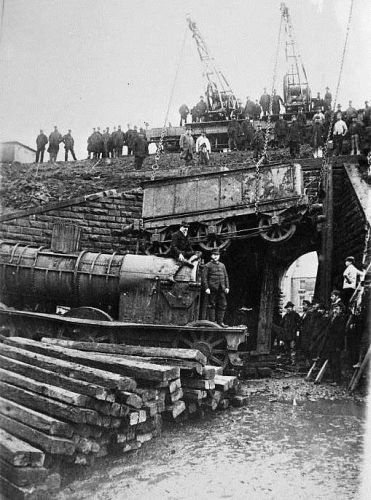 Remember the question set by Bill on 31 March? No? - a reminder:-

To name the railway the loco worked on, the make of loco and the gauge.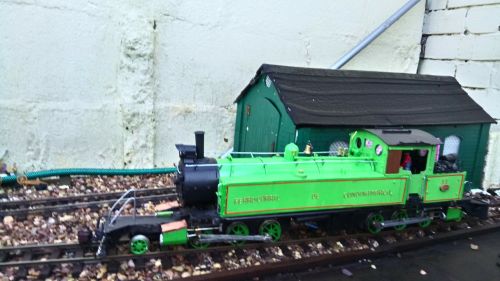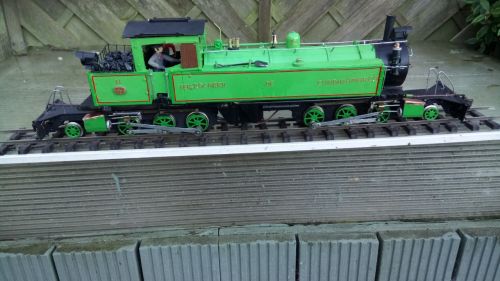 The answers are:- The loco is 3 ft gauge made by Kitson & Co, Works no 5415/7 of 1928 road number 11 number 13. Lost at sea. Built for the Cundinamarca Railway (Colombia). This was when the UK made the Locomotives for the world.


---
5 April 2020

First today is a copy of Railway Modeller from August 2017 featuring 'CRUMFORD', one of Roger's layouts. 4 pages - HERE

and click BACK when done.

Bob kindly sends in photos from 1 August 2007. He says "On a hot Aug day in 2007 I travelled to Thornford to catch a shot of the ECS move of 37 class no 37428 + kettle 34067 on the rear from Weymouth to YJ for servicing on a Kensington Olympia to Weymouth Steam Dreams Charter on 01 08 2007" "I arrived early and got set up, while I was waiting I noticed a movement in the corn field on the opposite side of the track. The next thing I saw was a small dear 'pop' its head up above the corn, it must have been having 40 winks in the warm sun, as soon as the growler 37 came it moved away".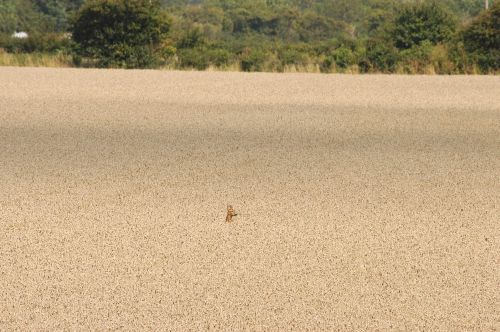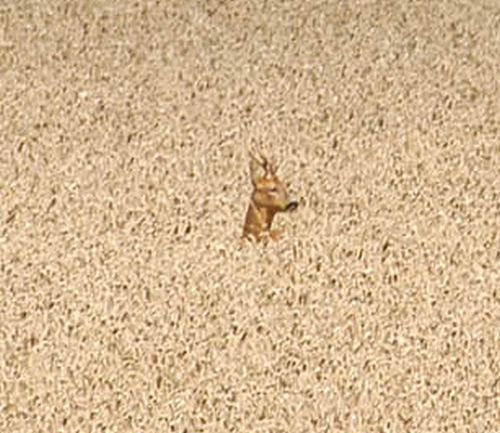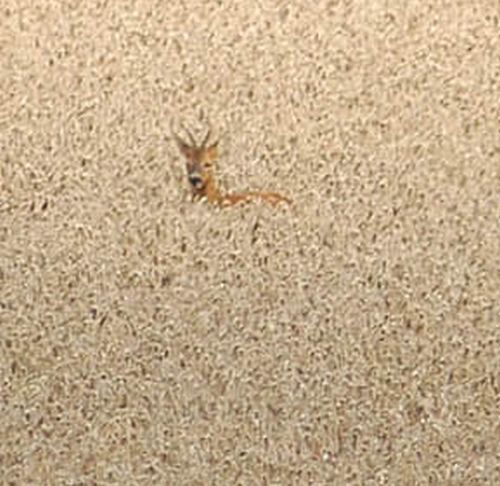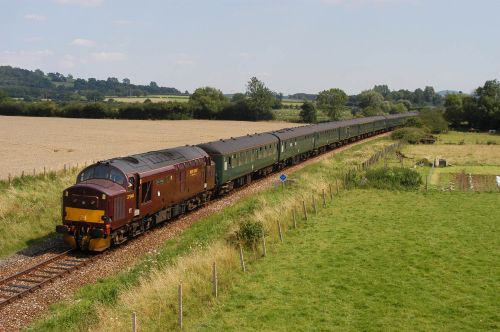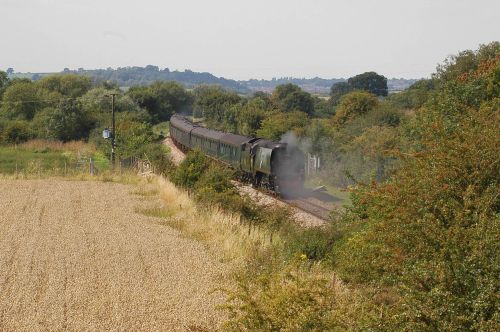 Malcolm has been catching up with work at home (just like many of us I expect!).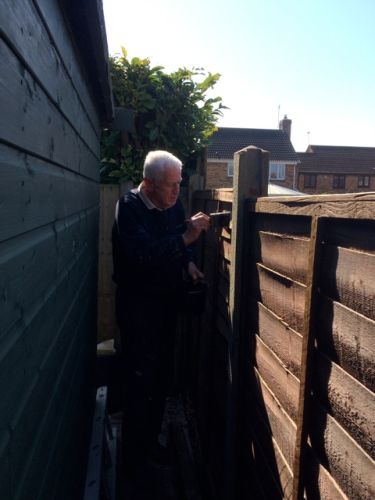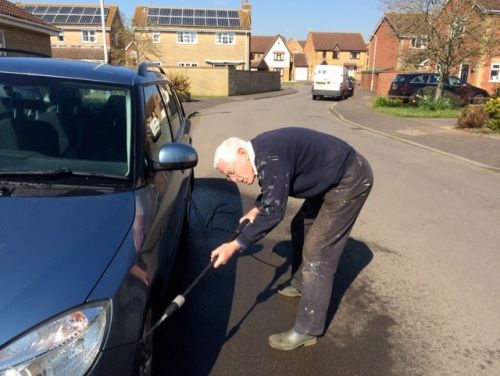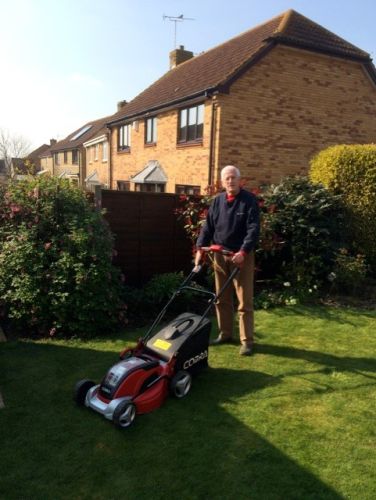 ---
4 April 2020

Our friends at Steam Dreams have put a Podcast on their website of their 20th Anniversary train to Sherborne (for the Abbey Carol Service) and onto Yeovil Junction. Includes a description of the locomotive and carriage servicing activities. CLICK HERE and turn the sound up!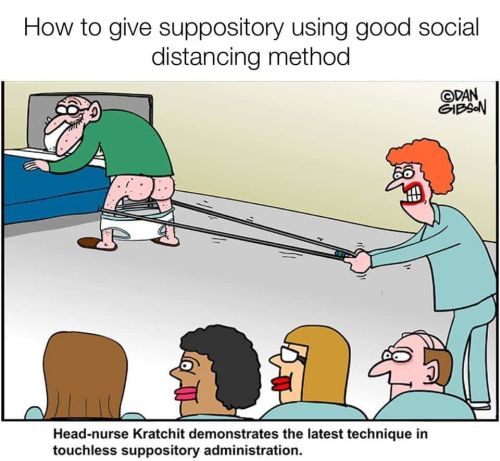 Another contribution from Roger - During the early 1980's I quite often spent some summer Saturdays at Taunton photographing the variety of motive power heading to the west. The 1st.September 1984 proved to be a memorable day.

At that time I had forgone my usual format of photographing using Agfa colour slide film and was using up a roll of black and white film that I had lying around. As you might imagine with the volume of traffic heading west quite often trains either ran late or out of sequence.

During the afternoon the 12.10 Liverpool to Penzance appeared to be missing, but that was nothing unusual, however much to everyone's surprise usual HST turned up being hauled by a Railfreight Class 58 No.58002. This must have been the first visit of a Class 58 to the west unless anyone knows different.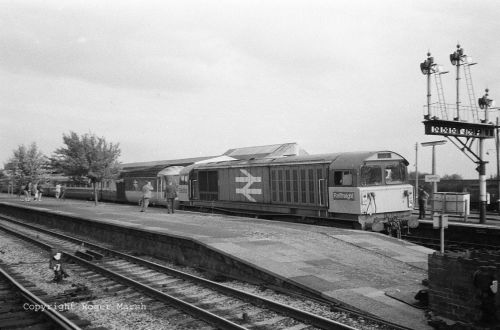 A super photo - sometimes B&W enhances the scene. Semaphores, well maintained middle platform (later closed and since reopened).

Are you superstitious? - submitted by Ian (best not read if of a nervous disposition.....)

A brief history of an exciting voyage.

1974 and after some delay I had finally passed my Second Engineers Certificate and I changed shipping companies. In August I joined a general cargo ship as Third Engineer on the Isle of Dogs loading for the Pacific Islands. We did not get off to an auspicious start! As the Third I was relieving left he said, 'Oh! by the way there is white metal in No. 2 crank case', deep joy, I had not sailed with this type of engine before (6 Cylinder Harland and Wolf.) and neither had the Second Engineer so we set to and changed the offending bearing. (The second was of little help!). We sailed on time for the Panama Canal taking Bunkers at Cristobal (east entrance to the canal.) prior to Canal transit, on completion of Bunkers I went up to my cabin to find it occupied by a new Third Engineer; going to the Chiefs cabin I was informed that the Second had been sacked and the job was mine!

Canal transit went without incident and we headed for Tahiti, however four days out from Panama we had a disastrous engine room fire. We managed to put out the fire and went up onto the Bridge for a beer and to discuss what next when the Captain said. "I will have to have words with that Pilot;" que curious looks! The Captain said that as the Panama pilot was leaving the ship he said; "do you realise Captain that you are the thirteenth ship I have taken through today, you now have a thirteen day passage to Tahiti, and thirteen ports of call through the Islands, plus today as you leave Panama it is Friday the thirteenth." Silence, we were not impressed.

After a night's sleep we spent to the next day assessing the damage and started to salvage what we could and jury rig cables to the one easily salvageable main generator, it took some days until we got running, thankfully the weather was calm and we headed to Tahiti where a riding crew of electricians were to meet us to rewire the engine room.

Our problems did not end there; the third and fifth engineers who had been on watch when the fire broke out had both badly burnt their hands, so myself and the fourth Engineer were working six on six off (normally you work four on eight off.) until the third and fifth were fit.

The trip progressed until French New Caledonia where for some reason the Second and Third mate and the Third Engineer decided to steal a car, which they crashed; breaking the Third Eng. leg in the process and he had to be paid off. The Captain was somewhat less than amused as were myself and the Fourth Eng. who were back to six on six off. Oh and to cap it off I had picked up a nasty ear infection.(both ears.)

Cargo discharged we sailed to Mourylian (Queensland) to load sugar for Penang, we also at last gained a new Third Eng. the joy did not last as the Fourth Eng. then went sick and was paid off in Penang; back to six on six off. But at least a Doctor in Penang managed to shift my ear infection.

Things did not improve as we then went to load cargo around the Bay of Bengal; Calcutta, (twice) Chalna, Chittagong, Rangoon, Madras and Colombo, bound for the West Coast of Africa. Not a pleasing prospect, but at least we gained a new Fourth Eng. back to four on eight off.

The World has been here before and come out the other side - just as it will do this time!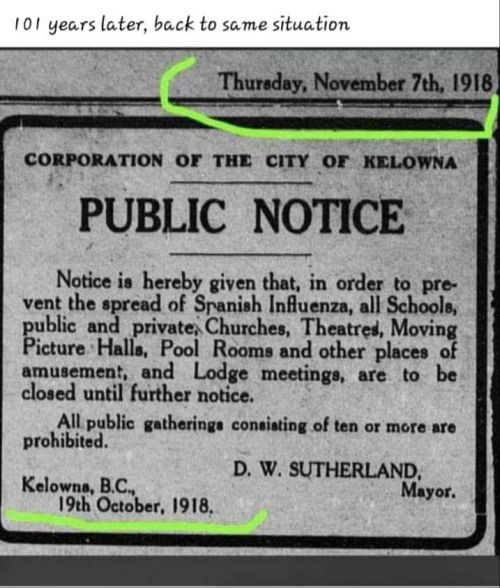 ---
3 April 2020 One of our friends takes a constitutional around the site and here are some of the flowers flourishing:-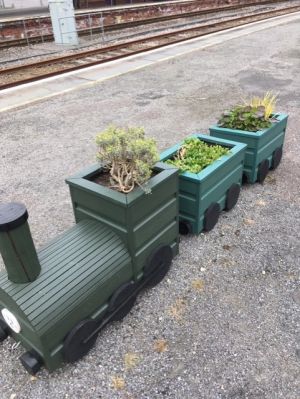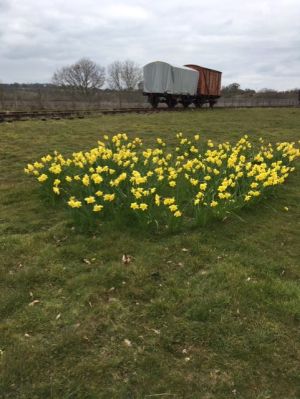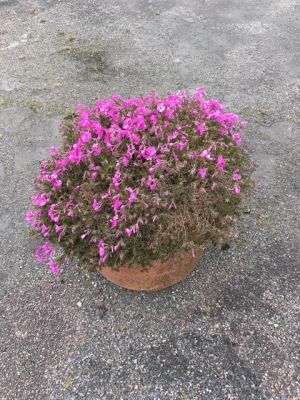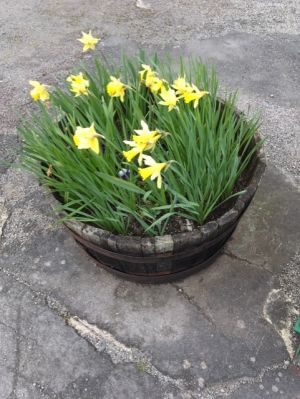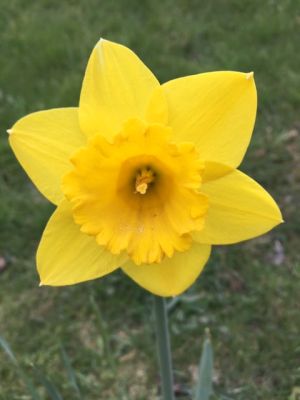 The Transport Library Mike sends on a link to this website where images can be purchased. Certainly a significant number locally (enter location in search box) by photographers which are known to us. Can't add any images as they are all copyright but may be have a browse? CLICK HERE .

Hopefully this video will make you smile?



Another fascinating story from Roger with a remarkable coincidence! (the late Terry Gough was well known to several of us and a super person) - A MEETING OF RAILWAY ENTHUSIASTS

Having always lived in Sherborne I have had a lifelong affinity to the Waterloo to Exeter line. From the days when my mother used to take me to the local station to see the 'Devon Belle' often hauled by a blue liveried Merchant Navy right up to the present day with the endless procession of Class 159 DMUs.

It was during the summer Saturdays of 1960 to 1962 that a most unsual service ran for a short period that being the Exmouth to Cleethorpes service return working. The train ran via Sidmouth Junction, Templecombe, Bath Green Park and on from Birmingham New Street. Leaving Exmouth at 10.42 a.m. the up service passed through Sherborne around 12.30 p.m.

For us trainspotters this was always an opportunity to see something different from the usual Bulleid Pacifics interspersed with a Yeovil Town 'U' Class or Standard Class 4 etc.

On Saturday the 8th.July 1961 I was sat on the wall by the lineside in East Mill Lane a quarter of a mile east of Sherborne Station awaiting the up Exmouth train and to my surprise it was hauled by a 'U1' Class 2-6-0 No.30901. I was really chuffed as this was the first of the class that I had seen. Normally they worked on the Eastern Section but some had been transferred to Exmouth Junction following the electrification of the Kent Coast Line.

It wasn't until the early nineties that I became friends with the late Terry Gough when he moved to the local area to live at Beer Hackett. We both discovered that we had an affinity for railways and it wasn't long before we were reliving the days in the 50's and 60's when we spent time around the Southern Region of British Railways. Looking back though our notes we found that I quite often saw a particular train at Bournemouth that he had seen passing his home station of Woking on the same day.

The coincidence didn't stop there when I relayed to him the story of the Exmouth to Cleethorpes service of the 8th.July 1961 I was only to find that Terry was at Axminster that day and to prove it here is his photograph of the same train.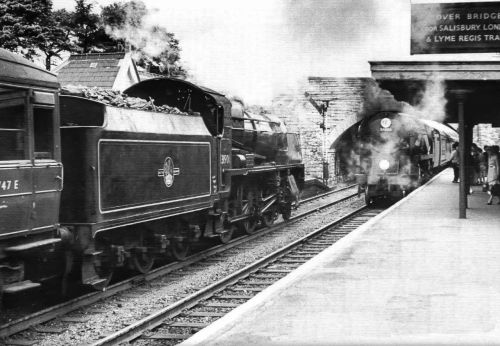 How do you get from Yeovil Pen Mill to Westbury? via Yeovil Junction and Exeter of course:- A couple of engineers on Sunday 5 April via 'The World'
CLICK HERE and CLICK HERE To think Westbury is not far from Yeovil (Thanks to Dave for these - shame we won't be around to 'spot' these!)

Our colleague in New Zealand seems to have enjoyed his long holiday! 'Yes thanks. must have been on about 60 railway journeys in Asia. 3 steam rides. lots of old steamers around too. NZ has a fire ban due to lack of rain so not much steam here. There is a brilliant miniature rail layout here too, but everything is closed now. I have taken some photos.'. We look forward to the stories and photos!


---
2 April 2020 Dave from Exeter sends in this photo of 35028 'Clan Line' at the platform at Gillingham, Dorset in October 1986.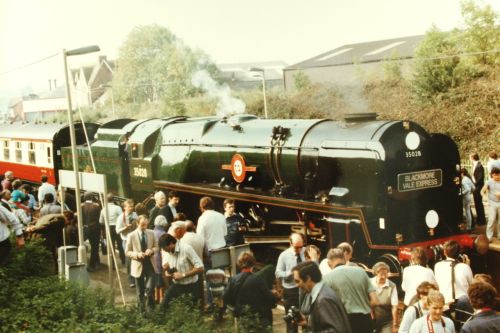 Glad to hear that our volunteer who has taken three months off to travel Asia is safe and well, holed up in New Zealand with his brother until flights are resumed! 'I have been on the lathe making drive shaft parts for a 1910 Renault vintage car rebuild, and one for a Tuktuk repair.'



The 160 eggs we had purchased ready for the Bank Holiday openings have been donated to The Lord's Larder Food Bank. The Lord's Larder Food Bank is operated by a charity called Yeovil Christian Support Trust, and is our local 'foodbank' of non-perishable food, operated by volunteers of all denominations that work together for the benefit of the community.


Roger recalls:- As a schoolboy in the 1950's I spent a lot of time at Sherborne station and I got to know most of the staff quite well. I always enjoyed talking to Jim Maidment and Ralph Bartlett, the two regular signalmen. On the odd occasion Jim would invite me up into the old signal box. It wasn't until one evening that I realised how unstable the box was when I was in it as the 7.00 pm from Waterloo sped through non-stop and one could feel the box rocking. No wonder a replacement box was built on the opposite side of the line!

Stan? Bright was another signalman that worked the box on a relief basis as I believe that his home box was Yeovil Town.

After the new box opened in 1960 I used to make a visit on the odd occasion. This was usually a Wednesday when the Station Master, Mr.Shepherd, had a day off. On that day there was usually a relief signalman on who came from Taunton and quite often he would invite me up into the box.

One evening I was in the box operating the levers, gates and bells whilst he completed the train register, the telephone rang, it was the Milborne Port signalman asking who was in Sherborne Signal Box. Obviously my bell pushing was not as snappy as the professional railwayman!

There used to be an evening goods trip working often hauled by an unrebuilt Bulleid Pacific from Yeovil Junction to Templecombe. The engine used to return light about an hour later. One evening whilst in the box with the relief signalman we passed the time by playing the odd game of cards. On one particular evening we were so engrossed in the card game that we forgot to send the train leaving section bell code to the Yeovil Junction box as the returning light engine passed through. Some minutes later the signalman for Yeovil Junction was on the phone enquiring why the loco was stood at his outer home signal when we hadn't sent him the bell code. A bit of time adjustment was hurriedly made in the train registers of both boxes!

I also remember being in the Signal Box one summer Saturday afternoon when we had to go into the locking room below to take up the slack on the up distant signal wire that had expanded due to the heat. That distant signal was always difficult to pull off, it was an acquired knack.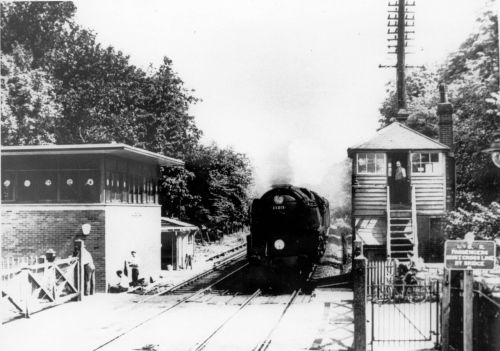 Rog also supplied a very interesting photo. He is talking to signalman Jim Maidment whilst 35015 'Rotterdam Lloyd' rattles through. Probably dating to very late 1950s as the rodding to the box is being fitted (no Hi-Vis in those days) and the box opened in 1960 with the old box being closed.


---
1 April 2020 (All Fools Day) - A prank gone wrong! CLICK HERE

John M writes:- Merchant Navy Class, 35025 'Brocklebank Line'.

35025 'Brocklebank Line' has been rusting away at Sellindge, Kent for the past 12 years, following a chequered history of movements from several sites following its exit from Woodhams Scrapyard.

Recently, The Brocklebank Line Association agreed with their Chairman Brian Seddon's proposal to put 35025 in the care of Southern Locomotives Ltd who are based at Sellindge and at the Swanage Railway and Herston Works.

SLL have made it clear that they cannot guarantee restoring it! (There are many pieces missing after a theft at Quorn many years ago). However, the Owners believe that there is more chance of something happening to it rather than leaving it slowly rusting away.

There may be hope for it yet.

South Western Railway take over Romsey, Dean and Mottisfont and Dunbridge stations from Great Western Railway with effect today (no joke!). The latter two stations have not had any GWR services for many years with the only trains calling being SWR. Read the announcement here CLICK HERE

Finally for today - is this for real (given the date)? CLICK HERE

31 March 2020 - First up is a challenge from Bill to name the railway the loco worked on, the make of loco and the gauge - email yeovilrailway@hotmail.com and answer in a few days!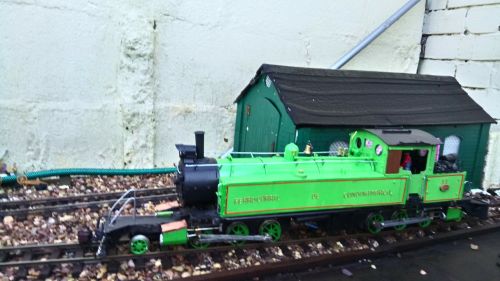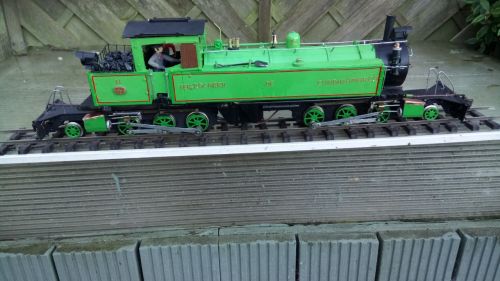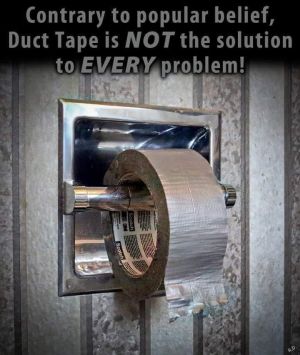 Ken has been busy in the garden (nice views!) and started on the baseboards for a new Model Railway layout (Chard Junction) - send in some photos of how you have been keeping busy!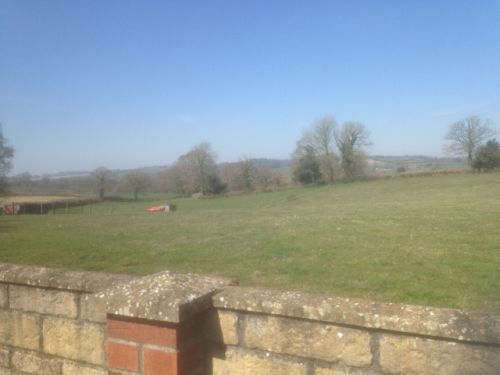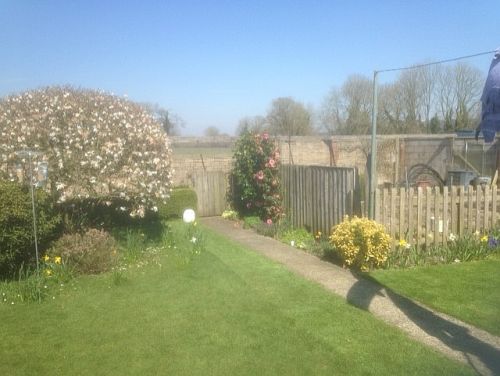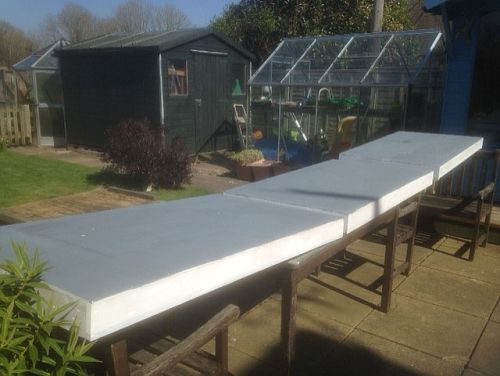 ---
Privacy | Dogs | Drones

---
South West Main Line Steam Company
a Company registered in England and limited by Guarantee.
Reg No. 2929246. Reg Office Yeovil Railway Centre, Yeovil Junction, Stoford, YEOVIL BA22 9UU.
VAT Reg No. 634 5484 28. Reg Charity No. 1043581.



Visitors from 1 December 2001.

The website and all material is © South West Main Line Steam Company and the owners of photographs included by kind permission. Although every effort is made, no guarantee is given of the accuracy of the website or the content of any linked websites. In addition attractions can be cancelled or amended as circumstances dictate - sometimes at the last moment.