LOCOMOTIVES

'LORD FISHER'
was returned to steam in June 2013 and is owned by Barry Buckfield.
Since the final steaming of Andrew Barclay 0-4-0ST 'Lord Fisher' (Works No 1398, Built 1915) on 13 January 2007, the locomotive has been stored on East Somerset Railway at Cranmore awaiting a 10 year overhaul. As the railway had no current requirement for 'Lord Fisher', Yeovil Railway Centre agreed with the owner, Barry Buckfield, to move the locomotive to its site at Yeovil Junction for restoration.

'Lord Fisher' left the works on 7 September 1915 and worked at military establishments in the south east until being purchased by the Gas Board around 1950. It ended up dumped at Hilsea Gasworks in about 1960 when it was purchased and fully overhauled by the Chapel Tramway in Southampton, an industrial line near to the docks. This line closed in 1967 and in the same year 'Lord Fisher', still in working order, was bought by a small group and went first to Longmoor, then to Radstock and finally in 1973 to Cranmore. By this time Barry Buckfield was the sole owner. During the early years of the East Somerset Railway, it was the mainstay, operating brakevan trips and being available for shunting. It was still being used for most shunting up to around 1997 when small diesel shunters were introduced at the East Somerset Railway, which took over most this work.

For a fuller history and specification of this engine please CLICK HERE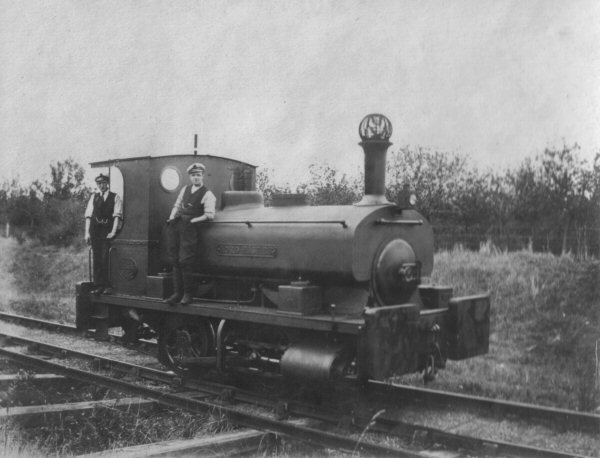 A remarkable photo find of 'Lord Fisher' in 1917 (when it was just two years old). Taken by Norman George Benstead when he was serving in the Royal Naval Air Service at Kingsnorth Airship Construction Station. Scanned from a print by his Grandson Mike Dyble in 2017. We are very grateful to Mike for simply not throwing away the prints and ensuring this photo survives!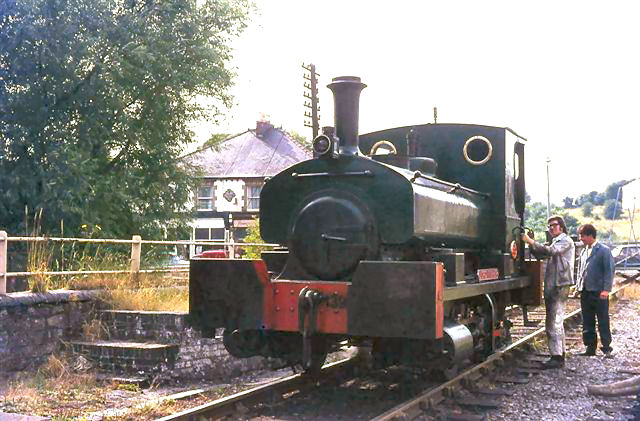 Seen at Radstock in 1973 when still fitted with dumb buffers. Picture by Roger Marsh.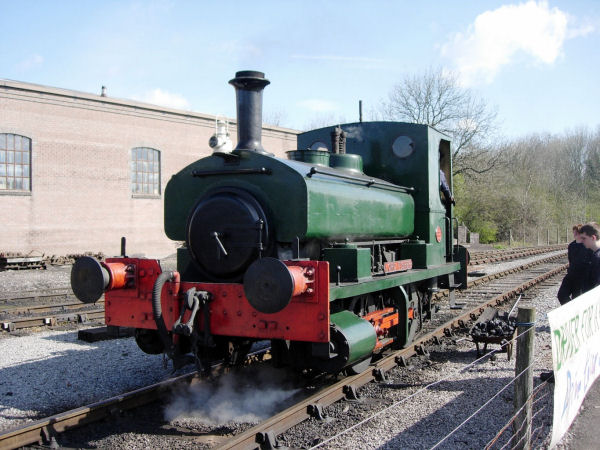 On 9 April 2005, the engine is photographed by John Cornelius at East Somerset Railway.

'PECTIN' (Currently out of traffic with a 10 yearly overhaul to be completed. Anticipated completion 2019/2020. Last in service 1 August 2004 after a 10 yearly overhaul to 30 March 2014.)
Pectin is an 0-4-0 saddle tank previously owned by 6000 Locomotive Association. It was built in 1921 (number 1579) by Peckett & Sons Ltd of Bristol at its Atlas Works, having been designed to perform shunting duties on standard gauge factory sidings. Its working life was spent at the British Aluminium Co (BAC), Burntisland, Fife, Scotland. The engine was purchased for £225 on 24 December 1971 and arrived at its new home at Bulmers Cider in Hereford on 2 March 1972. The loco arrived in Yeovil in 1995 having had its third boiler overhaul costing some £15,000.

During 2004 'Pectin' was given a full 10 year overhaul at Yeovil CLICK HERE with much of the work being undertaken by the Centre's volunteers and in 2006 the engine was gifted to South West Main Line Steam Co as part of the winding up of 6000 Locomotive Association. We are delighted to maintain our contact with the ex-members of 6000 Locomotive Association with a special event each year.

The locomotive will be withdrawn in early April 2014 for a further 10 yearly overhaul.

PRINCIPAL TECHNICAL DETAILS

Cylinders - 2
Piston Dia. & Stroke - 10in & 15in (254 x 431)
Overall length - 19ft 6 1/4in (5.96m)
Width - 7ft 6in (2.15m)
Wheelbase - 5ft (1.52m)
Wheel Dia. (inc flange) - 2ft 9in (838mm)
Working pressure - 160lb/sq.in (11.5kpa)
Drawbar pull - 6000lb (2.67KN)
Weight in working order - 18 tons
Class - Beaufort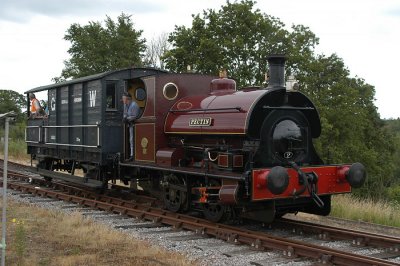 'Pectin' is seen propelling the GWR Toad brakevan.

'Pectin' (as BAC No 2) is seen at Burntisland in the summer of 1967 in these two photos taken by Alan Leslie when he worked there (and used with his kind permission).The other locomotive with the copper cap to the chimney was British Aluminium no. 1. It is now located at the Caledonian Railway in Brechin. The works number was 1376 built in 1915.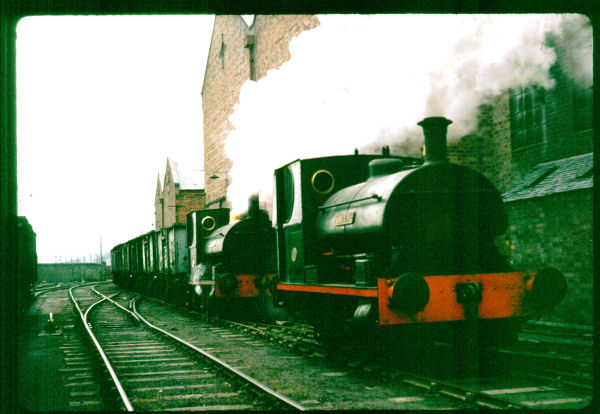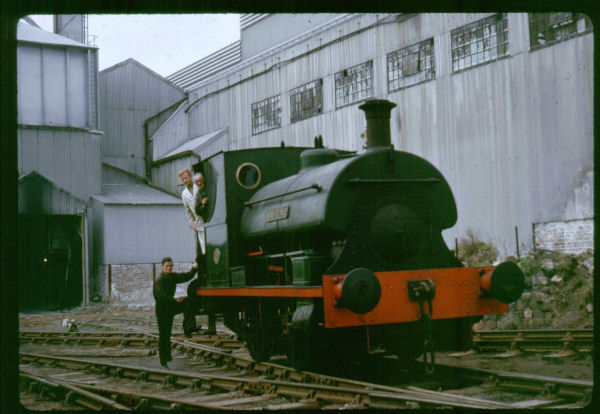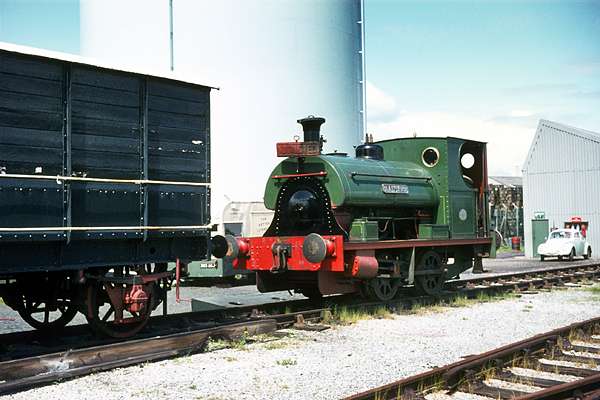 'Pectin and a GWR 'Toad' brakevan are seen in May 1972 at Hereford.
© Geoff Cryer- See Geoff's Diaries by CLICKING HERE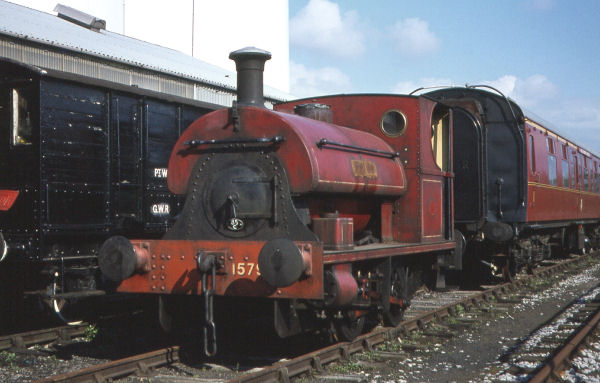 A further picture taken by Phil Trotter of 'Pectin' taken on 18 April 1981.

RUSTON 0-4-0 Shunting engine (Owned by Ruston Group)

Engine Type 48DS with 48 hp Ruston 4YC engine. Works number 458959 and engine number 460158. New to AEI 11/12/1961 of Sheffield Road glassworks, Chesterfield, Derbys with a last known working location AEI Lamp & Lighting at Harworth (Notts). Some 130 locos of this class were built before this example and only 6 afterwards as demand for locos with low power and traction effort had dwindled. The engine has been numbered DS1174 and named 'River Yeo'.

A similar engine (DS1169) used to work at the Yeovil Junction permanent way department (The loco was ex-works on 14/5/1946 (Serial No 237923) and delivered to the Bristol Aeroplane Co at Weston super Mare. It was sold to BR (Southern Region) in 1948, and was used as a shunter at Folkestone Warren until 1962 when it was transferred to Yeovil Junction.)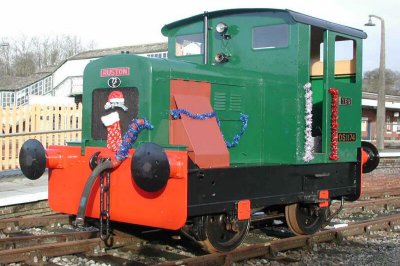 This picture was taken during 2003 Santa Specials. The engine now has a vacuum pump fitted under a new cover.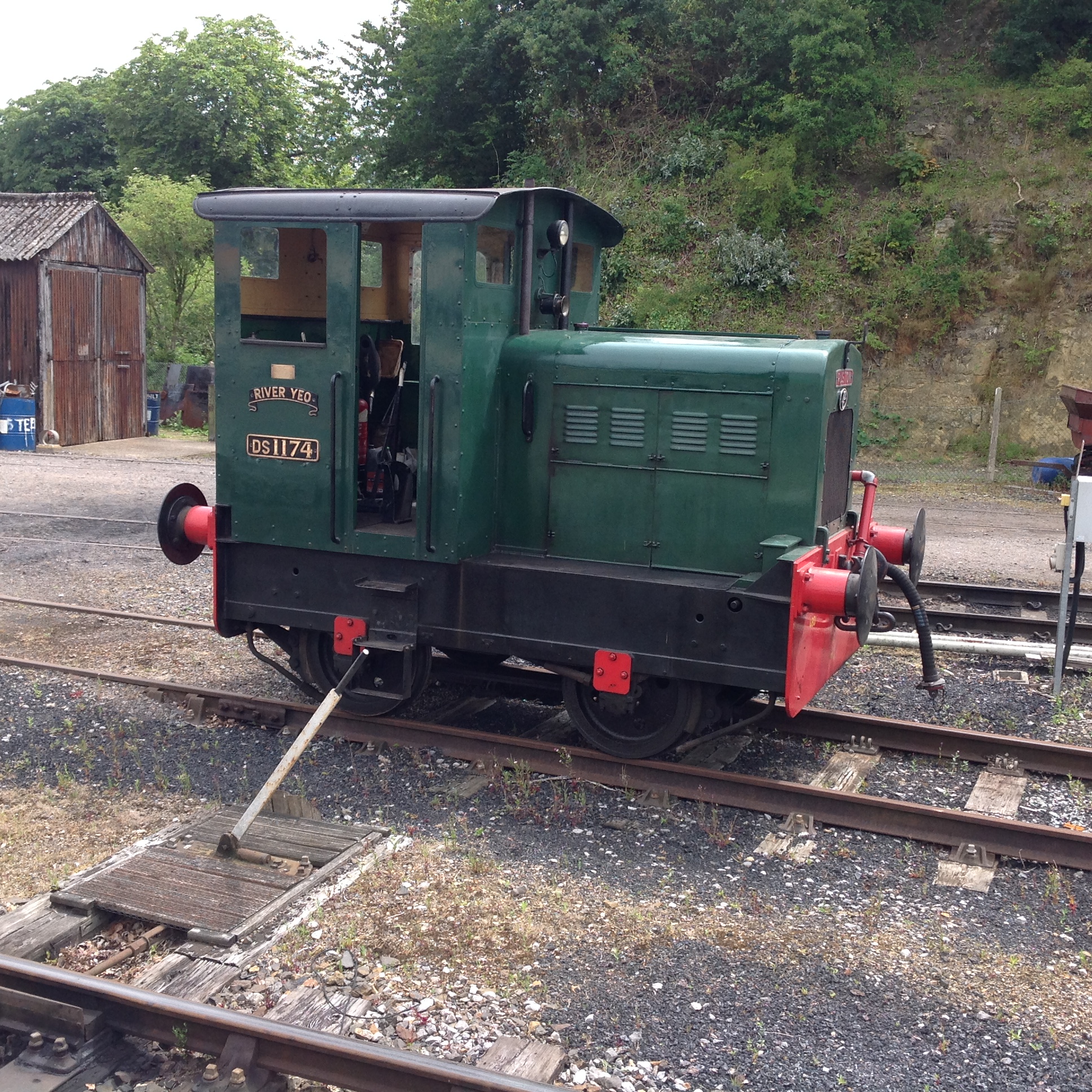 17 July 2016 (Photo courtesy Eric Tyler)

FOWLER 0-4-0 DM (Privately owned)

Number 44. Allocated number 4000007 (Type 400 and 7th constructed) when built in 1947 with a 60 hp engine.
Named 'Cockney Rebel' after its owner in 2007 to celebrate its 60th birthday and restoration.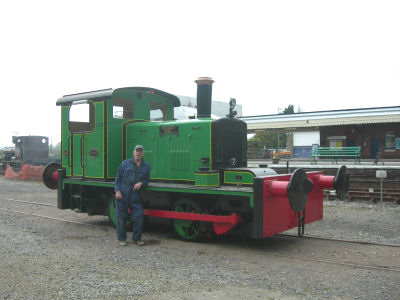 Built by John Fowler & Co and delivered new to Weir Pumps at Coatbridge, Scotland where it stayed for 6 years and then moved to Castrol Oils at Ellesmere Port for another 23 years. Later gifted by Burmah Oil to the Llangollen Railway for use on their new railway. After being stored the engine became part of the Shropshire Collection of locomotives being stored in a field. The Collection was purchased by Somerset & Dorset Locomotive Company Limited and was amongst a number which moved to storage at Yeovil Junction (upside sidings). Purchased for preservation by Ron Weston.

FOWLER 0-4-0 DM

Fowler Diesel Mechanical Locomotive Number 22900. Delivered to Birtley Co. Ltd in County Durham on 29 March 1941.

Named 'Sam' after a railway dog.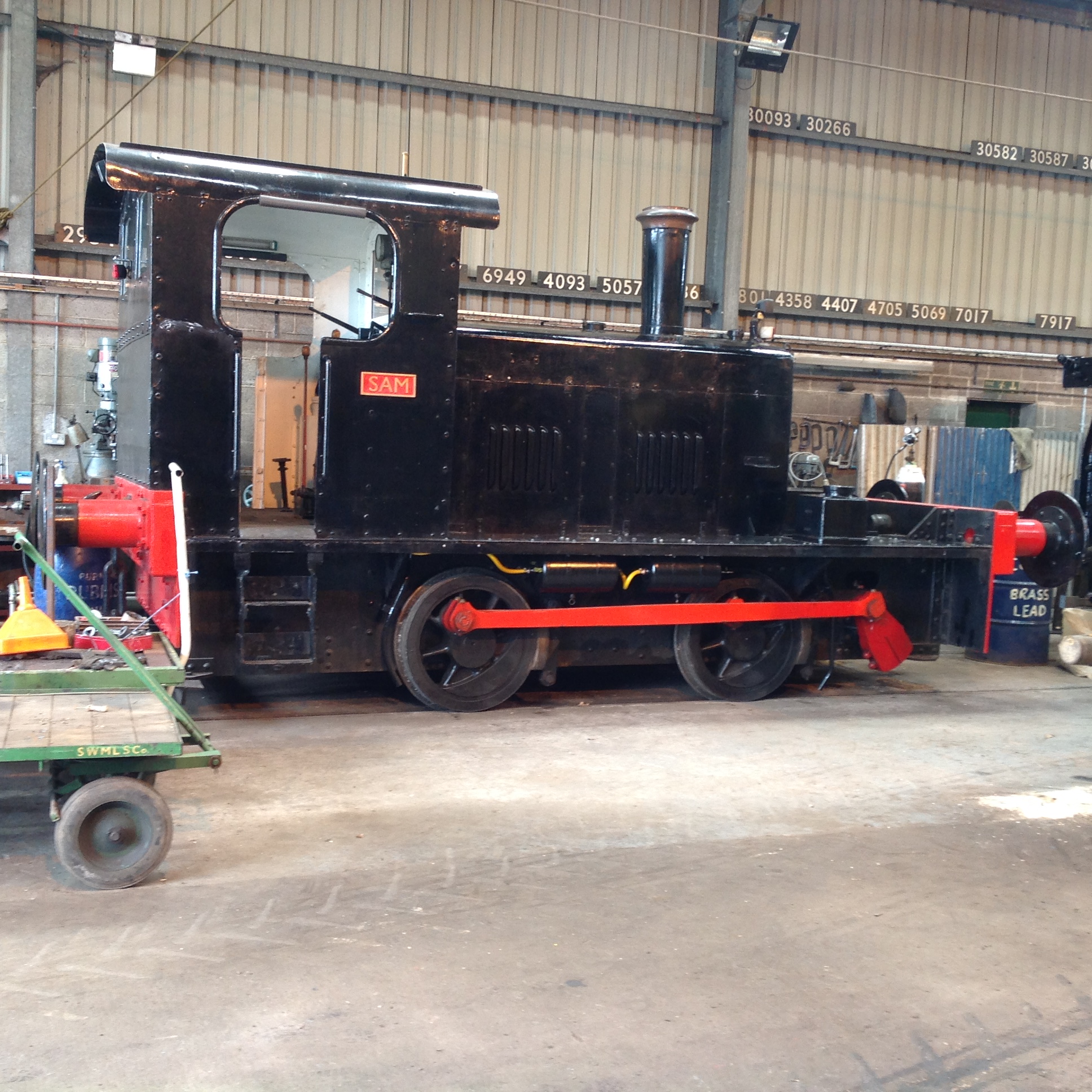 (Photo 17 July 2016 courtesy Eric Tyler)

Class 50 This Locomotive is no longer at Yeovil Railway Centre having been sold by its owner.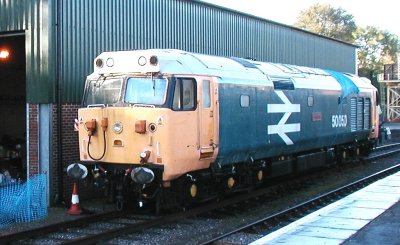 Class 50, 50050 (formerly D400) Fearless is under refurbishment at present. Although now numerically the last in series, the engine is in fact the doyen of the class. After withdrawal by British Rail, it was retained for special railtour duties and worked the last BR Class 50 hauled train with 50007 in March 1994. It was subsequently privately purchased and ran for a time on the main line until 1999.

2016 - Now restored to full main line running order by its new owner, Neil Boden.

ROLLING STOCK

We are proud to have been entrusted with three wagons belonging to The National Railway Museum which are on loan for 10 years, subject to restoration.

These are:-

1912 - London & South Western Railway Gunpowder van (KDS 61209)
1912 - London Brighton and South Coast Railway 5-plank wagon (3537)
1935 - ICI Nitric Acid tanker (14)

Additionally on site there are three brakevans used for public train rides:-

War Dept to a Southern Railway design (1018). Built in 1942 and purchased from RAF Chilmark in 1995.
Great Western "Toad" (35923) - transferred to our ownership in 2005.
British Railways "Oyster" (DB993706) formerly used for ploughing ballast dropped from wagons.

Other freight wagons consist of a 1895 London & South Western Railway Open Carriage truck (5830), three vans (D785606, B783176 and another unidentified), two Conflats and six Port of Bristol open wagons of various origins (Southern, GWR and LNER). During public open days the vans and Conflats can be used for shunting demonstrations. The Port of Bristol wagons are not on display and no guarantee can be given that any particular wagon can be seen as this is subject to operational requirements.



Visitors from 1 December 2001.





---
Where to next?
TOP | HOME | HOW TO FIND US AND WHATS HAPPENING | GENERAL INFORMATION
DRIVER EXPERIENCE | MEMBERSHIP | CONTACT US AND LINKS | INFORMATION FOR RAILTOUR OPERATORS